To get a better idea of how people are currently feeling about financial markets and their own financial futures, Syfe recently surveyed over 1,000 Australians – made up of both current and prospective investors. These were the key takeaways from our research: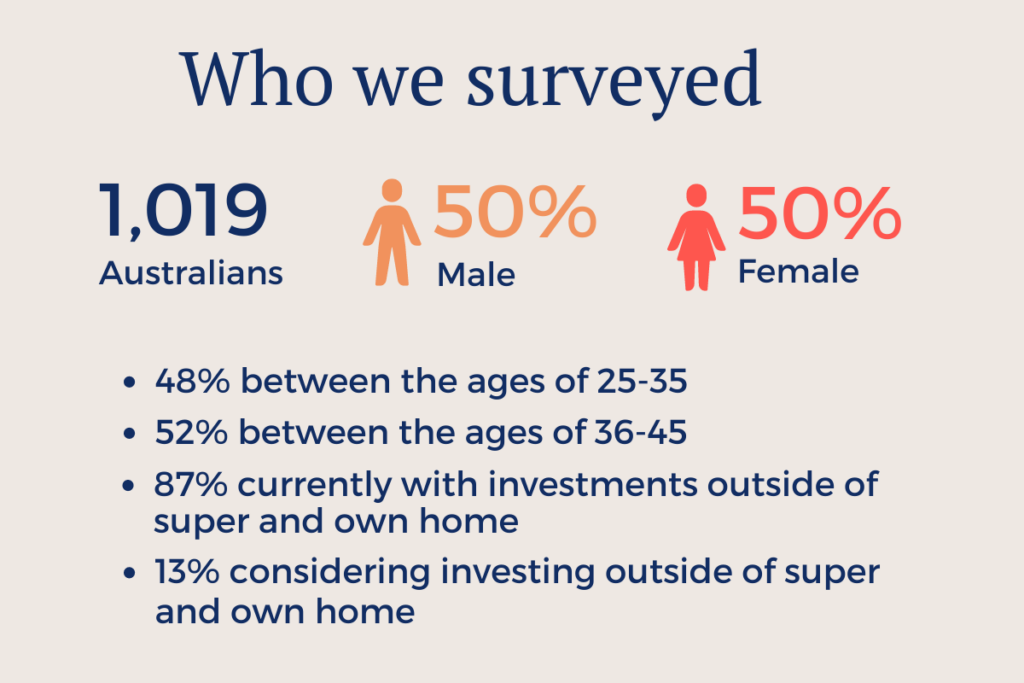 To be sure, 2022 looks set to go down as one of the volatile periods in financial markets history.
The world's most popular benchmark – the S&P 500 – fell over 10% from January 1 to August 16. The Nasdaq 100, made up of the world's best and brightest technology companies, is down 17% in that same period. Popular stocks like Tesla, Peloton, and Nvidia are down even more than that. Inflation is at multi-decade highs, and interest rates are expected to keep rising into 2023.
In partnership with Urban List, we're giving away a A$5,000 cash credit to invest with Syfe. Click here to learn more.
While the above is all relatively easy to measure – just check any stock chart – what's more difficult to understand is how everyday investors are feeling about the current investment environment.
So how are Australian investors actually feeling about all this? We unpack that in more detail below…
1. Australian investors remain confident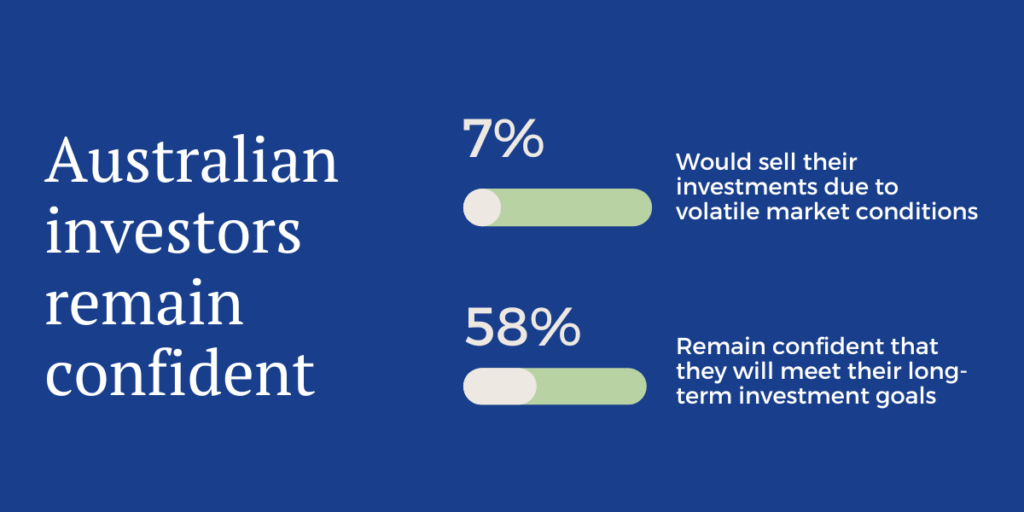 While the current macroeconomic environment gets a lot of media attention, the impact of rising interest rates and elevated inflation on investors isn't as negative as you might think. Part of the reason behind this might be uniquely Australian. For example, Australian inflation levels are significantly lower when compared to other developed countries like the US or the UK.
In line with that, only 7% of investors we surveyed said they would actually sell their investments due to current market conditions.
That compares to 58% of investors who said they remain confident that they will meet their long term investment goals – despite current market volatility.
Indeed, over the short-term, while share prices might be volatile due to events like elevated inflation and rising rates, over the long-term, shares in quality companies have proven to be a highly dependable way to build wealth. Between 1957 to 2021, for example, the S&P 500 – which tracks some of the largest 500 US companies – delivered annualised average returns of 10.5%.
2. The rise and rise of diversification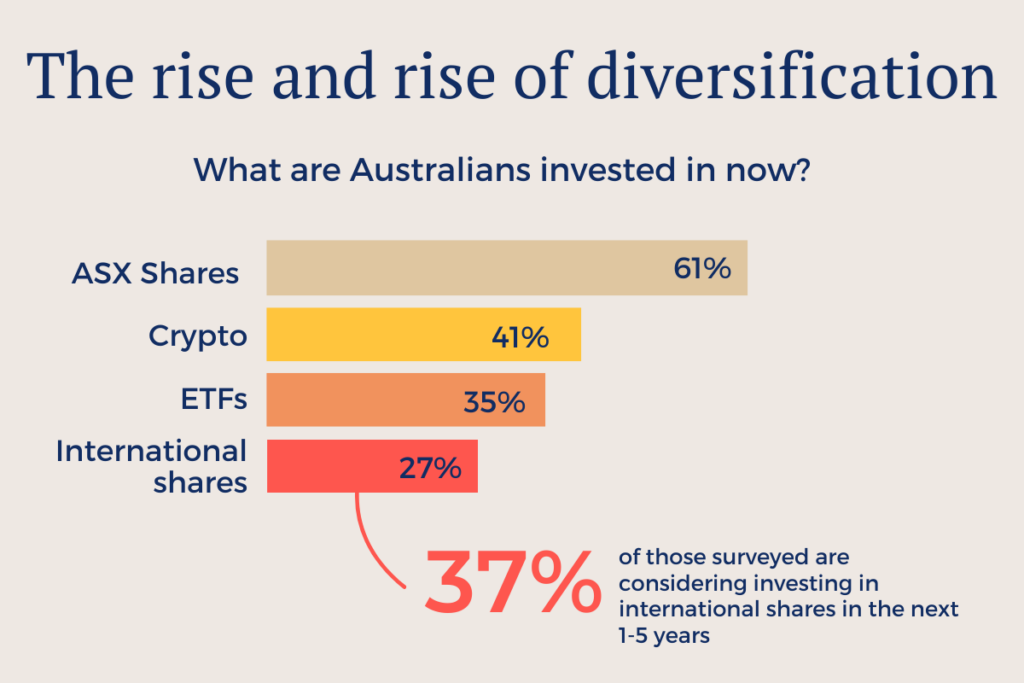 Australian investors tend to favour owning ASX-listed companies like BHP, the Commonwealth Bank of Australia, and JB Hi-Fi. But ownership across emerging asset classes like crypto, is also surprisingly high.
Overall, ASX shares were held by 61% of the investors we surveyed, followed by cryptocurrencies (like Bitcoin or Dogecoin) at 41%, exchange traded funds (ETFs) at 35%, and international shares (like US shares) at 27%.
Untapped opportunities
When we looked at what Australian investors were potentially considering investing in over the short- to medium-term – that's where things got interesting.
Not only did interest in domestic shares decrease – 55% of those we surveyed said they were thinking about investing in ASX shares – but interest in international shares, think Tesla, Amazon, and Apple, rose.
In fact, 37% said they were considering investing in international shares, like US shares, in the next one to five years. That's around 10% ahead of the current levels of international share ownership, plus the rise of crypto investing in Australia, suggests that Australian investors are looking for new ways to invest their money.
The rise and rise of crypto
For an asset class that first came into existence in 2009, the shift in interest towards crypto might accurately be described as miraculous. According to our research and as we said above, 41% of the 1,000 investors we surveyed already have crypto investments, making it more popular than the likes of ETFs and investment property.
Looking forward, interest in crypto looks set to decline somewhat: 34% said they were considering investing in crypto, like bitcoin, in the next one to five years.
Maybe most interestingly however was the changing role of crypto. Many have argued that one of crypto's key benefits is that its performance is not correlated to other traditional asset classes like stocks or bonds. Related to that point, our survey found that a little over 10% of respondents view crypto as a diversification tool.
3. Long term wealth and financial security are key priorities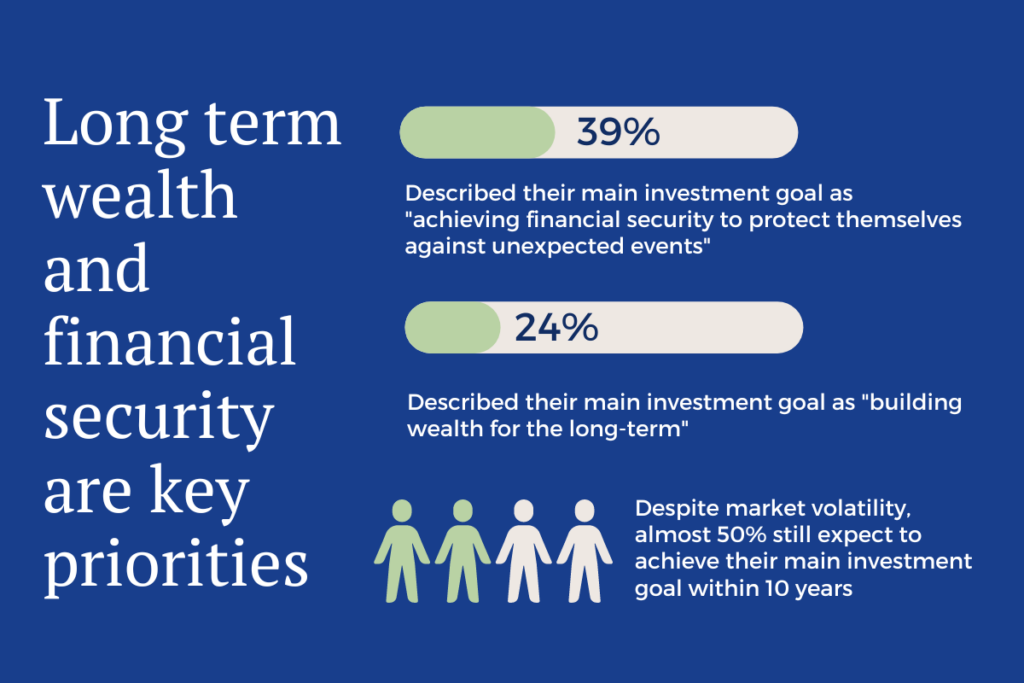 One of Warren Buffett's most interesting quotes about investing has got to be: 'Only buy something that you'd be perfectly happy to hold if the market shut down for 10 years.'
What Buffett means by that is to properly reap the benefits of investing in shares (or anything really), a long-term approach is usually the best approach. Like Warren Buffett, Australian investors tend to view investing in decades, not days, with 24% of those we surveyed describing their main investment goal as 'building wealth for the long term'.
In line with that long-term focus, 39% described their main investment goal as 'achieving financial security to protect themselves against unexpected events' and 50% said they 'still expect to achieve their main investment goal within 10 years' – despite the current levels of elevated market volatility we are seeing.
4. Education is top of mind for investors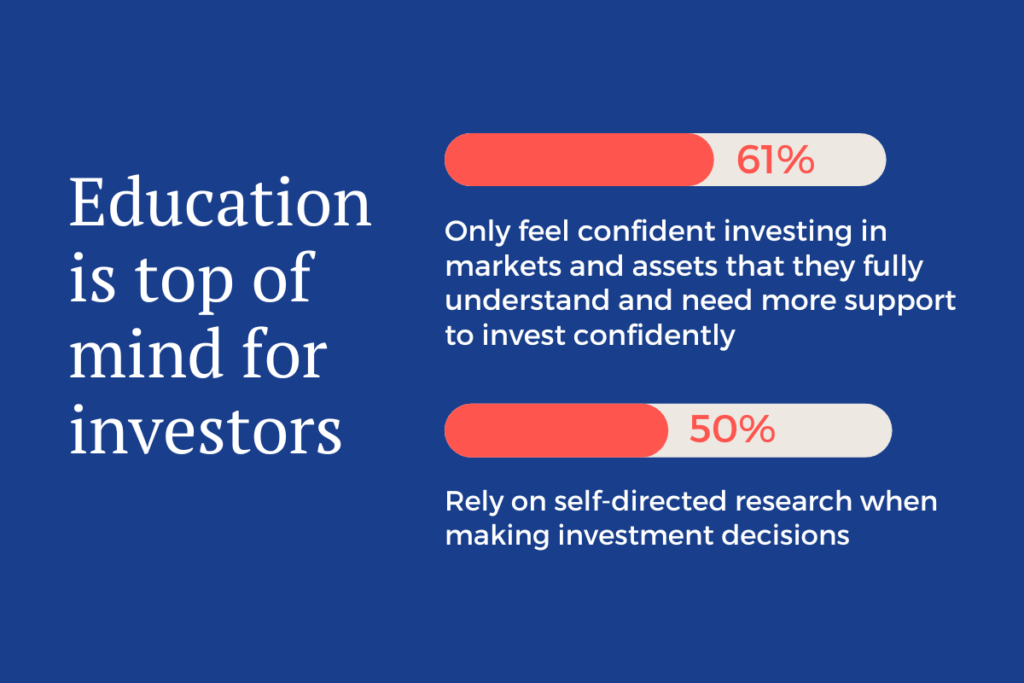 Australian investors tend to rely on their own research and instincts when making investment decisions. But despite leaning on their instincts, they do want access to high-quality financial resources.
Illustrating that point, an overwhelming 61% said they only feel confident investing in markets and assets that they fully understand, suggesting that Australian investors might not have access to all the educational materials they need to feel confident participating in financial markets.
Interestingly, while 50% of respondents said they relied on self-directed research when making investment decisions, this contrasted to a significant 31% of investors who said they relied on their instincts when making investment decisions.
For love and friendships we say follow your heart. But for investing, relying solely on your instincts can objectively hurt your investment returns. In fact, a 2018 study published in the Journal of Financial Planning found that investors who were able to overcome their instincts, that is, remove emotion from their investment decision making process – saw the returns of their portfolio boosted by 23%, over a 10-year period.
5. Despite confidence remaining strong, barriers to entry remain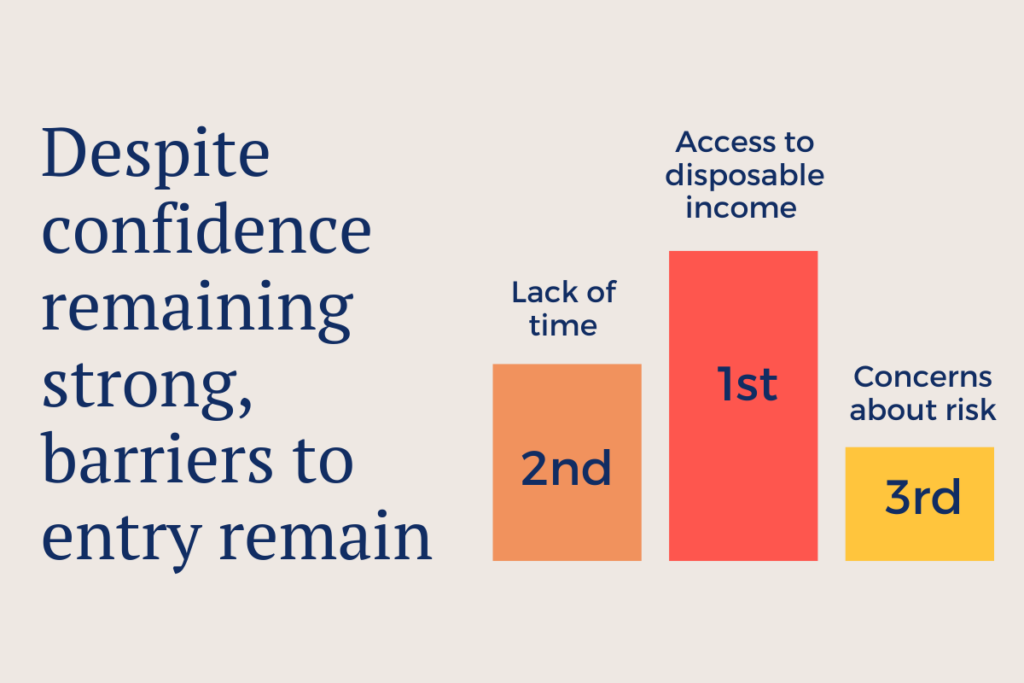 Although the overwhelming message from our research is that Australian investors are confident about their financial futures, we also acknowledge that there are still a number of blockers for investors getting involved in the markets. The top five barriers to entry for investors getting involved in the markets include:
Lack of disposable income to invest
Lack of time to devote to investing
Concerns about taking on too much risk
Lack of knowledge about investing (that's where our Learn page comes in)
Concerns about short-term market volatility and its impact
Conclusion
Whether helping investors explore new horizons with access to over 10,000 US shares and top crypto, or giving them access to expert Wall Street analysis and curated educational content, Syfe is committed to helping Australians grow their wealth over the long-term. To learn more about how we're reinventing the way Australians invest, click here now.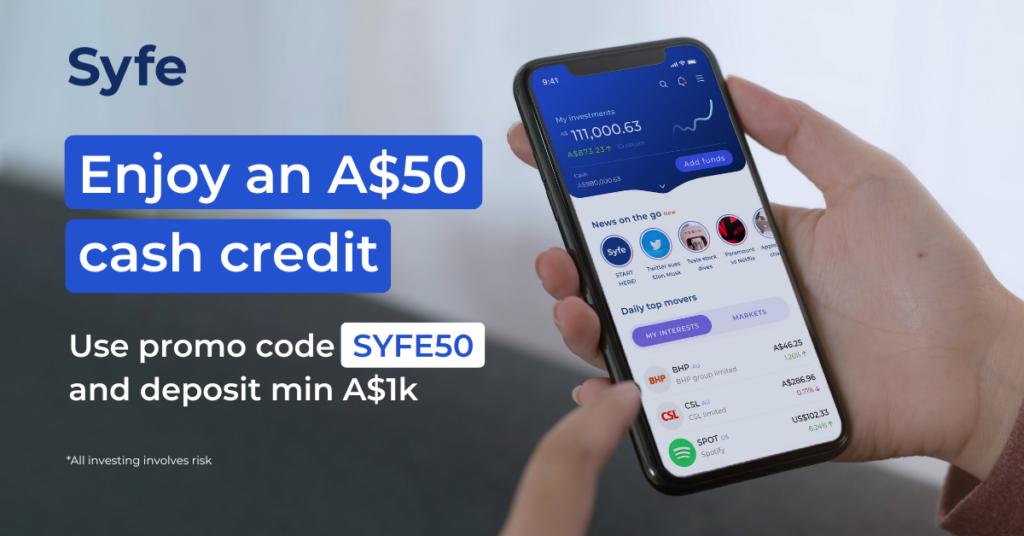 Disclaimer: Investing involves risk, including the risk of losing your invested amount. We do not provide personalised advice or recommendations. Any information we provide is general only and current at the time written. Please speak to your Financial or Tax adviser for personal advice. Please also note, many of the figures in this infographic have been rounded to whole numbers or are represented as fractions, and as such some of the data displayed might diverge from the actual data of the Syfe Investor Survey.
Cryptocurrency investments available through the cryptocurrency trading services provided by Syfe are not currently regulated as financial products under the Corporations Act 2001 (Cth) or under Australian law. Unlike other trading services offered by Syfe such as that in relation to stocks, the cryptocurrency trading services are not covered under the corporate authorised representative arrangement with Sanlam Private Wealth Pty Ltd (AFSL 337927). This means consumer protections are minimal and you may not be protected if any cryptocurrency which you have invested in fails or any service provider involved in providing you with cryptocurrency fails.
INVESTING IN AND TRADING CRYPTOCURRENCIES INVOLVES RISK.