In this series of company deep dives, we will analyse Australia's most prominent and impressive companies - with the aim of unpacking what makes them great. These deep dives will ultimately help investors make more informed trading decisions as well as get a better understanding of the key drivers of share price performance behind some of the ASX's most important companies.
FMG share price outlook: behind the fundamentals
Is Fortescue Metals Group a great company or merely a lucky one?
To be sure, the resources company – which currently generates 100% of its revenue from iron ore, has benefitted immensely from a number of broad macroeconomic tailwinds over the last decade.
Chief amongst those is China's insatiable demand for steel, of which iron ore is the key ingredient. This has proven to be a benefactor to not just FMG, but all of Australia's small and large cap miners.
FMG company history
While FMG has benefitted from broad trend changes in recent times, the company spent much of the early 2000s as an obscure penny stock.
Founded in 2003, in 2006 FMG finalised a AU$3.2 billion capital raise that would be the cornerstone of its Pilbara Iron Ore project. It took the miner just 2 years to start shipping iron ore following that cap raise, with the company moving at a breakneck pace since then.
Fortescue is now the fourth largest producer of iron ore in the world and a top 10 company on the ASX. And while FMG might be considered a benefactor of significant luck in the last two decades, it's also been remarkably consistent – from both a management and operational perspective.
Over the last five years the price of iron ore has run up dramatically – peaking in 2021 – but still remaining elevated into 2022. Here's what we mean:
| | | | | | |
| --- | --- | --- | --- | --- | --- |
| Year | 2018 | 2019 | 2020 | 2021 | 2022 |
| Iron ore price (US$) | 69.75 | 93.85 | 108.92 | 161.71 | 121.3 |
| % Change | – | 25.68% | 13.84% | 32.64% | -33.31% |
Source: Statista, average iron ore price data.
FMG was ratcheting up its iron ore production and shipments well before the recent run up in iron ore prices, with iron ore shipped climbing dramatically in the last ten years, a fact which speaks to the company's management consistency, discipline, and long term vision.
| | |
| --- | --- |
| Year | Iron ore shipped (million tonnes) |
| FY14 | 124 |
| FY15 | 165 |
| FY16 | 169 |
| FY17 | 170 |
| FY18 | 170 |
| FY19 | 167.7 |
| FY20 | 178.2 |
| FY21 | 182.2 |
| FY22 | 189 |
| H1 FY23 | 96.9 |
Source: FMG reports
Iron ore grades and price
FMG has long been focused on producing lower grade iron ore, typically below the 62% mark.
The best way to understand grade is in terms of impurities. 62% Fe grade iron ore has less impurities than 57% Fe grade iron ore, and lesser still impurities than 30-45% Fe grade.

Lower grade iron ore, by comparison, is generally sold at a discount to the average prices we referenced above.
All of this is important when you're looking at how companies like Fortescue generate their revenue and understanding how much the market is willing to pay for a grade of iron ore based on current market conditions.
Changing macro
Strategically, FMG has differentiated itself in market by being a pure-play iron ore miner focused on producing and selling lower grade iron ore.
In recent years the miner has benefited from two key tailwinds: Iron ore running up to multi-year highs over the last 5-years and demand for low grade iron ore increasing.
Demand shifts
In recent years there has been a 'general pivot towards cost-efficient, lower-grade sinter fines in the Chinese market — particularly in the second half of the year,' an analyst told Fastmarkets in early 2023.
This greater demand for lower grade products is reflected in FMG's price realisation performance over the last few years, with demand for the miner's product remaining robust during the six months to 31 December, 2022.
| | | | | | |
| --- | --- | --- | --- | --- | --- |
| Year | 2020 | 2021 | H1 FY22 | FY22 | H1 FY23 |
| Iron ore price realisation | 84% | 88% | 70% | 72% | 86% |
| % Change | – | 4.55% | -2.86% | -22.22% | 18.60% |
Source: FMG annual reports & presentations
Key term: price realisation. Expressed as a percentage - price realisation measures how much FMG is able to sell its iron ore products for - relative to the prevailing benchmark price that 62% grade iron ore is being sold at. Positive or negative changes in price realisation can be used as a barometer for demand for FMG's iron ore products. 
Strategy refined
Given FMG's concentration in lower grade iron ore, it makes sense that management has tried to diversify the miner's revenue streams and better insulate the company from fluctuating demand for different grades of iron ore.
A key part of that diversification strategy is FMG's Iron Bridge Project, which when complete will help the miner deliver ores up to the grade of 67%.
Iron Bridge is set to start first production during the first quarter of calendar year 2023 and is forecast to produce up to 22 million tonnes of high grade iron annually.
This will help FMG diversify its revenue profile, boost production, arguably uplift the quality of its revenue, and better insulate the miner from iron ore grade demand shifts.
But FMG's 'refined strategy' goes beyond just mixing up its iron ore mix. In recent years the company has expanded into renewable energy, green hydrogen, green ammonia, and other renewables projects, through its subsidiary – Fortescue Future Industries (FFI).

FMG 'the lucky company'
FMG is lucky in the sense that iron ore prices have remained elevated for longer than many analysts expected. In 2021 UBS wrote:
'We have downgraded our iron ore price forecasts. We expect the iron ore market to swing into surplus in [the second half of 2021], prices to fall below $100/t over the next few months.'
Iron ore prices never witnessed sustained price declines and the FMG share price has remained relatively stable.
Between this, FMG has rewarded shareholders with hefty dividends and aggressively poured capital into future-focused projects like Iron Bridge and FFI.
In this sense, while management has benefitted from positive tailwinds, the company has made smart investments and scaled what was once a penny stock into one of the world's most formidable iron ore producers.
Despite its inexorable climb to date, many remain doubtful. Looking forward, Fitch expects iron ore prices to steadily decline in the coming years, an undeniable tailwind for FMG given its current revenue concentration in iron ore.
Other big cap miners like BHP and Rio Tinto – while exposed – are less so than FMG, which is 100% levered to the price of iron ore.
| | | | |
| --- | --- | --- | --- |
| Year | 2023 | 2024 | 2025 |
| Iron ore Price forecast (Average) | US$100 | US$90 | US$80 |
Source: Fitch
Tellingly, the miner is already seeing softer iron ore prices drag on its operating performance – in H1FY23 revenue was down and the Board slashed FMG's interim dividend 15%.
It's worth investors considering just how important FMG's elevated dividend yield – which has trended up over the last few years and remains 'super normal' to this day at 8.54%, as of 22 February 2023 – has contributed to the miner's elevated valuation over the last 5-year period.
Source: Google Finance, FMG stock price performance: February 23 2018 – February 22 2023
Analysts are also sceptical. Based on the consensus, the sell-side is of the view that FMG's luck has indeed run out.
| | | | | |
| --- | --- | --- | --- | --- |
| Ticker | Consensus Rating | Buy | Hold | Sell | Price Target Average | Implied Return* |
| FMG | Strong Sell | 0 | 8 | 17 | $16.92 | -22.92% |
Source: Market Index; implied upside as of 22 February, 2023.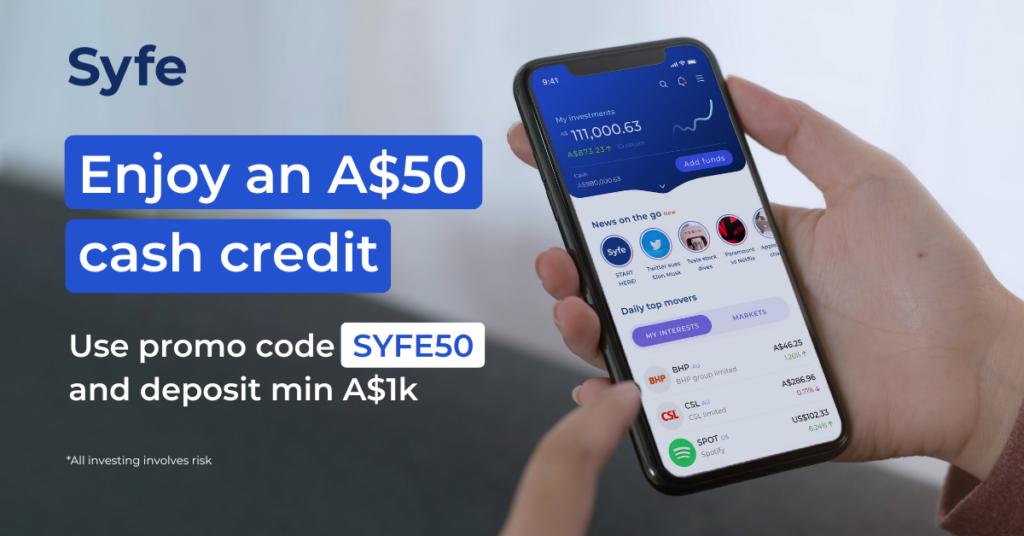 This article/webinar is brought to you by Syfe Australia Pty Ltd, AFS representative number 001295306 representing Sanlam Private Wealth Pty Ltd (AFSL 337927). Any information contained here is factual and should not be construed by you as financial product advice. You should consider obtaining independent advice before making any financial decisions. Any reference to an investment's past or potential performance is not an indication of any specific outcome or profit. We do not intend for any statement made here to relate to the acquisition or disposal of any shares in the companies or other financial products named here.