In this article we'll explore:
- Overview of Syfe investment fees
- How Syfe brokerage fees & costs compare
- The impact of brokerage on investment performance
- How high fees limit investor choice
Investment fees impact Australian investors in a number of different ways, from limiting investment choice to impacting investment performance over the short and long term.
This is one of the key reasons that Syfe is committed to providing investors with low fees and competitive FX as well as investment tools & features – like fractional trading and recurring buys – to make the most of those low fees.
Syfe fees & costs: overview
In 2023 Syfe launched Aussies shares and ETFs on our mobile-first investment platform – meaning you can easily invest in top Australian companies like CBA, BHP, and Wesfarmers.
This will be in addition to our US shares & ETFs offering – meaning you'll have more investment choice than ever before when you invest with Syfe.
To coincide with that update, as of 8 March 2023 we've updated our fees. Here is an overview of our new fee structure:
Trade your favourite Aussie stocks & ETFs from A$4.99
For trades under A$20,000 – brokerage is a flat fee of A$4.99
For trades over A$20,000 – brokerage is 0.025% of trade value
Trade your favourite US stocks and ETFs for US$1.49 per trade
And here is a full comparison of our ASX and US share & ETF offerings:
How Syfe's fees compare
How fees impact investment performance
When you invest smaller amounts – for example if you are implementing a dollar cost averaging investment strategy – the fees you pay investing become significantly more noticeable.
Let's say you decide to dip your toe in the US markets. You want to start by investing US$500 into Apple – well known as one of the best and highest quality companies in the world. With one of Australia's large banks, you'd pay US$29.95 in brokerage just to buy the stock.
That, of course, is only half the story. Chances are you'll want to sell your Apple stock at some point – ideally for a profit. That means you'll pay another US$29.95 in brokerage to sell the stock.
All up, this means you would need Apple's share price to increase 12% from your initial purchase price – including or excluding dividends – just so you can break even and make a profit back on your investment!
While some will argue that you should simply invest more to offset the impact of fees as a percentage of your total trade value, there are many reasons why an investor would want to invest smaller amounts – including diversification and dollar cost averaging strategies.
How fees impact choice
While the above example makes it clear how brokerage fees can impact investment performance, something that is less discussed is how high investment fees can impact investor choice and actually discourage good investing habits.
Here's what we mean by that.
Let's even say you wanted to implement a tried-and-true investment strategy, like Dollar Cost Averaging (DCA) – on a monthly basis.
For whatever reason – from market conditions to your own approach to investing – you might not want to invest thousands of dollars into one stock or ETF at a time. And even if you did want to invest thousands of dollars, maybe you like the idea of spreading it across multiple stocks or ETFs to diversify your portfolio.
Read more: What is dollar cost averaging (DCA) and its benefits
High brokerage not only dissuades investors from making smaller diversified investments like those described above, but many brokers still don't even allow investors to invest any less than $500 in a single trade, as a starting point.
Inflexible pricing such as this can limit investors choice when it comes to dabbling in new strategies or even long term wealth creation opportunities.
With Syfe, fractional trading on US shares means you can invest in some of the world's top companies – the Apples and Amazons of the world – from just US$1.
Plus, with our minimum buys feature, investors have the ability to purchase their favourite Aussie companies in minimum increments of 1 share. For example, this means you could buy just one share of CSL (plus brokerage) without needing to reach a A$500 trade value minimum.
So whether you have A$50 bucks to invest or A$5,000, with Syfe you have the flexibility to invest in your favourite ASX-listed companies with ease.
As the saying goes, the best time to invest was yesterday, the second best time to invest is today.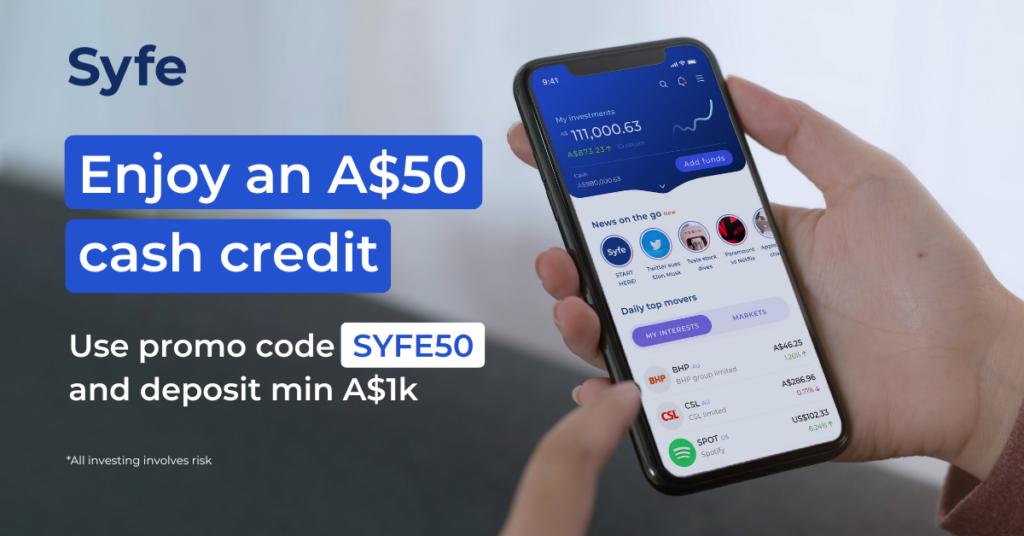 This article/webinar is brought to you by Syfe Australia Pty Ltd, AFS representative number 001295306 representing Sanlam Private Wealth Pty Ltd (AFSL 337927). Any information contained here is factual and should not be construed by you as financial product advice. You should consider obtaining independent advice before making any financial decisions. Any reference to an investment's past or potential performance is not an indication of any specific outcome or profit. We do not intend for any statement made here to relate to the acquisition or disposal of any shares in the companies or other financial products named here.