Before you keep reading: Can you guess the stock?
It's not any of the brand-name blue chips like Amazon, Google, or Apple. And it's not any of the meme stocks like Gamestop or AMC.
It's Monster Beverage Corporation or MNST. For those unfamiliar, MNST is the company behind the 'Monster' energy drink (pictured above).
Monster Beverage share price history
Since its listing in 1985 to September 9, 2022 – the Monster Beverage share price rose an astounding 71,000% – finishing that session at US$92.43 per share. Check out the chart below if you don't believe me: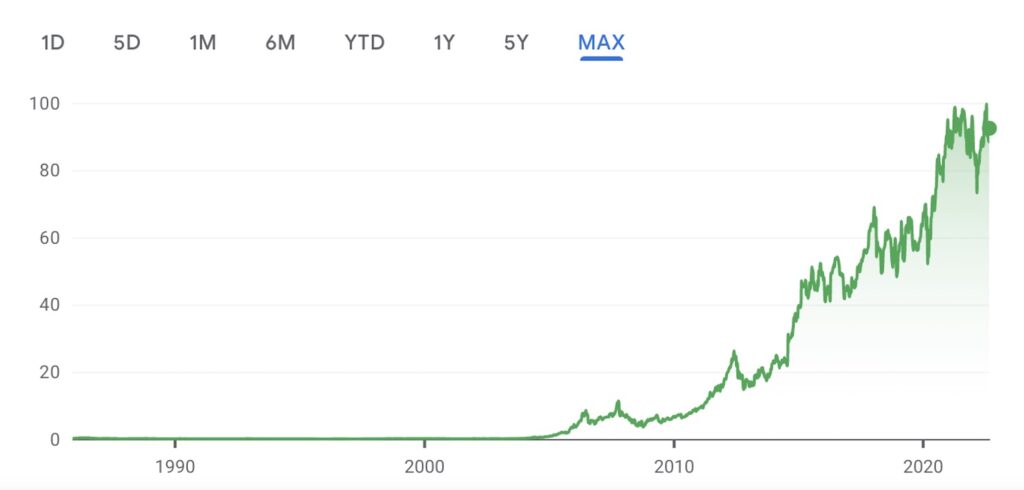 Source: Google Finance
Before fees, that's the kind of return that would turn every US$1,000 invested into US$711,000. Or every US$10,000 into US$7,110,000. You get the idea. It's a lot.
You can invest in 10,000+ US stocks & ETFs, from the palm of your hand with Syfe. Click here to discover Syfe for yourself now.
Mind you, while you might not have heard of MNST before today – Monster and energy drinks more broadly, are serious business.
In 2020 the global energy drinks market was worth US$45.8 billion. By 2031 it is expected to be worth US$108.4 billion, according to Allied Market Research.
Breaking that down further – Red Bull in 2020 was the clear market leader, commanding a market share of 43%. But Monster was close behind, at 39% market share.
For a market that might be worth over US$100 billion in the next decade, the above stats go a long way to explain that 71,000% run.
Monster Beverage fundamentals
A quick look at Monster's fundamentals also tells a story of continued, albeit, expensive growth. Q2 revenue hit US$1.66 billion, up 13.2% year-on-year. That represented a record for the company.
From a valuation perspective, Monster last traded on a price-to-earnings ratio of about 39x – making it significantly more 'expensive' than the broader market. The S&P 500 trades on a price-to-earnings ratio of 21.80x.
Monster Beverage share price outlook
Despite trading at a rich valuation and its colossal run up to date, analysts continue to like the stock. The Wall Street consensus on Monster is currently a BUY.
Not only that, but the current average estimate price target of US$100.79 – implies potential upside of around 12.7%, from where the stock traded on 29 September, 2022.
You can invest in top US stocks like Apple, Amazon, and Monster – through Syfe's intuitive investment app. Click here to download it now. Setting up your account takes just minutes.
Want to learn more? We just published a massive guide on how to invest in US stocks in Australia. Read it here. (Oh, as an FYI, we may be seeing a lot of volatility right now, but US stocks have outperformed ASX stocks significantly in the last 5-years.)
This article/webinar is brought to you by Syfe Australia Pty Ltd., CAR number 1295306 of Sanlam Private Wealth Pty Ltd (AFSL 337927). Disclaimer: Investing involves risk including the risk of losing your invested amount. We do not provide personalised advice or recommendations. Any information we provide is general advice and current at the time written. Please speak to your Financial or Tax adviser for personal advice. Any reference to an investment's past or potential performance is not an indication of any specific outcome or profit.