Enjoy investing with Syfe? Invite your friends to sign up for a Syfe account by sending them your referral code.
The Program:
When an existing Syfe client refers a new Australian client, both the existing client and the new client are rewarded as shown below:
The Referrer – A$30
The Referee – A$60
Terms & Conditions:
Eligibility
Referrer

Must have a Syfe account that is verified.

Referee

Must be a new-to-Syfe Australian citizen/resident client.
Must create a Syfe account that is verified.

Must use a valid referrer promo code at sign up.
Must fund their account A$1,000
How it Works
Log in to your Syfe account. Copy your referral code from your account settings.
Send it to your friends. They should enter your referral code when creating their Syfe account.
Once your friend meets the eligibility, your reward will be credited to your account within 7 working days
---
Frequently Asked Questions:
General Referral
I referred a friend but don't see any reward in my Syfe account.
This could be because:
Your referrer's Syfe account is not verified.
Your referred friend has to yet meet the eligibility. Both you and your friend will receive the rewards only after your friend meets the eligibility.
Your referred friend did not use your referral code. Please note that if your friend has applied a different referral code to create their account, we will not be able to change the code used to your referral code.
I used my friend's referral code but did not receive the reward.
This could be because:
You did not meet the eligibility though you used a referral code when creating your Syfe account.
How to earn reward when you are referred.
If a friend has referred you to Syfe and you have created your Syfe account using their referral code, you'll receive A$60 cash credit when you:
Apply the code, complete setting up your Syfe account and fund A$1,000 into your account.
How to earn reward when you are referring a friend.
When you refer friends to Syfe using your referral code, you will receive an A$30 cash credit for each successful referral.
Please note that cash credits will be credited to your Syfe account and reflected as an increase in your buying power.
You can refer as many friends as you want to Syfe.
What is a cash credit?
Cash credits will be reflected as an increase in your buying power. You may use them to buy a stock or ETF of your choice on your Syfe account.
Can cash credits be withdrawn?
Cash credits awarded as part of the referral program cannot be directly withdrawn to your bank account. They can only be used to buy a stock or ETF of your choice.
---
Syfe Referral Program Terms & Conditions:
To participate in the Syfe Referral Program, all parties must agree to the terms stated above and herein, which become part of Syfe's Terms & Conditions.
Referrals should only be used for personal and non-commercial purposes, unless approved by Syfe. Referral codes should not be published or distributed on commercial websites (such as coupon websites, Reddit, or Wikipedia) or on blogs, unless authorised by Syfe. Clients are prohibited from "spamming" anyone with referral invitations. This includes mass emailing, texting or messaging people you do not know or using automated systems or bots through any channel to distribute your referral code. Clients are prohibited from paying to advertise their referral codes.
Syfe reserves the right to any remedy, including cancellation of your account or reservations, if fraud, tampering, violations of these terms or Syfe's Terms & Conditions, or if technical errors are suspected.
Syfe reserves the right to suspend accounts or remove the Incentives if we notice any activity that we believe is abusive, fraudulent, or in violation of the Syfe's Terms & Conditions. Syfe also has the right to review and investigate all referral activities and to suspend accounts or modify referrals in our absolute sole discretion as deemed fair and appropriate.
Other Terms and Conditions:
Syfe reserves the right to amend terms and conditions including changing the reward benefits of the promotion or offer, terminating the offer before stated validity date, changing the details of the promotion or offer or any other changes in order to protect the interests of the company or under circumstances of abuse.
Promo codes issued by Syfe are not valid for use together with other promotions or offers. The promotion codes are strictly unstackable.
Eligible customers consent to Syfe's collection and use of customer's personal data and any disclosures of customer's personal data by/to third parties for the purpose of this promotion. Eligible customers agree to the terms and conditions of Syfe's Privacy Policy, which can be found at the follow Privacy Policy (syfe.com/au) link.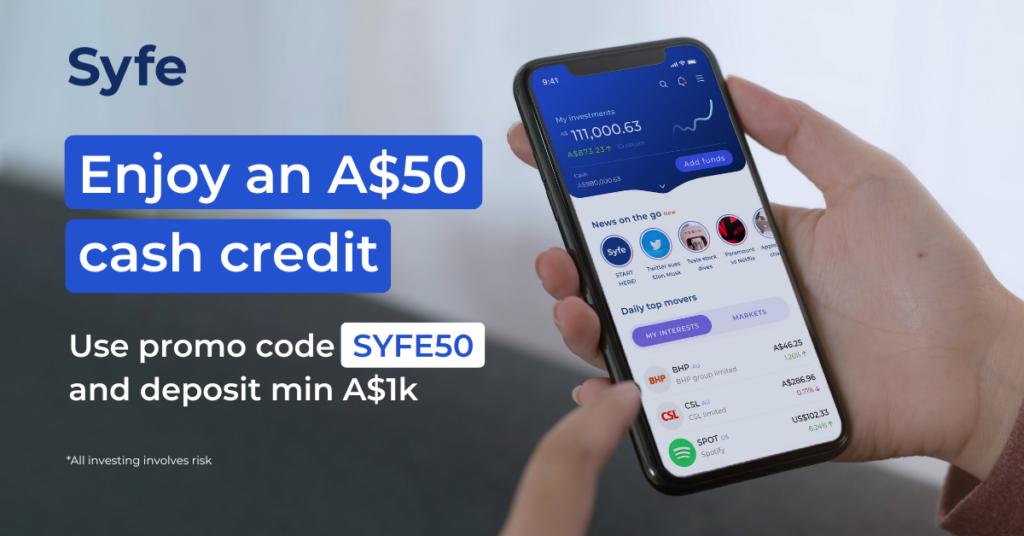 Disclaimer:
This material is provided to you for general information purpose only and does not constitute a recommendation, an offer or solicitation to purchase or sell the product mentioned. It does not make any regard to youInvesting involves risk, including the risk of losing your invested amount. Any information that may be in this communication is general in nature only and is current at the time of writing. Syfe does not make recommendations of any kind or provide personal advice that take into account your objectives, financial situations or needs. You should therefore consider the appropriateness of the information in light of your own objectives, financial situation or needs before acting on such information, and/or speak to your financial or tax adviser for personal advice. Past performance figures are based on information provided by third parties and may not be accurate. Any references to past performance and future indications are not, and should not be taken as, a reliable indicator of future results. Syfe does not intend for any statement made here to relate to the acquisition or disposal of any shares in the companies or other financial products named here. Syfe makes no representation and assumes no liability as to the accuracy or completeness of the content of this communicationr specific investment objectives, financial situation and any of your particular needs. Accordingly, no warranty whatsoever is given and no liability whatsoever is accepted for any loss arising whether directly or indirectly as a result of you acting based on this information.