Another Jumbo Rate Hike
As expected, the Federal Reserve delivered another 0.75% rate hike on Wednesday, taking the target range to 3.75–4%.
During his press conference, Fed chairman Jerome Powell signalled a change in the Fed's policy path. The pace of rate hikes is going to be slower, but the terminal, or peak, rate is likely to be higher than what officials envisioned during the September meeting.
By raising rates more gradually, it is less likely the Fed will overshoot and trigger a deeper recession than necessary. But with "no sense that inflation is coming down" despite multiple rate hikes this year, interest rates are expected to remain higher for longer to bring inflation back to the Fed's 2% target.
What the terminal rate will be is still anybody's guess. But until we see concrete evidence that inflation is waning, higher borrowing costs are here to stay.

US Labour Market Continues to Overheat
The US labour market beat consensus estimates by more than 30%, adding 261,000 jobs in October, and continued to be a major thorn in the Federal Reserve's side since their battle against runaway post-COVID inflation began.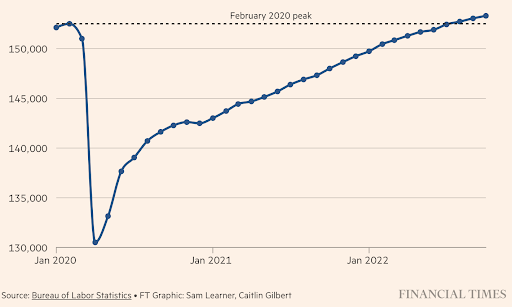 Record-high levels of consumer spending and saving are feeding labour shortages, which are in turn driving wages up and adding fuel to the fire. While the Fed is determined to sustain rate hikes well beyond expectations to loosen the labour market, the US midterm elections saw President Joe Biden denounce the Fed's strategy of trading jobs for lower inflation.
Musk Takes the Reins at Twitter
The drama-filled acquisition saga surrounding Elon Musk and Twitter finally came to a close last week, with the world's richest man going through with his initial offer to take the company private for USD 54.20 per share, in a transaction valued at USD 44 billion.
Musk dissolved Twitter's board of directors and announced a 50% layoff plan. Musk also announced a new Twitter subscription service – USD 7.99 per month for its blue-tick verification.
Musk claims to have several ideas in the bag for Twitter's overhaul. Only time will reveal whether he acquired the company to transform it for the better, or to serve a hidden agenda.
China Big Rebounce
Chinese stocks staged a rebound in the first week of November on multiple rumours that Beijing would soon relax its stringent Covid policy. The Shanghai composite gained 5% during the week. China has agreed to approve BioNTech's Covid-19 Vaccines for foreigners in China.  CanSinoBIO inhaled MRNA vaccines are in clinical trials in Shanghai. Market expects that after the mass adoption of the MRNA vaccines, China will gradually relax the covid policy.
Hopes were also buoyed by a US audit of Chinese companies being completed ahead of schedule – a process that could prevent the delisting of US-listed Chinese stocks like Alibaba.
China expands the credit support program to CNY 250b from 160b to support private company bonds, including property developers that the original program excluded.
Upcoming events 
We have an exciting webinar lined up next Friday!.
On 18 November, join Leung Sam Yan, Tasty Money for a look at the recent market turmoil and how Cash+ can help us navigate the challenging times ahead.