As we head into 2022, turn your financial resolutions into gains with our exclusive offer for valued Syfe clients. From 11 December 2021 to 3 January 2022 (23:59), simply add funds to your Syfe portfolio to have your portfolio managed free for the new year.
Funds must be added to any investment portfolio i.e Syfe Select, Syfe REIT+ or Syfe Core. Additions to Syfe Cash+ are excluded from this promotion.
Use the code "NYTOPUP" to enjoy 3 months of free investing when you make a top-up of at least S$1,000 to your Syfe portfolio.
If you add S$5,000 or more to your Syfe portfolio, use the code "5KTOPUP" to enjoy a 6 months fee waiver on your portfolio.
Kindly enter your promo code before adding funds. For instructions on how to enter a promo code, click here.
Please note that the fee waiver will apply on your investment amounts across portfolios, up to a cap of S$50,000.
The minimum qualifying top-up must be made in a single transfer to qualify for this offer.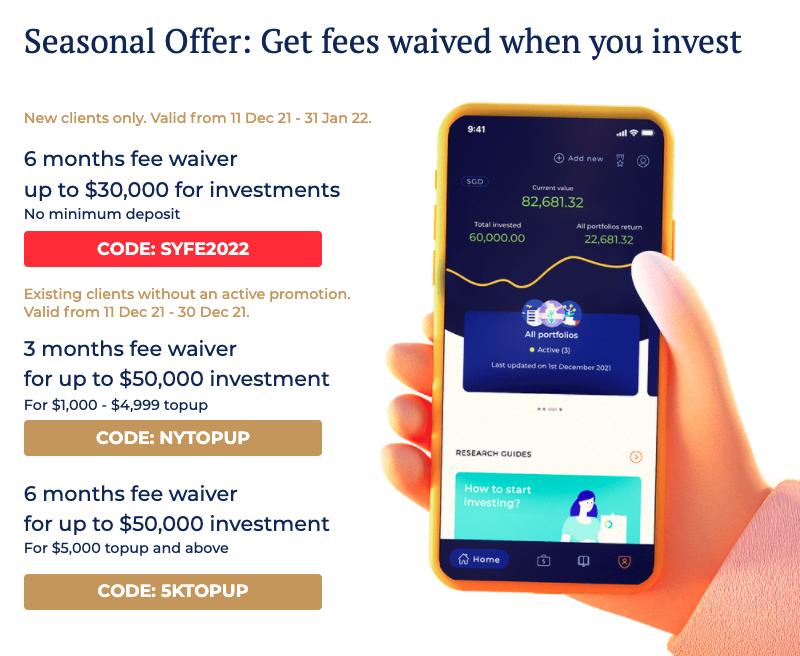 Terms and conditions
Eligibility
This promotion is only applicable to current Syfe clients who do not have an active promotion
This promotion is only applicable on top-ups made to Syfe investment portfolios
This promotion cannot be used together or stacked with other promotions on Syfe
The codes NYTOPUP and 5KTOPUP cannot be used in conjunction
The fee waiver period is dependent on the duration specified. The fee waiver will commence from the first day that a client deposits their investment
Your top-up amount has to be made in a single transfer i.e. two transfers of $500 each will not qualify for the NYTOPUP code promotion
The fee waiver will apply on your entire portfolio for the fee waiver period specified, up to the investment cap amount of $50,000
Promotion is valid from 11 Dec 2021 – 3 Jan 2022 (23:59)
Other Terms & Conditions:
All promotions and offers by Syfe are subjected to a set of terms and conditions
Syfe reserves the right to amend terms and conditions including changing the reward benefits of the promotion or offer, terminating the offer before stated validity date, changing the details of the promotion or offer or any other changes in order to protect the interests of the company or under circumstances of abuse
Promo codes issued by Syfe are not valid for use together with promotions or offers. The promotion codes are strictly unstackable
In the event where a new client has previously signed up with a different promo code but did not fund the account, the previous incentive program will be cancelled if the client then applies a new promo code and funds their account. Syfe reserves the right to reject this promotion offer if a client has entered a promo code after the first deposit has been made
Syfe reserves the right to reject this promotion offer if a client were to not meet the minimum deposit amount required. Syfe accepts multiple transfers within the same day to meet the minimum deposit requirement. However, deposits made after the first deposit day would not be considered
By participating in this program, customers consent to Syfe's collection and use of customer's personal data and any disclosures of customer's personal data by/to third parties for the purpose of this promotion
By participating in this program, customers agree to the terms and conditions of Syfe's Privacy Policy