Equity100 is an all-equity portfolio for investors who want to maximize their exposure to global stocks. The portfolio is constructed using equity Exchange Traded Funds (ETFs) that collectively invest in over 1,500 stocks from the world's top companies. These include Microsoft, Amazon, Facebook, Walmart, Alibaba, Novartis and more.
The Equity100 portfolio implements a Smart Beta investment strategy. The ETFs are combined in a way that weights them towards growth, large market capitalization and low volatility factors. This strategy aims to generate better risk-adjusted returns.
Equity100's backtested results show an average annual return of 13.4% over the last 10 years.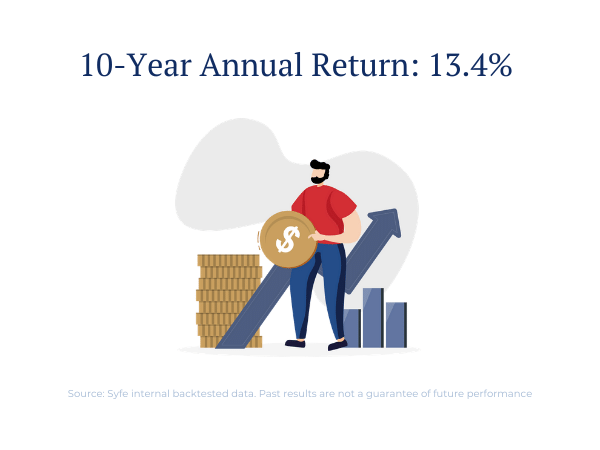 Globally diversified ETFs
Equity100 invests its funds in diversified ETFs such as:
iShares Core S&P 500 UCITS ETF (CSPX)
Tracks the performance of the S&P 500 index, a diversified large-cap index that holds 500 US-listed companies. Top holdings: Microsoft, Apple, and Amazon. As CSPX is domiciled in Ireland, it is more tax efficient with a dividend withholding tax of just 15%. Learn more.
Invesco QQQ
Tracks the performance of the Nasdaq-100 Index which holds 100 of the largest US and international non-financial companies listed on the Nasdaq Stock Market. Top holdings: Apple, Microsoft, Amazon, Facebook, and Alphabet (Google's parent company). Learn more.
iShares MSCI EAFE ETF (EFA)
Tracks the performance of the MSCI EAFE index, which holds over 900 large and mid-cap developed market stocks in Europe, Australia and Asia. Top holdings: Nestle, Astrazeneca, Toyota, and LVMH etc. Learn more.
iShares Core MSCI Emerging Markets ETF (IEMG)
Tracks the performance of the MSCI Emerging Markets Investable Market Index; holds over 2,000 large, mid and small-cap stocks from China, South Korea, India and Brazil. Top holdings: Alibaba, Tencent, Samsung, and Reliance Industries etc. Learn more.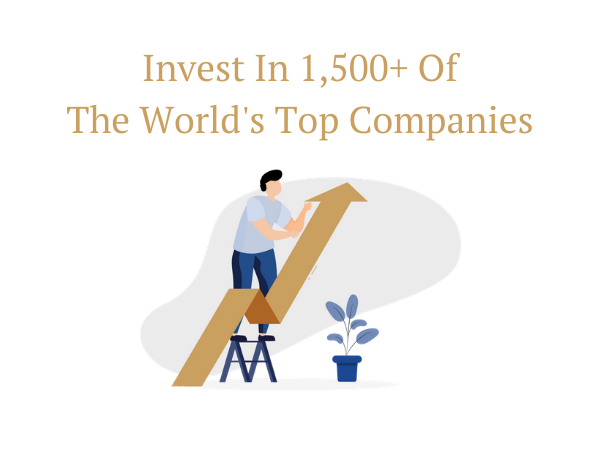 Our Smart Beta investment strategy
Smart Beta draws on a wide range of academic research on factor-driven investing to generate better risk-adjusted returns.
Based on Syfe's rigorous research, analysis and backtesting, our investment team has identified three factor tilts – growth, large market capitalization, and low volatility.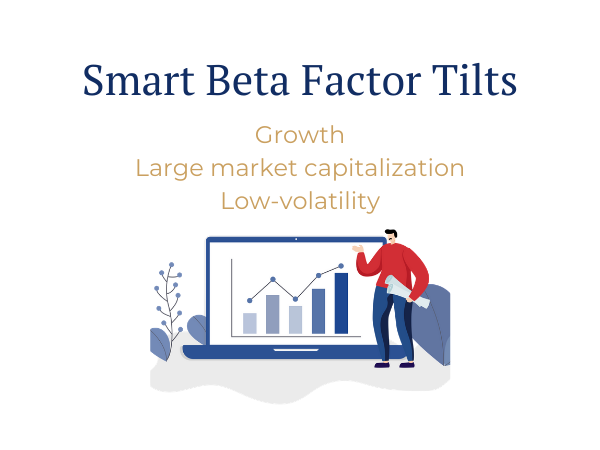 Growth stocks have outperformed value stocks in recent years
Similarly, large-cap stocks have outperformed small-cap stocks
Low-volatility stocks, i.e. stocks that generate steady, positive returns without wild price swings, have also outperformed
Using advanced statistical analysis, we select the ETFs that best represent these factors and overweight them.
For example, QQQ increases the portfolio's weight towards growth and large-cap. To tit towards low-volatility, SDPR sector ETFs are used. Learn more about our Smart Beta strategy.
Invest with $0 brokerage fees
Syfe fully manages your Equity100 portfolio so you do not need a brokerage account. There's no minimum to start with or a lock-in period. You can exit at any time without any additional charge. Dividends received are automatically reinvested in your portfolio.
This is a significant advantage over buying stocks and ETFs yourself. The brokerage cost on buying and selling has a significant reduction in overall return. Reinvesting dividends on your own isn't as cost-effective so your wealth won't compound effectively. You also need a sizeable amount of capital to hit the minimum lot sizes set by brokerage firms.
When you invest in Syfe's Equity100, your all-inclusive management fee starts from 0.4% per year.
Create an account instantly with MyInfo
It's really easy to invest in a Syfe portfolio.
Learn more about the Equity100 portfolio
Tell us a little bit about yourself and explore the detailed breakdown of your portfolio
Create your account and verify instantly with MyInfo
Transfer funds to your portfolio with PayNow or online banking