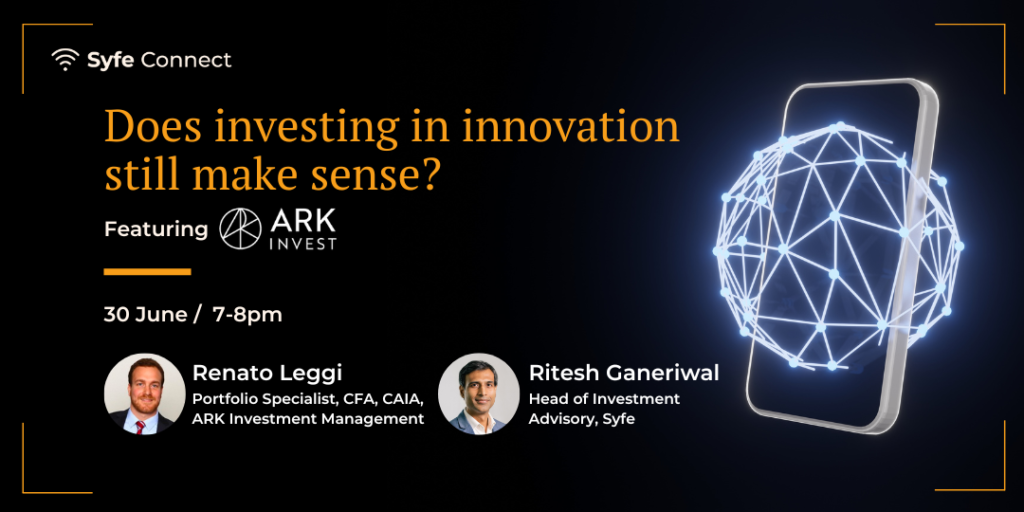 Webinar Overview
Date: Thursday, 30 June 2022
Time: 7:00 PM – 8:00 PM
Venue: Online Webinar
Register HERE
Featuring Ark Invest
All risk assets and growth companies in particular have been caught in the crosshairs of market volatility and higher interest rates. Coupled with fears of stagflation, does investing in innovation still make sense?
ARK Invest, which brought thematic investing to the masses, invests in disruptive technologies that can transform our world. Many of these companies were prized for their potential future growth over current earnings and saw tremendous growth during the pandemic. With higher interest rates leading to a higher discount rate on projected earnings, valuations for growth companies have fallen dramatically. Mathematically, this makes sense but does this mean that one should invest less in innovative companies? How should we think about growth investing for the long run?
Join us for this week's webinar where together with Renato Leggi from ARK Invest, we will shine the spotlight on the turbulence in the market and the path ahead for investing in growth and innovation.