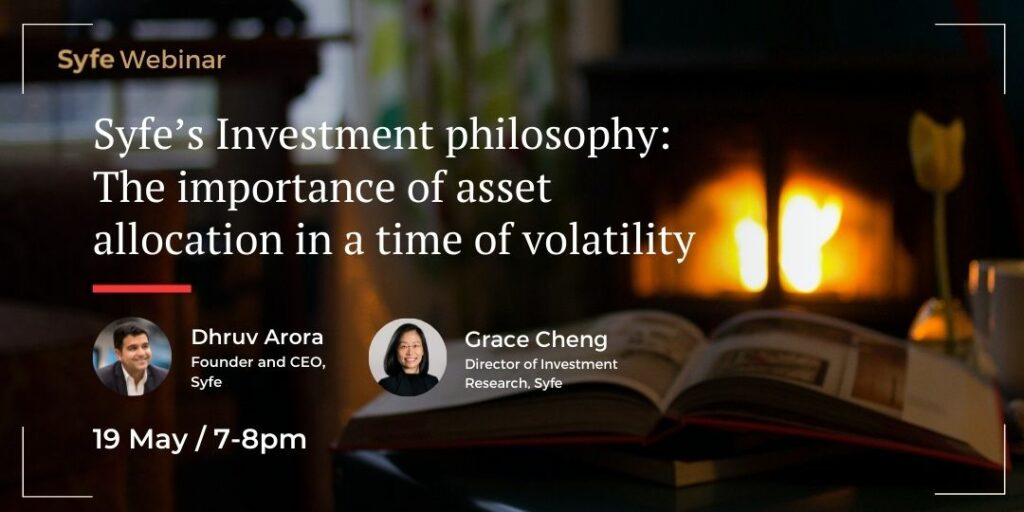 Webinar Overview
Date: Thursday, 19 May 2022
Time: 7:00 PM – 8:00 PM
Venue: Online Webinar
Register HERE
Understanding Syfe's Investment Philosophy
How are Syfe Core portfolios built? What is the role of China in a portfolio? And what about Gold? Does the 60/40 portfolio still work?
Ever wondered how Syfe's portfolios are built and the mechanics behind them?
In this week's session, we will be discussing the interplay between the different asset classes that make Syfe's Core portfolios as robust as they are. We will also be addressing key concerns including Mutual Funds vs ETFs and the relevance of the 60/40 portfolio.
We will also share a holistic view of our Syfe Wealth portfolios, and Syfe Trade, to show how all our offerings at Syfe work well together to cater to different needs and goals.
Join us for this week's webinar as we will be unpacking these questions, taking a deep dive into Syfe's investment philosophy for Core portfolios and revealing the foundations upon which Syfe's portfolios are built.