Investing in real estate – flipping properties or simply renting them out – can be very lucrative, but many people find the initial capital and time commitment too high to get started. For investors who want an easier way in, real estate investment trusts (REITs) offer exposure to different types of properties without the hassle and cost commitment of managing those properties for sale or rent. Characterised by their relatively consistent dividend payouts, REITs are a useful addition to any portfolio. If you want to get into REIT investing, here's everything you'll need to know.
What are REITs?
REITS are investment trusts that invest in a portfolio of income generating assets such as shopping malls, offices, industrial parks, hotels and healthcare properties. REITs pool together money from many different investors to purchase these properties, which are then leased out to tenants to generate revenue (primarily rental income). REIT investors, also known as unit holders, usually receive this rental income in the form of semi-annual distributions, (similar to the dividends that stocks provide). Apart from dividend yield, unit holders typically also earn returns through capital gains when the price of the REIT appreciates as the value of properties increase and it is sold at a higher price than it was purchased for.
Similar to stocks, REITs are listed on the Singapore Exchange and you can invest in them the same way you would in a stock. But do note that REITs have a structure that is different from listed companies.
The roles within a REIT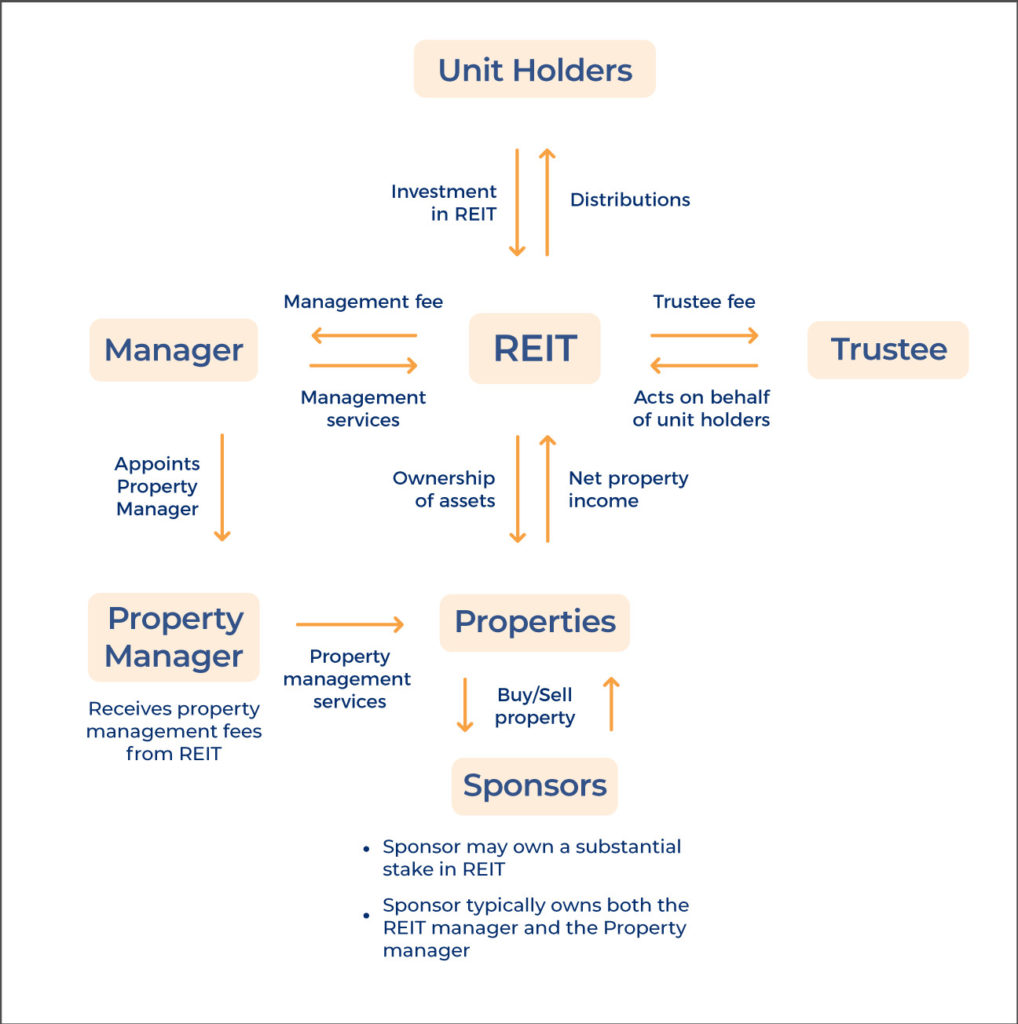 You can think of a typical REIT structure as such. The day-to day running of the properties held by the REIT is managed by a property manager whose responsibilities include collecting rent from tenants and implementing promotional programmes to achieve healthy occupancy rates.
But who appoints the property manager? That's the role of the REIT manager, otherwise known as the trust or asset manager. The REIT manager sets the strategic direction of the REIT, which can include identifying assets that can be acquired or sold, and planning asset enhancement initiatives.
The REIT sponsor is the controlling company behind the REIT, and typically owns both the property manager and REIT manager as well. A sponsor can be a property developer, as in the case of CapitaLand which backs the CapitaMall Trust and CapitaCommercial Trust REITs. A sponsor can also be more of a real estate fund manager, as in the case of ARA Asset Management, which backs Suntec REIT.
Finally, there is the role of the trustee. The trustee holds the assets of the REIT on behalf of unit holders and is responsible for administering the REIT in accordance with the provisions of the trust deed.
Types of REITS listed in Singapore
REITs allow you to invest in a wide variety of real estate segments. Here's a snapshot of the types of Singapore REITs (S-REITs) you can invest in:
Commercial / Office REITs
Retail REITs
Industrial REITS
Hospitality REITS
Healthcare REITs
Data centre REITs
There are currently 41 S-REITs listed in Singapore but that does not mean all the REIT properties are located here. Manulife US REIT for instance invests in office real estate in the United States.
Are REITs a good investment?
For retail investors, the main draw of REIT investing is the consistent dividend income they stand to earn. S-REITs are required to pay out at least 90% of their income as dividends. At the time of writing, S-REIT dividend yields are 6.5% on average. This is especially useful for retirees who may depend on dividend payouts for their daily expenses.
REITs are also an affordable way for retail investors to invest in real estate. The cost of investing directly in a large shopping mall may be prohibitive for many, but a REIT allows you to own a piece of that property for much less. For investors deciding between REITs and rental properties, REITs typically provide rental income with much less risk, time, effort and initial capital outlay.
Additionally, REITs are a great tool for diversifying your investment portfolio since they represent a different asset class from stocks and bonds. Similar to an exchange-traded fund (ETF), you get to invest in multiple properties at once through a REIT. This reduces the risk that may come with simply investing in one property.
As with all investments, there are still certain risks involved when investing in REITs. To minimise these risks, here's what to look out for.
What to consider when investing in a REIT
Quality of the REIT properties
Do a check on the underlying properties of the REIT. Are the properties located in prime locations? Is the property sector a high-growth sector? These factors indicate stronger rental income for the REIT.
In addition, who are the tenants of these properties, and do the properties depend on just a few anchor tenants for most of their revenue? Typically, properties with a well-diversified tenant profile made up of established corporations will tend to be more resilient.
Weighted average lease expiry
Weighted average lease expiry (WALE) measures the overall tenancy risks of a particular property and is used by investors to assess how likely the property will be vacated and by extension, how secure the REIT's rental income will be. REITs with a longer WALE are likely to have greater long-term income stability.
Track record and strong sponsor
A good REIT management team creates greater value for unitholders. Look for REITs with a strong track record of asset enhancement initiatives such as mall upgrades, which in turn can improve the tenant mix.
A strong sponsor will also be able to feed the REIT with a pipeline of quality assets in the years to come while providing the necessary financial support through an economic downturn.
To sum up
Well-run, financially strong REITs are an attractive addition to any portfolio. With their long-term capital appreciation potential and ability to generate fairly consistent dividends across all market conditions, REITs are the ideal investment for investors seeking to generate passive income.
If you're keen to get started, sign up for Syfe's new REIT+ portfolio here. Offering some of the best SGD-denominated real estate assets in one portfolio, investors can earn high dividend yield while generating passive income.