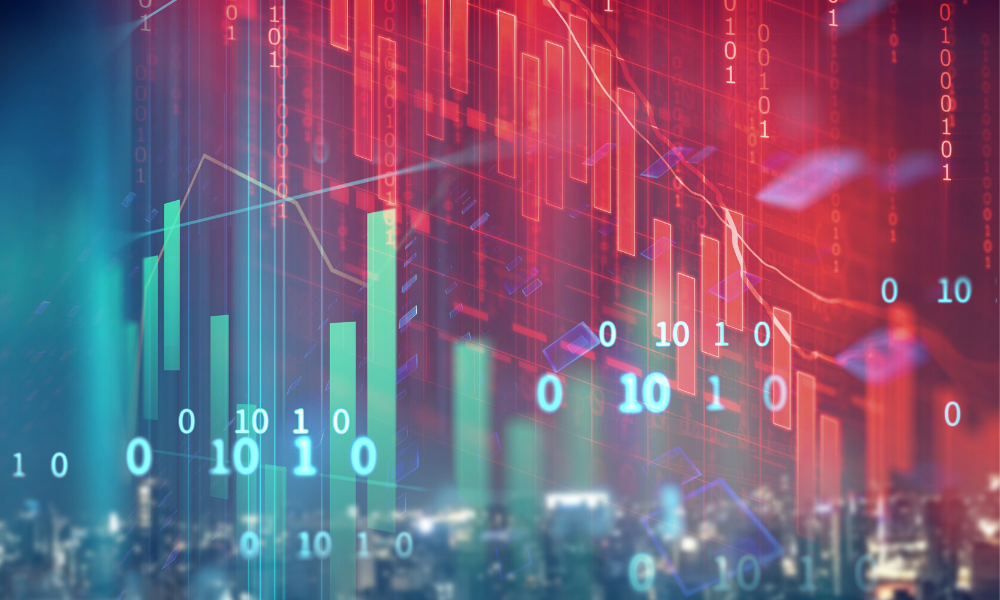 After a spectacular year for the stock markets in 2019, the first two months of 2020 started off promisingly. In fact, the S&P 500 index hit an all-time high on February 19. But developments over the past weeks – mounting coronavirus cases across the world and the split between key oil producers Russia and Saudi Arabia – have sent stocks on a dizzying roller-coaster ride.
So how did Syfe's automated risk managed investing (ARI) algorithm deal with the wild market swings? The chart below offers some insight. It illustrates that the recent increase in market volatility (blue line) occurred abruptly, shooting up quickly from previously low levels in a matter of days. The sustained increase in volatility during the initial days of the market drop from 19 to 25 February further indicated that market risks will remain high in the near future. As such, our ARI algorithm adjusted asset allocations to reduce risk across all portfolios.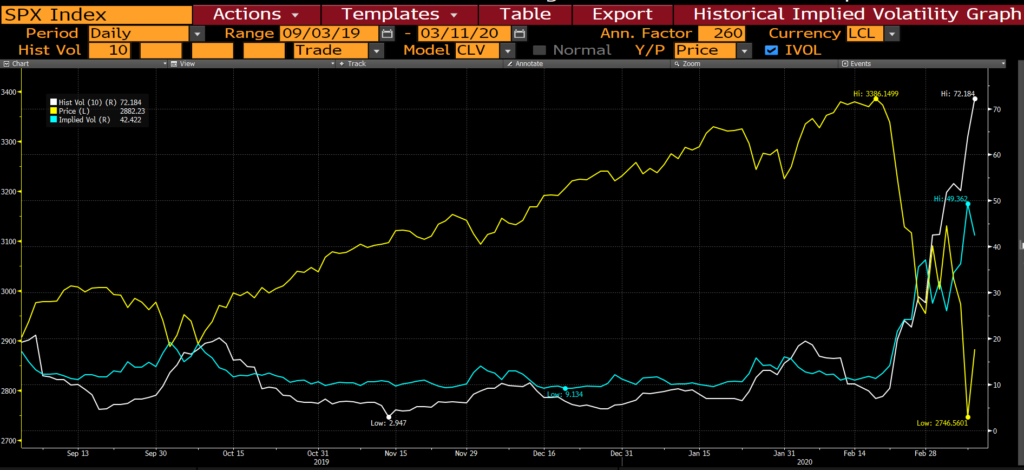 By decreasing the share of equities and increasing the share of lower-risk bonds and commodities, Syfe's rebalancing returned the risk levels of each portfolio back to their target downside risk levels. After the S&P 500 posted its worst one-day percentage drop since the 2008 financial crisis on Monday (9 March), this risk-based rebalancing we conducted helped cushion the impact of that drop on portfolio values.
How Our Rebalancing Helped Investors Weather Market Turbulence
To illustrate, the graph below shows the actual performance of our 15% Downside Risk (DR) portfolio (dark blue line). As the market correction started worsening towards the end of February, the risk level of this 15% DR portfolio had risen to nearly 18%. Consequently, Syfe made a series of rebalancings on 25, 26 February and 2 March to bring the portfolio risk level back to its targeted 15% downside risk level.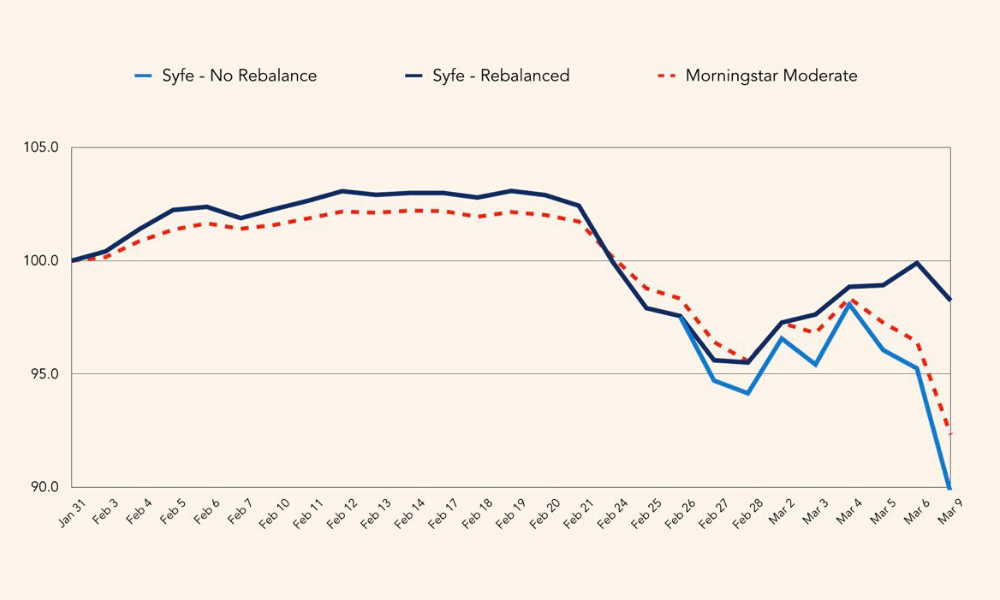 When markets dropped again from 26 to 28 February, the rebalanced portfolio experienced a smaller decline in value of about 2.1%. If Syfe had not made any risk-reducing allocation changes, the un-rebalanced portfolio would have suffered a drop of 3.5% instead.
The markets then entered a period of roller-coaster swings from 28 February to 4 March. The rebalanced portfolio not only performed better than the un-rebalanced portfolio, but also experienced less of the jarring ups and downs that occured.
As markets plunged on 9 March, the rebalanced portfolio was significantly more resilient. It experienced a milder 1.7% drop in value compared to the un-rebalanced portfolio, which fell steeply by 5.8%.
The Syfe Difference
The value of Syfe's risk-based rebalancing approach can also be seen by how the rebalanced portfolio has outperformed both its benchmark and the un-rebalanced portfolio over the past weeks. While it still experienced dips in value amid the broader stock market correction, the rebalanced portfolio experienced less volatility as well during this period. This gives investors the assurance that their portfolio risk will not exceed their chosen Downside Risk level i.e. they are unlikely to lose more than what they are comfortable with losing, given their risk appetite.
The S&P 500 has fallen 14.7% from 31 January to date (9 March 2020). In this same time period, Syfe's 15% DR portfolio only dipped 1.8% due to our portfolio risk management. It is important to note that our ARI algorithm is not designed to react to every single price fluctuation that occurs in the market. Instead, it waits to make significant allocation changes until the increase in volatility can be assessed to be a sustained increase in market risk.
This is why ARI did not rebalance portfolios the moment prices fell – to do so would simply be making trading decisions based on price, instead of risk management. More details on how ARI is able to measure and forecast market risk can be found in our whitepaper here.
Because ARI is designed to keep portfolio risk in line with our investors' chosen downside risk level, this also means that it will rebalance portfolios again when it detects that market volatility is abating. As the market makes its eventual recovery, ARI will increase the shares of equities across portfolios so investors can capture the market upside.
Syfe's risk-based rebalancing strategy may not always correspond to the gut feel of investors, but it delivers better risk-adjusted returns over the long term. When investors are assured that their portfolio risk is always in sync with their risk tolerance, they are less likely to panic sell their investments in a downturn, thus paving the way for long-term investment success.