Are you new to Syfe? Here's how you can earn rewards on Syfe Wealth and Trade when you're invited by a Syfe affiliate!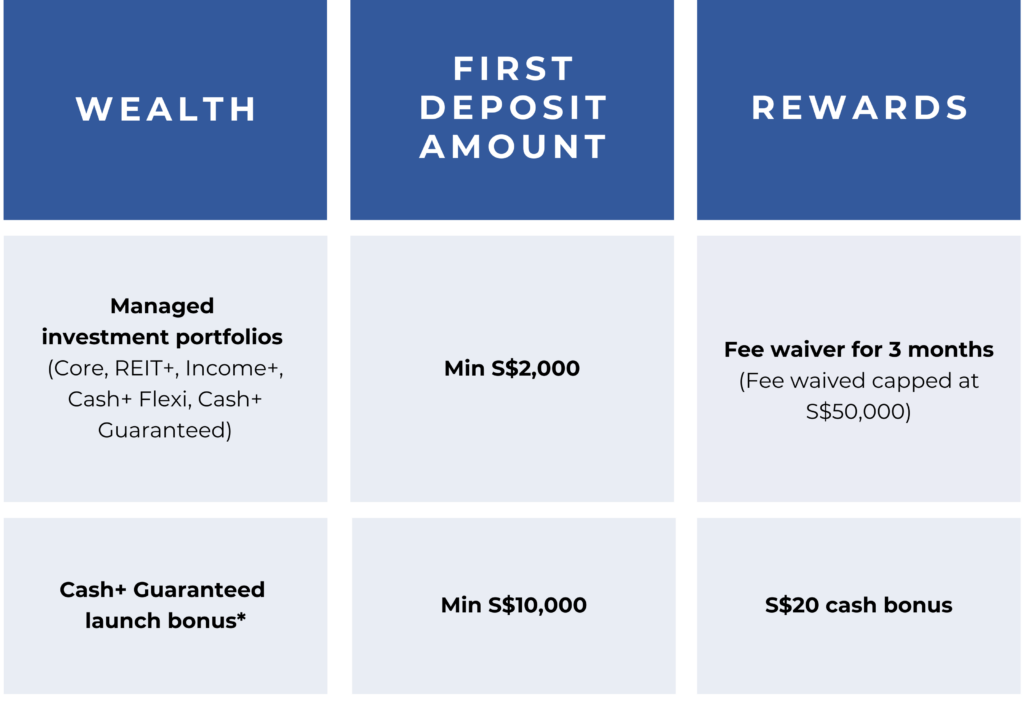 ---
Eligibility:
Must be a new-to-Syfe client
Must use a valid invitation code at sign up
If the invited joins both Syfe Wealth and Trade within 30 days of signing up, they will be entitled to both benefits.
Rewards earned are non-transferrable across platforms ie 'Cash credit' from Syfe Trade is not transferable to Syfe Wealth portfolios, nor can 'cash bonus' from Syfe Wealth can be transferred into Syfe Trade.
*Limited Cash+ Guaranteed Launch Offer: Now – 30 September, 2023 only. New customers referred to Syfe (referee) via Cash+ Guaranteed is eligible for additional cash bonus on top of management fees waived. Once requirements are met, referrers will see cash bonus in their first funded Syfe portfolio. The S$20 referee bonus will be added to their Cash+ Guarantee portfolio and only after lock-in period is completed (in 3 months maturity).
---
Frequently Asked Questions
General Invitation
I've decided to withdraw all funds from my portfolio. Is there a clawback policy for invitation bonuses?
Yes. In the event of full account withdrawals, invitation cash bonuses are not transferable unless you have maintained a minimum of S$500 in your Syfe portfolio(s) for a consecutive period of 90 days since the cash bonus was applied to your portfolio.
Trade
What is a cash credit?
Cash credits will be reflected as an increase in your buying power. You may use them as an investment credit to buy any securities of your choice on Syfe Trade.
Can cash credits be withdrawn?
Cash credits awarded as part of the Syfe Trade welcome promotion and invitation program cannot be directly withdrawn to your bank account. They can only be used to buy a stock or ETF of your choice.
Can't find answers to what you're looking for? Check out more FAQs here.
---
Syfe Invitation Program Terms & Conditions
To participate in the Syfe invitation Program, all parties must agree to the terms stated above and herein, which become part of Syfe's Terms & Conditions.
Syfe reserves the right to any remedy, including cancellation of your account or reservations, if fraud, tampering, violations of these terms or Syfe's Terms & Conditions, or if technical errors are suspected.
Syfe reserves the right to suspend accounts or remove the Incentives if we notice any activity that we believe is abusive, fraudulent, or in violation of the Syfe's Terms & Conditions. Syfe also has the right to review and investigate all invitation activities and to suspend accounts or modify invitations in our absolute sole discretion as deemed fair and appropriate.
In the event of the Invited Client having missed the promo code field at signup, they have up to 14 days to enter the invitation code directly through the "Account Settings" tab of their Syfe dashboard. Requests to tag any invitation codes to a Syfe account 14 days after account creation will not be accepted.
Other Terms and Conditions
All promotions and offers by Syfe are subjected to a set of terms and conditions
Syfe reserves the right to amend terms and conditions including changing the reward benefits of the promotion or offer, terminating the offer before stated validity date, changing the details of the promotion or offer or any other changes in order to protect the interests of the company or under circumstances of abuse.
Invitation codes issued by Syfe are not valid for use together with promotions or offers. The promotion codes are strictly unstackable
Eligible customers consent to Syfe's collection and use of customer's personal data and any disclosures of customer's personal data by/to third parties for the purpose of this promotion. Eligible customers agree to the terms and conditions of Syfe's Privacy Policy, which can be found at https://www.syfe.com/privacy-policy.
Disclaimer:
This material is provided to you for general information purpose only and does not constitute a recommendation, an offer or solicitation to purchase or sell the product mentioned. It does not make any regard to your specific investment objectives, financial situation and any of your particular needs. Accordingly, no warranty whatsoever is given and no liability whatsoever is accepted for any loss arising whether directly or indirectly as a result of you acting based on this information.