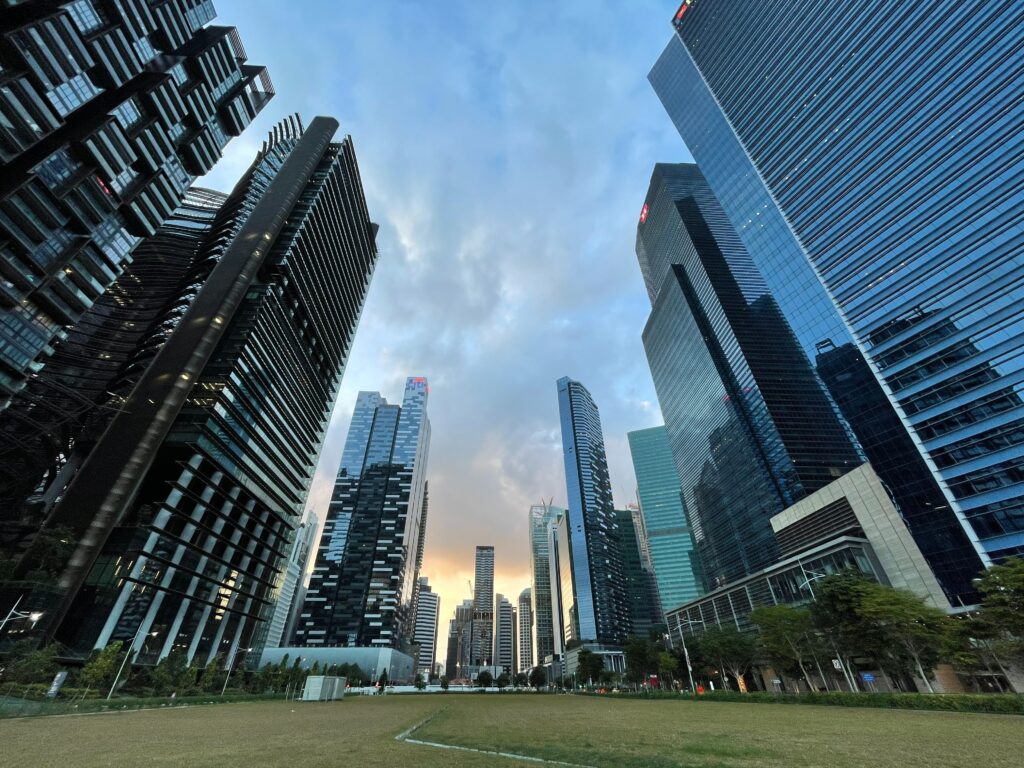 Many investors know real estate investment trusts (REITs) as a cost-effective way to diversify their portfolio, and their attractive dividend yields make them especially popular with income investors. That said, not all REITs are made the same.
For instance, retail and hospitality REITs were amongst the worst impacted by COVID-19 last year, whereas industrial REITs have stayed relatively resilient and defensive. In the earlier part of this year, retail and office REITs seemed to be leading the recovery as the Singapore government ramped up its vaccination programme and further eased social distancing restrictions.
But with Singapore back to Phase 2 (Heightened Alert) measures once more, these sectors could come under pressure yet again. In a volatile and uncertain environment, how do investors know which are the "right" REITs to invest in?
While distribution yield is an important consideration for REIT investors, it does not tell us about the sustainability of its distributions or the strength of a REIT. Other factors like the quality of REITs, weighted average lease expiry (WALE), and business mix are key considerations as well.
Particularly, against the backdrop of the pandemic, more investors are going beyond short-term performance, picking REITs that are resilient in the long-term and have capacity for growth.
We highlight the top three REITs that analysts are most positive about in 2021.
Ascendas Real Estate Investment Trust
Ascendas REIT is a familiar name amongst investors. At the time of writing, the REIT holds the largest weightage amongst the REITs listed in the Straits Times Index (STI).
Traditionally Singapore's largest industrial REIT, Ascendas has in recent years moved towards business and science parks, as well as data centres. These sectors allow Ascendas to attract high-quality tenants consisting of big tenants like DBS Bank and fast-growing technology companies.
A research report by Phillip Securities noted that by securing tenants at the forefront of technology, biomedical science, and knowledge-driven industries, Ascendas REIT is future-proofing itself to capture as many growth opportunities in the New Economy as possible.
Having Capitaland as its sponsor also gives Ascendas REIT strong competitive advantage, potentially being able to obtain a lower interest rate on loans from financial institutions due to its reputation.
From its 1Q21 report, no single property of Ascendas accounts for more than 4.0% of its monthly gross revenue, reducing any tenant concentration risk. This means that if any tenant decides to leave the properties, rental income will not be severely affected. Occupancy rate has also remained relatively stable over the course of the pandemic. Moreover, with a healthy WALE of 4.1 years as at 31 March 2021, we can expect stable occupancy going forward.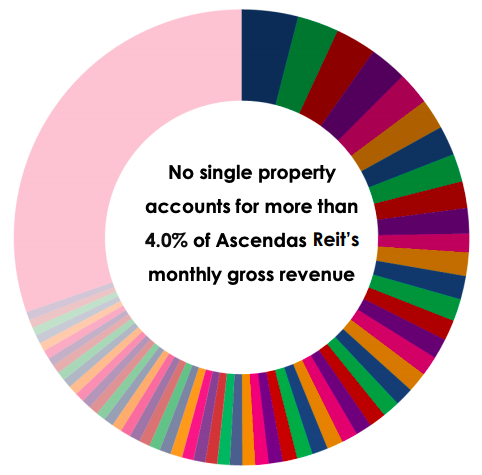 As such, analysts like those from CGS-CIMB have concluded Ascendas to be a relatively defensive REIT with strong fundamentals and good scale that should be part of investors' portfolios.
Frasers Centrepoint Trust
While the return to Phase 2 (Heightened Alert) is a setback for most retail REITs, Frasers Centrepoint Trust (FCT) has remained one of analysts' favourite REITs. Most of FCT's malls are located in the suburban parts of Singapore. Suburban malls have remained largely resilient as they tend to be frequented by shoppers in need of groceries and other daily necessities.
A research report by UOB Kay Hian observed that suburban malls' focus on essential goods and services and close proximity to residential areas and transport amenities, makes them ideal "last-mile" fulfilment hubs especially with work-from-home arrangements. These factors also make them resilient against the rise of e-commerce.
Being a pure-play REIT in the Singapore suburban retail sector, FCT is well-positioned to ride out the return to Heightened Alert measures. For instance, FCT was able to maintain a stable portfolio occupancy despite a challenging leasing environment, with a healthy occupancy rate of 96.1% as at 31 March 2021. Additionally, its total tenants' sales have generally been above the general market and recovered close to pre-COVID-19 levels.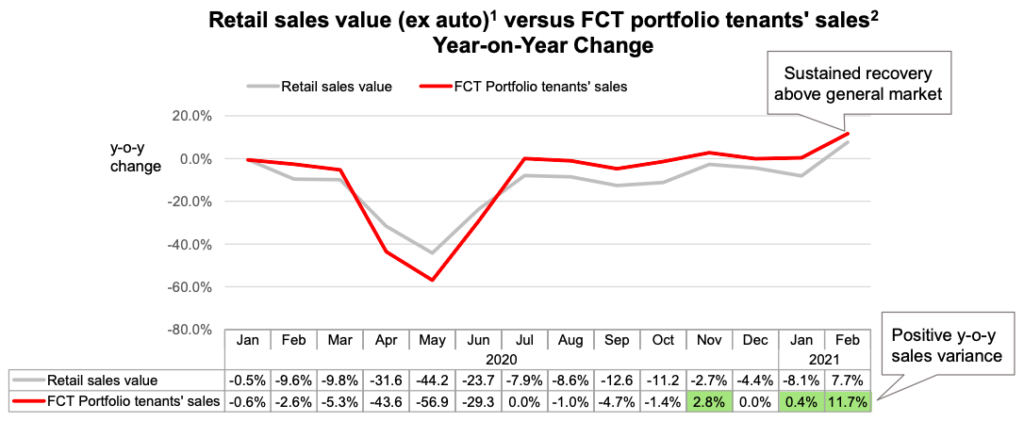 The REIT also acquired the AsiaRetail Fund (ARF) portfolio in 2020, propelling it to become one of Singapore's largest suburban retail landlords. Given that the malls in ARF are located in areas where there are limited competitor malls around, and are near MRT stations, commanding high recurring traffic, the acquisition has not only expanded FCT's scale, but also allowed it to dominate the heartlands. According to UOB Kay Hian, this provides momentum for strong distribution per unit (DPU) performance in 2H21.
Therefore, most analysts such as Phillip Securities and Maybank Kim Eng agree that FCT remains a solid pick in the long-term with good fundamentals, while still well-poised to benefit from growth trends in the near-term.
Capitaland Integrated Commercial Trust
Despite not performing as well as FCT due to its more balanced portfolio with a stake in the office sector and downtown malls, analysts are retaining a positive outlook on Capitaland Integrated Commercial Trust (CICT).
A research report by UOB Kay Hian noted that recovery in retail spending tends to extend from suburban malls to downtown malls when restrictions are lifted. For example, in the first quarter of this year, CICT saw shopper traffic and tenants' sales in downtown malls recover to 74.8% and 98.8% of 1Q20 levels respectively.
On the back of suburban mall recovery, analysts at Phillip Securities are optimistic that CICT's network of malls, digital ecosystem and loyalty programmes will support tenants and potentially draw international brands to the heartlands in their expansion.
In the office sector, Phillip Securities posited that foreign demand for office space will continue to drive growth for CICT's Grade A office assets as Singapore's pro-business environment continues to attract high-quality companies to set up their regional offices here. Indeed, three of CICT's office assets had office rents committed above market levels in 1Q21.

The general sentiment among analysts is for long-term investors to stick to quality REITs within structural growth themes with a good brand name and management – to which CICT is a good fit.
For one, occupancy rates have remained fairly healthy. As at 31 March 2021, CICT's retail occupancy was at 97.1% (above the Singapore retail occupancy rate of 91.5% for 1Q21), and the office occupancy was at 94.9%.
Investors can also expect CICT to create further value with the completion of several asset enhancement initiatives in 2H21. Ultimately, these factors make CICT a good pick in the medium to long term.
Reap the benefits of these REITs with $0 brokerage fees
While these are analysts' favourite Singapore REITs, buying these REITs individually can be costly. Depending on your broker, brokerage fees can cost upwards of $10 – $25 per transaction. This can seriously eat into your investment returns over time.
Instead of DIY investing, Syfe REIT+ offers a more convenient and cost-effective way of investing in Singapore's best REITs. Tracking the SGX's iEdge S-REIT Leaders index, REIT+ allows you to invest in Ascendas REIT, FCT, and CICT all at once, among other top REITs.
Best of all, you only need to pay an all-inclusive management fee ranging from 0.65% to 0.35% per year when you invest in REIT+. You also get to enjoy $0 in brokerage or trading costs, regardless of how many transactions you make.
As an added bonus, REIT+ gives you the option to automatically reinvest your dividends in your portfolio. Reinvesting these dividends can increase your returns by about 0.5% per year. That's equivalent to covering your fees!
If you're keen to start investing in Singapore REITs to build a resilient portfolio and capitalise on the growth opportunities of tomorrow, REIT+ could be the ideal portfolio for you. What's more, enjoy a limited time offer and get more out of your REIT+ portfolio by using the following codes.
For new customers only
40REIT: Get $40 cash bonus when you invest $5,000 in Syfe REIT+
200REIT: Get $200 cash bonus when you invest $20,000 in Syfe REIT+
The promo codes cannot be stacked. Terms and conditions apply.