For many, getting started investing is the most difficult part of the entire investment process. At the same time, it's also the most important.
By investing early, you can benefit from compounding – both from the growth of your investments and in the knowledge you gain over time – helping you more confidently navigate financial markets.
Below we look at the simple 5 step process everyone should follow when getting started investing:
Understanding Your Current Situation
Before you start investing, it's worth sitting down and taking stock of your current financial situation. Here's the framework we use at Syfe:
What assets do you own? From your home, car, stocks, and everything in between – list them out and if possible, estimate their value.
Do you have any liabilities? From student debt to credit card debt, understanding what you owe – before starting investing is important. While student debt in Australia might not hold you back from investing, paying off high interest debt – such as credit card debt – should take priority over investing in assets like stocks and ETFs.
How much do you earn? Factor in everything from your salary, any additional income, rental income, or dividends you may be receiving. Add it all up to get a holistic view of your total earnings capacity.
What are your core and non-core expenses? From necessary living expenses such as rent, mortgage repayments, and car insurance, to non-core expenses like dinners out and your Kayo subscription, it's important to break down your recurring expenses – on a monthly and annual basis. This is also a good time to think about how you can reduce expenses you can afford to live without!
Once you've got a picture of your financial inputs, it's time to put them together to map your overall financial situation and begin to build your plan. Using Google Sheets or Excel is the fastest way to do this, but you can also use pen and paper:
Write the months of the year across the top of the page
Write your sources of income, then expenses down the page
The income you earn minus the expenses you have will give you your spare monthly capacity to save, invest, or repay debt – mapping this out into the future is a great step to help you get on top of your finances
Further down the page it's also good to write the assets and liabilities you have, so you can track how these are changing month to month – seeing how these change over time will help keep you motivated and accountable to achieve your financial goals
Once you've done this it's time to start thinking about how much you'd like to invest. Whether you want to invest a lump sum of money saved up all at once or invest slowly over time – the choice is up to you.
With Syfe, you can develop your investing skills and experiment with new investment strategies and ideas, without a big initial outlay. Allowing you to get comfortable and familiar with the processes of investing before you really make a start. with Syfe, you can buy fractions of US shares & ETFs – starting from just US$1 or invest in 1,000+ Aussie shares from just 1 share.
Remember: However much you choose to invest, it should never be more than you are willing or able to lose.
Setting Goals & Strategy
Whether you're looking to achieve financial freedom or save up for your first home – understanding exactly what you want to get out of investing is one of the first steps to achieving your financial goals.
It's important that you define your goals in real terms. Having a goal of 'Building a $150,000 investment portfolio to use as a deposit for my first home purchase in four years' is more useful than a vague statement like 'I want to build a large investment portfolio'.
Once you've defined your goals, it's also important you create a strategy for how you will achieve them. Some ideas worth considering include establishing a budget, reducing unnecessary expenses, or generating new income streams.
Here's a link to our 5 Step Personal Finance Guide.
Lastly, given that most peoples' financial situations and priorities will change over time, it's also important to regularly track and review your progress. Whether this means saving more and spending less or even redefining your goals – this will ultimately depend on your personal circumstances.
Choose an Investment Platform
Once you've mapped out your current situation and defined your investing goals, it's time to choose an investment platform that is right for you.
When it comes to choosing an investment platform, the most important thing to consider here is what type of investor you are. Do you want to be more active and trade frequently? Or do you want to be more passive and trade less frequently? Is doing it yourself important or do you want support and guidance so you can invest with confidence?
This is an important question to answer because those who are more hands off, might not need many of the features and tools that active investors require, and vice versa.
Also it's important to think through the type of tools you require under each investing style – if you like to DIY then you might like more analysis you can use to form your own opinions with, or if you like more assistance you might like more curated strategies and investment direction.
Any investment platform you choose should be easy to use, low cost, provide asset choice, customer support, & educational content. Syfe's app is seamless to use, offering low cost trading (US$1.49 US trades / from A$4.99 ASX trades), gives huge asset choice (12,000+ ASX & US shares & ETFs), 24/5 customer support, & great educational content.
The following table gives a useful summary of the tools and features that Syfe offers that you can use depending on the type investing style you want to adopt.
Important Syfe tools to consider when you are…
More active or want to DIY
More hands off or want more help
– Price alerts by price or % movement
– Responsive charting
– Fast trade executionInstant funding & FX conversion
– Financial stats, metrics, company info & market news
– Stock discovery lists including top movers, most popular, thematic & sector searches

– Smart Baskets are orders pre-built by experts, that you can use to match your style to your investments
– Recurring buys to automate your investing by day, week, fortnight, or month
– Analyst ratings on stocks & 12 month stock price projections by analysts
– Market views including stocks with top earnings momentum, profit margins, recent winners, & top Wall Street recommends
Unpacking 4 of Syfe's most popular features & tools
Goals Focused Investing 🥅
No matter how ambitious, Syfe's powerful Goals Feature gives you the tools and resources to set, track, and invest against your biggest goals.
Analyst Insights 📊
Elevate your investing strategies, with free analysis and insights, including share price outlooks, profit forecasts, and analyst sentiment checks – from some of the world's best and brightest stock pickers.
Elevate your Knowledge 🎓
Become a better investor daily with access to the Syfe website and in-app knowledge section, allowing you to track everything from financial news, investment guides, and comprehensive company spotlights. Check out our Learn page to discover more.
Recurring Buys 🔁
Build long term wealth on autopilot by setting up recurring buys on leading US stocks and ETFs – on a weekly or monthly basis, in the dollar amount of your choosing.
DIY or Guided Investing?
So you've defined your goals and chosen an investment platform. The next thing to consider is what you'll invest in to achieve those things.
Generally speaking, there are two main investing styles to consider – DIY Investing and Guided Investing. At a high level, here are some of the key tools and features that suit both of those styles:
DIY Investing
Guided Investing
– Access to 12,000+ US stocks & ETFs
– Powerful discover tools which help you take advantage of new & exciting market opportunities
– Access to news, and detailed resources & insights, like our Deep Dive into Tesla
– Price alert features to help you seize opportunities as they emerge
– Get full flexibility to trade your way, with low minimum buys you can trade 1,000+ ASX stocks from 1 share, and with fractional trading you can buy US stocks from US$1
– 14 pro built, ready made Smart Baskets, spanning high growth to conservative income
– Analyst recommendations, insights, and data
– Core educational content to help you feel confident making investment decisions in all market conditions
– Powerful goals-based tools to help you achieve your financial ambitions
– Use Syfe's recurring Buys feature to stay on track with your investing and build wealth over the long term
DIY Investing
DIY investing is great for individuals who want to be in the driver's seat of their investment journey. With Syfe you can invest in 12,000+ US and Aussie stocks as well as leading Exchange Traded Funds (ETFs).
Plus, Syfe's low cost brokerage – including the ability to buy US stocks for US$1.49 per trade and Aussie stocks from A$4.99 per trade – mean fees will never eat into your returns, putting you in the best possible position to succeed over the long term.
Learn more about DIY investing here.
Smart Basket Investing
Smart Basket investing is great for individuals who want to match their investments with their investment goals, while harnessing the power of Syfe's wealth professionals. It's also great for someone who knows that taking control of their financial future is important – but might not have the time or knowledge to take a direct, hands on approach.
Built by Syfe's wealth professionals, Syfe Smart Baskets allow investors to diversify their portfolio in just one order with a curated collection of stocks and ETFs, and are aimed at helping investors achieve better risk adjusted returns.
Whether you want to capitalise on the next wave of mega growth with baskets like the High Growth AU Smart Basket, or generate passive income while you sleep with Syfe's High Dividend AU Smart Basket – the choice is completely up to the individual.
Discover more about Syfe'e 14 Smart Baskets now.
Rebalancing & continuous learning
As your circumstances change, it's important to reflect on how your investments might also need to change.
Syfe Australia's General Manager Tim Wallace recently tackled this very issue in a Money Magazine Australia article, stressing that investors "should review and if necessary rebalance your portfolio semi-regularly to make sure it's still in line with your objectives and goals."
This is because the composition of your portfolio – of all your investments – can change over time, as stocks and other assets rise and fall in value.
Continuous Learning
Although the foundations of investing can be mastered by anyone, financial markets are undeniably complex. It's one of the reasons we are huge advocates of Smart Basket investing at Syfe.
By comparison, for the hands on investor – staying on top of financial market news, earnings reports, and the changing views of the world's top financial analysts – is a key component to making informed financial decisions.
The Syfe Learn Portal aggregates some of the most important financial information and data – from investment guides, news stories, and even deep dives into some of Australia's most influential companies.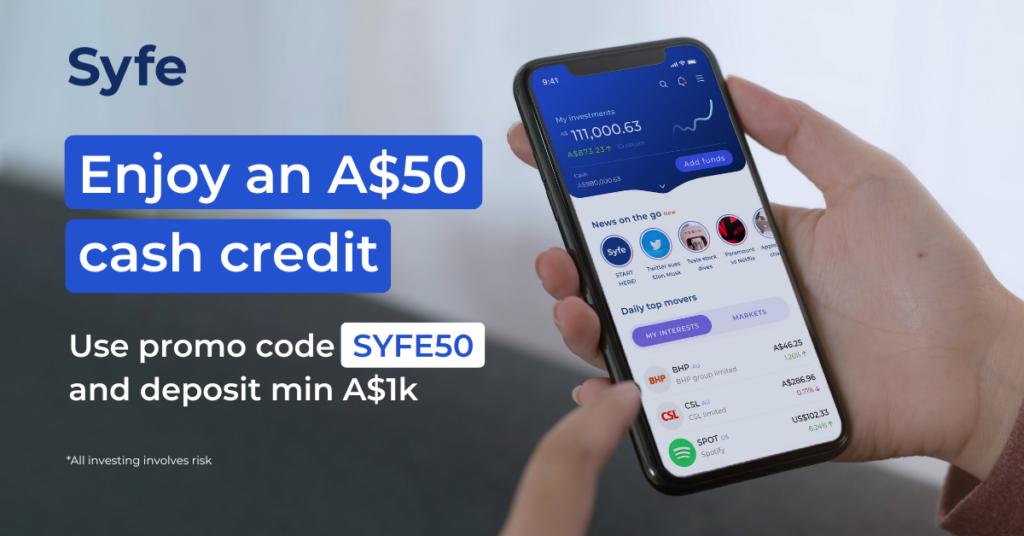 Smart Baskets are pre-packaged orders formulated according to investment attributes of the underlying securities/ETFs (such as geographic and industry exposure, historical dividend yield, and historical capital appreciation), and do not take into account your personal circumstances, risk appetite, and goals. The information provided does not suggest or imply and should not be construed as any guarantee of future performance, or as investment advice or strategy. Each Smart Order comprises several separate orders for ease of execution only, and should not be construed in any manner as a managed discretionary account or a managed investment scheme. Investing involves risk, including the risk of losing your invested amount. Any information that may be in this communication is general in nature only and is current at the time of writing. Syfe does not make recommendations of any kind or provide personal advice that take into account your objectives, financial situations or needs. You should therefore consider the appropriateness of the information in light of your own objectives, financial situation or needs before acting on such information, and/or speak to your financial or tax adviser for personal advice. Past performance figures are based on information provided by third parties and may not be accurate. Any references to past performance and future indications are not, and should not be taken as, a reliable indicator of future results. Syfe does not intend for any statement made here to relate to the acquisition or disposal of any shares in the companies or other financial products named here. Syfe makes no representation and assumes no liability as to the accuracy or completeness of the content of this communication.