In this 5 step guide we break down some of the most important Personal Finance topics, ideas and practical money tips, aimed at helping you supercharge your money journey in 2023.
1. Define Your Goals
Before you start budgeting, investing, or saving towards an emergency fund – the first step on your money journey should involve defining your financial goals. Whether that goal involves a holiday in the South of France or saving up for a house deposit – the choice is completely up to you.
Money Tip: Whatever goal you do set, make sure it's a SMART goal. A SMART goal is one that is Specific, Measurable, Achievable, Relevant, and Time-Bound. Here's an example: I want to build a stock portfolio, made up of Australian companies, worth $10,000, in one year. This kind of goal is much more useful than something like "I want to build a stock portfolio".
When defining your goals, try and break them down into short and long term goals. A short term goal might involve building an emergency fund while a long term goal might involve investing 10% of your income into stocks & ETFs over the long term. With Syfe Goals you can easily set, track and invest against your biggest goals – from saving for a house deposit to achieving financial freedom. Learn more about Syfe Goals here.
2. Build a Budget
After you've defined your goals it's time to build a budget! The crux of a budget involves listing all your sources of income and comparing them to your expenses.
Income might include the money you bring in from a salary, a side hustle, or passive income from things like dividends or rental income.
After you've defined what money you're bringing in, the next step is to look at your expenses. Here you want to distinguish between essential expenses, things like rent, insurance payments, and groceries, and non-essential expenses like entertainment, dinners out, and more.
Money Tip: When it comes to essential expenses – like rent and utility bills – it's worth considering automating these costs, either via direct debit or recurring bank payments. This will help you avoid late fees and free up mental space to focus on the things that really matter.
By quantifying your income and expenses you get a clearer picture of your overall financial situation – allowing you to make adjustments to your spending habits so you can get closer to achieving your financial goals.
Money Tip: One good rule of thumb when it comes to budgeting is the 50/30/20 rule. Which states you should spend 50% of your income on essential needs, 30% on non-essential wants, and 20% should go towards your financial goals – like saving or investing.
3. Save Towards an Emergency Fund
After you've got a good picture of your income and expenses, for many the next priority is building an emergency fund. As the name suggests, an emergency fund is a pool of savings put aside that you can draw on in case of emergency.
Money Tip: While the size of your emergency fund will differ based on your personal circumstances, generally it's advisable that your Emergency Fund is large enough to cover 3 to 6 months of essential expenses.
By building an emergency fund it means you will be well prepared for any uncertain expenses that may arise in your life, from a broken down car and to an unexpected dentist bill.
4. Pay Down Any Debt you Have
You've got a goal, a budget, and an emergency fund. The next step in your money journey is understanding your current outstanding debts and the interest rates attached to those debts.
Money Tip: As a priority, you should focus on paying down debts with the highest interest rates, such as credit card balances or personal loans. After that, you might also want to consider paying down debts such as student loan HECs debt, which ultimately lowers your overall take home pay.
Beyond the peace of mind from being debt free, outstanding debts – including credit card debt and even HECs will in many cases diminish your borrowing capacity when it comes to getting loans, such as a home loan.
5. Build Wealth with Investing
With your finances in order, now it's time to start thinking of growing your wealth. Investing has long been considered one of the best ways for individuals to take control of their financial future and grow their wealth. There are however a lot, and we mean a lot of options out there, making starting on your investing journey one of the most difficult aspects of investing.
With Syfe, there are two approaches for individuals to consider when it comes to investing:
DIY Investing: With Syfe you can invest in 12,000+ US & ASX stocks and ETFs from the palm of your hand. For new investors, our Ultimate Guide on ETF Investing is a must read.
Smart Investing: Syfe's Smart Baskets enable you to invest like the pros, leveraging the decades of institutional level experience of our wealth professionals. With Syfe you can choose from 14 different Smart Baskets – from High Growth to High Dividends – to invest in a way most aligned with your goals.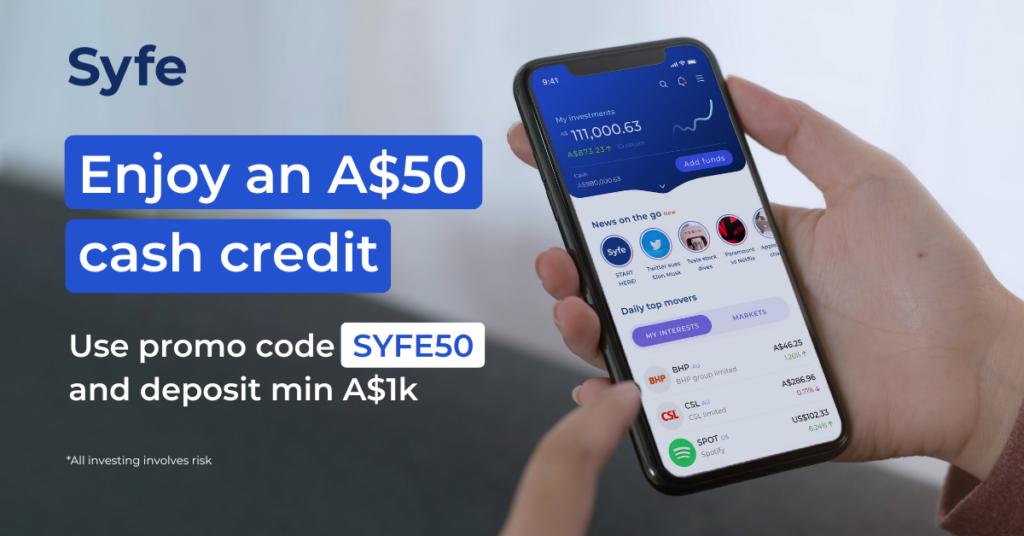 Smart Baskets are pre-packaged orders formulated according to investment attributes of the underlying securities/ETFs (such as geographic and industry exposure, historical dividend yield, and historical capital appreciation), and do not take into account your personal circumstances, risk appetite, and goals. The information provided does not suggest or imply and should not be construed as any guarantee of future performance, or as investment advice or strategy. Each Smart Order comprises several separate orders for ease of execution only, and should not be construed in any manner as a managed discretionary account or a managed investment scheme. Investing involves risk, including the risk of losing your invested amount. Any information that may be in this communication is general in nature only and is current at the time of writing. Syfe does not make recommendations of any kind or provide personal advice that take into account your objectives, financial situations or needs. You should therefore consider the appropriateness of the information in light of your own objectives, financial situation or needs before acting on such information, and/or speak to your financial or tax adviser for personal advice. Past performance figures are based on information provided by third parties and may not be accurate. Any references to past performance and future indications are not, and should not be taken as, a reliable indicator of future results. Syfe does not intend for any statement made here to relate to the acquisition or disposal of any shares in the companies or other financial products named here. Syfe makes no representation and assumes no liability as to the accuracy or completeness of the content of this communication.