Whether you're looking to take a more hands on approach to investing or simply refine your existing investment strategies – below we look at ten actionable investment tips to help you elevate your investing in 2023 and beyond.
1. Define your goals
Whether you're looking to start your own business or buy an investment property – understanding exactly what you want to achieve is the first step to achieving your investment goals.
A core part of this is defining your investment goals in real terms. Having a long term goal of 'Building a $100,000 investment portfolio' is more useful than 'I want to build a large investment portfolio'.
2. Diversify your investments
Diversification should be the cornerstone of an investor's portfolio. But what does it mean to have a truly diversified portfolio?
According to portfolio management experts Frank Teilly and Keith Brown, an investment portfolio made up of between 12 to 18 stocks will actually give investors the optimal benefits of diversification.
Of course, diversification shouldn't be thought of as purely a numbers game. Diversification should also be thought of in terms of different countries, sectors, and asset classes – like bonds or other alternative assets.
One of the easiest and most cost effective ways for investors to diversify their investment portfolio is with ETFs.
Read more: ETF investing Australia: Ultimate guide 2023 
3. Elevate your knowledge
Although the foundations of investing can be mastered by anyone, financial markets are undeniably complex.
For the hands on investor – staying on top of financial market news, earnings reports, and the changing views of the world's top financial analysts – is a key component to making informed financial decisions.
The Syfe Learn portal aggregates some of the most important financial information and data – from investment guides, news stories, and even deep dives into some of Australia's most influential companies.
4. Automate your investing
Dollar Cost Averaging – often shortened to DCA – is an investment strategy that emphasises making consistent investments over regular intervals.
A DCA strategy is often associated with a 'get rich slow' approach to investing, allowing an investor to benefit from their investments compounding over the long term, without the stress of actively managing a portfolio or day trading.
With Syfe, you can automate a DCA strategy by making use of our recurring buys feature. This feature allows you to invest on autopilot by setting up recurring buys on your favourite US stocks & ETFs – on a weekly or monthly basis, in the dollar amount of your choosing.
5. Listen to experts
Given the dynamic nature of financial markets, the ratings and share price targets from top analysts actually matter more than you might think.
This is because the market bases its expectations about different stocks and indexes off what analysts' opinions – be it price targets or stock ratings – in aggregate. This aggregate of opinions – averaged out – is referred to as the consensus view.
This is why for example, you can see such pronounced share price movements when a company beats or misses analyst expectations. In the first quarter of 2023, the Meta share price rallied +20% after the company reported 'better than expected' earnings.
Read more: Earnings season investing: Ultimate guide 2023 
Beyond that, it's worth noting that such share price moves can have a real and serious impact on a company's ability to operate – impacting a firm's capacity to do everything from raise new capital or even retain and attract new employees.
Regardless, investors shouldn't take analyst insights as the only source of truth when making an investment decision, but investors should include them as part of their investment research and decision making process.
Read more: How to use Wall Street insights to pick the best stocks 
6. Think long term
According to Warren Buffett: 'If you aren't willing to own a stock for 10 years, don't even think about owning it for 10 minutes.'
When it comes to stock investing in particular – thinking long term has two key benefits.
One, embracing a mentality towards long term ownership can help investors deal with volatility when it emerges. Specifically, it can help you make decisions based on your long term investment goals not your short term investment emotions.
Two, by taking a long term view, investors are able to reap the benefits of share ownership, including capital appreciation and/ or dividend distributions – both factors which are key benefits of share investing.
7. Embrace new strategies
For many, investing is purely about helping them do more with their money so they can achieve their financial goals. For others, investing is a hobby or even a way to feel like part of a community.
Trying out new investment strategies can help you gain a deeper understanding of financial markets and make you a better investor in the process.
For example, trading more frequently or investing in new asset classes – like ETFs – can help you better understand the psychology of market participants as well as your own investing preferences, such as your true level of risk tolerance.
Read more: 3 Investment strategies that outperform the market
8. Pay attention to fees
Whether looking at the expense ratio of a popular ETF or the brokerage fees of a share trading provider – paying greater attention to fees is something all investors can benefit from.
Ultimately, while small differences in fees might not seem like much, they can add up significantly over time, hurting both short term trading returns, long term portfolio performance and even inhibiting investment choice.
9. Discover your edge
According to Charlie Munger, the 'whole trick' of investing is to buy stocks or other assets where you have 'extra knowledge'. While the idea of investing in what you know is not unique to Munger, it remains a powerful piece of investment wisdom.
For the hands on investor this might mean reflecting on industries you're interested in or have technical expertise in and making investments accordingly.
Ultimately, this is an important reminder to focus on the stocks or markets that you truly understand, do the research, action your idea, and stay humble.
For investors without the time to understand the fundamentals of a company or deep dive into a specific industry, this will likely mean investing in passive ETFs that track a broad market index, like the S&P 500.
10. Reflect on your progress
Celebrating an investment performance milestone or reflecting on why one of your investments didn't go exactly as planned is all part of the investment journey.
By critically reflecting on our investment decisions we can become better investors over time. As with setting investment goals – reflect on your progress in concrete ways.
While this reflection will look different for every investor, consider thinking about:
Your top investment wins over the last six months and what made them successful
Your biggest investment mistakes and what you could do better next time
What you've learnt about your own investment style over the last six months – including your strengths, weaknesses and areas for improvement
How you're tracking against achieving your financial goals. If one of your investment goals was to build a '$100,000 investment portfolio' – in real terms – how close are you to achieving that?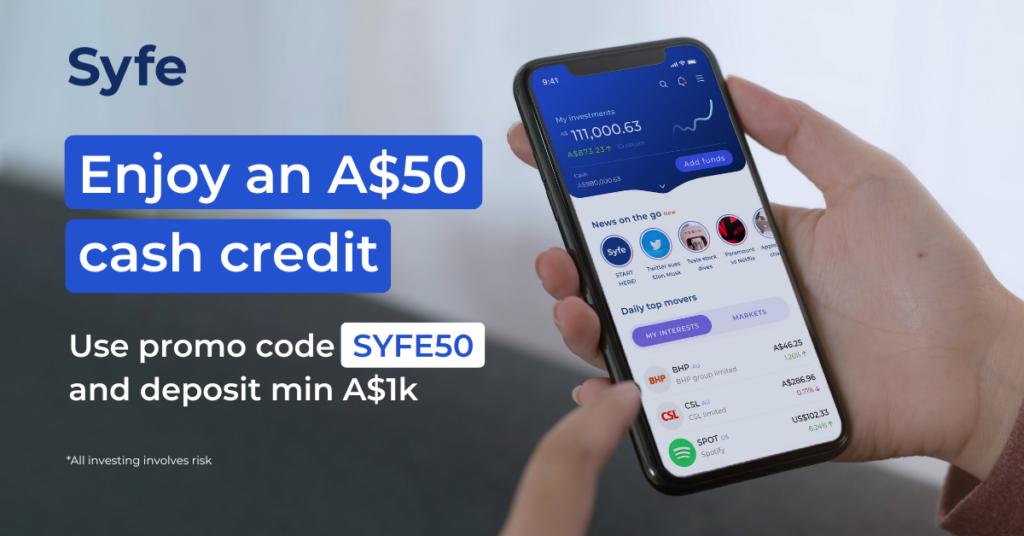 This article/webinar is brought to you by Syfe Australia Pty Ltd, AFS representative number 001295306 representing Sanlam Private Wealth Pty Ltd (AFSL 337927). Any information contained here is factual and should not be construed by you as financial product advice. You should consider obtaining independent advice before making any financial decisions. Any reference to an investment's past or potential performance is not an indication of any specific outcome or profit. We do not intend for any statement made here to relate to the acquisition or disposal of any shares in the companies or other financial products named here.