What is FUD in crypto? FUD – short for Fear, Uncertainty, and Doubt – is a topic that gets brought up a lot in the world of crypto. Sources of FUD can vary, ranging from straight out lies to common myths that might sound correct, but on closer inspection, don't hold up to much scrutiny.
In this article we discuss 4 myths, including: 
1. Crypto is worthless 
2. Bitcoin is dead 
3. All cryptos are the same 
4. Crypto is a scam
1. Crypto is worthless
This one comes up again and again. In fact, a quick google search for 'why crypto is worthless' returns over 12 million results! This basic idea seems to miss the fact that any asset is only worth what someone is willing to pay for it.
While it's pretty easy to understand the factors that make a stock worth something, with crypto, it's a bit more complicated.
What is value anyway? A stock, which represents a piece of a company, gains its value from generating things like revenue, earnings, and paying dividends. Based on those factors, investors big and small will decide how much a company, and by extension its stock price, is worth. 
Although the way crypto gets valued is not quite the same, at the end of the day, it's driven by people wanting to own it. In economics, this is called demand.
For example, people might want to own Bitcoin because they want to transfer their money and avoid hefty bank transaction fees, they might think Bitcoin keeps its value well (like gold) in periods of high volatility, or they might just think it will go up in price at some point in the future.
As of 16 March 2023, the crypto market as a whole, made up of over 20,000 crypto tokens, is worth a little over US$1 trillion. Bitcoin alone last traded around US$24,400 per coin. To say the crypto industry is worthless is just false. Oh, and did you know that the total number of Bitcoin that can exist is limited to 21 million!
2. Bitcoin is dead
Bitcoin is the oldest, largest, and arguably the most talked about cryptocurrency in the world today. It's also one of the most criticised. For something that last traded at around US$24,400 per coin – you'd be surprised by just how often Bitcoin has been declared dead.
According to the media, Bitcoin has died a staggering 472 times since its inception in 2009 to March 2023! It was first declared dead at the end of 2010, with the article 'Why Bitcoin can't be a currency'.
This is all quite an impressive feat for an asset that still has a total market value of US$473 billion and last traded around US$24,400 per coin.
By the way, since that first obituary was published in late 2010 the price of Bitcoin has gone parabolic, rising over 8 million per cent between the start of 2011 and 16 March 2023. As Mark Twain once joked, 'The reports of my death have been greatly exaggerated.' The same seems to apply to Bitcoin.
3. All cryptos are the same
Did you know as of 16 March that there are 20,932 cryptos, listed on 570 exchanges?
Without naming names, many of these cryptos serve little purpose and will likely ever amount to changing much in the world of finance or other industries. It was Brad Garlinghouse, Chief Executive Officer of Ripple Labs, the company behind the top 10 crypto Ripple (XRP), who in 2018 argued that 99% of cryptos will fail. This might seem like an alarming statistic until you realise that 90% of startups also fail.
But just as companies like Apple, Amazon, and Tesla are trying to change the world – some of the top cryptos are also making meaningful strides to reshape entire industries and sectors. They also all serve different purposes within the wider crypto ecosystem. Take the following cryptos for example:
Bitcoin – as a long-term store of value and a hedge against uncertainty.
Ethereum – to help create the tools and services that underpin a range of crypto projects.
Tether – to help investors and traders transact stably and consistently in volatile crypto markets.
Solana – to power the web 3.0 ecosystem, from NFTs to other De-Fi projects.
Dogecoin – to make payments, purchases, and because you just love dogs.
4. Crypto is a scam
Finally, the idea that crypto is a scam also comes up a lot.
Now let's be clear, there have been a number of scams, hacks, and otherwise nefarious activities in the world of crypto. No one is ignoring or denying that.
But the thing is, scams and other bad actors exist in every industry. How many phishing emails have you received that try to trick you into clicking on a malicious link? What about fake calls that ask for your credit card information? You wouldn't think that Visa or Mastercard is a scam because a scammer tried to illegally obtain your details.
To say that crypto is a scam because there are some crypto scams simply doesn't hold up. Not only that, but as we highlighted above, it takes away from many of the innovative and interesting projects being worked on in the world of crypto. In saying that, it's important to recognise that some crypto products – whether we're talking about exchanges or specific services, are not the most user friendly or might pay little attention to things like customer services.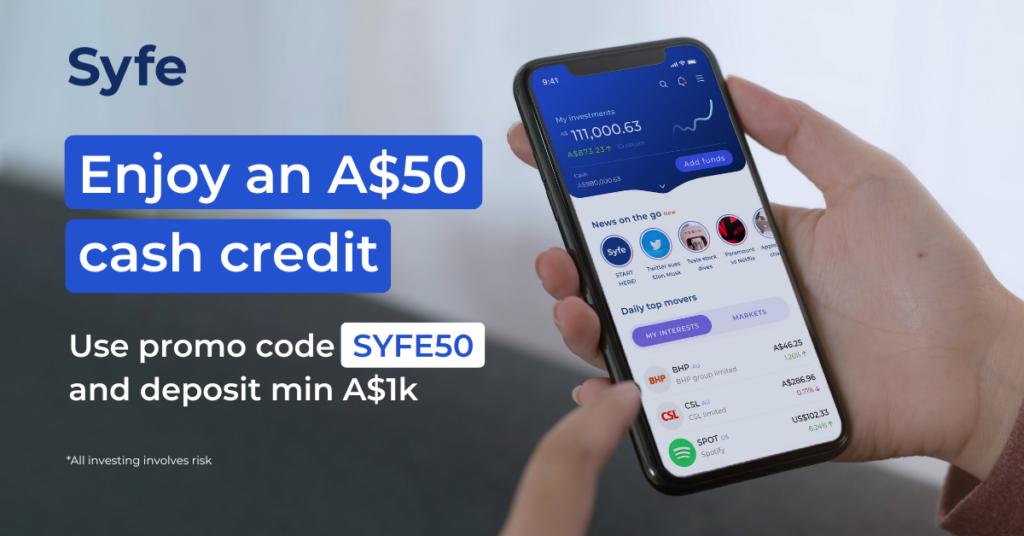 This article/webinar is brought to you by Syfe Australia Pty Ltd., CAR number 1295306 of Sanlam Private Wealth Pty Ltd (AFSL 337927). Disclaimer: Investing involves risk including the risk of losing your invested amount. We do not provide personalised advice or recommendations. Any information we provide is general advice and current at the time written. Please speak to your Financial or Tax adviser for personal advice. Any reference to an investment's past or potential performance is not an indication of any specific outcome or profit. Crypto investments are not currently regulated as financial products in Australia and consumer protections are minimal. Data in article correct as of July 12, 2022.
Cryptocurrency investments available through the cryptocurrency trading services provided by Syfe are not currently regulated as financial products under the Corporations Act 2001 (Cth) or under Australian law. Unlike other trading services offered by Syfe such as that in relation to stocks, the cryptocurrency trading services are not covered under the corporate authorised representative arrangement with Sanlam Private Wealth Pty Ltd (AFSL 337927). This means consumer protections are minimal and you may not be protected if any cryptocurrency which you have invested in fails or any service provider involved in providing you with cryptocurrency fails.
INVESTING IN AND TRADING CRYPTOCURRENCIES INVOLVES RISK. READ OUR CRYPTOCURRENCY RISK DISCL