#RateHike #AppleResults #FirstRepublicBank
Topic #1: Fed increases rates by another 25 bps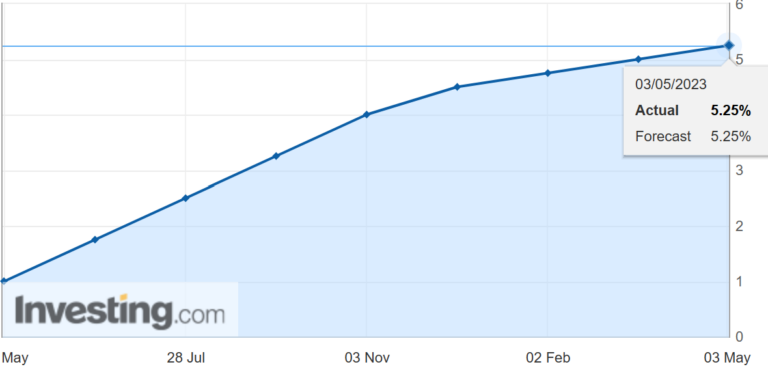 Fed interest rate decision chart with actual and forecasted values
What happened?
The US Federal Reserve has raised interest rates by 0.25 percentage points, marking its 10th consecutive increase since March 2022. However, it also indicated that it may pause further hikes to assess the impact of recent bank failures and monitor inflation.

Fed Chair Jerome Powell said that it is too soon to say that the rate-hike cycle is over, but that monetary policy is close to where it likely needs to rest. The risks associated with recent bank failures and a debt limit standoff between Republicans and Democratic President Joe Biden have added to the Fed's sense of caution about trying to tighten financial conditions further. Powell also pushed back on market expectations of rate cuts this year and said that they were quite unlikely to come to pass.
Powell is still holding out for a "soft landing," saying that the case of avoiding a recession is in his view more likely than that of having a recession. A soft landing is a scenario in which monetary tightening slows the economy and inflation without triggering a recession.
What does it mean for the investors?
Federal Reserve Chairman Jerome Powell's recent statements have provided some optimism for investors amidst the high levels of uncertainty regarding a potential recession. The positive earnings reports from banking and technology companies also contribute to the optimistic outlook for the market. However, investors should remain vigilant in monitoring monthly macroeconomic data and adjust their valuations accordingly. It's important to note that the Fed still heavily relies on data, particularly unemployment, inflation, and GDP data, which remains crucial for investors.
Topic #2: Apple earnings beat estimates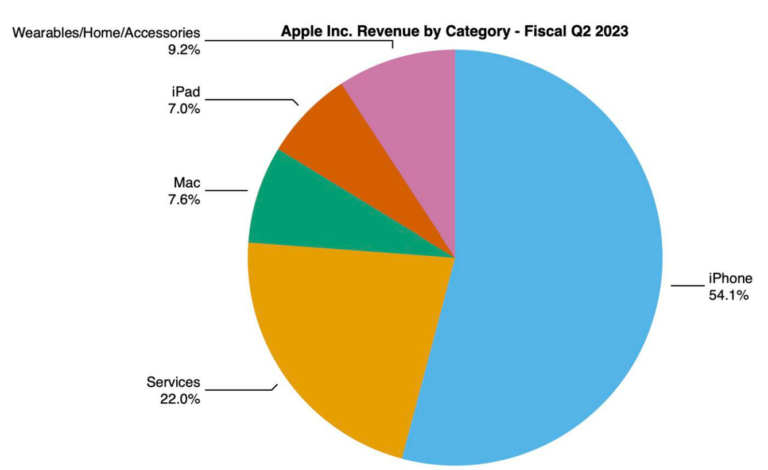 Apple's revenue proportion by category (Source: MacRumors)
Apple has announced its fiscal second-quarter results, reporting better-than-expected iPhone sales that drove a surge in its earnings. The tech giant's revenue for the quarter was $94.8 billion, with earnings per share (EPS) of $1.54. The EPS was higher than analysts' estimates of $1.43, while the revenue beat the projected $92.9 billion. Following the announcement, Apple shares rose by 1% in after-hours trade.
They have also revealed plans for a $90 billion share buyback program and an increase in its quarterly dividend by 4.3% to 24 cents per share, up from 23 cents.
Apple's iPhone revenue, which makes up more than half of its total revenue, increased to $51.33 billion from $50.57 billion a year earlier, surpassing analysts' predictions of $48.84 billion. Revenue from Apple's service business, including Apple TV+ and iCloud, also beat estimates by rising to $20.91 billion from $19.8 billion a year earlier, against the projected $20.97 billion.
Tim Cook has attributed the growth to new users in markets such as India, where he recently traveled for the opening of new Apple stores. He also highlighted strong sales in other emerging markets such as Brazil and Mexico, and stated that Apple's supply chain problems that are blamed on COVID disruptions in China have nearly vanished.
Topic #3: Collapse of the First Republic Bank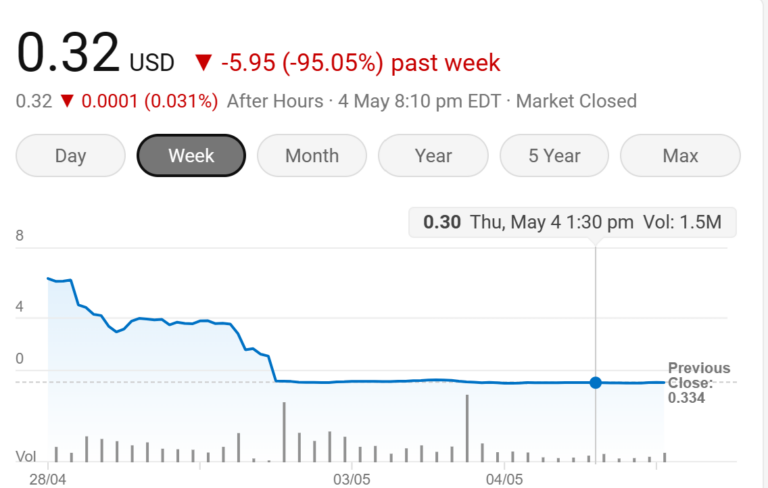 First Republic Bank price chart (Source: Google Finance)
First Republic Bank has become the third major US bank to collapse in recent months. First Republic Bank relied on deposits from wealthy clients and companies to make large loans, including jumbo mortgages, at low interest rates. However, the Federal Reserve's rapid interest rate hikes caused the value of the large loans to decrease, making it difficult for the bank to raise capital by selling them.
JP Morgan Chase is set to take on all of the deposits and substantially all of the assets of First Republic Bank after the Federal Deposit Insurance Corporation (FDIC) confirmed that the troubled bank had collapsed on Monday. "As of April 13, 2023, First Republic Bank had approximately $229.1 billion in total assets and $103.9 billion in total deposits," the FDIC said.
The FDIC said the deal avoids the agency having to use its emergency powers and would minimize disruptions for customers. They further mentioned that any decision to use the FDIC's emergency powers should be approached skeptically, taking into account the unique facts and circumstances of the time, and with careful attention to the implications for the future.
The collapse of Silicon Valley Bank in March and Signature Bank shortly after that prompted widespread fears of a wider banking crisis that could affect the global economy. President Joe Biden applauded the government efforts to take over and sell the First Republic Bank.