#ChinaProduction #Newmont_Newcrest #SIA_Results
Topic #1: China's economic data misses expectation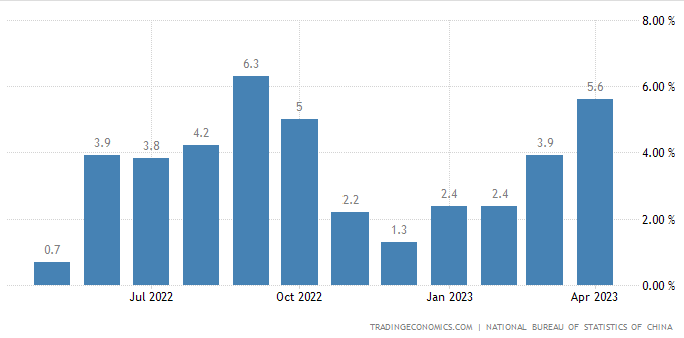 What happened?
China's economic data for April fell short of expectations, highlighting the country's uneven path to recovery from the impact of stringent Covid-19 restrictions. Industrial production in April grew by 5.6% year-on-year, lower than the 10.9% predicted by economists surveyed by Reuters. Additionally, retail sales rose by 18.4%, failing to meet the expected surge of 21%. Fixed asset investment also fell short, increasing by 4.7% compared to the anticipated 5.5%.
Moreover, the urban unemployment rate for young individuals aged 16-24 in China hit a record high of 20%, indicating a significant increase in youth unemployment. This surge can be attributed to the gradual integration of millions of rural migrants into the services sector, which has impacted the overall urban unemployment rate. In April, the overall urban unemployment rate slightly decreased to 5.2% compared to 5.3% in March.
Although there has been a resurgence in shoppers and diners frequenting malls and restaurants, China's economic recovery has been impeded by sluggish domestic demand and low inflation. The Chinese government, recognizing the difficulties ahead, has set a modest growth target of approximately five percent for this year, the lowest in decades. Premier Li Qiang has acknowledged the challenging nature of achieving this goal, highlighting the obstacles that lie ahead.
What does it mean for the investors?
It is becoming increasingly clear for the investors that the growth forecast that the China government had set for 2023 was more of a realistic one than a conservative one. However, even though the consumer price rose by only 0.1% in April, the government has dismissed the possibility of a deflation occurring in the medium-long term and mentioned that it does not face a significant deflation risk. We might witness the government and the Central Banks using tools such as rate cuts in order to boost growth.
Topic #2: Singapore Airlines posts its highest ever profit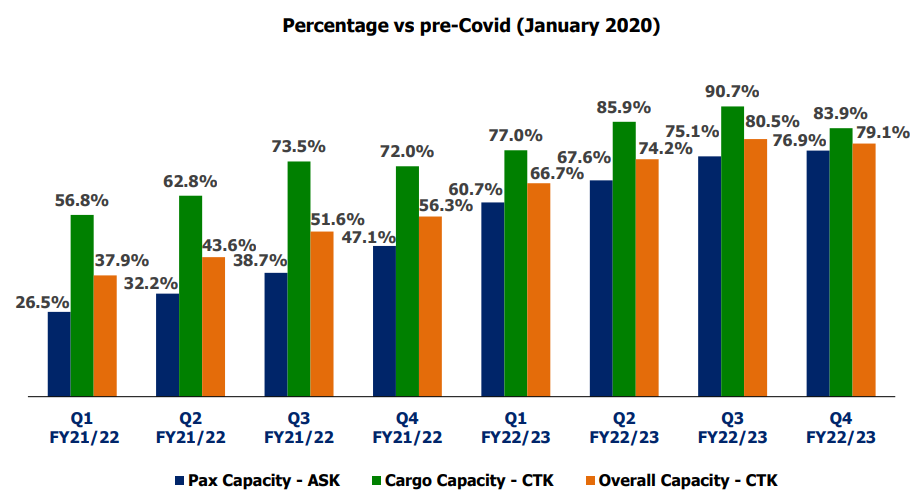 Singapore Airlines (SIA) Group achieved a significant milestone by reporting a record-breaking annual profit of S$2.16 billion (US$1.63 billion), a remarkable turnaround from three consecutive years of losses. The company successfully navigated the challenges posed by the COVID-19 pandemic and rebounded due to robust air travel demand. SIA attributed its success to retaining staff and operating a substantial portion of its aircraft fleet at reduced utilization levels.
As borders reopened, SIA and Scoot, the group's two airlines, swiftly increased their operations, capitalizing on pent-up travel demand. Group passenger capacity reached 79% of pre-pandemic levels by March with 26.5 million passengers carried. It is six times more than the previous year, leading to a remarkable passenger load factor of 85.4%.
While SIA experienced tremendous growth in passenger travel, the cargo segment witnessed a moderated performance due to declining air freight demand and improved supply chain conditions. The group faced macroeconomic headwinds, resulting in dampened consumer demand and reduced new orders due to high inventory levels.
With cautious optimism, SIA Group anticipates passenger capacity to reach around 83% of pre-pandemic levels in the first half of the next fiscal year. The company remains vigilant, closely monitoring industry developments and staying flexible to respond effectively as competition intensifies and international routes witness increased capacity.
Source: Google Finance, CNN, Channel News Asia, Yahoo Finance, CNBC, Financial Times