Rampant
The latest CPI figures showed that inflation is still running too hot, even as energy prices moderated. More concerningly, core inflation (which strips out food and energy and is seen as a barometer for inflation that the Fed somewhat has more control over) actually accelerated.
Investors are now pricing in a 75bps rate hike in November, with many expecting a triple hike to end the year in December (up from 50bps earlier). With the balance sheet runoff, which by the Fed's own calculations is expected to be equivalent to 2 x 25bps, we are seeing a terminal rate of above 5% in 2023.
How much have prices increased since the pandemic?
Inflation is measured on a year on year basis, meaning that we compare September 2022 with September 2021. Going back to 2020, when we first started to see inflation for the first time in more than 30 years, prices for key consumer goods have increased more than the published CPI figures.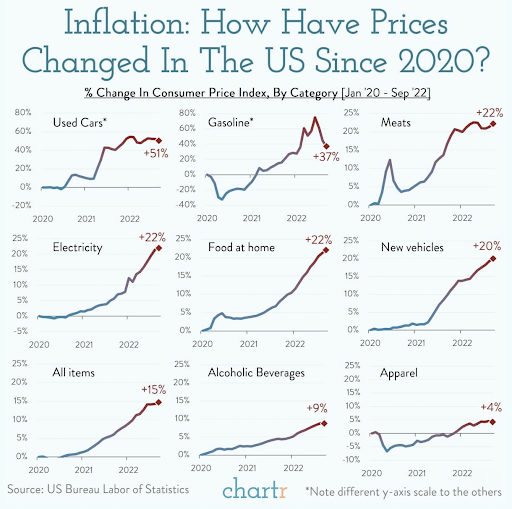 What goes up must come down? 
Investors hoping for a Fed pivot have the impression that inflation will return to the long term average of 2-2.5% as soon as mid 2023 or early 2024. Research from VanEck shows that once inflation rises above 5%, it would take years to return to 2%.
It could take an extended period of time for inflation to get back to the normal target range for central banks even as the Fed and major central banks globally are all tightening monetary policy.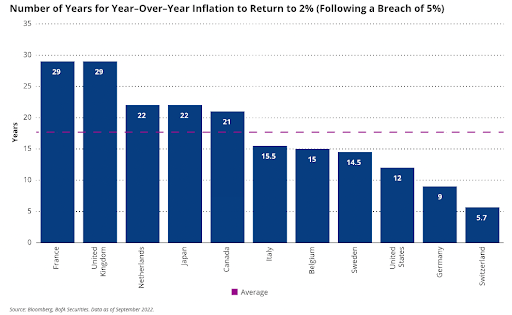 In our Syfe Core portfolios, we have added an allocation to inflation-protected treasury bonds (TIPs). TIPs are indexed to inflation meaning that when inflation rises, so does the principal amount of the security and interest payments.
Party of the Year
CCP's Party Congress is set to kick off on Oct 16. Besides leadership changes, Xi Jinping's language on the future of economic development and indications on US-China relationship are key issues to watch.
US and Chinese chipmakers have both been hurt with the ongoing economic war, as the Biden Administration's restrictions on exports stifle China's ambitions to become a leader in the field.
The property sector, the backbone for China in the last few decades, is still anaemic despite accommodative policy manoeuvres.