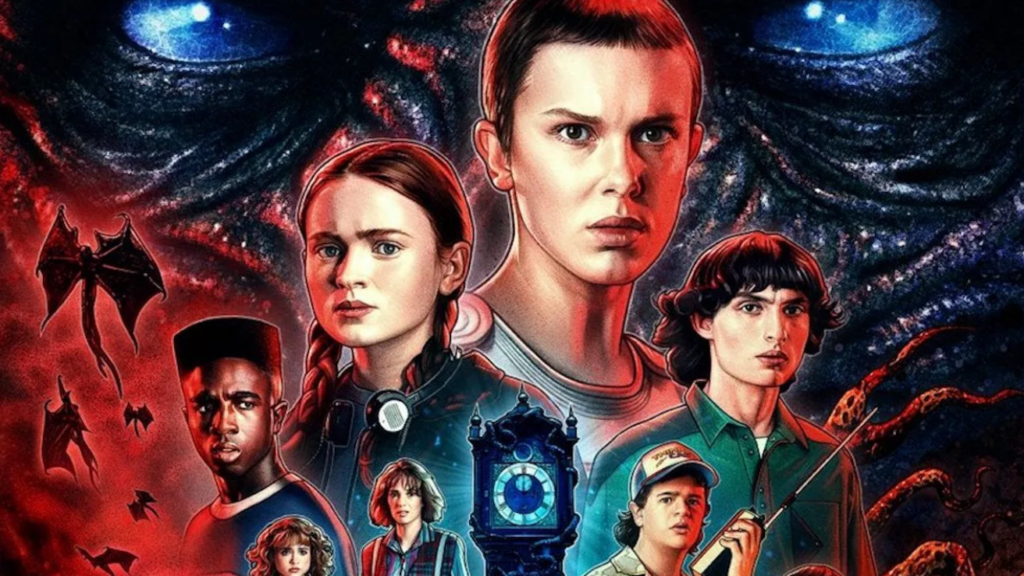 Table of Contents
---
Once upon a time, Netflix was the place to go for all your binge watching needs. Need a laugh? You could rewatch Friends for the hundredth time. Want a hit of nostalgia? Stranger Things is stuffed with '80s pop culture references.
But today, Netflix is no longer the only streaming service in town. Competition is heating up with Disney+, HBO GO, Amazon Prime, and Apple TV+ all fighting for your time – and your subscription dollars.
Still, Netflix and Disney+ currently dominate the streaming landscape. Which is the better stock for investors? Should you buy Netflix? Or is Disney the smarter play?
Let's take a look.
Performance comparison: Disney vs Netflix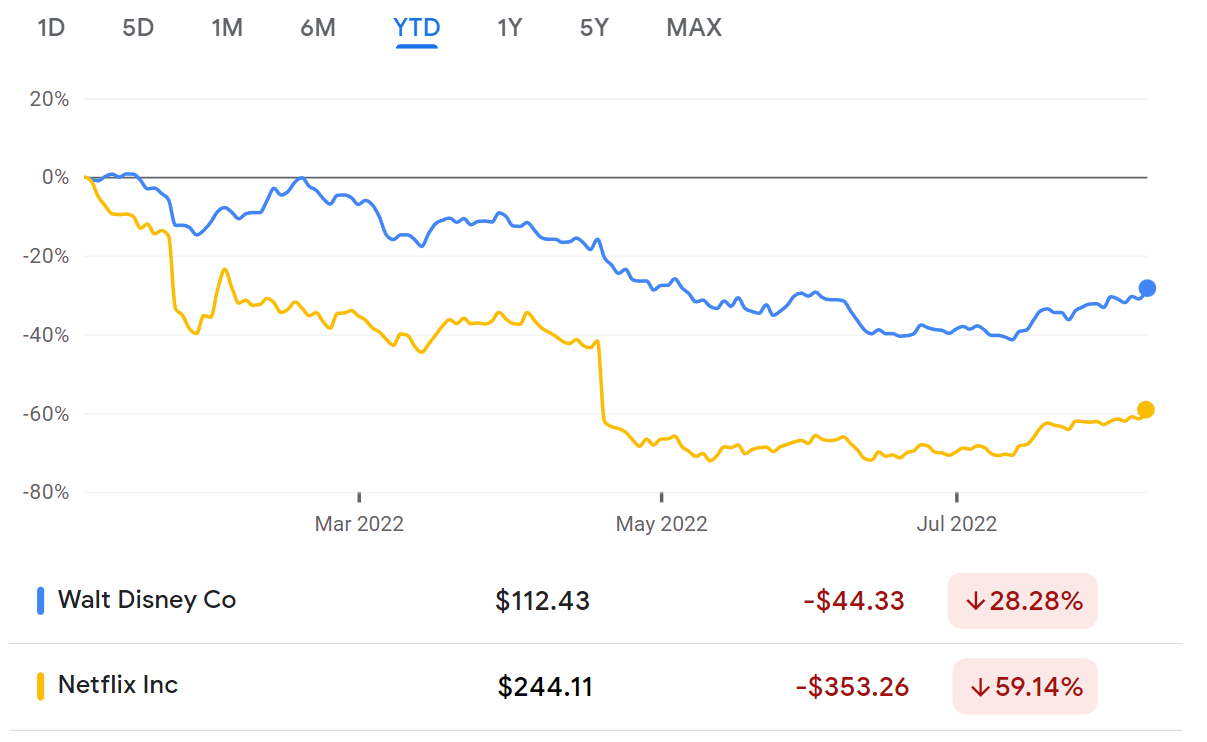 In the year-to-date, Disney stock has fallen nearly 30% while Netflix is down almost twice that amid the tech sell-off.
However, both stocks have rallied over the past month on the back of their respective better-than-expected earnings. Notably, Disney shares popped nearly 7% in after-hours trading yesterday after it released its latest quarterly earnings.
Major catalysts include Disney raising Disney+ streaming prices by 38% and beating paid subscriber expectations by nearly 5 million subscribers!
Subscriber numbers: Disney+ vs Netflix
As of July 2022, Netflix has 220.7 million subscribers. The company said in its second-quarter earnings report that it lost 970,000 subscribers during the quarter, but expects to gain 1 million more in the third quarter.
Although the subscriber loss was the biggest in Netflix's 25-year history, investors took it in stride since the figure was much less than the 2 million subscriber loss Netflix warned about in April.
In contrast, Disney+ added 14.4 million subscribers during the quarter, beating analyst expectations of 10 million, and putting to rest fears that the global streaming market is nearing saturation.
Disney+ now has 152.1 million paid customers. Although the service only launched in 2019, it has grown rapidly due to the success of its Marvel and Star Wars content such as Loki, The Mandalorian, and Obi-wan Kenobi.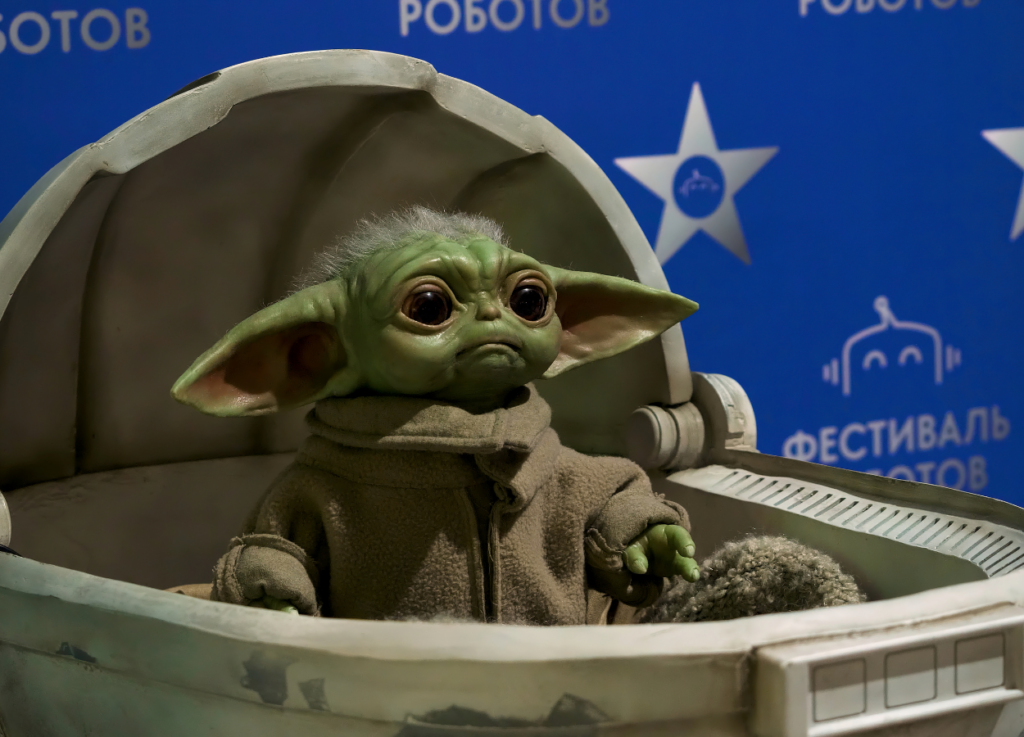 But Disney's streaming offerings are more than just Disney+. It also includes Hulu, ESPN+ and Disney+ Hotstar. Total subscriptions across these platforms reached 221.1 million during the quarter, officially surpassing Netflix.
Still, Disney lowered its 2024 forecast for Disney+ to 215 to 245 million subscribers. This comes after it failed to renew Indian Premier League rights for Disney+ Hotstar, a service that's marketed in India and some Southeast Asian countries. In February, the company had announced an ambitious target of 230 to 260 million subscribers by 2024.
Verdict: Disney currently beats Netflix on subscriber growth, but Netflix could still find new subscribers as it creates a lower-priced, ad-supported offering which could launch early next year. This will naturally help Netflix maintain, if not boost, subscriber growth.
Streaming profitability: Who wins?
Subscriber growth used to be all that investors cared about. But amid a brutal stock market sell-off, investors are looking more closely at the long-term streaming profitability of entertainment companies.
The subscriber growth for Disney+ may look attractive, but the particularly low average revenue per user (ARPU) tells a different story.
In the US, each Disney+ subscriber generated just $6.27 of revenue per month compared to $15.95 for Netflix (based on each company's latest earnings report).
Global ARPU for Disney+ is about $4.35. For Netflix, the global average ARPU is about 1.5 times higher, at $11.16.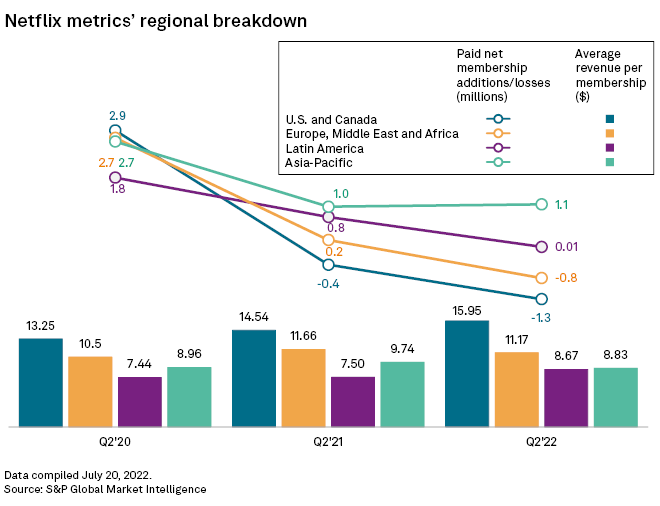 The anemic ARPU figures for Disney+ comes partly from the lower ARPU contributions from Disney+ Hotstar. The service supplies 38% of the global Disney+ subscriber total. Yet, ARPU is just $1.20.
As Disney revealed in its fiscal third quarter results, streaming generated an operating loss of $1.1 billion, up from $0.8 billion last year. Clearly, Disney+ needs to increase ARPU even as it continues to spend heavily on creating content.
On the bright side, Disney executives remain confident that Disney+ will be profitable by the end of 2024. During its earnings announcement, Disney unveiled a new pricing structure that includes a cheaper, ad-supported tier for Disney+ that will launch in December. Additionally, Disney will raise the price of ad-free Disney+ by 38% to boost streaming profitability.
There will be price hikes across Hulu and ESPN+ as well.
Verdict: Netflix currently wins in terms of ARPU but Disney+ could catch up over the next quarters as it focuses on profitability.
Content showdown: Disney+ vs Netflix
The third area to look at is content. Disney+ has decades worth of Disney movies and TV series to leverage. Disney's acquisition of Lucasfilm (owner of the Star Wars franchise), Marvel Entertainment (creator of the Marvel franchise), and 21st Century Fox (home to Avatar, Deadpool, The Simpsons and many more productions) also gives Disney+ access to a vast library of film and TV assets.
Netflix on the other hand, relies more on licensed content and only started producing its own original content in 2013. With new streaming services emerging, many of these platforms aren't renewing their license deals with Netflix. For example, Warner Bros Discovery pulled back Friends for its own HBO Max streaming service in the US.
As such, Netflix's content library has been reduced by over 35% since 2015 while its film offerings have shrunk by 55%.
That said, Netflix seems prepared for the licensed content exodus. The company has been focusing more on developing new franchises based on their hit shows. Stranger Things is getting a spin-off series, Squid Game is being reinvented as a reality show, and The Gray Man (Netflix's answer to James Bond) is getting a sequel and a spin-off.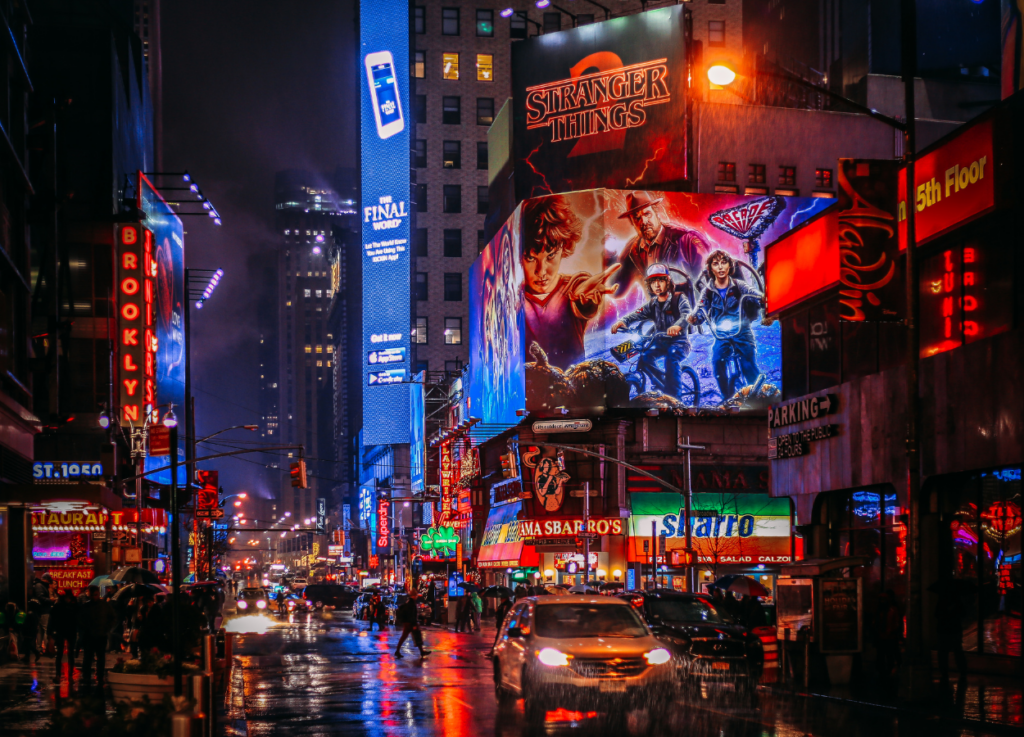 This would better position Netflix to attract new subscribers and compete with Disney's hugely popular Marvel and Star Wars franchises.
Verdict: Netflix and Disney+ seem evenly matched when it comes to original content. Both companies continue to spend on content to drive long-term subscriber growth.
Disney expects to spend about $30 billion on programming this year, slightly down from previous guidance. Meanwhile, Netflix will keep content spending constant at about $17 billion over the next few years.
Disney has a wider moat compared to Netflix
Ultimately, Disney is not just a streaming company. It operates theme parks and resorts in addition to its media and entertainment businesses, which include character merchandise, theatrical box office, and cable TV.
As COVID-19 eases globally, Disney's theme parks are recovering. For its fiscal third quarter, Disney reported a robust rebound in theme park revenue, which surged 72% during the quarter.
In fact, the theme park segment contributed 60% of Disney's total operating income, highlighting its importance to the company.
Verdict: Disney has multiple growth levers to pull and a wider economic moat compared to Netflix, which only generates revenue from streaming subscribers. Additionally, Netflix has many competitors but Disney's overall entertainment offerings are much harder to replicate.
Disney or Netflix, which stock is more compelling?
Should you invest in Disney, the world's largest entertainment company, or Netflix, which is still the most popular streaming service globally?
To help you decide, you can also take a look at other metrics not covered here such as financial ratios and analyst reports. You can easily find powerful tools for insights and market data on Syfe Trade. Get real-time stock data and news on all US stocks and ETFs to help you make the best decisions. You may also check out this review of Syfe Trade for more features.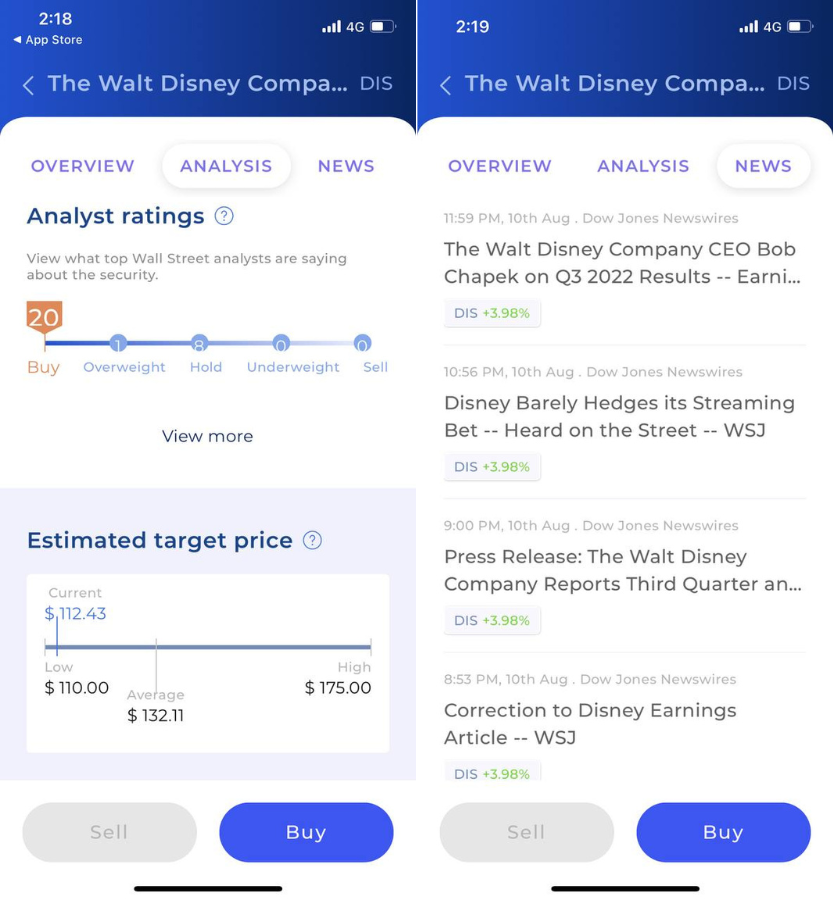 Based on stock data shown on Syfe Trade, about 70% of analysts covering Disney stock currently have a Buy rating on Disney. The average price target for Disney is $132.11, implying an 18% upside from current levels.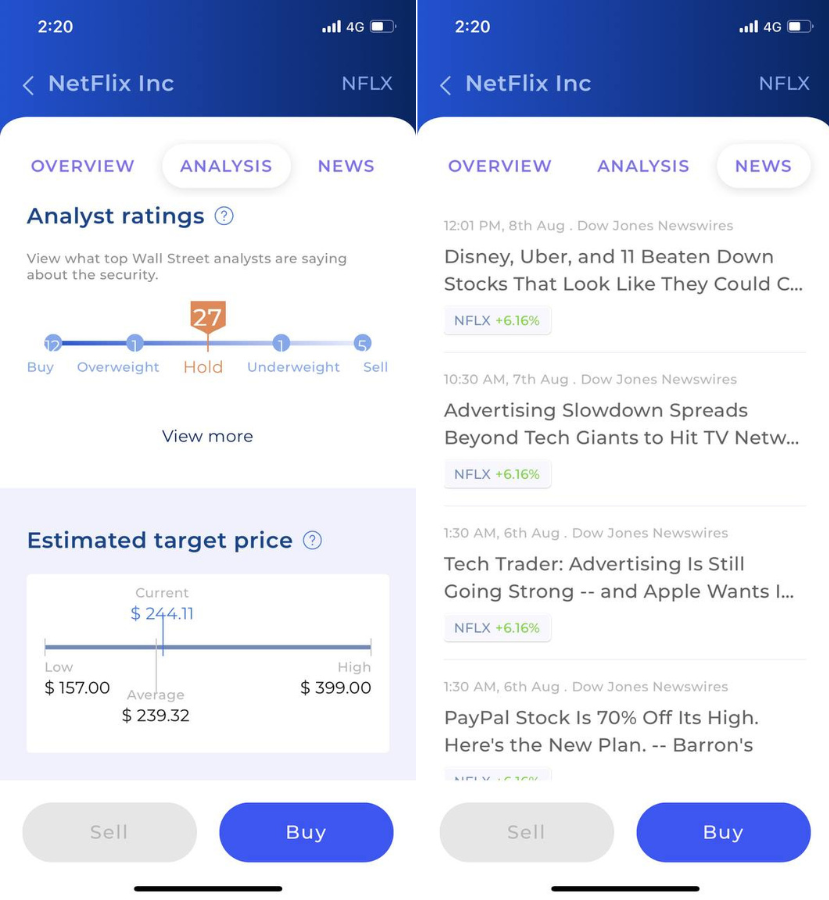 For Netflix, about 60% of analysts covering the stock currently have a Hold rating on Netflix. Hold is an analyst's recommendation to neither buy nor sell a stock. The average price target for Netflix is $239.32, so Netflix's current share price has already met that target.
Ready to trade? Simply download the Syfe app now to get started.
All views, opinions, and analyses in this article should not be read as personal investment advice and individual investors should make their own decisions or seek independent advice. This article has not been prepared in accordance with legal requirements designed to promote the independence of investment research and is considered a marketing communication. Reference in this document to specific securities should not be interpreted as a recommendation to buy or sell these securities, but is included for the purposes of illustration only. Past performance is not a reliable indicator of future results. This advertisement has not been reviewed by the Monetary Authority of Singapore.