Apart from creating a recurring transfer / standing instruction with your bank, you can also transfer funds automatically through Syfe Cash+ on a monthly basis.
This is an easy and fuss-free way to build wealth by automatically setting aside a portion of your spare cash in Syfe Cash+ for investments.
Set up an automatic transfer via Syfe Cash+
Log in to your Syfe dashboard and click 'Set up now' from the recurring transfer feature on your dashboard as shown below. You can access this feature from your main dashboard, or from your current portfolio page(s).


You may also access the recurring transfer feature by clicking on 'Manage funds' and selecting 'Set up recurring transfer' from the drop-down menu.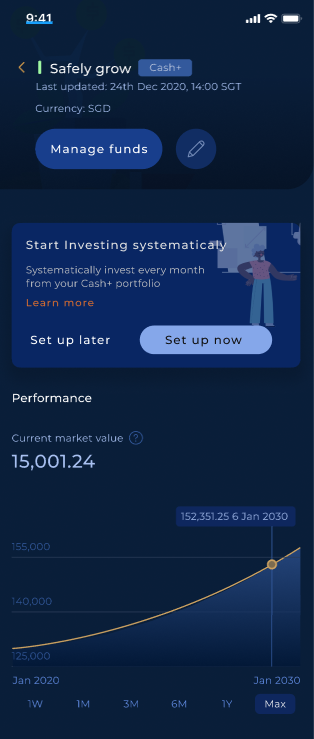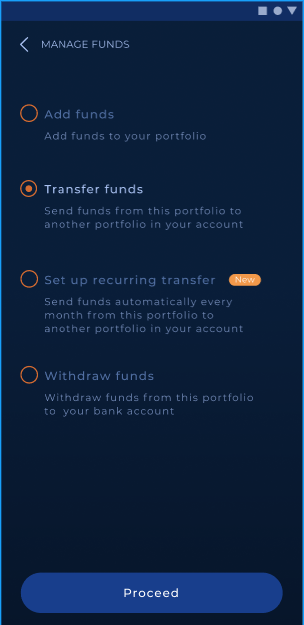 2. To set up your recurring transfer, simply choose which Cash+ portfolio(s) you want to send funds from, and the investment portfolio you want to send funds to.

3. Input the amount (in SGD) and select the date of your monthly transfer. Click 'Confirm' to finalise the recurring transfer.
Cancel an automatic transfer via Syfe Cash+
Log into your Syfe dashboard
Click on your Recurring Transfers tab
Select "Edit" and then click on the "Dustbin" icon
Review and confirm that you want to cancel your recurring transfer via Syfe Cash+