With rapid developments in the financial markets, staying abreast of the financial world's happenings is crucial. Over the past week, notable developments included Meta's product launches and rising US Treasury yields.
On Top of Our Mind This Week: Meta's Evolving Strategy at Connect 2023
Meta Price Chart (Source: Google Finance)
Mark Zuckerberg's recent keynote at Meta's Connect event marked a significant shift in the company's strategy, notably downplaying the term "metaverse." While the metaverse concept has been central to Meta's identity for the past two years, this year's event focused more on Meta's AI initiatives, signaling a potential shift in priorities. Investors should take note of these developments.
Firstly, Meta unveiled a range of generative AI tools, emphasizing their integration into popular platforms like Instagram and Facebook. Meta AI, a generative AI assistant, was introduced, capable of adopting various personalities and answering questions. Additionally, AI-powered image editing for Instagram and tools for creating AI-powered bots were showcased. Meta's hardware offerings, including the Meta Quest 3 and Ray-Ban Meta smart glasses, will come equipped with the Meta AI assistant.
While the emphasis on AI may raise questions about Meta's commitment to the metaverse, Mark Zuckerberg stressed that both AI and the metaverse remain integral to the company's vision. He highlighted an evolving concept of the metaverse, where physical and digital worlds merge, facilitated by AI-driven experiences.
Investors should also pay attention to the potential of AI assistants in enhancing the metaverse. Meta's demonstration of Meta AI-powered search capabilities in the Ray-Ban Meta smart glasses suggests practical applications, such as real-time information retrieval and translation. Users are likely to invent novel uses for AI assistants within Meta's virtual environments.
Ultimately, the success of Meta's AI initiatives, particularly AI assistants, could be pivotal in revitalizing interest in the metaverse. While past efforts with non-AI chatbots fell short, the integration of AI into widely-used platforms presents a new opportunity. This strategic shift positions Meta to reach its massive user base and sets the stage for a future where AI plays a central role in their vision of an AI-centric metaverse.
Market Recap This Week
The equity markets have remained relatively flat over last week. However, for month-to-date returns, the S&P 500 index is down about 5% in September, positioning itself for its worst month since December. The primary focus is on the movements in the bond markets. The 10-Year Treasury yield climbed to 4.6% in September from 4.1% at the end of August, mainly driven by increased U.S. Treasury debt issuance and the resilience of the US economy. As a result of higher Treasury yields, the USD has strengthened against major currencies, and gold witnessed a 4% decline within a week.
Market Pulse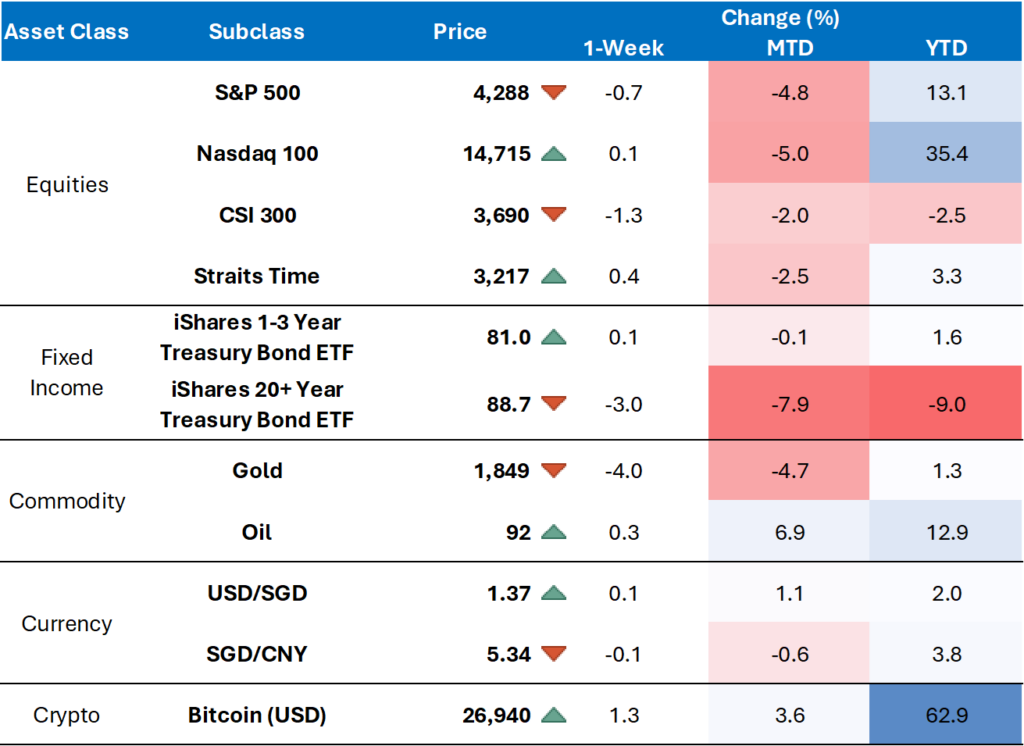 What is on the Radar for This Week?
Developments in the US could continue to be the focus. The potential US government shutdown may dominate headlines in the coming weeks. Historically, markets have shown a limited reaction to such events. Additionally, Powell is scheduled to deliver a speech on Monday. To assess the economy's robustness, it is also crucial to keep an eye on the jobless claims figures to be released on Thursday (5 Oct) and US employment data on Friday (6 Oct). 
Source: Google Finance, Bloomberg, Yahoo Finance, mints