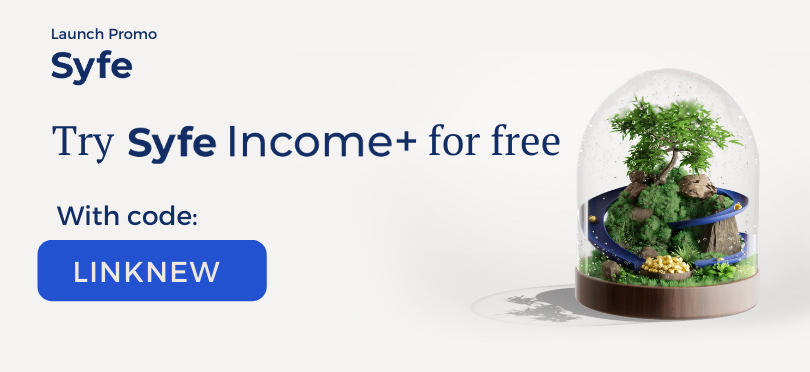 Introducing Syfe Income+, a customised, institutional level fixed income-solution portfolio that offers monthly payouts at 4.0-6.0% p.a.*.
To celebrate the launch of the newest portfolio offering, Syfe is offering rewards for all eligible clients! Simply enter the promo code on the promotions tab on your menu after signing up, create and fund your Income+ portfolio to receive benefits.
Exclusively for Link Members:
For new clients to Syfe
Use code LINKNEW to enjoy an S$20 bonus in your portfolio (when start investing with a minimum of S$5,000 into a Income+)!
– Must not have funded and account with Syfe
– Cannot be used with other new client promotions on Syfe
– Applicable only for Income+
For all clients
Use code LINKRB to enjoy fee investing for up to 6 months with Income+. Syfe management fees will be rebated at the end of the month and reflected on your portfolio screen.
– Available to new and existing clients of Syfe
– Applicable to fresh funds only
– Applicable only for Income+
Promotions are valid now – 31 May, 2023 only.
| Eligibility | Promo Code | Minimum Deposit | Reward / Fees Rebate | Estimate Fees* |
| --- | --- | --- | --- | --- |
| New clients | LINKNEW | S$5,000 | S$20 bonus | n/a |
| All clients | LINKRB | S$10,000 | 3 months | S$12.5 |
| All clients | LINKRB | S$50,000 | 4 months | S$83.3 |
| All clients | LINKRB | S$100,000 | 6 months | S$250 |
*Estimate fees are assumed by using a Black Tier client pricing at 0.50% p.a. with minimum deposit equate to the invested amount
Eligibility:
Clients must have a valid account with Syfe
Client must enter promo code before funding
Clients must not have other active promotion
Promotion is capped at 1 time usage per client
Promotion can only be applied to Income+ portfolio
How it works:
Download the Syfe app
Create an account and register with Singpass
Enter promo code in the Wealth promotions tab
Create Income+ portfolio
Fund your Income+ portfolio
Start receiving income every month
Terms and Conditions:
All promotions and offers by Syfe are subjected to a set of terms and conditions. By participating in this program, participants agree to the terms and conditions stated
Syfe reserves the right to change and edit this promotion at any time and at its own discretion, to suspend accounts or remove the incentives if we notice any activity that we believe is abusive, fraudulent, or in violation of the Syfe's Terms & Conditions
Syfe reserves the right to any remedy, including cancellation of accounts or reservations, if fraud, tampering, violations of these terms or Syfe's Terms & Conditions, or if technical errors are suspected

Promotion is applicable to fresh fund deposits only

Minimum deposit amount must be completed by 31 May, 2023
New client promotion is strictly only available for clients who has never funded an account with Syfe. The bonus reward has a minimum lock-in amount of 5,000 and lock-in period of 90 days.
Fees rebate promotion requires promotion code to be activated. Client will be entitled to the fee rebate according to deposits made to the portfolio
Fee rebates start from the first day deposit is made, for clients who are eligible by 31 May. (April rebates will be credited after 31 May.)
Syfe fees will be rebated on a monthly basis and reflected in client's account by 7th business day of the new month.
To enjoy the full rebate, client must stay invested in the portfolio for the fee rebate period.

Promo codes issued by Syfe are not valid for use together with promotions or offers. Promotion codes are strictly unstackable.

Eligible customers consent to Syfe's collection and use of customer's personal data and any disclosures of customer's personal data by/to third parties for the purpose of this promotion.
Eligible customers agree to the terms and conditions of Syfe's Privacy Policy, which can be found at https://www.syfe.com/privacy-policy.