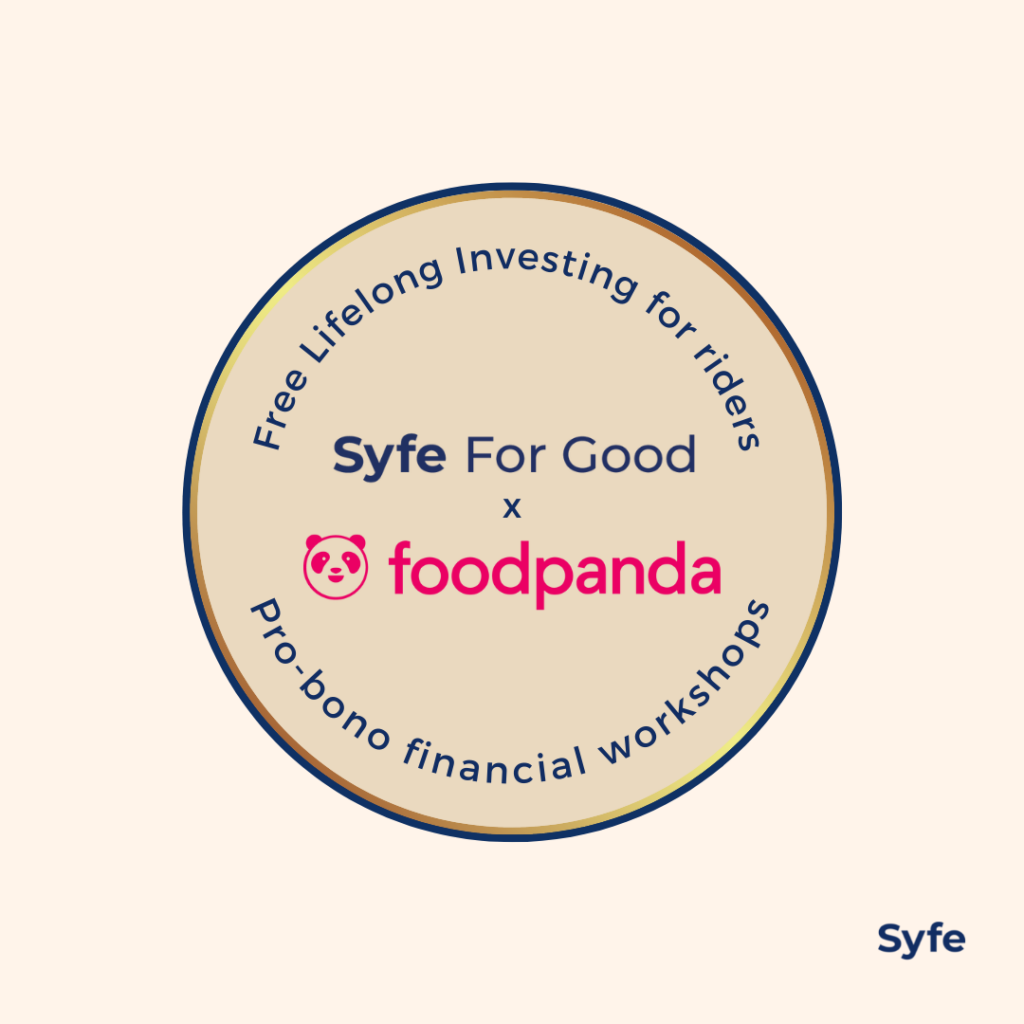 18 August 2022, Singapore – Singapore's leading digital investment platform, Syfe, has partnered with leading delivery platform, foodpanda to launch pro-bono financial workshops for its full fleet of delivery partners. Across the months of July and August, Syfe will be conducting financial workshops exclusively tailored to foodpanda riders, covering the topics of investing, the road to retirement, and managing personal finances.
Riders who are keen can join the workshops at the scheduled link sent to them, with no prior registration required. Each workshop is between 30 – 40 minutes, and is held at 3pm to facilitate the schedules of riders. To further support them, Syfe will also be offering 3,000 foodpanda riders free lifelong investing up to SGD10,000. As part of this offer, Syfe will be absorbing all management fees for the first 3,000 foodpanda riders who indicate their interest.
This partnership is part of Syfe's third anniversary celebrations, and led by Syfe's community building arm, Syfe for Good. In line with Syfe's brand purpose to shape better outcomes in life through the power of good investing, Syfe for Good is where Syfe creates, connects and delivers financial literacy and equipping initiatives to support communities in Singapore. Through Syfe for Good, Syfe works with partners, staff and volunteers to create impactful programmes which will bring the organisation closer to its mission of democratising investing for everyone.
"As Syfe celebrates its third anniversary since our founding in 2019, we continue to be guided by the mission of offering smart and affordable investing made possible for everyone. Singaporeans have been experiencing a higher cost of living driven by high inflation. As a homegrown company, the partnership with foodpanda is an endeavour to better support individuals within the Singapore community, equipping them with the knowledge and tools needed on the important topic of money and financial security," said Sebastian Sieber, Chief Marketing Officer, Syfe.
Riding into Success with Commencement of First Workshop
"I feel that investment is very important as we grow older, and as we start to think about our daily needs and enjoying our retirement years. I have also learnt that investing is a long-term commitment and a goal that should involve planning as we think about our future. Syfe has helped me to understand more about the fundamentals of investment and how to manage my investments for a better future. They have also provided a lot of details on the pros and cons of the different types of investment methods." said foodpanda rider, Benjamin Chan.
The workshop programme is put together by Syfe's investment and advisory team with staff volunteers, in close collaboration with foodpanda based on the attitudes, mindsets and interest areas of riders when it comes to the topic of money. Held virtually, the session includes engaging poll questions in an open conversation format for riders to ask any questions along the way.
"We always encourage our riders to upskill themselves, and have been offering them access to courses on multiple topics – including finance literacy, customer service, and personal branding. Finance-related courses are always very well-received, which shows that this is a topic that riders are highly interested in. Knowing how to manage and plan your finances are important life skills that all individuals should endeavour to have, and we are glad to be partnering with Syfe to offer free financial workshops for all our panda riders. The additional free lifelong investing support that Syfe is providing to 3,000 of our delivery partners will also go a long way in strengthening their financial future, even well after their stint as a delivery rider." said Darryl Chua, Operations Director, foodpanda Singapore.
"Being in control of one's finances is one of the most important things an individual can do to feel secure and confident about the future. We hope that through this partnership with foodpanda, more riders can feel empowered in the area of saving and growing their wealth for themselves and their families," concluded Sebastian Sieber, Syfe.
-End-
About Syfe
Syfe is a digital investment platform with a mission to transform the way people manage and invest their money. Since its launch in 2019, Syfe has acquired over 100,000 customers in Singapore, recently expanded into Hong Kong and is now in Australia. We believe in providing the best tools and resources to support people with their most important wealth decisions – so that everyone can improve their financial position and attain better outcomes in life.
With Syfe Wealth, we provide expertly curated managed portfolios covering the needs of global diversification, passive income generation, and cash management solutions. Customers can lean on decades of financial expertise of our investment team to grow wealth effortlessly.
With Syfe Trade, we provide seamless investing in US stocks, ETFs and crypto. With free monthly trades, and powerful in-app discovery tools for insights and market data, Syfe enables people to make smarter investing decisions with their money.
About foodpanda

foodpanda is a leading delivery platform in Asia dedicated to bringing consumers a wide range of food, groceries and more, quickly and conveniently. Powered by technology and operational excellence, foodpanda is spearheading the growth of quick-commerce (q-commerce) across the region with its network of retail partners, as well as pandamart cloud stores to provide more on-demand options beyond the millions of food delivery options. foodpanda operates in more than 400 cities across 11 markets in Asia – Singapore, Hong Kong, Thailand, Malaysia, Pakistan, Taiwan, Philippines, Bangladesh, Laos, Cambodia, and Myanmar. foodpanda is a subsidiary of Delivery Hero, a global leader of the food delivery industry. For more information, visit www.foodpanda.com