17 October 2022, Singapore – Syfe, Singapore's leading digital wealth management platform, licensed by the Monetary Authority of Singapore (MAS), and headquartered in Singapore, unveils its latest "Singapore Investor Pulse Survey 2022" with an added special focus on the Singapore market. The research is released to mark Syfe's latest introduction of SGX stocks, ETFs and REITs, on its digital brokerage platform, Syfe Trade. This is in addition to its existing offering of US stocks and ETFs with fractional access and free trades, which Syfe launched earlier in the year.
Syfe's "Singapore Investor Pulse Survey 2022" gathers the views of over 1,000 Singaporeans who have indicated an interest in investing, across the ages of 18 to 55, and seeks to uncover current and future attitudes and plans around investing amidst the current challenging market conditions and high inflation. The report also had a special focus on perceptions and investing intent in relation to the Singapore market, as well as existing barriers.
Overall, the research shows sustained investing interest and strong resilience among Singapore investors across ages and gender. 68% are currently investing, and remaining very interested in investing. For those not currently investing, 90% indicated intent to start investing within the next 12 months. However, existing concerns remain on the ability of those currently investing in achieving their goals, with over 66% saying that they are unlikely to meet their investment goals within the timeframe they planned for.
2 in 5 Singaporeans have more than 6 months worth of salary as savings in the bank, in spite of rising concerns around higher cost of living and current inflation rates, revealing the urgent need for Singaporeans to take action in growing wealth for the long-term to safeguard against the erosion of purchasing power. Growing money for retirement remains the key reason why Singaporeans invest.
Singapore Stock Market – Leading Place to Invest in the Present and Future
SGX-listed stocks, ETFs and REITs are the leading areas (Table 1) where Singaporeans who currently invest, are investing in, and 49% plan to maintain or increase their exposure. This signals a strong homeground appeal among Singaporean investors, which is not surprising given that the STI returned positive gains of 3.80% as of end-September 2022 as compared to the global benchmark of MSCI World Index with a 21.60% drop in the same period.
"The Singapore market has truly been a bright spot among its global peers this year, and is well-loved by investors for being home to stable companies with solid track records, as well as high dividend yielding stocks. With over 100,000 Singaporeans trusting Syfe to manage their money, it has been a key priority for us to gear up our offering to include access to the Singapore market, as a core offering for our digital brokerage Syfe Trade," said Dhruv Arora, Founder and CEO of Syfe.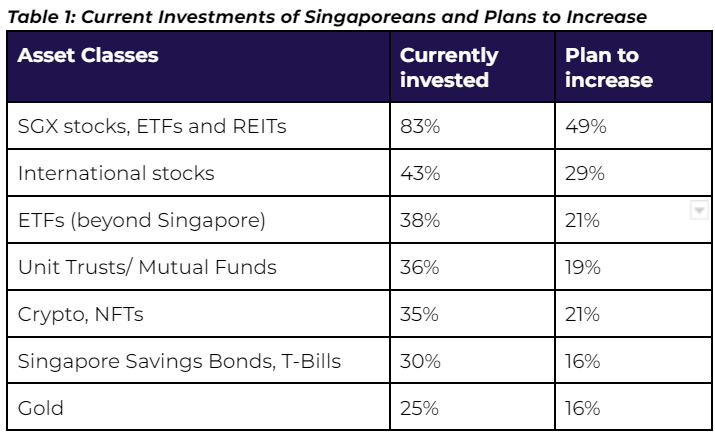 Interestingly, 70% of those who currently invest in SGX stocks, ETFs and REITs consist of young investors between the ages 25 – 44. The most popular reasons to invest in the Singapore market include a high trust in Singapore's regulatory framework, world-class standards and policies (26%), its high dividend yields (16%) and a strong belief in the growth potential and future of Singapore and Singapore companies (15%).
Education and Insights Remain a Huge Gap For Keen Investors
While interest in investing in the Singapore market remains strong, 56% of respondents said that they require more support, education and insights to direct their investment decisions. They also cited the lack of trusted sources of information to guide them (33%), and current platforms not providing enough insights and good content on SGX-listed companies (27%).
Gearing up insights and investor education will continue to be a key focus for Syfe. Since the launch of Syfe Trade in January 2022, the company has forged strong partnerships with market information leaders, such as Factset and Dow Jones, enabling Syfe Trade users unfettered access to analyst ratings and the latest news across listed companies. This feature will be extended to companies in the Singapore market as well, on top of an enhanced effort by Syfe's investment team and content hub, to broaden coverage of Singapore companies and share insightful content for users across digital channels and platforms.
As part of the launch, Syfe has developed Singapore market specific 'Discovery Lists' for users to gain smarter ideas to invest by specific themes such as high dividend yielding stocks, Temasek-linked companies or stable blue-chip firms etc.
"The research shows that interest in investing in the Singapore market outweighs any other geography and asset class by far and we are committed to bringing Syfe's breed of quality expertise, insights and content, to shine a spotlight on the many investing opportunities here in our homeground. As Singaporeans continue to invest even through this challenging time, they want a trusted, homegrown platform with competitive fees and a seamless & easy experience. Syfe is well-placed to meet these specific needs and we are extremely confident of closing the current gap in the market," added Dhruv.
Access to SGX-listed stocks, ETFs and REITs is available today, to everyone who has downloaded the Syfe app, signed-up and done their KYC. Syfe offers one of the most competitive commissions at 0.06% of trade value for SGX trades in the market, with no platform or hidden fees. Customers will get 24/7 live customer support as they invest across Singapore and US markets, and Syfe's well-established fully managed portfolio offering.
The company continues to build its mission of empowering people to grow their money confidently, through providing the best-in-class access, advice and affordability to high quality investment solutions through innovation. With Syfe Trade now offering SGX access, Syfe is one step closer to being the all-in-one digital wealth platform available for all who want to grow their wealth.
About Syfe
Syfe is an MAS licensed, all-in-one digital wealth management platform on a mission to empower people to grow their money confidently. Built on the pillars of access, advice and innovation, Syfe caters to the full spectrum of an individual's wealth needs across diversified proprietary portfolios, cash management solutions and the region's first neo-brokerage. With customer centricity at its core, Syfe focuses heavily on customer education and personalised insights so that individuals can make optimal decisions towards their financial goals.
Syfe is currently in Singapore, Hong Kong and Australia and is trusted by over 100,000 investors in Singapore alone. The company is backed by leading global investors including Peter Thiel's Valar Ventures, Unbound and partners from DST and has raised US$52.4m since its inception in 2019.