With good dividend yields, stable earnings, and attractive valuations, Singapore stocks have been a bright spot amidst global markets buffeted by rising interest rates and recession fears.
For investors looking to add Singapore stocks to their portfolios, Syfe's digital brokerage platform now offers access to the Singapore market. Investors can trade over 550 SGX-listed companies easily and securely while enjoying low fees and transparent pricing.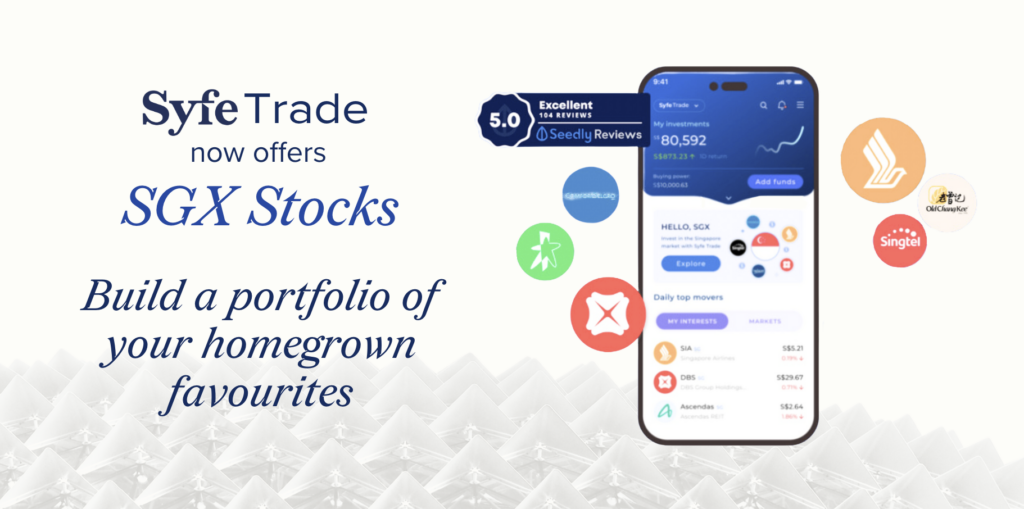 Why invest in Singapore stocks?
While the Singapore stock market may not be as exciting as its US counterpart, it is known for its stability and high dividends. Take a look at this comparison between the MSCI World Index (NYSE:MSCI) and the Straits Times Index (SGX:STI) for example:
Performance: MSCI World Index (blue) vs Straits Times Index (red)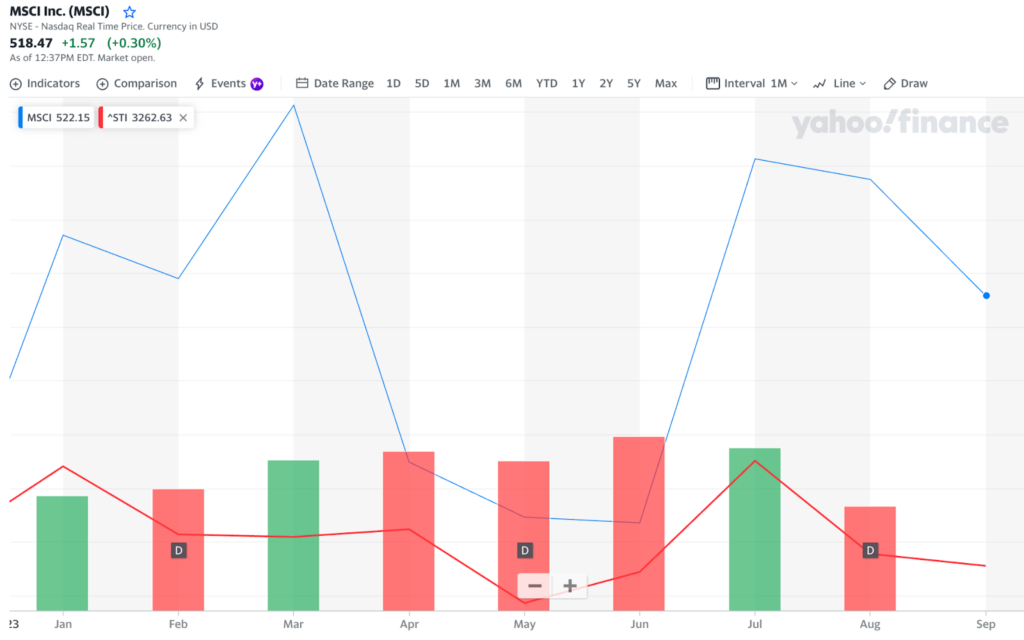 While MSCI may offer higher returns, it is also more volatile than the STI, as seen in the greater fluctuations in its stock price. "Boring" hence has its benefits, and investing in Singapore stocks can help add income and stability to your investment portfolio.
The dividend advantage of Singapore stocks
The benchmark STI is often seen as a dividend-paying index with historical yield averaging between 3 and 4%. It holds 30 of the largest companies in Singapore, including banks, telcos, industrials, and real estate investment trusts (REITs).
These are companies with solid track records, robust business fundamentals, and good prospects for long-term performance. Additionally, such firms are known to pay out steady dividends backed by healthy earnings growth and strong cash flows – qualities that make them more resilient to economic downturns.
Here are some of the largest Singapore stocks (excluding REITs) that have dividend yields above 4%.
| | Ticker | Dividend Yield | P/E Ratio | Sector |
| --- | --- | --- | --- | --- |
| DBS | SGX:D05 | 5.01% | 8.91 | Banking |
| OCBC | SGX:O39 | 6.27& | 8.95 | Banking |
| UOB | SGX:U11 | 5.63% | 8.83 | Banking |
| Singtel | SGX:Z74 | 4.09% | 18.01 | Telecommunications |
| Venture Corporation | SGX:V03 | 5.78% | 11.28 | Technology equipment |
| Jardine Cycle & Carriage | SGX:C07 | 4.72% | 10.27 | Investment holdings |
Source: Google Finance, 27 Sep 2023. Past performance is not indicative of future results. Data presented for information purposes only and is not a recommendation to buy / sell any security.
Dividends are an important component of a stock's total return. When reinvested to buy additional stocks, dividend income can improve your portfolio performance through the power of compounding returns.
Over the past decade for instance, reinvested dividends have boosted overall STI returns by around 60%.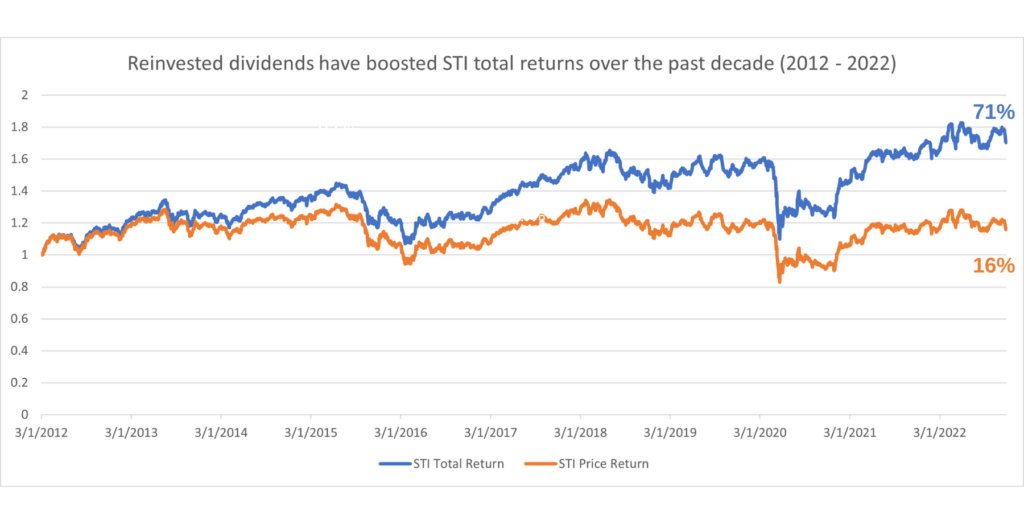 Attractive valuations
Although the STI has outperformed other markets year to date, valuations in the Singapore market still look attractive, according to OCBC analysts. Both the price-to-book ratio and price-to-earnings ratio of the STI are below 10-year historical averages, a signal that valuations are not expensive.
Compelling valuations aside, investors should evaluate all aspects of a stock. This includes determining if the company has stable earnings, strong fundamentals and good, consistent dividend yields (especially for dividend investors).
What do investors think about Singapore stocks?
Given the Singapore market's compelling attributes, it's no surprise that 83% of Singaporeans are invested in the Singapore stock market. According to Syfe's "Singapore Investor Pulse Survey 2022", SGX-listed stocks, ETFs and REITs are the leading areas where Singaporeans are invested in.
| Asset Classes | Currently Invested | Plan to Increase |
| --- | --- | --- |
| SGX stocks, ETFs & REITs | 83% | 49% |
| International stocks | 43% | 29% |
| ETFs (beyond Singapore) | 38% | 21% |
| Unit trusts / Mutual funds | 36% | 19% |
| Cryptocurrency, NFTs | 35% | 21% |
| Singapore Savings Bonds, T-Bills | 30% | 16% |
| Gold | 25% | 16% |
Source: Syfe's Singapore Investor Pulse Survey 2022
For those already invested in the Singapore market, 95% plan to maintain or increase their exposure to SGX stocks, ETFs or REITs. The most popular reasons to do so include a high trust in Singapore's regulatory framework (26%), its high dividend yields (16%) and a strong belief in the growth potential and future of Singapore and Singapore companies (15%).
An easy way to invest in the Singapore stock market
If you, too, share similar sentiments about Singapore stocks, Syfe Trade now offers access to SGX-listed stocks, ETFs and REITs at one of the most competitive commissions in the market.
There are no platform or hidden fees, just transparent pricing: 0.06% of trade value for all SGX trades (min S$1.98). So if you invest S$5,000 in a Singapore stock, you only pay $3 in commissions.
Additionally, Syfe has developed Singapore market specific 'Discovery Lists' for users to get trading ideas. Curated by Syfe's investment team, trading themes include high dividend yield stocks, stable blue-chips, Temasek-linked companies etc.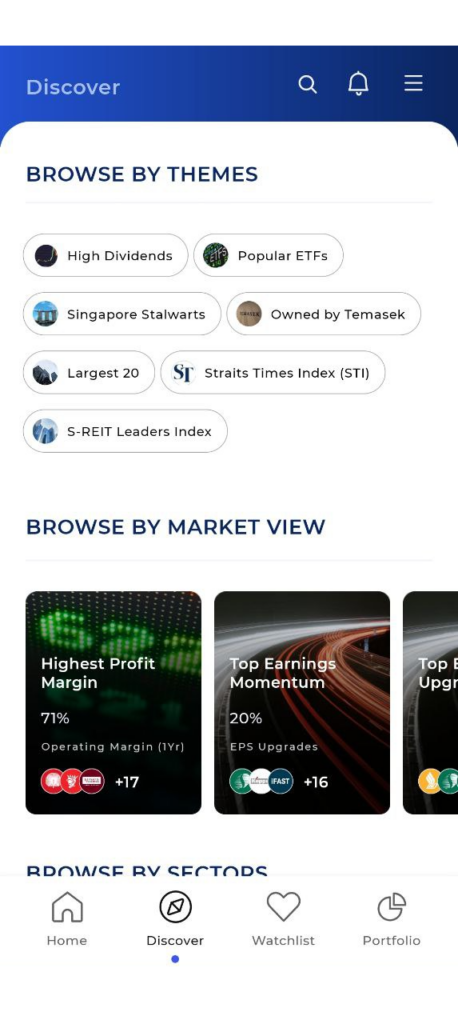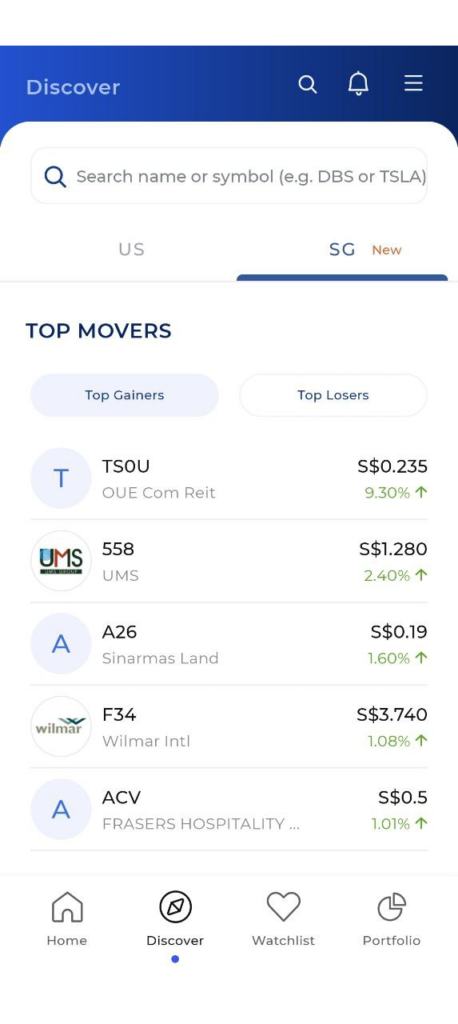 The 'Discovery Lists' feature is a quick and easy way for investors to shortlist Singapore companies they want to take a closer look at.
Another draw that Syfe Trade offers is 24/7 live customer support for investors trading Singapore and US markets. Syfe's friendly client service team is on hand for any account queries.
Still shining bright
Providing stability and income, quality Singapore stocks should form a valuable part of any diversified portfolio. Such stocks are characterised by strong underlying earnings, cash flows and balance sheets.
For discerning investors, now might be a good opportunity to invest in well-run Singapore companies at compelling valuations.
New to Syfe? Download the Syfe app to get started.