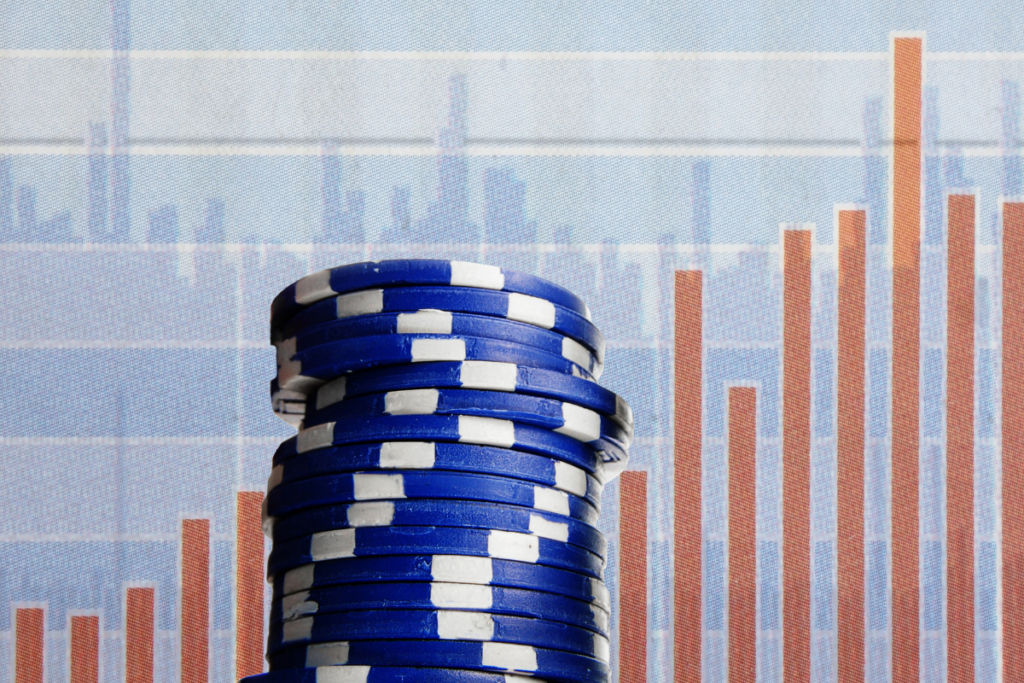 Ever heard of the term "blue chips"? They sound like a delicious snack made from blue corn, but blue chips actually refer to stable and reputable companies traded on a stock exchange.
In Singapore, blue chip stocks are most closely associated with the constituents of the Straits Times Index (STI). Due to their size and reputation, investors see them as being "safer" than other stocks. After all, these are companies with strong business models and robust track records of growth and profitability, making them well-positioned to ride out economic uncertainties.
Although Singapore investors tend to think of banks and REITs when researching blue chip stocks, the STI holds many more strong performers operating across different sectors. Here are 5 that you may want to take a closer look at.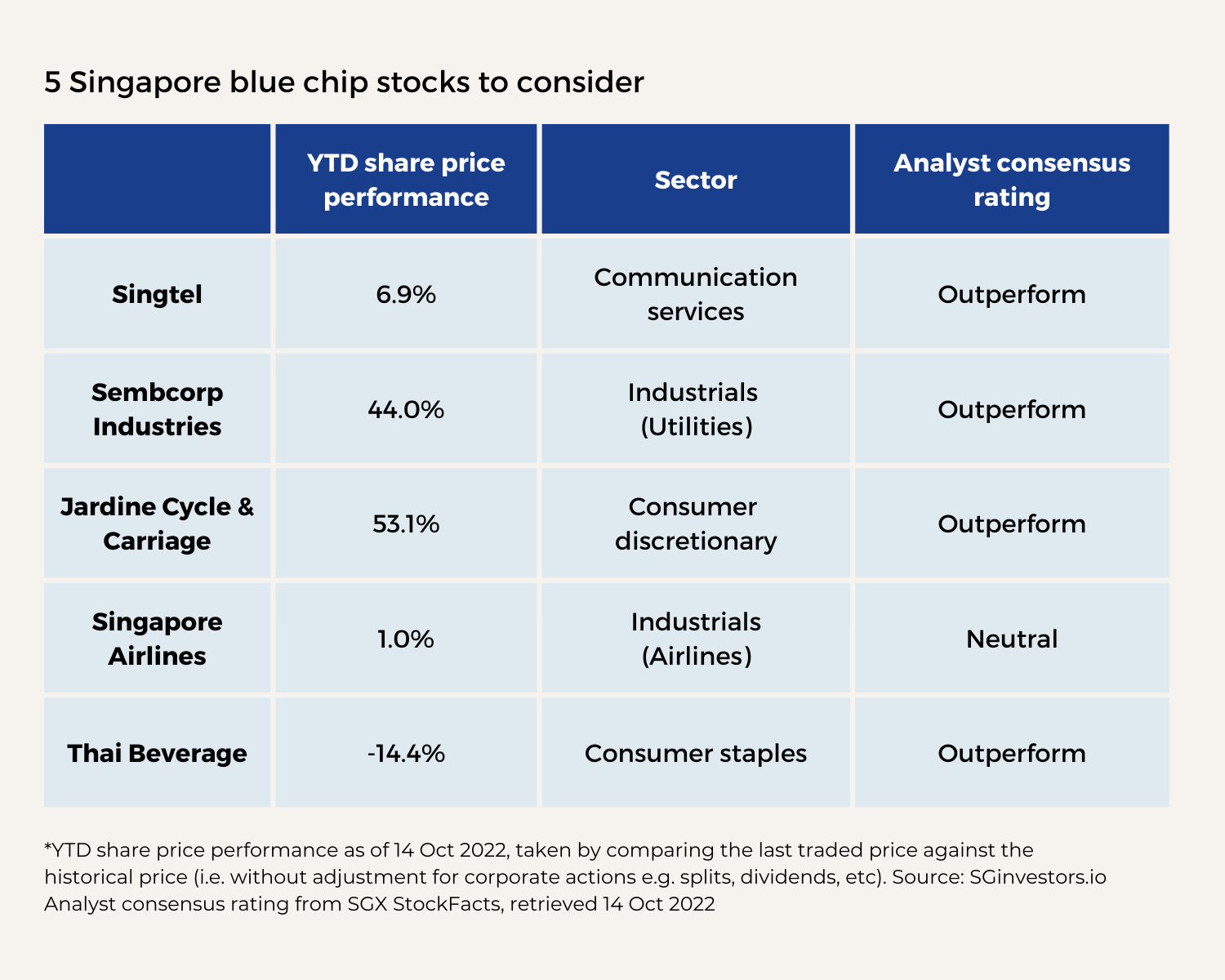 Singtel (SGX:Z74)
Singtel is Singapore's largest telecommunications company with a market capitalisation of $41 billion.
Beyond its core business in mobile, broadband and TV, Singtel is also developing new growth engines in information and communications technology (ICT) and digital services. For instance, the company recently partnered Grab to launch digital bank GXS.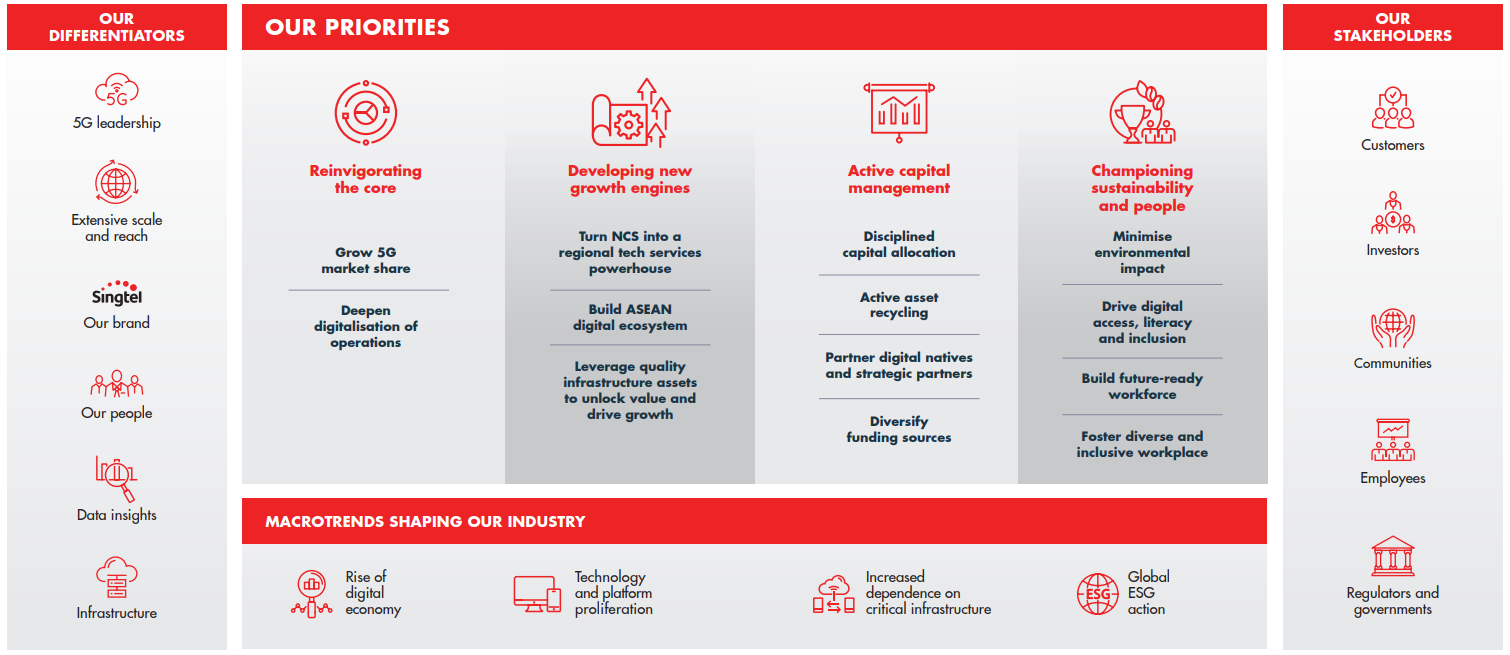 What's also impressive is Singtel's regional presence. It has acquired stakes in foreign telcos such as:
Bharti Airtel in India
Optus in Australia
Telkomsel in Indonesia
Advanced Info Service (AIS) in Thailand
Globe Telecom in Philippines
According to the latest analyst estimates published by SGX StockFacts, Singtel has a consensus rating of "outperform", alongside a price target of $3.18 on the stock. The price target equates to a 28% upside potential from Singtel's last traded price of $2.48 on 14 October 2022.
Singapore Airlines (SGX:C6L)
Singapore Airlines (SIA) is probably our nation's most iconic brand – and one of the world's premium airlines. Besides the flagship national carrier, the SIA Group also operates budget airlines Scoot and regional carrier SilkAir.
There've been several tailwinds for SIA in the past months. Singapore reopened its borders and allowed entry for fully vaccinated travellers under the Vaccinated Travel Framework.
The strong rebound in travel demand boosted passenger traffic to a 14-fold increase year-on-year, and SIA notched a first-quarter net profit of $370 million. The figure was a significant improvement from the $409 million loss in the same period a year ago when 60% of its revenue came from cargo.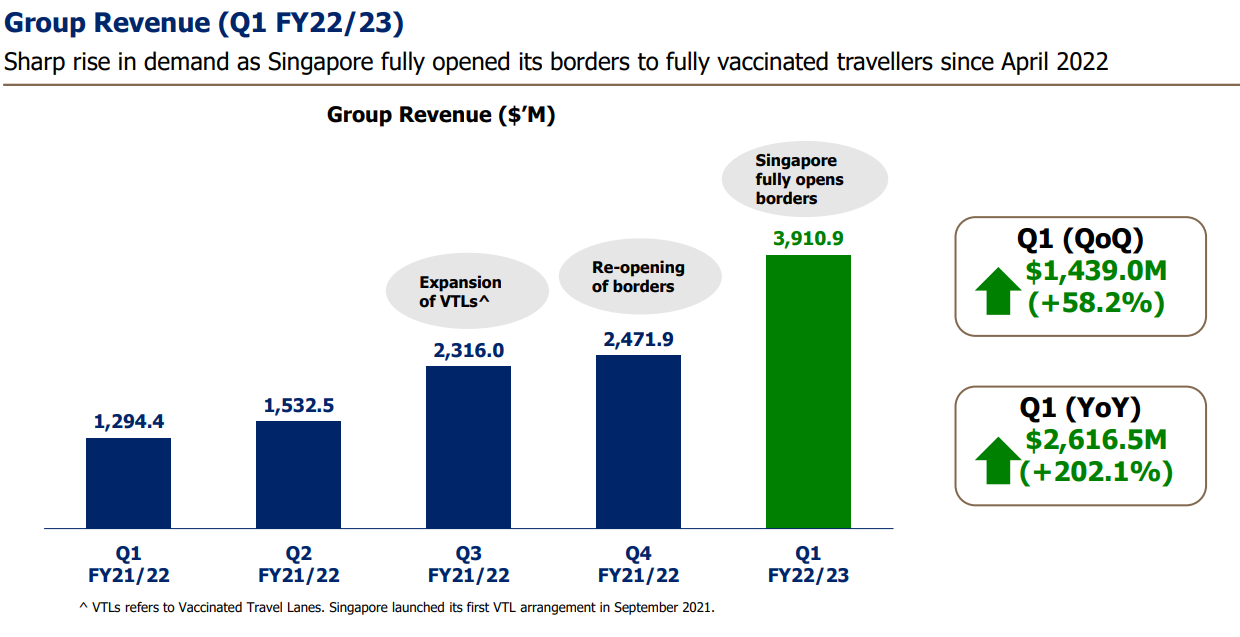 Looking ahead, travel demand is expected to remain robust leading up to the December holiday season. Popular destinations like Japan, Hong Kong and Taiwan have recently eased border restrictions and SIA will be adding more flights to meet the buoyant demand.
SIA is also in talks with TATA Group over a potential merger of Vistara and Air India. SIA owns a 49% stake in full-service carrier Vistara. A merger could give SIA a larger foothold in India's fast-growing aviation sector. India is poised to become the world's third largest aviation market by around 2024, according to the International Air Transport Association.
SIA has a consensus rating of "neutral" and an average price target of $5.38, based on the latest analyst estimates on SGX StockFacts. This represents a slight upside potential of 7% from the last traded price of $5.04 on 14 October 2022.
Sembcorp Industries (SGX:U96)
Energy and urban solutions provider Sembcorp Industries is one of the top performing STI stocks this year.
Although its core business is still in conventional energy like power plants and natural gas, the company has been expanding its renewable energy portfolio since 2012.
Sembcorp is now one of the largest providers of green energy in Singapore. Its renewable energy portfolio comprises wind, solar and energy storage in key markets such as Singapore, Vietnam, China, India and the UK.
Notably, net profit for its renewables segment jumped to $76 million from $24 million in the first half of 2022.
In line with the global megatrends of clean energy and decarbonisation, Sembcorp aims to derive a 70% share of net profit from its sustainable solutions by 2025. To that end, the company recently sold its full stake in two Indian coal-fired power plants as part of its transition towards being a greener company.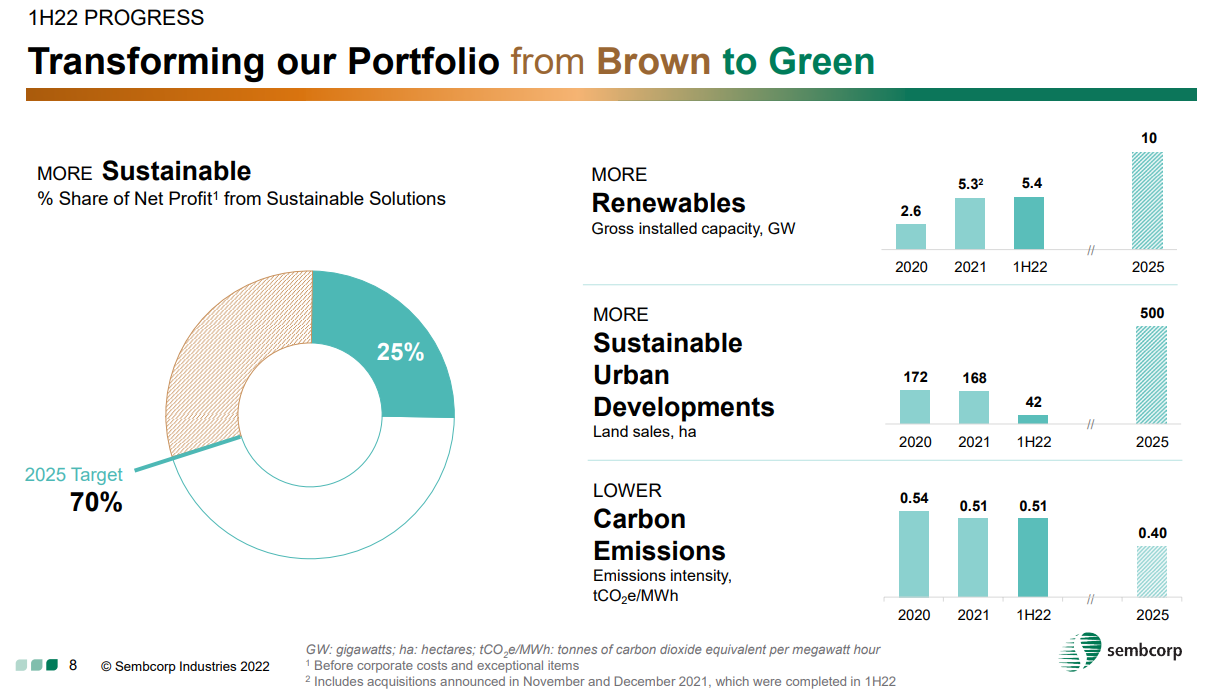 Sembcorp has a consensus rating of "outperform" and average price target of $3.23, based on the latest analyst estimates on SGX StockFacts. This represents an upside potential of 12% from Sembcorp's last traded price of $2.88 on 14 October 2022.
Jardine Cycle & Carriage (SGX:C07)
Jardine Cycle & Carriage (Jardine C&C) is another top stock within the STI with share price returns of 53% in the year-to-date. It is the investment holding company of the Jardine Matheson Group in Southeast Asia.
Despite the name, Jardine C&C isn't just an automotive company. Its businesses also include financial services, agriculture, and real estate.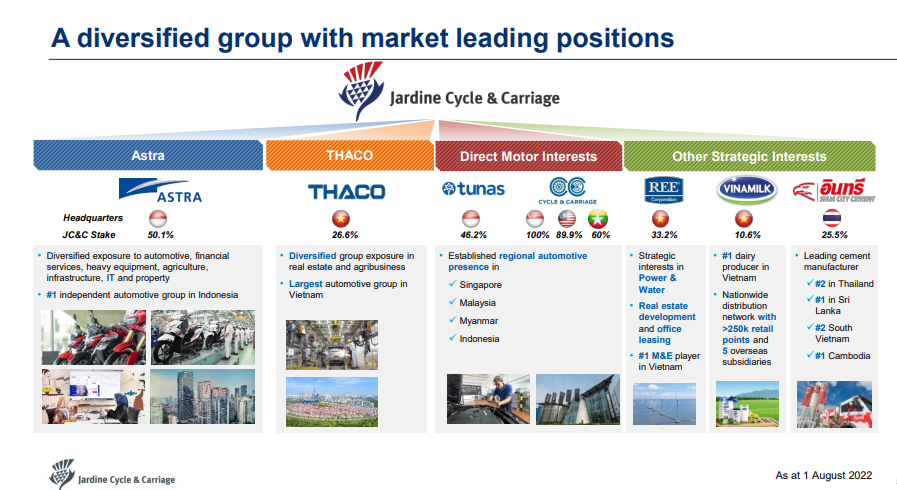 For the first half of 2022, Jardine C&C reported underlying profit – which the company says is a more accurate measure of its operating performance – of US$522 million, up 51% from the year earlier. The earnings surge came on the back of higher contributions from its subsidiaries Astra and THACO.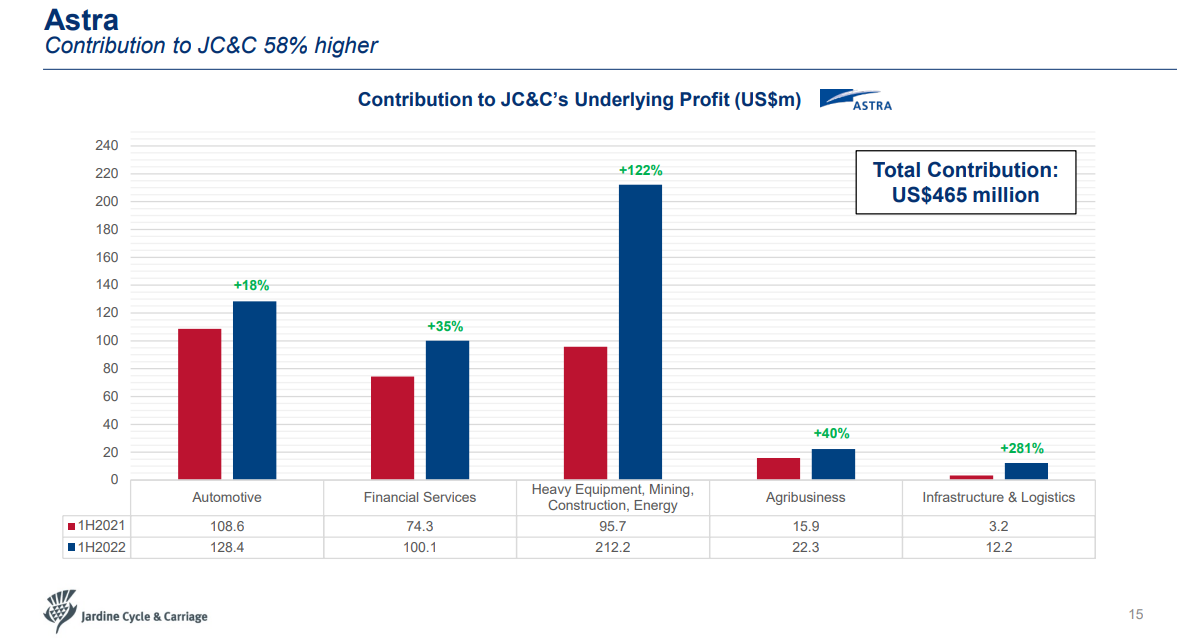 Jardine C&C noted that Astra's performance, in particular, "benefitted from improved economic conditions and higher commodity prices."
Based on the latest analyst estimates on SGX StockFacts, Jardine C&C has a consensus rating of "outperform", alongside a price target of S$35.57 on the stock. This equates to an upside potential of 13% from its last traded price of $31.54 on 14 October 2022.
Thai Beverage (SGX:Y92)
Thai Beverage is the largest beverage company in Thailand. It's the manufacturer of Chang Beer and other beverages, both alcoholic and non-alcoholic.
Thai Beverage also has a 28.4% associate stake in Singapore-listed Fraser & Neave Ltd (F&N), the maker of 100Plus and Fruit Tree juices, and a 28.9% stake in Frasers Property. Additionally, it holds stakes in SABECO, a leading beer producer in Vietnam, and Grand Royal Group, the largest whisky player in Myanmar.
In its 1H22 (first half ended 31 March 2022) financial report, Thai Beverage registered net profit of Baht 18,365 million, a 14.2% increase year-over-year. This was underpinned by the easing of COVID-19 measures and reopening of Thailand and Vietnam.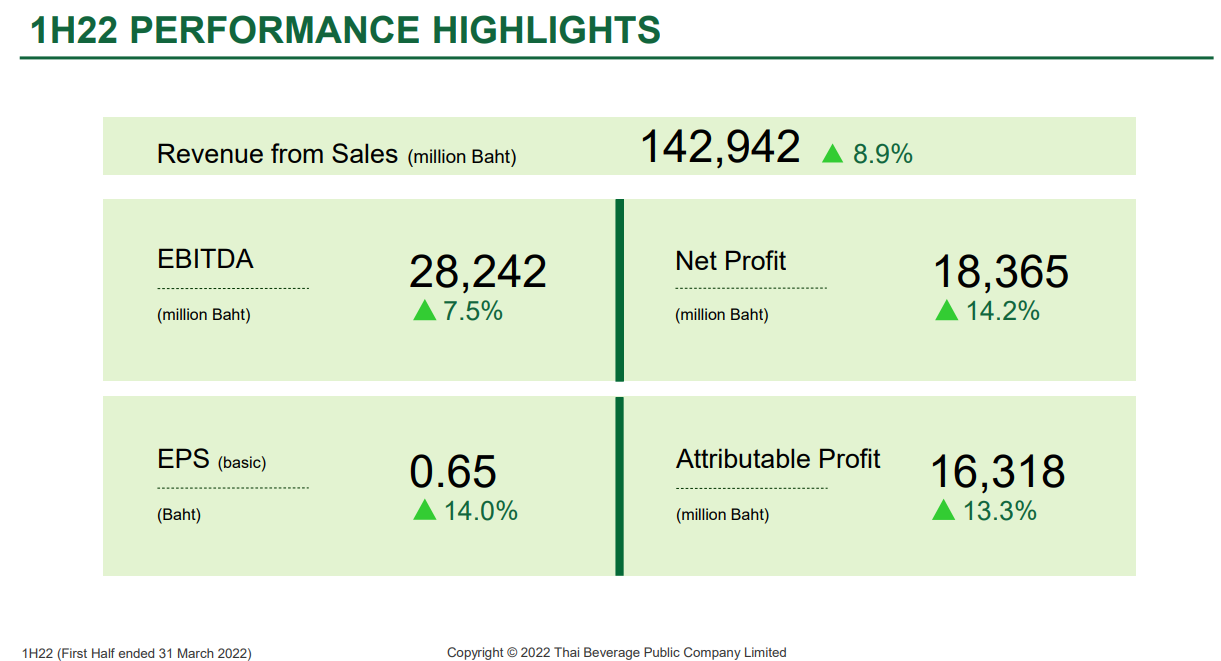 Thai Beverage has a consensus rating of "outperform" and average price target of $0.81, based on the latest analyst estimates on SGX StockFacts. This equates to a 45% upside potential from the last traded price of $0.56 on 14 October 2022.
How to buy Singapore blue chip stocks
Want to start investing in Singapore stocks? The first thing to do would be to open a brokerage account. You can consider digital broker Syfe Trade for low fees and transparent pricing. Here's how one investor used Syfe Trade to invest in a blue chip REIT.
Commissions for Singapore stocks, ETFs and REITs are 0.06% of your total trade value and there are no platform fees.
Trading is easy and secure, and there's also 24/7 customer support available. Simply download the Syfe app to start building your Singapore blue chip stock portfolio today.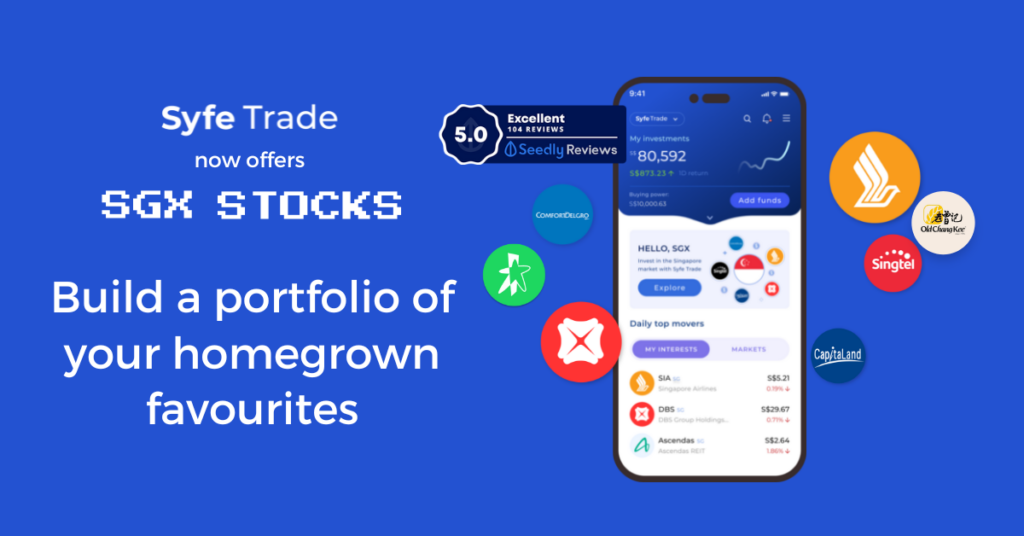 Disclaimer: This article is for informational purposes only and should not be viewed as financial advice. It is not meant to market any specific investment, or offer or recommend the purchase or sale of any specific security. All forms of investments carry risks, including the risk of losing all of the invested amount. Such activities may not be suitable for everyone. This advertisement has not been reviewed by the Monetary Authority of Singapore.