Investing in the New China, in Partnership with KraneShares
Syfe (referred to herein as "we", "our", "us" ) has partnered with KraneShares, a leading investment management firm outside of Singapore, known for its deep expertise in China, to relaunch our China Growth portfolio with a focus on China's new economy sectors that are going to transform China into an economic powerhouse built on pillars of innovation, services, consumption and green energy.
KraneShares has been a pioneer in investing in China and specialises in China-focused ETFs that provide investors with exposure to various sectors and themes in China's rapidly growing economy, including technology, internet, healthcare, consumer goods, renewables and more.
Syfe's China Growth portfolio aims to capture the potential growth opportunities presented by China's rapidly evolving economy and its rising consumer class. By leveraging KraneShares' expertise in China-focused investments, we aim to provide our clients with a well-diversified and strategic portfolio that aligns with their long-term investment goals.
The Future of China – Transition to a New Economy
China's economic and social transformation is expected to last for multiple decades, creating many major investment opportunities for investors along the way. The Chinese consumer gained prominence following the financial crisis in 2008. The rise in the standard of living is strengthening the consumers' purchasing power and aspirations to modernise. Over the past 10 years, China has demonstrated its ability to be a global leader in innovation in fields such as e-commerce, fintech, social media, mobility, renewable energy, high-end manufacturing, robotics, and more. Progress has been enabled by the continued strategic planning and support of China's central and local governments.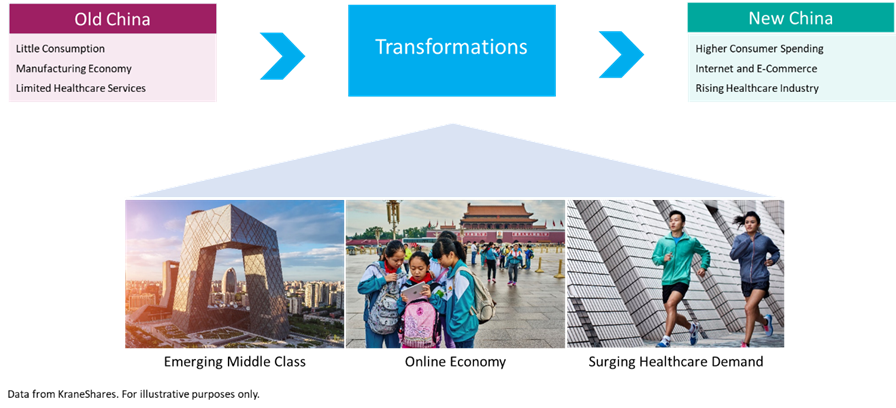 Capturing Investment Opportunities in the 'New China' Economy
We believe China is in the midst of a historic transition from an "old economy" that is based on a state-owned utilities, telecom, and commodities-based system to a "new economy" that is supported by technological innovation, service-oriented industries, and the growing consumption power of Chinese consumers.
This shift towards a more consumer-driven economy presents significant investment opportunities. By partnering with KraneShares, we can tap into their specialised knowledge and access to China-focused exchange-traded funds (ETFs), allowing us to effectively capture exposure to the sectors driving this new wave of growth.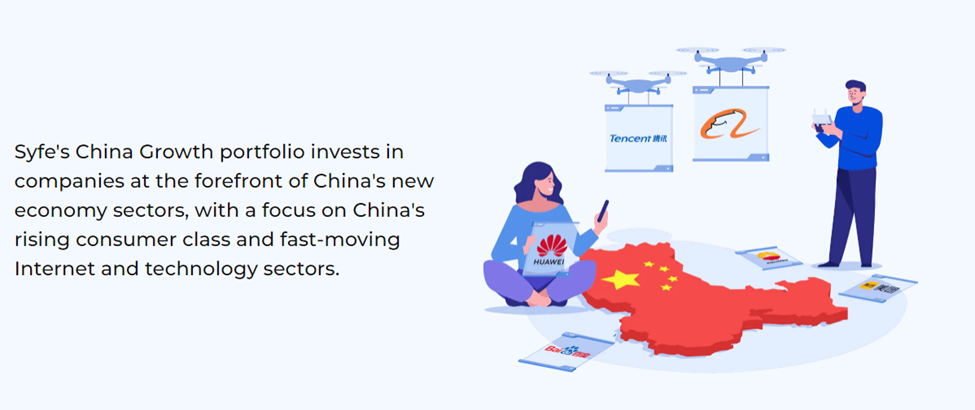 Investment Objectives
The China growth model portfolio seeks to outperform the MSCI China All Shares index over an investment cycle for a reasonable level of risk. The model portfolio seeks to invest in core and thematic China opportunities with a bias toward new China sectors such as China's internet, renewable energy, electric vehicles, healthcare, technology, and industrials that can help generate a superior risk-return profile. Also, the model portfolio seeks a balanced allocation between onshore and offshore China companies as both have low to no overlap and differentiated industry exposure, investor base, and policy impact.
Capitalise on China's growing consumer class: We seek to invest in companies that are poised to benefit from the rising income levels and changing consumption patterns of Chinese consumers. This includes sectors such as e-commerce, luxury goods, travel and leisure, healthcare, and education.
Focus on innovation and technology: We aim to identify and invest in companies at the forefront of China's technological advancements and innovation. This includes sectors such as artificial intelligence, robotics, cloud computing, electric vehicles, and biotechnology.
Emphasise service-oriented industries: We recognize the importance of China's service sector in driving economic growth. We will seek investment opportunities in areas such as financial services, entertainment, logistics, and online services.
Transition to Green Economy: China plans to hit peak emissions and have renewable energy account for 35% of its electricity consumption by 2030. We will invest in companies that stand to benefit from China's increased focus and spending on clean energy technologies in five key areas: mobility, renewables, cleantech, semiconductors / 5G, and battery storage.
Investment Process
To execute our investment strategy, we will leverage the expertise and resources of KraneShares. Their deep knowledge of China's economic landscape and access to China-focused ETFs will enable us to construct a well-diversified portfolio that captures the essence of the "New China" economy. Key elements of our investment approach include:
Thorough research and due diligence: Our team, in collaboration with KraneShares, will conduct rigorous research and analysis to identify investment opportunities that demonstrate strong growth potential within the target sectors.
Portfolio management: The portfolio will be managed on a discretionary basis by Syfe. KraneShares will provide insights and non-binding asset allocation guidance to us in the portfolio construction process.
Portfolio review: We will regularly monitor and manage the portfolio to ensure alignment with our investment thesis and adjust to market dynamics. Regular reviews will be conducted to assess the performance of the overall portfolio. The model will be rebalanced on a semi-annual basis to the target optimised weights.
Risk management: Risk management is a crucial aspect of our investment approach. We will employ various risk mitigation strategies, including diversification across sectors and companies, as well as ongoing monitoring of geopolitical, regulatory, and market risks specific to China.
Long-term perspective: Our investment horizon is focused on the long-term growth potential of the "New China" economy. While short-term market fluctuations may occur, we believe in the transformative power of China's economic shifts and aim to capture sustainable growth opportunities for our clients.
Portfolio Allocation
In addition to core China funds, the model tilts the portfolio to "New China" industries by leveraging targeted thematic funds with an exposure ranging between 5% and 20% for each. The current allocation of the portfolio is overweight China's consumer, internet, electric vehicles, and renewable energy industries. Cleantech currently represents up to 22.5% of the portfolio spread across consumer discretionary, information technology, industrials, and materials sectors. We also believe healthcare is a unique investment opportunity as China's middle class continues to grow and demand better care.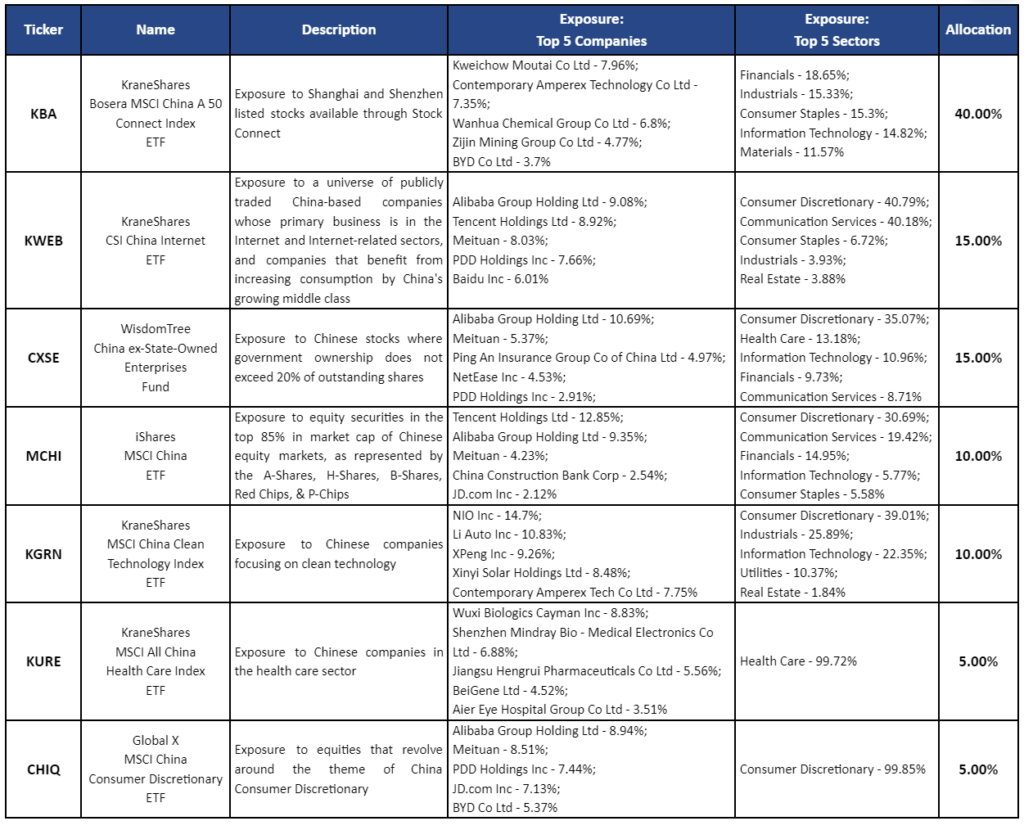 Sector Breakdown
Top Holdings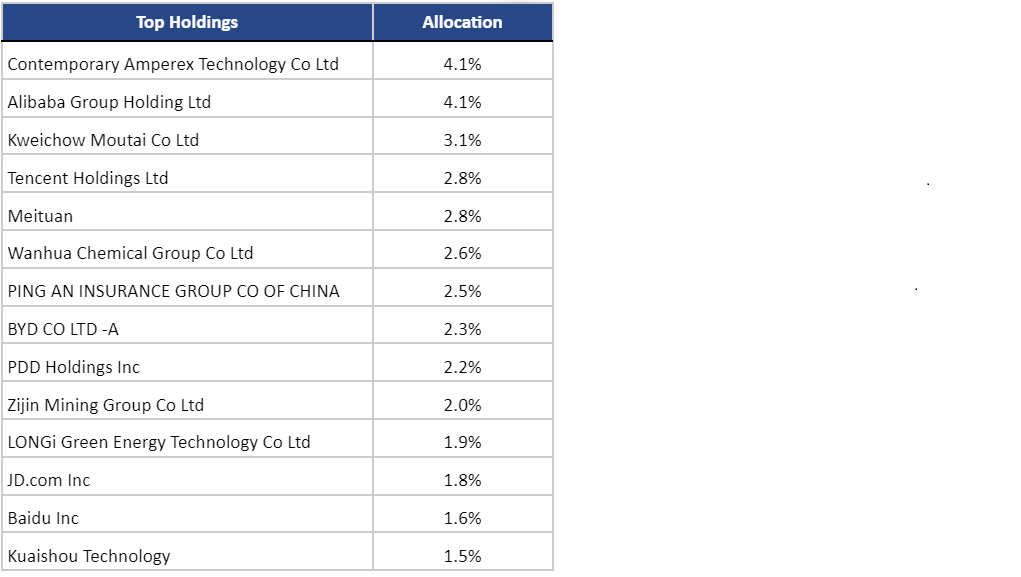 Summary
Through our partnership with KraneShares, we are confident in our ability to navigate the complexities of China's rapidly evolving economy and capture the potential growth opportunities presented by the "New China" economic sectors. By combining our wealth management expertise with KraneShares' specialised knowledge in China-focused investments, we aim to deliver superior risk-adjusted returns and long-term value to our clients.
We will also provide regular updates on portfolio performance, investment insights, and market trends related to the "New China" economy. Additionally, our team will be available to address any questions or concerns our clients may have regarding their investments.
Syfe's 'China Growth' portfolio is a discretionary portfolio provided by Syfe to you. These portfolios comprise of ETFs and KraneShares provides Syfe with non-binding model portfolio guidance.
This means that KraneShares does not provide any service or product to you and does not receive any information about you. By investing into the New China Growth portfolio, you are a client of Syfe only.
KraneShares is not affiliated with Syfe and has no obligations nor responsibilities regarding the acquisition, disposition or holdings of any portfolios offered by Syfe nor does KraneShares have any obligation or liability to any client of Syfe. KraneShares does not hold any licence, authorisation or registration in Singapore to conduct any regulated activities, including investment management and financial advice. Nothing in this material or any other materials referring to KraneShares should be construed as KraneShares offering its products or services to any clients in Singapore.
Investment involves risk including possible loss of the principal amount invested, and may not be suitable for everyone. The portfolios and/or the constituent funds in the portfolios may not achieve their investment objectives. Any past performance, projection, forecast or simulation of results is not necessarily indicative of the future or likely performance of any investment. Investors should consider the investment objectives, risks, charges and expenses carefully before investing. This and other information is contained in the constituent funds' prospectus. Please read the prospectus carefully before you invest or send money.
The information and opinions contained in this publication has been obtained from sources believed to be reliable at the time of writing, but Syfe makes no representation or warranty as to its adequacy, completeness, accuracy or timeliness for any particular purpose. Opinions and estimates are subject to change without notice. Syfe does not provide legal, tax or accounting advice.
There is no assurance that the credit ratings of any securities mentioned in this publication will remain in effect for any given period of time or that such ratings will not be revised, suspended or withdrawn in the future if, in the relevant credit rating agency's judgement, the circumstances so warrant. The value of any product and any income accruing to such a product may rise as well as fall.
This article is for informational purposes only and should not be viewed as financial advice. This advertisement has not been reviewed by the Monetary Authority of Singapore.