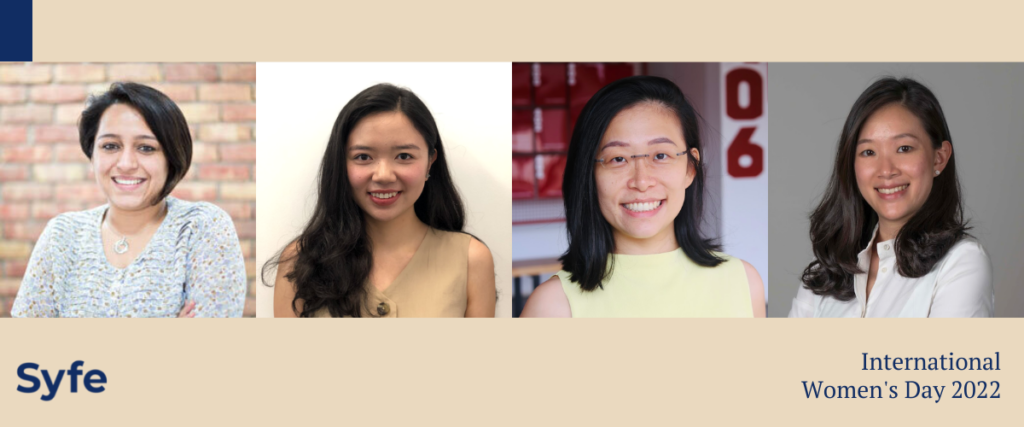 Women are increasingly shaping and driving positive change in the world of finance. Studies have shown that women are good investors too – they spend more time researching their investment choices and take on more appropriate levels of risk with their investments than men.
As a company working to democratise finance for everyone, we advocate for gender equality and are proud that women not only make up nearly half of our workforce, but also fill key leadership roles.
In celebration of International Women's Day (IWD), we sat down with four talented women Syfers from across our teams in Singapore, India and Hong Kong to find out more about the journeys they've taken and the advice they'd give to the next generation of women leaders.
Lakshyya Mahalwal, Head of Product Design
Lord Yeung, Principal Product Manager
Grace Cheng, Director of Investment Research
Claire Yong, Head of Brand and Communications
How did you get started in your career?
Lord: When I first joined a tech startup as an editor with a major in Literature, I had no clue what the word 'Product Management' meant and what it entailed in terms of its function. But fortunately, I had the opportunity to learn the ropes from the founder at the time.
I became so drawn to the role of being a Product Manager and its potential that I never changed roles again. The magic of building things from scratch fascinated me.
Grace: It's fascinating how people find their true calling in life. My husband is one of the most personally fulfilled people that I know. He uses his skills and knowledge to solve real problems and gets paid for it too.
I think there is no greater joy than doing something you truly enjoy and also getting to make a living through it. This philosophy has defined the course of my career and joining Syfe has made it a reality for me.
I'm excited to be part of what the future of investing looks like! It feels surreal to build investing solutions for people like me and families like mine.
Claire: I'm an accountant by training and graduated during the sub-prime crisis. The opportunity to enter the finance industry proved to be extremely difficult for me. This forced me to reconsider my career path. I decided to pursue my love for writing and ended up in communications.
Joining Syfe felt like I've come full circle, since it brought me back to what I wanted to do initially, while adding some skill sets I've picked up along the way.
Lakshyya: Being an introvert and always shying away from expressing myself, I had the good fortune of working with some amazing people throughout my career who mentored me and gave me the necessary encouragement to push through my weaknesses.
Syfe has also been instrumental in my personal growth. I believe this nurturing environment comes from the fact that we all love what we do and everybody's interest is on the same page as the company's.
How do you strike a balance between work, family and time for yourself?
Claire: I believe it's possible to build a family, as well as a career at the same time. One can do so not through trade-offs, but by setting clear boundaries and having clarity on the non-negotiables.
My mother, who built a successful career in banking while tirelessly giving to the family, is my role model in showing me this is possible. I have fond memories of her returning home in her suit and heels, making dinner and sitting down to have it with us, before returning to support her clients when the US market opened at night. I respect her for her sacrifice and contributions to the family and hope to emulate as much that's within my ability.
Lakshyya: With teammates who respect each other's time, work-life balance comes naturally. This allows me to make time for myself as well – spending it cycling around the city, playing games and crafting with my daughter.
Lord: Working at Syfe has made me become more productive and energised for the challenges in other aspects of my life too. Besides work, yoga nurtures my physical and mental well-being. I am also reading up on interior design lately as I'm soon moving into my new apartment!
Grace: I come from a family of highly driven women who had carved out their own careers while raising a family. My mother for example was a physics lecturer who studied Russian as a second language and Chinese as her first. She then moved on to working in various senior roles in several banks.
My mum-law on the other hand started as a teacher and has been a principal for many years. She has had a tremendous impact on many students, an achievement that deserves praise and recognition.
Having these career-driven women in my life has certainly helped me harness a similar drive in my own professional journey and family life.
What advice will you give women who are just starting out in their careers?
Grace: Finding a career path is not something you discover over a day or two. What's important is that you don't take yourself out of the race even before it begins. New roles like Product Management were virtually unknown 10 years ago. Its roles and functions are still taking shape.
The key is to not count yourselves out even when the path ahead isn't clearly defined. Think about the small steps that will fill the gap and carve your own path in these new exciting spaces.
Lord: As a woman who found her way into the world of Product Management, my advice to other women aspiring to enter this domain is: Create your own opportunities and take the driver's seat of your own lives. Most opportunities are found in internal transfers and from taking up larger responsibilities beyond the scope of your original duties.
Try to reach out to PMs in your company and make the best of every opportunity. With enough luck and dedication, you might just find yourself in this fascinating world of Product Management just like I did.
Lakshyya: I believe in the phrase, "Do what you love and love what you do". When I set out to design a product, be it in the domain of edu-tech or fintech, my prime motive is to design with the future in mind.
When you help your customers more than what you set out to do initially, I think you already have a head start over your competition. I believe this forward-thinking approach has helped Syfe reach a larger customer base and fulfill our vision of making investments accessible and user-friendly.
Claire: The world of comms and the startup environment at Syfe has been a very fruitful journey for me in terms of career and personal growth. The way to survive and thrive as a challenger brand is to rewrite the rules continuously.
This has pushed me to go beyond the comfort zone and get comfortable with being uncomfortable. I think exercising this muscle has helped me stay up-to-date with the massive pace of change that the marketing and comms industry has undergone.
Happy IWD!
Syfe is bolstered by the support and expertise of the women Syfers on our team. While we have featured only a handful here, we remain grateful for each Syfer's drive and dedication towards our shared goal. Happy International Women's Day to all the wonderful Syfe ladies and women everywhere!