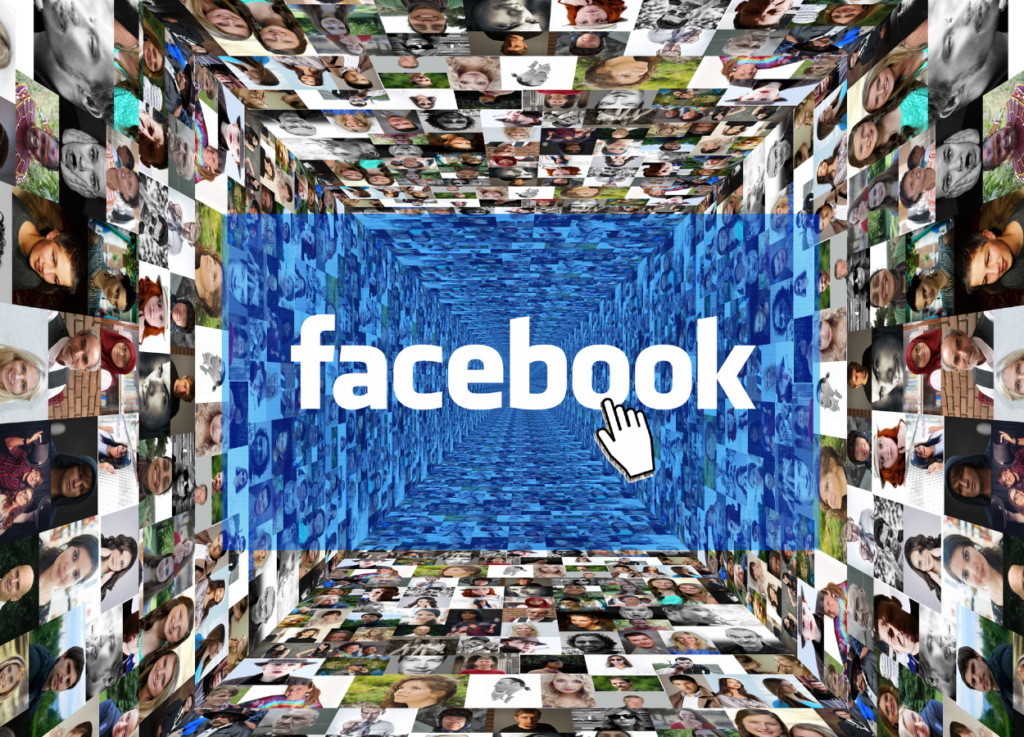 Shares of Facebook parent Meta Platforms surged 19% in after-hours trading yesterday (27 April). Despite slowing revenue growth, daily active users increased. Overall, Meta's performance was "better than feared", according to Jefferies analyst Brent Thill.
Facebook started out as a platform that allowed college students to connect and interact. Launched out of Mark Zuckerberg's Harvard dorm room in 2004, the site eventually grew into one of the world's largest social networking platforms.
The company changed its name to Meta last October, reflecting chief executive officer Mark Zuckerberg's pivot to the metaverse – a concept he thinks will eventually be as ubiquitous as the internet. To that end, Meta is investing billions of dollars into building hardware and software for the metaverse.
Since the name change, Meta's share price has fallen nearly 50% as investors questioned Zuckerberg's hefty metaverse spending and Facebook's slowing growth. However, the tide seems to be turning in Meta's favour after their better-than-expected quarterly earnings.
Meta is a mainstay on Syfe Trade's top 10 traded stocks. Here's a closer look at how it makes money.
Advertising
The bulk of Meta's total revenue comes from ad sales. Thanks to the amount of information Facebook collects abouts its users, it's able to offer advertisers fairly precise ad targeting. This makes Facebook's advertising platform so valuable.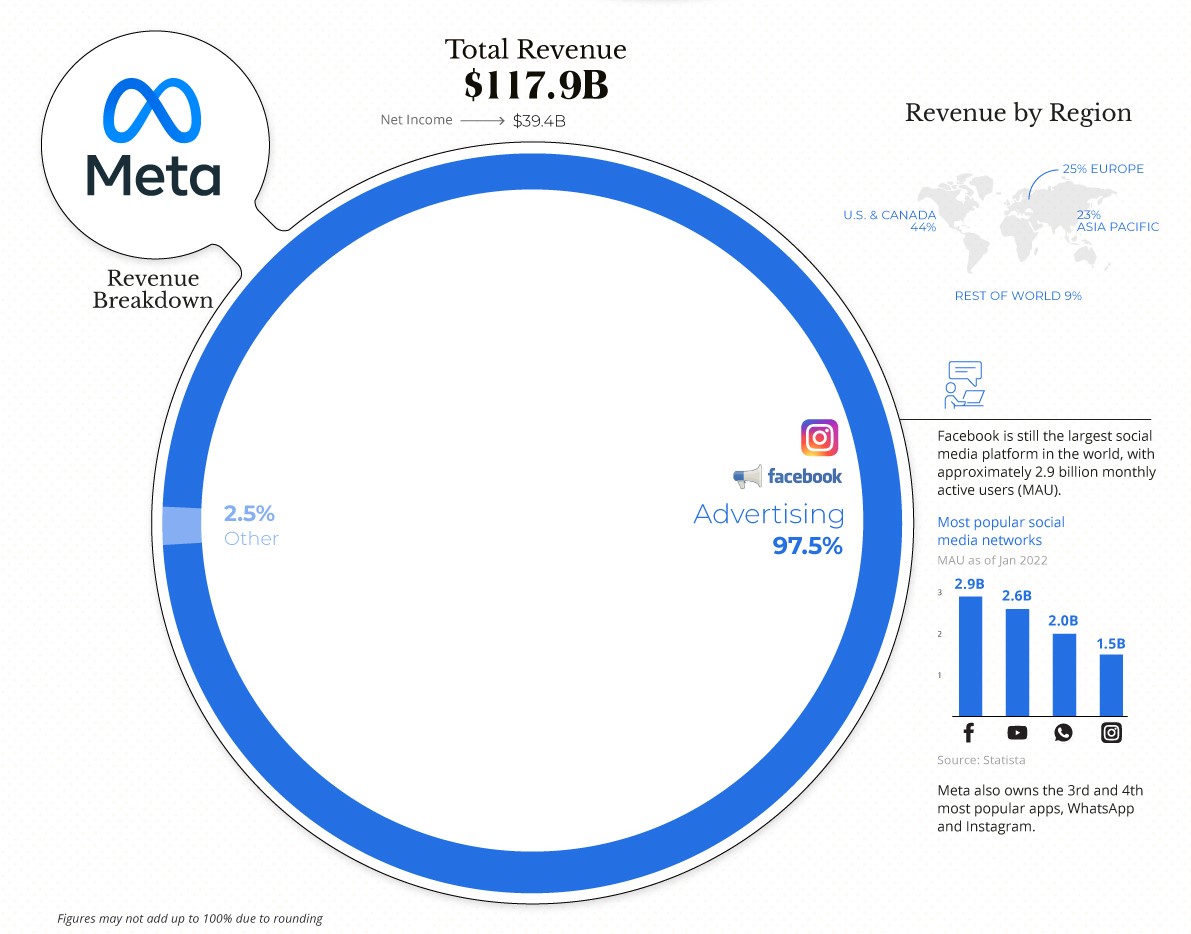 In the first quarter of 2022, Meta's revenue rose 7% to $27.9 billion, missing analysts' estimates of 7.8% growth. It was also the first time in 10 years that the company had experienced single digit growth. That said, the revenue growth comes despite dampened ad spending amid the Ukraine war, Apple's privacy change, and increased competition from TikTok.
Meta's family of apps segment, which includes Facebook, Instagram, and Whatsapp, is responsible for Meta's total ad revenue. For the quarter, the number of ad impressions delivered across its family of apps increased 15% year-over-year, while the average price per ad fell 8%.
Not surprisingly, the more users across these apps, the more ads Meta can serve. Daily active users (DAU) across Facebook, Instagram, and Whatsapp was 2.87 billion, up 6% year-over-year. For Facebook alone, DAU grew to 1.96 billion, a 4% increase year-over-year.
DAU is an important metric for advertisers that indicates activity on the platform. Last quarter, Facebook reported a drop in DAU for the first time in its 18-year history, sparking a massive sell-off.
"It's good news that Meta somehow managed to eke out growth in DAU. It needed to show some sort of turnaround from last quarter's performance," Insider Intelligence analyst Debra Williamson noted.
The rise of TikTok
Although Facebook is still the go-to site for businesses looking to advertise online, TikTok is fast catching up. Between September and December 2021, TikTok.com was the world's most popular website, data from Cloudfare shows. Facebook.com ranked third. In 2020 however, TikTok ranked seventh while Facebook was in second place.
To compete with TikTok, Meta launched Instagram Reels in 2020. Similar to TikTok, Reels focuses on short-form video content. Meta sees strong potential in implementing an advertising model for Reels, which accounts for 20% of all time spent on Instagram.
Meta is still in the early days of monetising Reels with ads. But the company is confident. "We have a playbook for taking that kind of consumer engagement and rolling out ads into the experience. This is going to be a multiyear journey . . . but it's one we're very optimistic about," Meta's chief operating officer Sheryl Sandberg said.
Metaverse
Meta's Reality Labs unit is responsible for creating products for the metaverse. This includes virtual reality (VR) headsets and future augmented reality (AR) glasses.
In the first quarter of 2022, Reality Labs posted revenue of $695 million, driven by sales of the Oculus Quest 2 VR headsets. According to Meta, Oculus Quest 2 has "outsold not just its predecessor, but all of its predecessors combined" in just seven months on the market.
Horizon Worlds, the company's social metaverse platform for Quest VR headsets, is steadily growing in popularity too. Horizon Worlds hit 300,000 users in February this year, a 10-fold increase in just three months. Meta also shared that 10,000 worlds had already been created on the platform.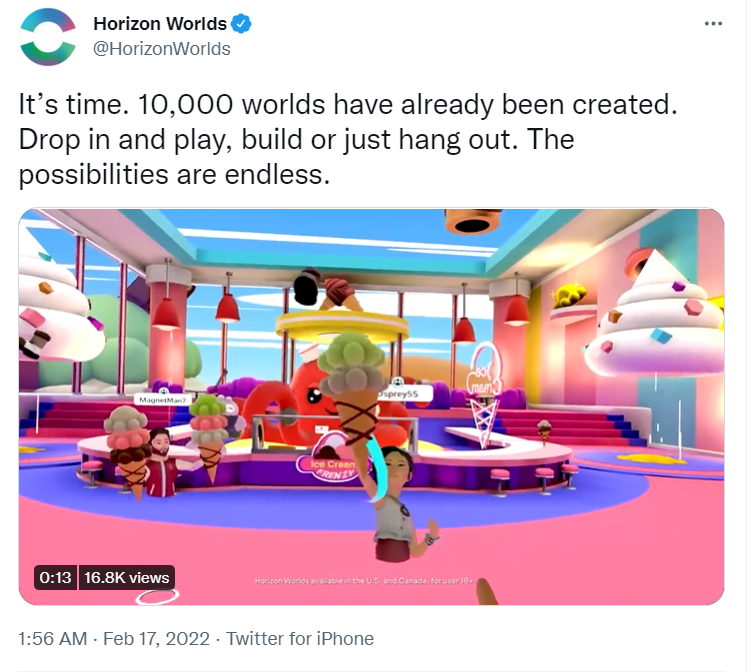 If early user growth is any indicator, Horizon could potentially become the next growth driver for Meta. Earlier this month, the company announced that selected Horizon Worlds creators will be able to sell virtual assets on the platform, and Meta will take a nearly 50% cut on each sale.
While early results are encouraging, Reality Labs lost $2.96 billion in the first three months of 2022. In 2021, the unit posted a loss of more than $10 billion.
Realising that investors are uncomfortable with spending so much now when the metaverse payoff could be years away, Mark Zuckerberg said spending on metaverse projects would be reined in "given our current business growth levels". But he reiterated that metaverse investments continue to be important for Meta's success and growth over the longer term.
How to invest in Meta
You can buy shares of Meta on Syfe Trade, a brokerage platform for US stocks and ETFs. Syfe Trade allows you to buy fractions of a share i.e. you can invest S$50 in Meta instead of buying one full share at the current share price of US$175 (S$242).
This feature allows you to maximise every single dollar you have. For instance, if you have S$1,000 to invest, you can invest the full amount in 4.13 shares of Meta. With brokers that don't offer fractional trading, you would only be able to buy 4 full shares for S$968.
If you want to make the most of your trading dollars, consider using Syfe Trade. Simply download the Syfe app and sign up for your account using Singpass. You'll get S$60 in cash credits when you add S$1,000 to your account and start trading. Additionally, you get to enjoy free trades every month, on top of no platform fees and no minimum charges.