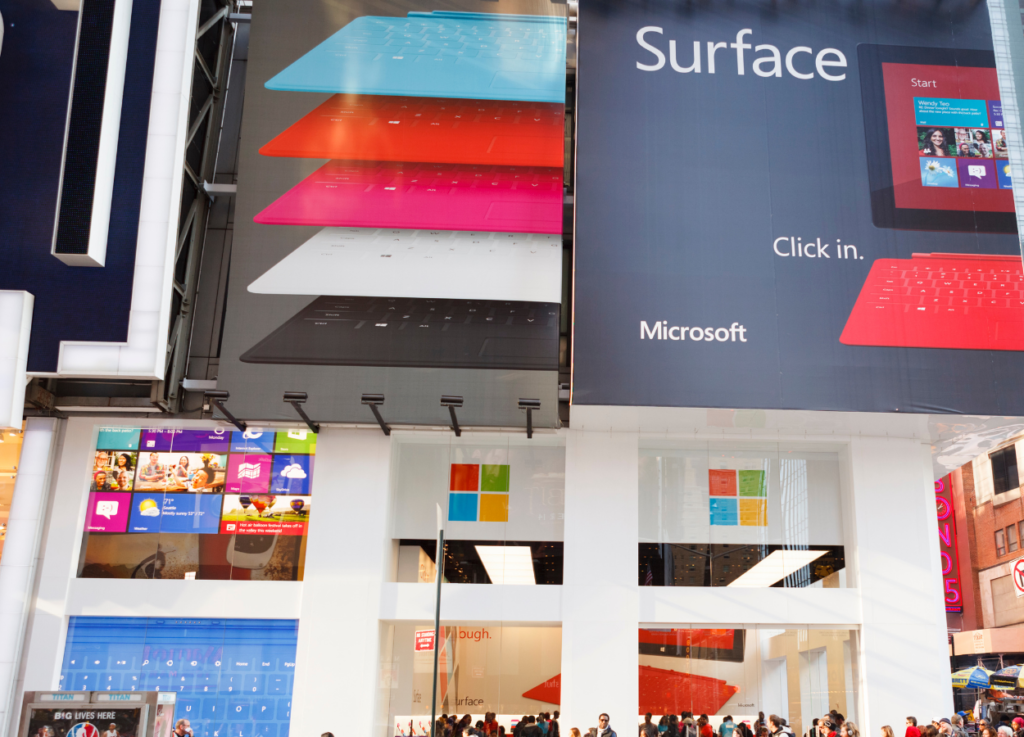 Microsoft (MSFT) has always been one of the most traded stocks on Syfe Trade. Following its recent earnings beat and strong fourth-quarter revenue guidance, you might be watching the stock more closely.
Over the past five years, shares of Microsoft have risen almost 300% as the company successfully pivoted into cloud computing under the helm of current CEO Satya Nadella. Having worked in Microsoft's cloud computing division, Nadella has been instrumental in turning Azure and Microsoft's other cloud services into key growth drivers for the company.
Lately, Microsoft's share price has fallen, in line with the broader slump in tech stocks. However, the company's positive earnings boosted the stock this week. Microsoft rose 4.8% during Wednesday's trading.
"Despite current gloom and doom around big tech, Microsoft's strong revenues and robust forecast highlight that not all tech is at risk," TECHnalysis Research chief analyst Bob O'Donnell noted. "For companies that focus on delivering products and services that businesses need to modernize their operations … there's still plenty of upside."
Here's a closer look at Microsoft's core businesses and recent acquisitions.
Cloud 
In 2021, Microsoft's Intelligent Cloud division generated US$60 billion of revenue, representing more than 30% of the company's overall sales. The Intelligent Cloud segment includes Azure (which competes with Amazon Web Services (AWS)), Windows Server, SQL Server, and GitHub.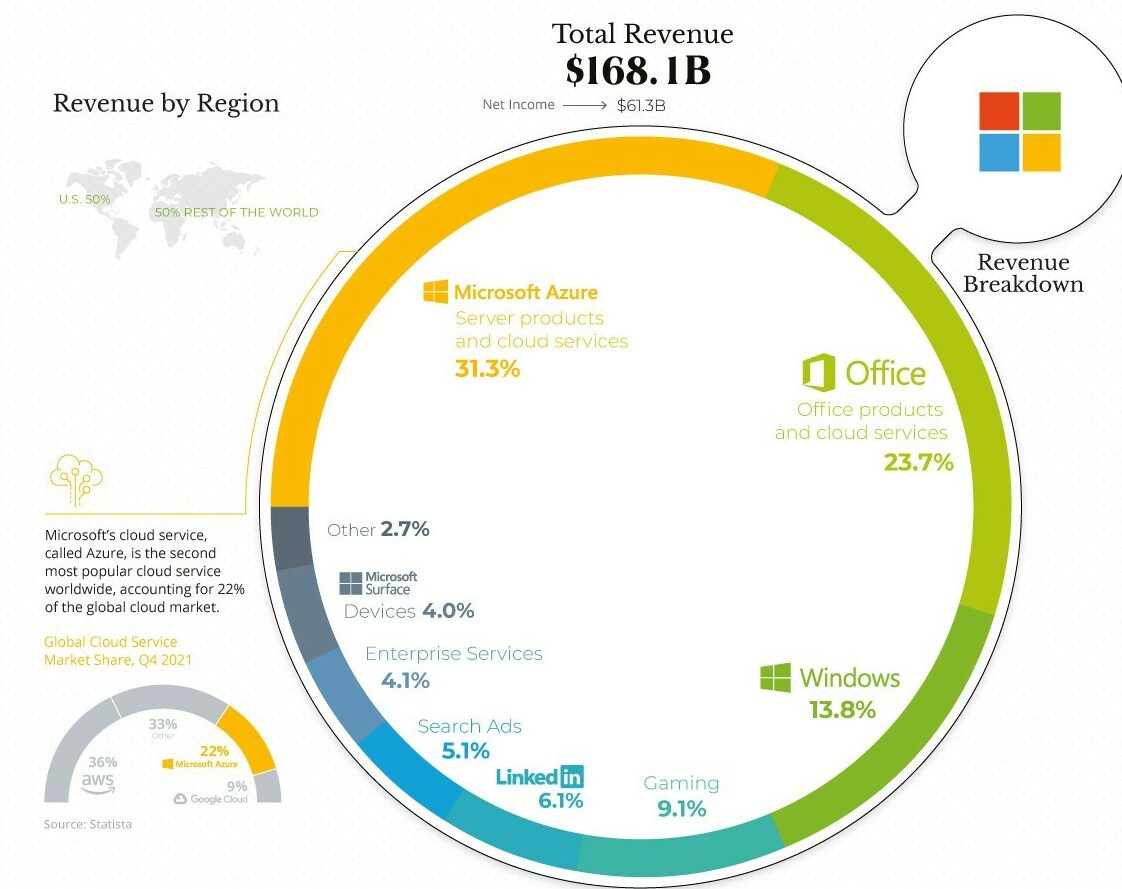 On Tuesday (26 April), Microsoft reported better-than-expected earnings for its fiscal third quarter of 2022. This was driven by its Intelligent Cloud business, which saw revenue soar 26% year over year to US$19.1 billion.
In particular, revenue from Azure jumped 46% in the reported quarter, in line with analyst estimates. CEO Satya Nadella said that the number of Azure deals worth at least $100 million more than doubled during the quarter.
Azure is the world's second-largest cloud infrastructure platform after AWS and currently holds about 22% market share.
Windows
Microsoft is perhaps most well-known for its Windows operating system. Windows forms part of the company's More Personal Computing segment, which also includes sales of Xbox and its Surface tablets.
If you're not a Macbook user, chances are you're using Windows on your laptop or desktop. Windows is the dominant operating system worldwide with just under 74% market share, according to Statista Research.
For the firm's fiscal third quarter, the More Personal Computing segment jumped 11% year-over-year to US$14.5 billion. As economies continue to reopen and businesses continue hybrid working arrangements, sales of Windows have been healthy. Revenue from Windows license sales to PC manufacturers also increased 11% amid strength in the commercial PC market.
Productivity
Microsoft's third division is Productivity and Business Processes. The segment saw revenue growth of 17% year-over-year during the reported quarter. Microsoft Office, LinkedIn, and Dynamic 365 are part of this segment.
Notably, LinkedIn revenue increased 34%. LinkedIn is the world's largest professional network with 810 million members in more than 200 countries worldwide. Microsoft acquired it in 2016 and it generates revenue mainly through premium subscriptions and paid HR and sales solutions.
Gaming
Microsoft is acquiring Activision Blizzard for US$69 billion, an amount equivalent to what it paid for five of its previous largest acquisitions combined. Microsoft already has a foothold in the gaming sector. Its Xbox consoles are a rival to Sony's PlayStation consoles, and it acquired Mojang, creator of the Minecraft game in 2015. When the Activision Blizzard deal completes, Microsoft will become the world's third-largest gaming company by revenue, behind Tencent and Sony. 
Activision Blizzard is the publisher of some of the world's most popular games like Call of Duty and World of Warcraft. It also owns mobile-gaming studio King, the maker of Candy Crush. With the acquisition, Microsoft could potentially become a formidable player in gaming – a market that's poised to exceed US$200 billion by end 2023, according to data analytics firm Newzoo.
Healthcare
Last month, Microsoft acquired Nuance Communications, a pioneer in speech recognition and artificial intelligence. 77% of US hospitals and 550,000 healthcare clinicians worldwide use Nuance for clinical documentation and cloud-based medical imaging solutions. 
Microsoft has described the deal as a part of its larger "Microsoft Cloud for Healthcare" strategy. It also reflects the company's plans to expand into healthcare, an industry that's expected to reach $11 trillion by 2022.
How to invest in Microsoft
You can buy shares of Microsoft on Syfe Trade, a brokerage platform for US stocks and ETFs. Syfe Trade allows you to buy fractions of a share i.e. you can invest S$100 in Microsoft instead of buying one full share at the current share price of US$283 (S$391).
This feature allows you to maximise every single dollar you have. For instance, if you have S$1,000 to invest, you can invest the full amount in 2.56 shares of Microsoft. With brokers that don't offer fractional trading, you would only be able to buy 2 full shares for S$782. That's S$218 uninvested!
If you want to make the most of your trading dollars, consider using Syfe Trade. Simply download the Syfe app and sign up for your account using Singpass. All clients enjoy free trades every month, on top of no platform fees and no minimum charges.