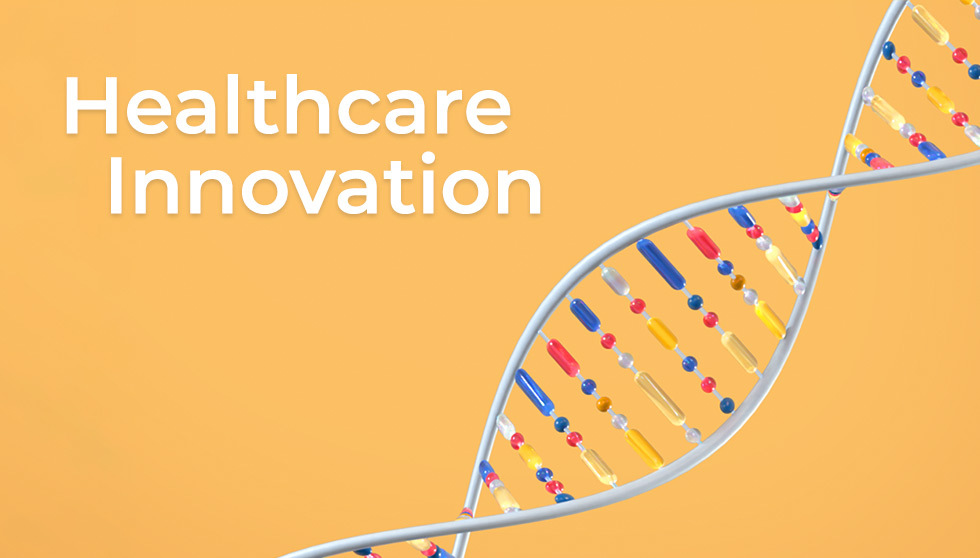 Thanks to the convergence of science and technology, and our growing understanding of disease biology, society is a step nearer to transforming human health and healthcare systems.
For those looking for healthcare investment opportunities, Syfe's Healthcare Innovation portfolio strikes a balance across five healthcare subsectors: genomics, biotechnology, pharmaceuticals, healthcare services, and medical devices. 
By investing across the full spectrum of healthcare stocks, the Healthcare Innovation portfolio aims to be diverse enough to deliver better risk-adjusted returns over the long-term. Such diversification is recommended because not all companies will successfully turn their scientific discoveries into commercially viable businesses.
Moreover, investing in healthcare requires a long-term view. It can take many years of research and clinical trials for companies to successfully bring a drug or treatment to market. On average, only one in 10 drugs tested on humans are approved for use. The risk involved in picking the correct companies to invest in, and at the right time, is considerable.
Rather than crack your head over identifying the next Moderna or Amgen, a portfolio like Syfe Select Healthcare Innovation provides convenience as well as diversified exposure to multiple innovations across healthcare verticals.
How we built the Healthcare Innovation portfolio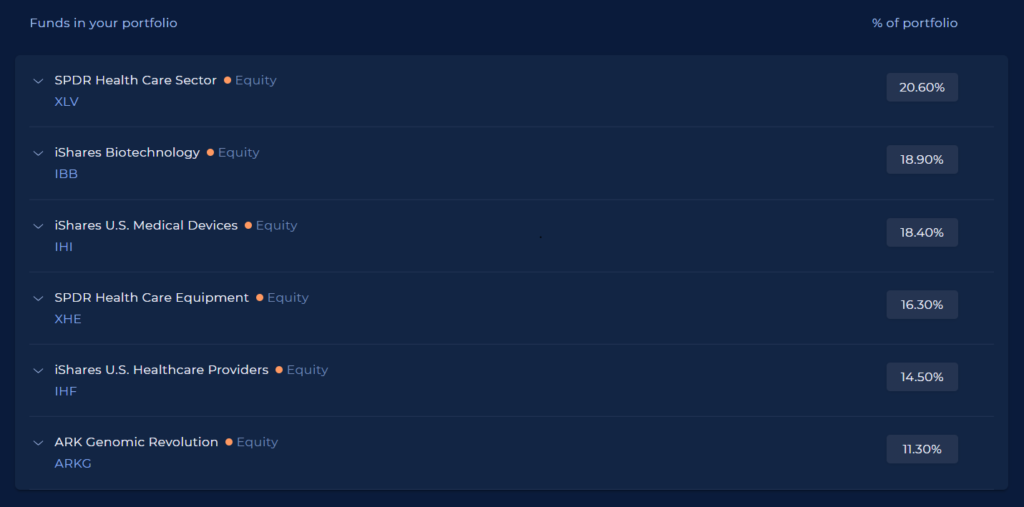 To build the Healthcare Innovation portfolio, our investment team screened potential exchange-traded funds (ETFs) based on our rigorous selection criteria, choosing six that provided broad exposure to healthcare investment opportunities. The team is also constantly monitoring new healthcare themes for possible inclusion.
Read more about our portfolio construction methodology here.
Our selection methodology includes looking at liquidity and size. For example, our chosen ETFs have at least $500 million in assets under management (AUM) because larger funds tend to have better liquidity and track record. Our ETFs are also managed by well-established fund managers such as BlackRock, ARK and State Street Global Advisors.
Here's a closer look at our underlying portfolio holdings.
Genomics: ARKG
The ARK Genomic Revolution ETF (ARKG) gives investors the opportunity to be at the forefront of genomics and healthcare. Companies within ARKG are working on technologies such as CRISPR gene editing, targeted therapeutics, stem cells, and agricultural biology.
The top holdings of ARKG include Teladoc Health, Pacific Biosciences, Exact Sciences, Regeneron Pharmaceuticals and Vertex Pharmaceuticals.

Teladoc is transforming primary care by using remote communication technologies that allow patients to consult doctors directly via video calls. Pacific Biosciences is a company that develops and manufactures sequencing systems to help scientists resolve genetically complex problems.
Of interest is Regeneron's COVID-19 antibody cocktail, which has recently been authorised by the US FDA for additional use. The drug can be used to treat patients who are mildly sick but are at risk of severe illness. According to Singapore's National Centre for Infectious Diseases, Regeneron's drug will likely be used in Singapore too once it is available.
Other exciting genomic companies are Exact Sciences and Vertex Pharmaceuticals. The former developed the first stool DNA test for colorectal cancer. Meanwhile, Vertex Pharmaceuticals creates genetic therapies for cystic fibrosis, a rare and frequently fatal disease afflicting around 70,000 people worldwide.
ARKG has delivered annualised total returns of 44.9% over the past three years, as of 30 July 2021.
Biotechnology: IBB
The iShares Biotechnology ETF (IBB) holds 270 biotechnology companies listed in the US and is widely used to add exposure to the biotech sector. As of 2 August 2021, the fund's net assets totaled $11 billion, reflecting not just the popularity of the ETF but also keen investor interest in the biotech space.
The top three holdings of IBB are Moderna, Amgen,and Gilead Sciences.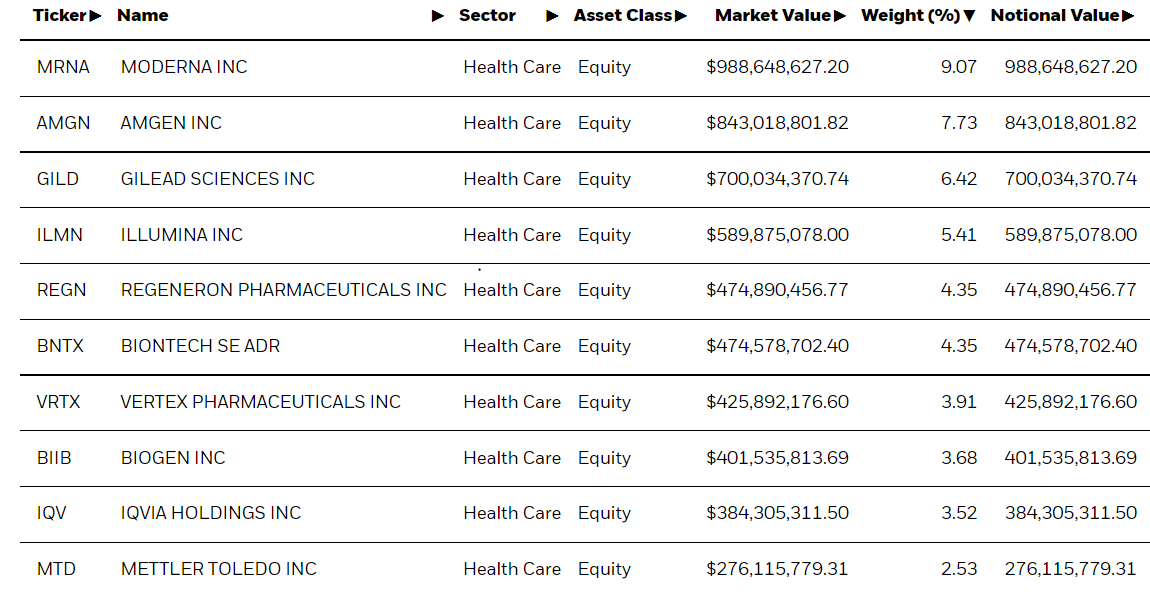 Moderna is probably the most widely known because of its COVID-19 vaccine. The vaccine brought Moderna revenue of $1.7 billion in the first quarter of 2021, and the company has boosted its full-year forecast of COVID-19 vaccine sales to $19.2 billion based on advance purchase agreements.
Amgen is one of the world's largest independent biotech companies. Gilead Sciences is a biopharmaceutical company that manufactures the antiviral drug remdesivir. It was created to treat Ebola and has been described by the World Health Organization as one of the most promising therapies against COVID-19.
As of 30 July 2021, IBB has returned 12.7% in annualised returns over the past three years.
Pharmaceuticals and healthcare services: IHF and XLV
The Health Care Select Sector SPDR Fund (XLV) is one of the most popular ETFs for broad exposure to the healthcare sector in the US. It holds 64 large cap companies across diverse sub-sectors like pharmaceuticals, medical devices, health care providers and services, biotechnology, and other forms of healthcare technology.
Because of this diversification, XLV holds the largest weighting (20.6%) within our Healthcare Innovation portfolio.
XLV has significant exposure to pharmaceuticals and medical device makers. It's top three holdings are Johnson & Johnson (J&J), UnitedHealth Group and Pfizer Inc.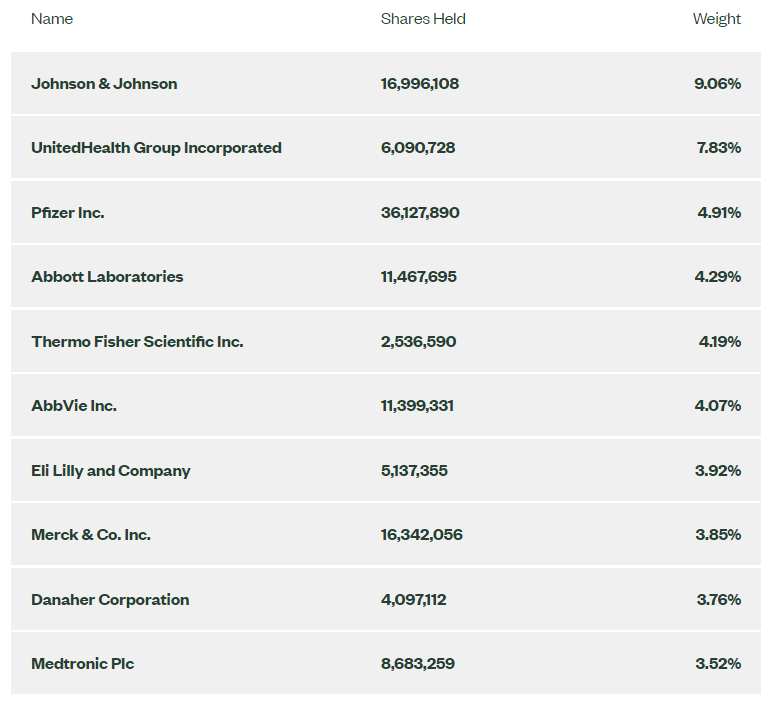 Most people may know J&J as the company behind iconic brands such as Johnson's, Listerine and Neutrogena, but J&J is also a leading manufacturer of medical devices and pharmaceutical products, such as its single-dose COVID-19 vaccine.
UnitedHealth Group is the largest US health insurance provider. Despite fluctuations in its core health insurance business due to the pandemic, the company's total revenue grew by 14.3% year-over-year in the second quarter ending 30 June 2021.
Pfizer needs no introduction. As the world's leading biopharmaceutical company, its medicines and treatments extend beyond the Pfizer-BioNTech COVID-19 vaccine.
While XLV offers broad healthcare exposure, the iShares U.S. Healthcare Providers ETF (IHF) is another popular ETF that focuses on a more narrow range of healthcare companies, namely those in health insurance, diagnostics and specialised treatment.
IHF holds 62 healthcare stocks. Top holdings include UnitedHealth Group, CVS Health, Anthem Inc, HCA Healthcare, and Humana Inc.
CVS Health owns a retail pharmacy chain as well as a health insurance provider, Aetna. Anthem and Humana are leading health insurance companies in the US while HCA Healthcare operates healthcare facilities such as hospitals, urgent care centres and physician clinics.
Over the last three years, XLV has delivered annualised returns of 16.3% while IHF returned 15.8% over the same time period (as of 30 July 2021).
Medical devices: IHI and XHE
The iShares U.S. Medical Devices ETF (IHI) and SPDR Health Care Equipment ETF (XHE) are two popular medical devices ETFs that we have added to the Healthcare Innovation portfolio in roughly equal allocations.
IHI holds 65 medical device companies and is a market cap-weighted ETF. For instance, Abbott Laboratories has a market cap of $1.02 billion and makes up the largest allocation within IHI at 12.6%.
XHE holds 85 companies, of which 73% are healthcare equipment makers and 23% are manufacturers of healthcare supplies. XHE is an equal-weight ETF. Equal-weight funds often tilt towards smaller stocks and hold roughly the same allocation for each stock.
Consequently, both IHI and XHE have very different top holdings. Abbott Laboratories, Thermo Fisher Scientific Inc, Danaher Corp, Medtronic and Intuitive Surgical are the top five holdings of IHI and make up nearly 50% of the fund.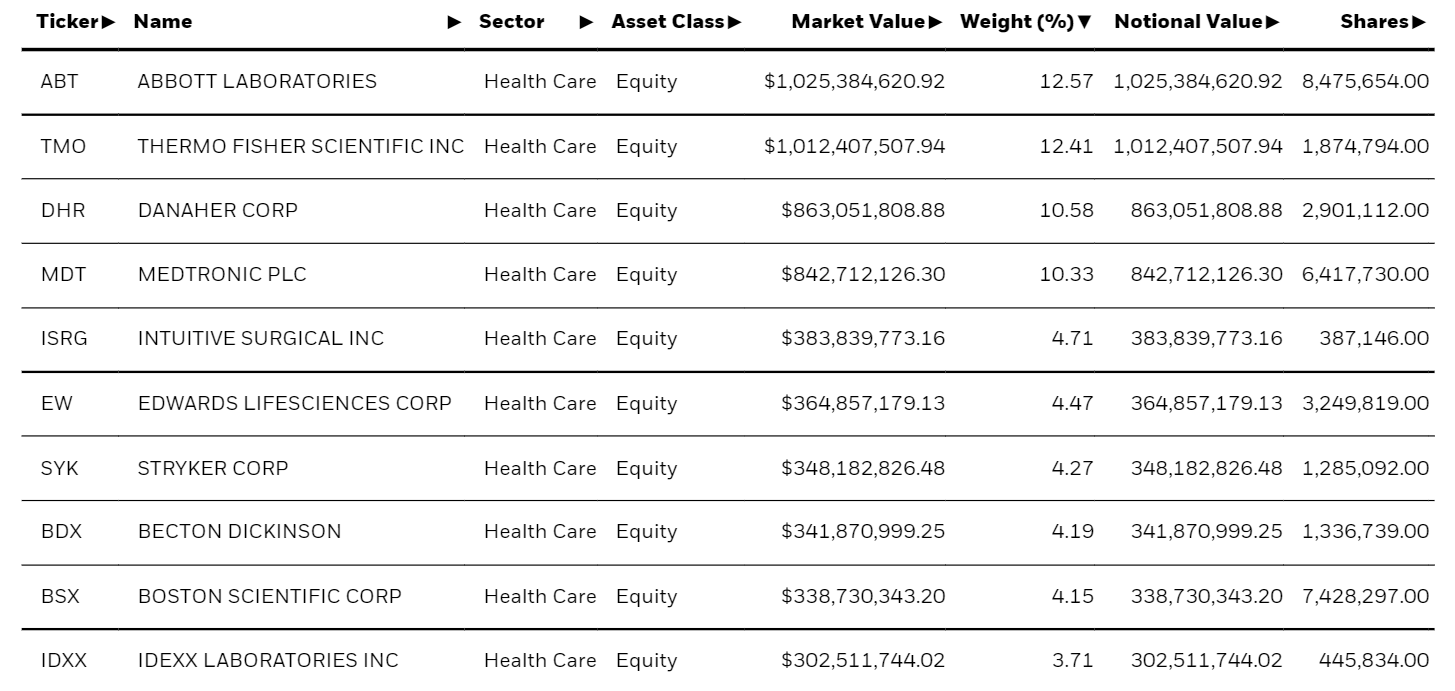 For XHE, the top five holdings are DexCom, ResMed, Inogen, BioLife Solutions and Quidel Corporation. These stocks account for about 7.5% of XHE's total holdings.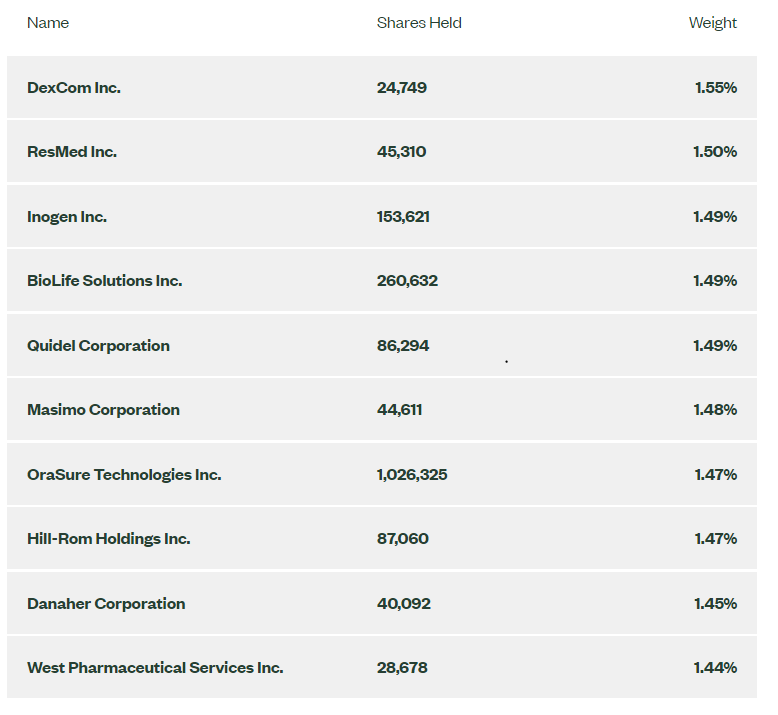 In terms of performance, both ETFs have generated comparable returns. Over the last three years, IHI generated annualised returns of 22.8% while XHE returned 17.2% over the same time period (as of 30 July 2021).
With both IHI and XHE in the Healthcare Innovation portfolio, you get broad industry exposure to large, mid and small cap stocks in the medical devices space.
Investing in the future of healthcare
Healthcare innovation has spurred the development of many new medicines and therapies in areas from oncology to gene therapy.
If you are keen to invest in forward-thinking companies that have the potential to transform human health, Syfe's Healthcare Innovation portfolio is one way to capitalise on this megatrend. With six ETFs providing diversified exposure to genomics, biotechnology, pharmaceuticals, medical devices and more, the portfolio is a way to invest in future healthcare leaders and current top performers alike.
There is no minimum investment, no lock-in period and no brokerage fees. As an added advantage, Syfe will manage your portfolio with free dividend reinvestment and automatic rebalancing, for fees as low as 0.35% per year.