Syfe gives you the flexibility of implementing a core-satellite strategy any way you like. Don't have the time or inclination to pick investments or watch the market? You can go with ready-made portfolios for convenience.
Want more control and flexibility? You can build your own core-satellite portfolios.
Ready-made options
Our hassle-free, ready-made portfolios include Syfe Core and Syfe REIT+. As the name suggests, Syfe Core portfolios can be used as your core investment. These are diversified across stocks, bonds and gold.
Fancy adding real estate as a satellite portfolio? Syfe REIT+ holds 20 of the largest Singapore REITs. This includes Ascendas REIT, Mapletree Industrial Trust, CapitaLand Integrated Commercial Trust and more.
Another ready-made option to consider are our thematic portfolios. You can complement your core investment with exposures to ESG and clean energy, disruptive technology, healthcare innovation, China growth, or high-yield bonds.
Fully customisable options
Want a truly unique core-satellite portfolio? Build it with Syfe Select Custom. You can choose from over 100 best-in-class exchange traded funds (ETFs) to design your custom portfolio.
For your core investment, pick broad-based ETFs or build your version of the beloved Bogleheads three-fund portfolio. For satellite investments, our thematic ETFs cover trends such as biotechnology, cloud computing, esports, solar energy and more.
Here are two hypothetical client portfolios that could serve as inspiration for your own core-satellite strategy. These examples are for illustration purposes only and your asset allocation should be based on your own financial needs and objectives.
Case study: Brandon (20s)
Brandon is a young architect in his 20s.
He is saving up to own a Tesla Model 3 in a few years while keeping his wealth building objectives on track for the longer term.
He tackles these goals using two different Syfe Core portfolios.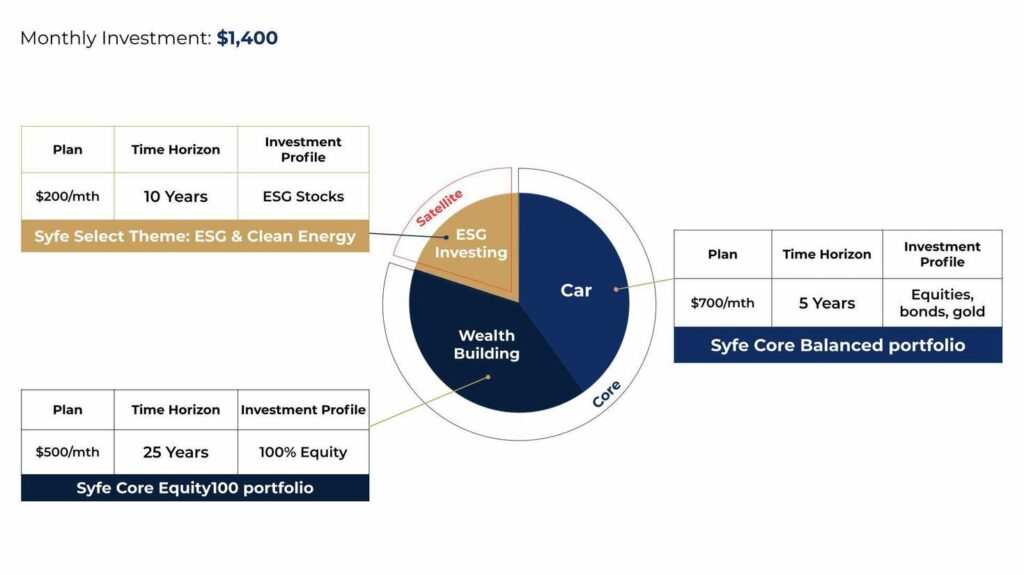 Goal 1: Saving $50,000 for a car in 5 years
Solution: Syfe Core Balance
Rationale: With a shorter time frame of 5 years, the balanced mix of equity and bond ETFs within Core Balance will help him manage risk while still achieving a moderate level of potential returns over time.
Plan: $700 / month for 5 years to achieve forecasted returns of $53,369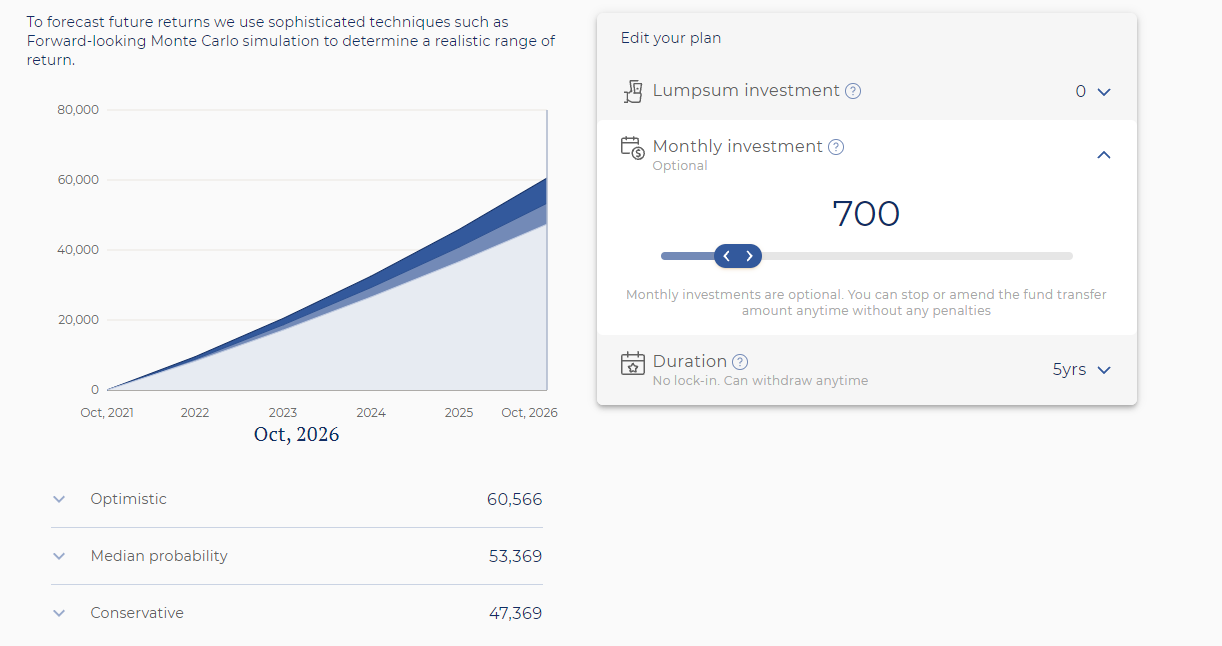 Goal 2: Attain a net worth of $1 million in 25 years
Solution: Syfe Core Equity100
Rationale: The 100% exposure to equities allows him to maximise his long-term potential returns. Although the risk exposure is very high, he's comfortable taking on that level of risk given his age and risk appetite.
Plan: $500 / month for 25 years to achieve forecasted returns of $1,177,513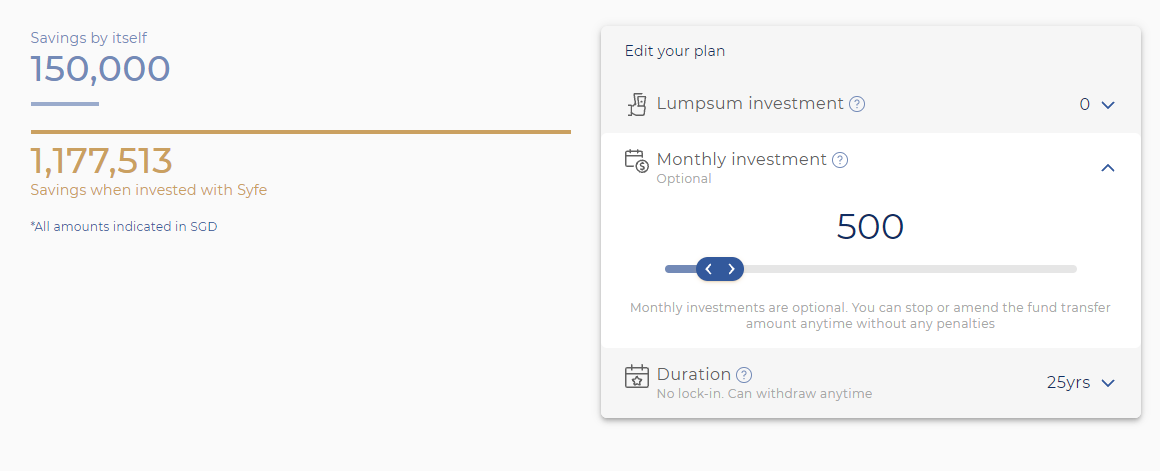 Since Brandon cares deeply for the environment and wants to make a positive impact on society and the planet, he also chooses Syfe's ESG & Clean Energy portfolio as his satellite investment. The portfolio lets him invest in solar power, wind energy, water sustainability, and electric vehicles all within one portfolio.
Case study: Abby (30s)
Abby is a busy mom with a successful banking career. She's in her 30s and wants to save up for a family vacation when her child is older. She also wants to set aside an education fund for her child.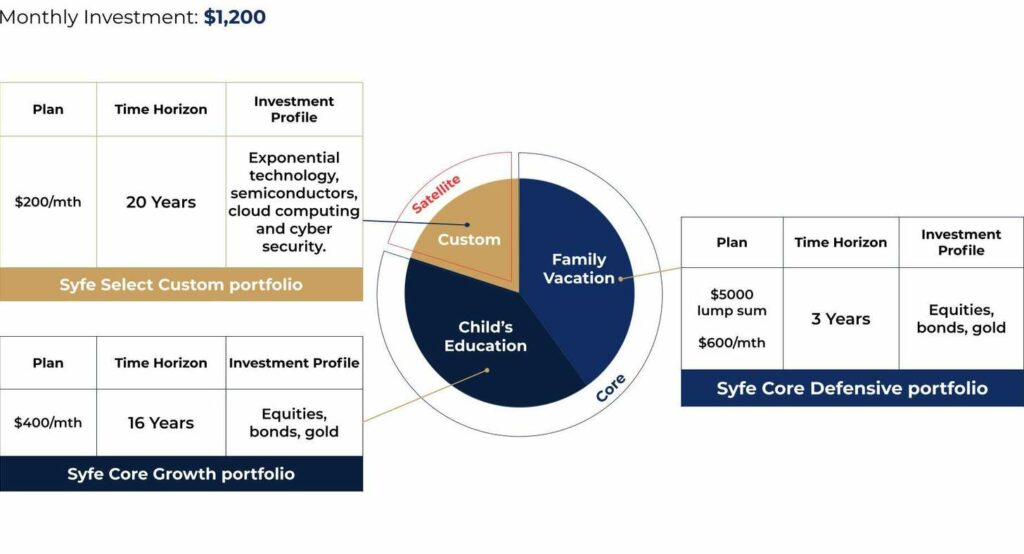 Goal 1: Take a family vacation to Europe ($30,000) in 3 years
Solution: Syfe Core Defensive
Rationale: Abby goes with a more conservative portfolio as her investing time frame is short. She seeks stability and relatively lower risk (with lower potential returns) in her portfolio by investing mostly in bond ETFs, with a small allocation to equity ETFs
Plan: A lump sum of $5,000 followed by $600 / month for 3 years to achieve forecasted returns of $30,062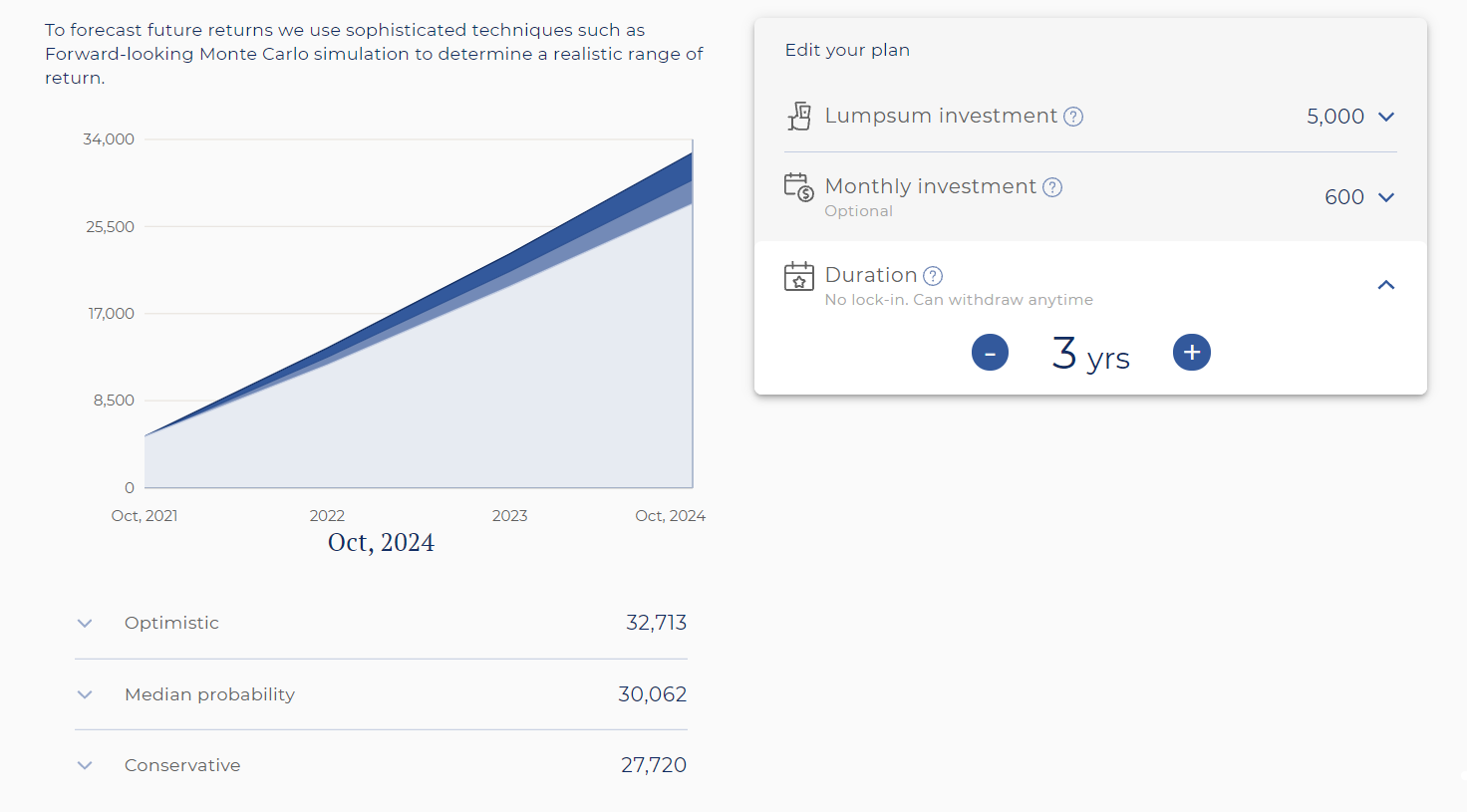 Goal 2: Set aside $200,000 (medical school plus living expenses) for her child's university education in 16 years
Solution: Syfe Core Growth
Rationale: Abby chooses Core Growth as the high exposure to equity ETFs provides greater return potential while her bond and gold ETFs cushion against volatility
Plan: $400 / month for 16 years to achieve forecasted returns of $208,175

Abby also enjoys having the flexibility to create her own portfolio. She creates a Custom portfolio on Syfe Select and uses that as her satellite investment.
She chooses four thematic ETFs that she thinks will have good long-term potential: VanEck Vectors Semiconductor ETF (SMH), iShares Exponential Technologies ETF (XT), Global X Cloud Computing ETF (CLOU), First Trust NASDAQ Cybersecurity ETF (CIBR).
Build your own core satellite portfolio
Interested to create your own core satellite strategy? Explore your own portfolio projections on our website and get started here.
For illustrative purposes only. To forecast future returns we use sophisticated techniques such as forward-looking Monte Carlo simulation to determine a realistic range of return.
Past performance does not guarantee future results, which may vary.
The sample asset allocations and return forecasts have inherent limitations and no representation is being made that any investor will, or is likely to achieve, performance similar to that shown.
Your asset allocation should be based on what you feel best fits your goals and risk tolerance.