Just as some people's idea of a good time is to go bungee jumping while others would rather curl up with a good book, everyone has their own distinctive investment style.
Are you someone who doesn't like the idea of taking large risks but would still want your investments to at least outpace inflation? A defensive investing strategy may suit you best.
The building blocks of a defensive portfolio
A defensive portfolio focuses on low-risk investments to generate steady returns. Although the return potential may be lower compared to a growth-focused portfolio, the higher exposure to bonds helps limit short-term fluctuations. In turn, this could help risk-averse investors sleep more soundly at night.
Such a portfolio is usually ideal for investors who may be nearing a particular financial goal in the short term (1 – 3 years). For example, if you're getting close to retirement, you may prioritise capital preservation over market returns because the goal is to make your money last as long as possible throughout your retirement. A bond-heavy portfolio can help reduce the risk a fluctuating market can bring.
At the same time, even conservative investors need some exposure to equities in order to grow their portfolio for the long-term. This is why defensive portfolios typically hold a modest allocation to equities as well, instead of being fully invested in bonds.
A look at the new Syfe Core Defensive portfolio
If you're looking for a conservative portfolio, Syfe's newest Core Defensive portfolio could be an option. It is designed for investors seeking stable returns that are better than what a traditional savings account can generate by investing in a diverse mix of bond, gold and stock ETFs.
Here's a look at its asset allocation and geographical exposure.

The portfolio invests in high quality government and investment-grade bonds from top markets worldwide through five carefully selected bond exchange-traded funds (ETFs).
Vanguard Total International Bond Index Fund ETF Shares
iShares Core U.S. Aggregate Bond ETF
iShares 20+ Year Treasury Bond ETF
iShares 7-10 Year Treasury Bond ETF
iShares 1-3 Year Treasury Bond ETF
To improve long-term returns, there's a modest allocation to equities and gold as well. Through a range of equity ETFs, the companies you'll be investing in include Apple, Microsoft, Alibaba, PepsiCo, Johnson & Johnson and Tencent Holdings.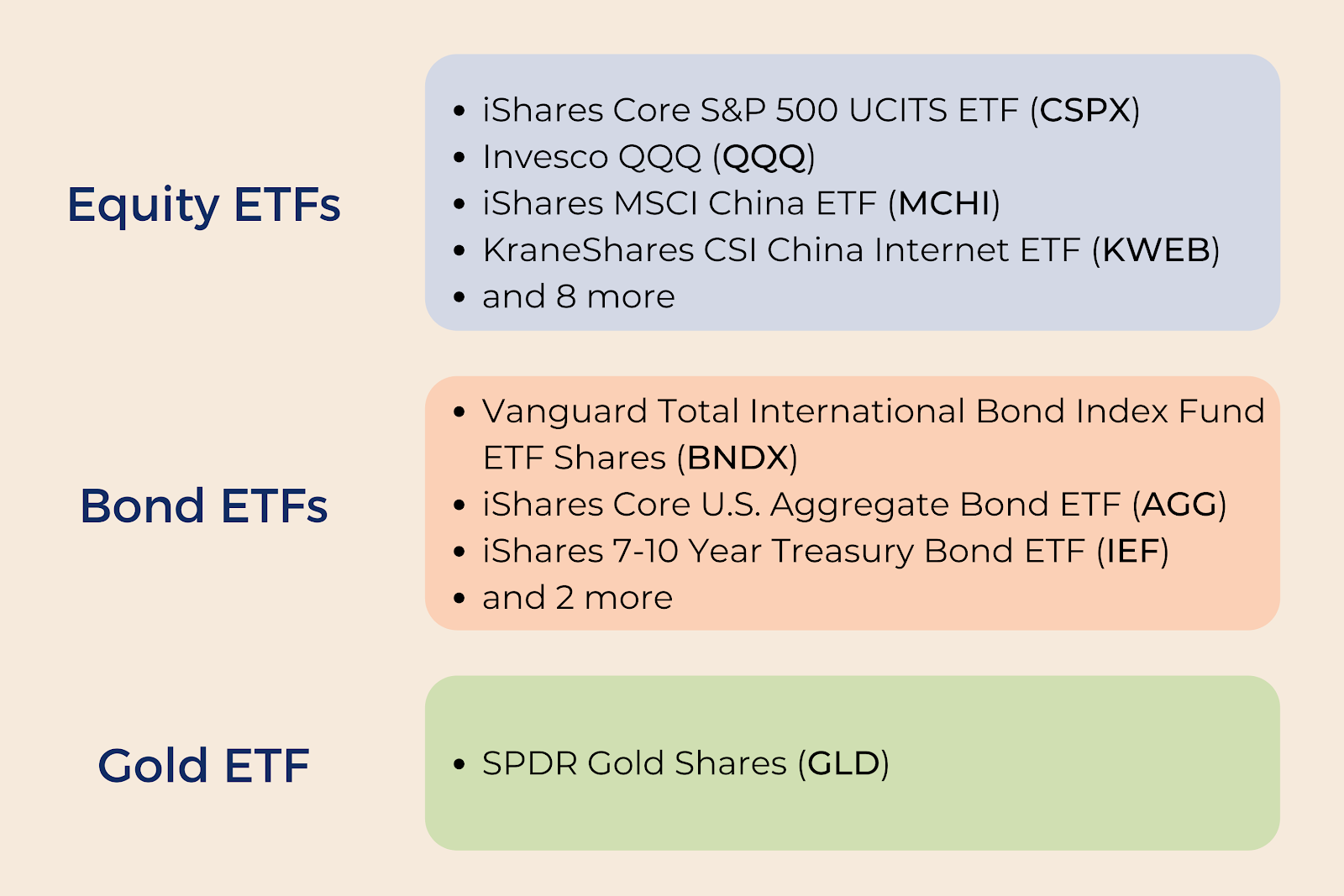 To provide better risk-adjusted returns, the equity component of the Core Defensive portfolio has also been optimised using Syfe's Smart Beta strategy.
Read more: Understanding Our Core Portfolio Strategy
Historical performance
Although it is built as a conservative portfolio, the Core Defensive portfolio aims to maximise long-term risk-adjusted returns. With an annualised return of 5.41% since April 2013, it has also outperformed its S&P Target Risk Conservative benchmark to date.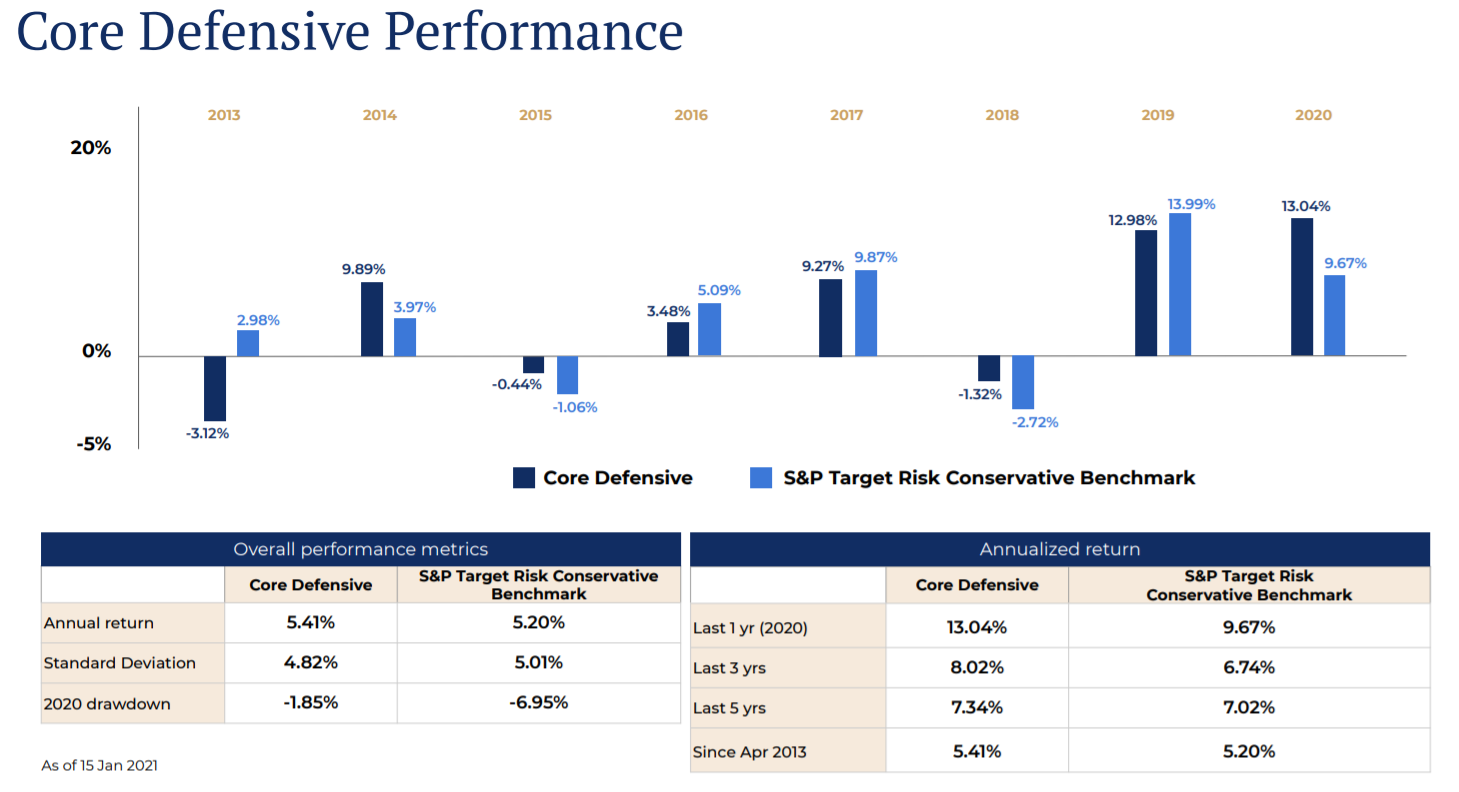 Managed for you
As with all Syfe portfolios, we'll do the heavy lifting for your Core Defensive portfolio so you don't have to. This includes consistent monitoring, automatically reinvesting your dividends, and rebalancing your portfolio twice a year.
Along the way, you'll be able to see how your portfolio is performing on your Syfe dashboard and make adjustments to your investment plan to keep on track with your goals.
Built for regular investing
Investing regularly, also known as dollar-cost averaging, is key to growing wealth over time. With your Core Defensive portfolio, you can invest any amount you prefer and thereafter, set up a recurring bank transfer to start investing on a regular basis.
Think of it as a regular savings plan (RSP) but with absolutely no minimum investment amount or sales charge per transaction. In fact, Syfe absorbs all brokerage commissions, making Core portfolios more cost efficient than investing in the underlying ETFs on your own.
Overall, investors only pay a low fee starting from 0.35% per year for our services in managing their Syfe investments. 
Getting started
If you're new to Syfe, you can head over here to create your Core Defensive portfolio. Our wealth experts are also on hand to help you decide which portfolio type is right for you.

Meanwhile, Syfe customers can add the new Core Defensive portfolio by clicking the "Add Portfolio" button on their Syfe account dashboard.
Need help? Check out our Knowledge Centre for frequently asked questions about Syfe Core.