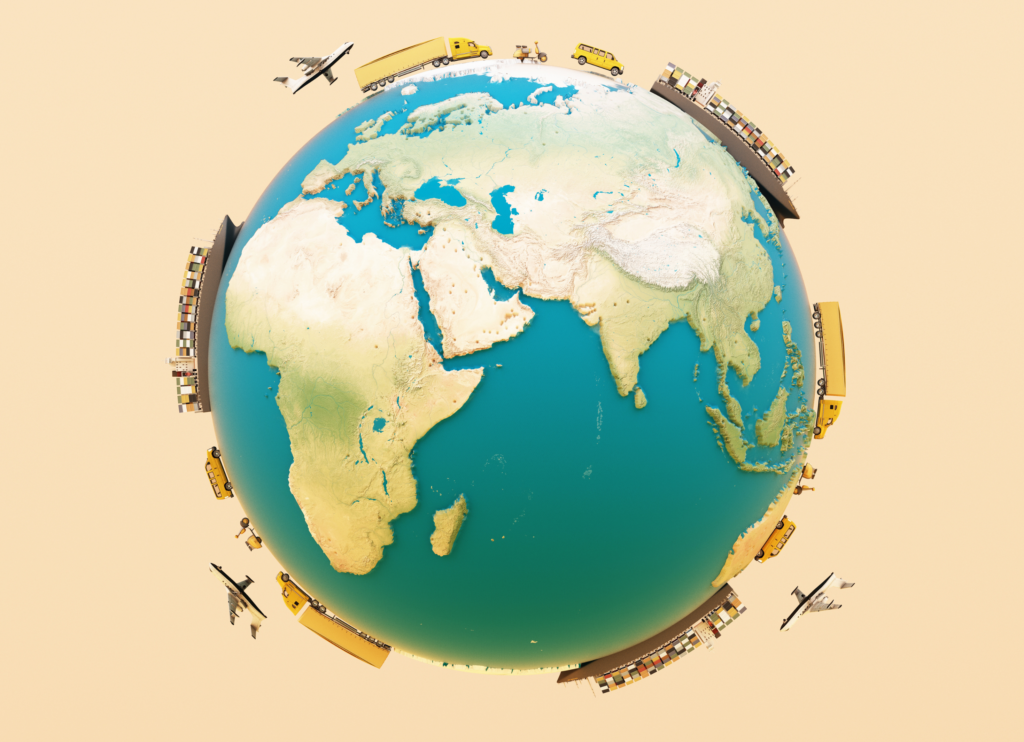 Each Syfe portfolio has a different objective and a unique investment strategy that helps us pursue that objective.
The new Syfe Core portfolio is no different. As an all-in-one portfolio for your wealth goals, Syfe Core is designed to maximise risk-adjusted returns, as measured by the Sharpe Ratio.
To further optimise returns, we've incorporated a Smart Beta methodology in the construction of the equity component of Syfe Core portfolios. We've also included a greater exposure to Chinese and Chinese technology stocks to improve diversification and position Core portfolios for the future.
Let's delve into the details below.
Asset class selection
One key aspect of portfolio construction is asset class selection. As with our flagship Global ARI portfolio, Core portfolios start with our "super-efficient" Model Risk-Managed Portfolio. From there, we selected equities, bonds and commodities as our main investable asset classes, and used exchange-traded funds (ETFs) to represent each asset class.
Read more: ARITM: An Introduction To Syfe's Investment Approach
As such, each Core portfolio is a complete portfolio of stocks, bonds and gold that's represented by 18 ETFs in all.
Laying a foundation with Asset Class Risk Budgeting
While Global ARI is singularly focused on targeting portfolio risk, Core applies an Asset Class Risk Budgeting process for portfolio allocation.
Simply put, Asset Class Risk Budgeting is a risk-based method of portfolio allocation whereby the overall risk of the portfolio is distributed among various asset classes.
Traditionally, asset allocation is thought of in terms of capital. If you have $1,000 and you allocate $600 to equities and $400 to bonds, you'll have a classic 60/40 portfolio. Through periodic rebalancing, you'll then strive to maintain this allocation of 60% equities and 40% bonds.
Risk budgeting is thinking about asset allocation in terms of risk. For instance, an investor does not earn a return from investing in stocks per se, but theoretically earns a return for assuming the various risks associated with a stock investment.
We can illustrate this with our Core Balanced portfolio which based on historical data, has an overall portfolio risk (as measured in standard deviation of returns) of 6.5% p.a.
Different assets have different levels of risk; equities are more volatile than government bonds for example. With a risk budgeting approach, our investment team will optimize the portfolio weights of each asset class to meet the overall risk budget of the portfolio while seeking to achieve the maximum Sharpe Ratio possible.

Comparing Core with Global ARI
It's clear both Core and Global ARI have an element of risk management, so what really sets them apart?
The key differences are summarised below.
Dynamic vs stable asset allocation
Both Global ARI and Core hold stocks, bonds and gold. But with Global ARI, the asset allocation can dynamically change in response to the risk environment, and can be significantly different from asset allocation targeted benchmarks.
Prior to March 2020, our Global ARI 13% Downside Risk (DR) portfolio had an equity allocation of around 50%. During the coronavirus stock market crash, we decreased the share of equities to around 10% to return the portfolio to its target downside risk level. This helped to cushion the impact of the market crash on portfolio values.
One reason for this dynamic asset allocation is the risk horizon used. The portfolio risk is measured over a nine to 12 month risk horizon, which means a more nimble asset allocation is required to maintain the target portfolio risk level over this short term.
Read more: Market Whiplash: How Syfe's ARI Algorithm Reacted
With Core however, the asset allocation is relatively stable. Core portfolios utilize risk parameters that are calibrated for a longer term risk horizon to reduce short term portfolio reflexivity, i.e. short term asset allocation changes.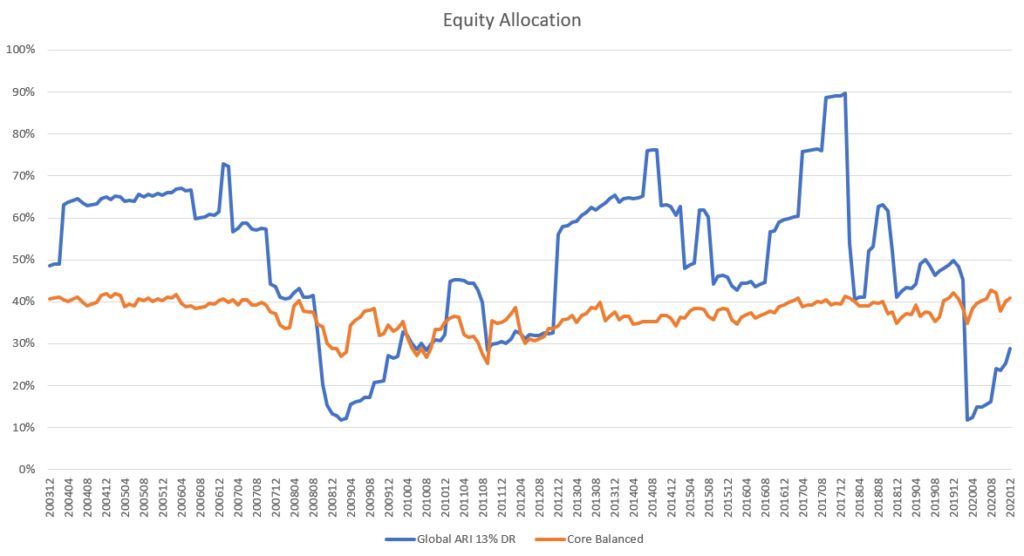 As shown above, the orange line (representing Core Balanced) stays around a 40% equity allocation, regardless of market conditions. Given that Core is not a fixed asset allocation portfolio, there will still be minor variations in the portfolio allocation, which is why you don't see the graph as a completely straight line.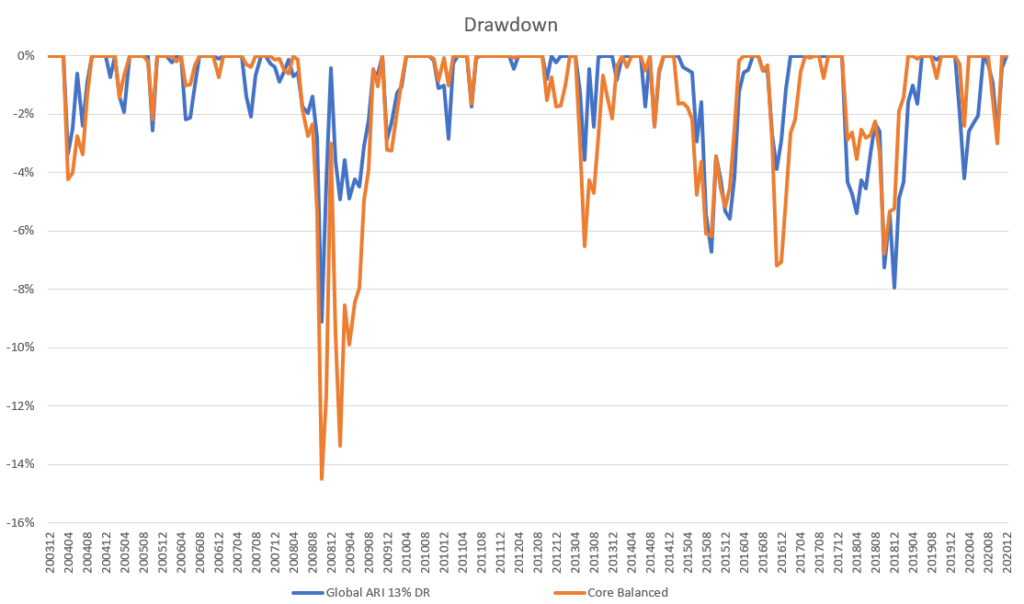 You can also see that there's a trade-off for a more stable asset allocation. Looking at historical data from 2003, Core Balanced experienced larger drawdowns than the Global ARI 13% DR portfolio during periods of high volatility, which is to be expected given the relatively stable exposure to higher-risk equities.
11 vs 3 risk levels
Global ARI has 11 different risk levels ranging from 5% downside risk to 25% downside risk. This means there are 11 Global ARI portfolio types to choose from.
Downside risk levels represent an investor's risk threshold. A X% Downside Risk portfolio means that in the next 39 out of 40 years, the portfolio should not lose more than X% of its value in a given year.
Core has only three different portfolio types. While they are not designed to strictly adhere to specific downside risk levels, the broad mappings between Core and Global ARI portfolios are set out below:
The Core Defensive portfolio corresponds to the 9% Downside Risk portfolio for Global ARI.
The Core Balanced portfolio corresponds to the 13% Downside Risk portfolio for Global ARI.
The Core Growth portfolio corresponds to the 19% Downside Risk portfolio for Global ARI.
Using Smart Beta to add robustness to Core
The value-add of our Core portfolio strategy lies in our use of Smart Beta factors, which we introduced for our popular Equity100 portfolio last year.
Simply put, our Smart Beta strategy optimises our Core equity selection based on three classical factors: Large-cap, growth, and low-volatility. These factors have been selected to generate better risk-adjusted returns.
Read more: A Smarter Factor Investing Strategy You Can Get Behind
Core is also the first Syfe portfolio to include an enhanced exposure to China and Chinese tech stocks. They represent broader sector and geographical factors that we selected by decomposing the trends and cycles of a slate of candidate factor portfolios using econometric and graphical screens. To validate their selection, these factors were then back-tested using our point-in-time algorithms.
What we found was that the Chinese market has been outperforming since last year. Beyond providing additional diversification benefits, we believe the China and Chinese tech factors will come into play going forward.
Read more: Investment Outlook 2021: A Chinese Bull Run
According to Goldman Sachs, China is poised to deliver "one of the strongest and fastest macro recoveries in 2021 among major economies globally". Investors are increasingly seeking greater exposure to China.
This is a key reason why Core portfolios include the iShares MSCI China ETF (MCHI) and KraneShares CSI China Internet ETF (KWEB). These ETFs are well placed to perform over the long term and provide investors with solid exposure to China's growth.
Exposure to China
In line with the enhanced exposure to Chinese stocks, Core Growth has a 14.3% geographical allocation to China.
Comparatively, the Global ARI 19% DR portfolio has much lesser Chinese exposure.

Choosing between Core and Global
One of the investing strategies we like sharing about is the core-satellite approach. We believe the ideal core is a low-cost ETF portfolio that provides broad market exposure.
From this perspective, both Syfe Core and Global ARI can function as your core portfolio. Choosing between them depends very much on your investment philosophy.
If you're an investor who panics whenever you see a large drawdown, Global ARI may provide the peace of mind that helps you stay invested throughout the market volatility.
But if you're planning to invest for the long haul and don't mind larger portfolio drawdowns within the short term, then Core may be a more ideal option for you.
Core is an ideal portfolio for DCA
Another consideration is whether you intend to dollar-cost average (DCA). Core is more suited to a DCA strategy due its stable asset allocation. During market dips, you'll be able to accumulate more of your investments at lower prices so you end up averaging out your overall investment costs.
On the other hand, Global ARI may be more suited to a lump-sum investing strategy. You may prefer a greater focus on risk management to help control your portfolio drawdown when the market corrects.
Ultimately, investing is a personal choice. The right portfolio for you depends on your financial goals, risk appetite and investing timeline.
Need help making that decision? Our wealth experts can help. Schedule a complimentary call with them today.