Syfe launches first investing competition designed for everyone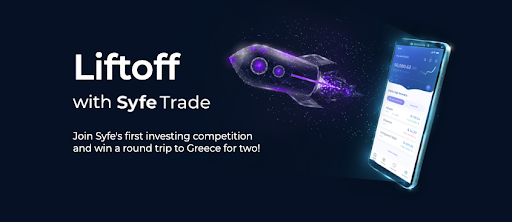 26 Jul 2022, Singapore – Singapore's leading digital investment platform, Syfe, launches Liftoff, its first investing competition made for everyone.
Liftoff, by Syfe's digital brokerage arm, Syfe Trade, aims to provide everyday investors an opportunity to showcase their skills in investing, as well as foster a community of investors who are keen to learn, share and engage with each other. Whether you are a new investor who is learning the ropes, or a seasoned enthusiast who knows exactly what to do, everyone can participate in Liftoff and win attractive rewards.
Simply download the app, fund your Syfe Trade account and opt-in to join. Syfe will automatically track your actual portfolio for percentage gains and losses.
The top winner will win a round trip to Greece for two, together with other weekly prizes including Sony headphones, a 5-star staycation and an Apple iWatch. This summer, you could be sipping mojitos in Mykonos into the sunset, with the favourite person of your choice!
The competition starts today till 19 August, and winners will be featured on a leaderboard at the end of each week. Don't let inertia be your achilles heel. Get ready and join now to get a shot at winning!
More details can be found here: https://invest.syfe.com/sg/trade/campaign/liftoff/
Syfe is licensed by the Monetary Authority of Singapore (MAS) and offers fully-managed portfolios and a digital brokerage on one seamless platform for smart and affordable investing.