Topic #1: US Inflation in line with expectations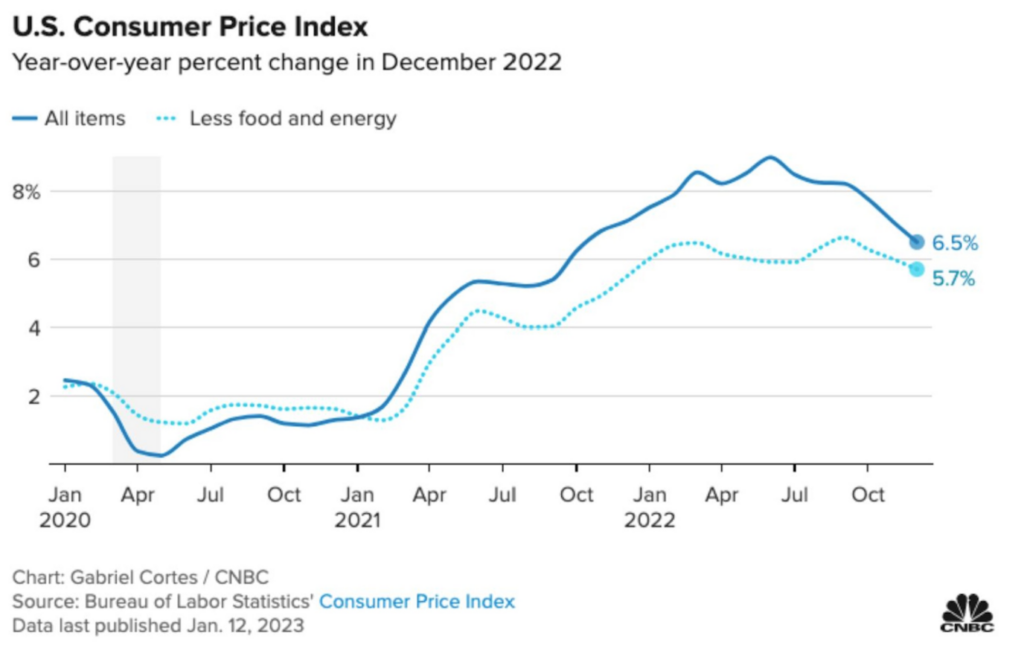 What happened
The latest data indicates that inflation in the United States decelerated in December, as the Consumer Price Index (CPI) recorded a 6.5% increase compared to the previous year. Notably, this marks the sixth consecutive month of decline in inflation. Furthermore, the increase in prices was more narrow-based, with only 52% of the components rising in price, as opposed to 60% in November.
When focusing on core inflation, which excludes more volatile items such as food and energy, the data shows a rise of 5.7% from the same period in the previous year, which is in line with expectations. However, one of the Federal Reserve's preferred indicators, known as core services (excluding shelter) remained unchanged at 6.4%. This measure is often used as a proxy for wage growth, and it is notable that many of its components increased in December.
What does this mean?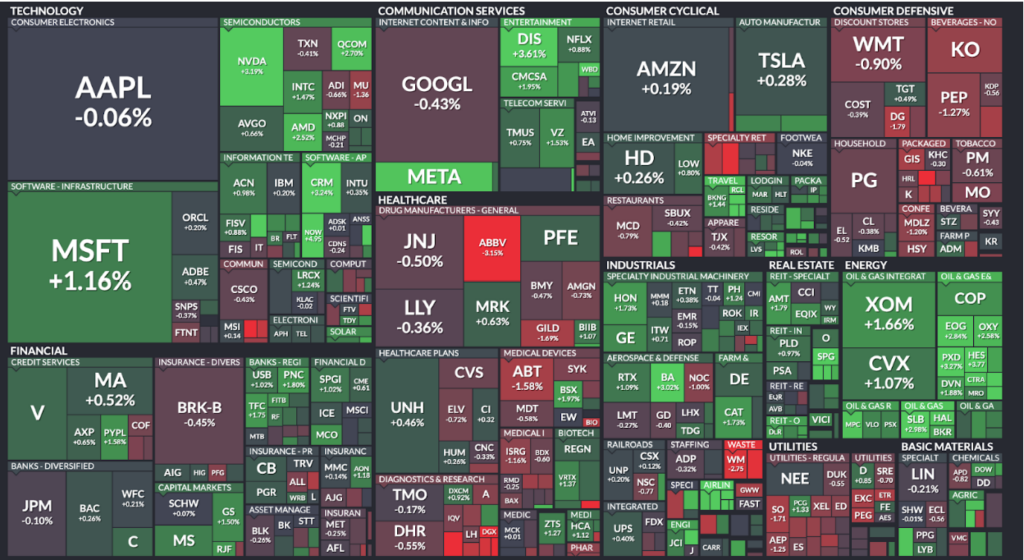 Economic forecasts are not always accurate, but in this case, the predictions for inflation in December were spot on. The inflation rate of 6.5% (or 5.7% when excluding food and energy) matched the forecasts, leading to little reaction from markets when the data was released. This lack of surprise is understandable given that stock markets have had a strong start to the year 2023, and investors were already anticipating relatively mild inflation.
Why should I care?
The United States economy is at a crucial point, as inflation is decreasing, which is beneficial for risky assets such as stocks. This is because a decrease in inflation allows the Federal Reserve to slow down the pace of interest rate hikes, which makes it more attractive for investors to hold stocks. However, inflation is not falling as quickly as some investors and the Fed would like.
The report is mixed, but it appears that inflation is decreasing enough for the Fed to ease off on their aggressive interest rate hikes. Investors are currently betting on a 0.25-percentage-point rate hike on February 1st, instead of the expected 0.5. However, these investors could be mistaken, and if the Fed continues to be determined in their interest rate policy, it could negatively impact stock prices in the short term.
Topic #2: Is the Tesla slump over?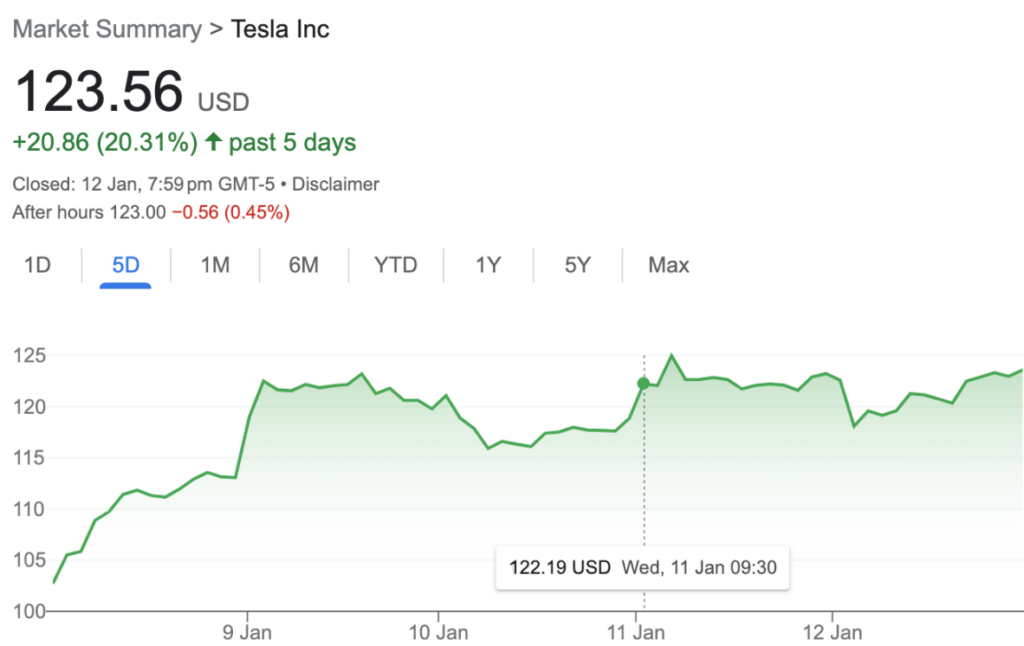 In 2022, the value of Tesla shares dropped significantly, with a decline of 65%, ranking it as one of the worst performing stocks among S&P 500 components. This caused a decline in Elon Musk's net worth and resulted in him losing his position as the wealthiest individual to Bernard Arnault. There were several factors that contributed to this downturn for Tesla. One of the main concerns among investors was that Musk appeared to be preoccupied with his newly acquired Twitter account, rather than focusing on the company. Additionally, there was a decrease in demand for Tesla vehicles, which led to the company offering discounts in an effort to boost sales.
What has changed in 2023?
However, in the past week, Tesla shares are up 20.31%. This rally is on the tails of the news that Tesla Inc. is nearing a preliminary agreement to establish a factory in Indonesia, as the company seeks to take advantage of the Southeast Asian nation's abundant reserves of crucial battery metals. According to sources familiar with the matter, the facility would have the capability to produce up to one million cars per year, aligning with Tesla's goal for all of its factories worldwide to ultimately reach that capacity. Additionally, there are plans for multiple sites in Indonesia that will serve various purposes, including production and logistics.
The next key determinant for Tesla's share price is the company's upcoming earnings, currently scheduled for 25th January. Are you bullish or bearish on Tesla's share price?
Topic #3: Crypto's market size is the same as it was 5 years ago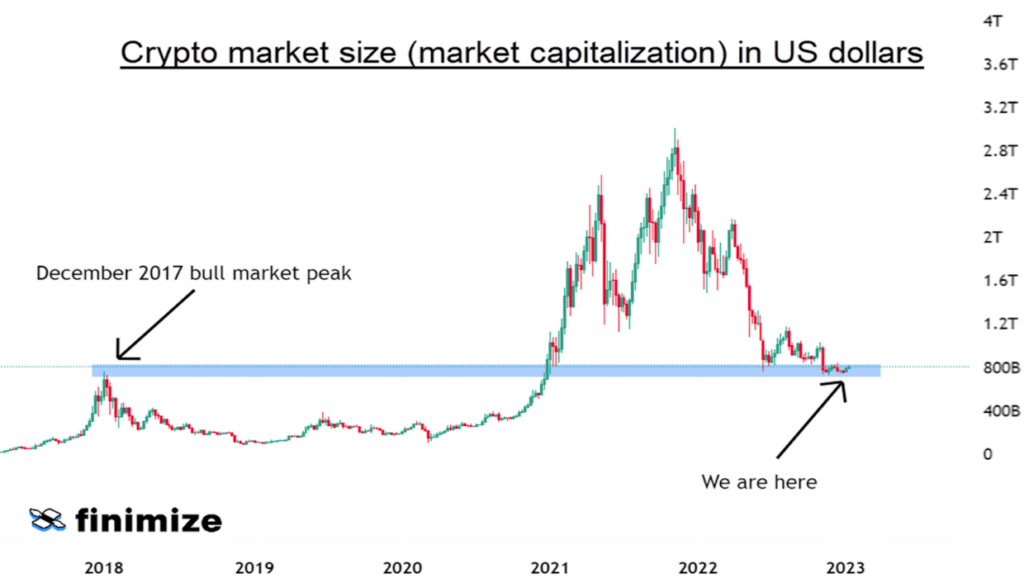 This chart represents the overall value of the top 125 digital assets in the cryptocurrency market, known as the Crypto Total Market Cap index (Ticker: TOTAL, on TradingView). The index is calculated by multiplying the total supply of these assets by their current price and is a good representation of the overall size of the cryptocurrency market. In December 2017, the index reached its peak of $761.7 billion during the market rally. Currently, the index is valued at around $850 billion.
At the same time, Binance, the world's largest cryptocurrency exchange, has been experiencing difficulty in retaining assets. This comes after the collapse of rival exchange FTX, which has caused investors to withdraw their crypto in the past weeks. Despite reassurances from Binance CEO Changpeng Zhao that the situation has stabilized, outflows are still accelerating. According to crypto data firm Defillama, customers withdrew a net $360 million on Friday. Another crypto data firm, Nansen, reported that Binance has lost $3 billion of assets in the past week, which represents 4% of the company's total assets at that time.
Although Binance is still the largest cryptocurrency exchange by trading volume, it has not been immune to the prolonged decline in digital assets. Its BNB token has decreased by almost 37% in the past 12 months, according to Nomics. Additionally, Binance's decision to stop charging fees for spot bitcoin trading has cost the company approximately $3 billion in lost revenue per year, as estimated by Forbes.
What is the takeaway for investors?
The situation at Binance is becoming increasingly concerning as more and more investors are choosing to withdraw from the exchange or significantly decrease their investments. This decline is happening gradually and without much public attention or market impact. However, this trend is noteworthy because if it continues, Binance may soon reach a tipping point, similar to FTX, where it runs the risk of liquidity issues should a significant number of investors withdraw their funds.
| | | | | |
| --- | --- | --- | --- | --- |
| Index | Level | 1 Week | 1 Month | From Jan 1 2023 |
| S&P 500 (US Stocks) | 3,999 | 2.26% | 0.09% | 4.57% |
| Nasdaq 100 (US Tech Stocks) | 11,541 | 3.67% | -1.70% | 6.25% |
| CSI-300 (Chinese Stocks) | 4,070 | 1.90% | 3.02% | 4.80% |
| Bitcoin (in USD) | 20,935 | 21.89% | 17.60% | 26.10% |
Source: Google Finance, as of 13th January, 2022
.