This article was first published in The Straits Times.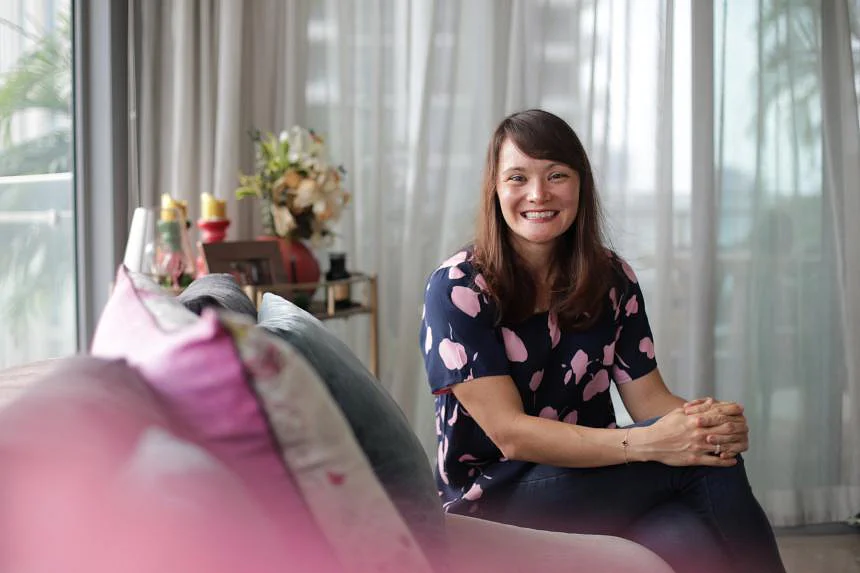 Sticking mostly to familiar terrain while taking controlled risks is a strategy that has served fintech executive Samantha Horton well.
Ms Horton, 37, espouses a core-satellite approach, where most of her money is passively managed in a main portfolio of index funds, with smaller portfolios for further diversification and more risk-taking.
She works hard to refine her core portfolio by keeping up with the businesses she invests in and understanding shifting trends.
"However, this doesn't mean there isn't room to take some punts in more risky investments," she notes. "The more important question is how do you allocate (your assets). I ensure that the higher-risk investments I make are in a much smaller, contained part of my portfolio and capped at 3 per cent to 5 per cent.
"With this part of my portfolio, I take the view that I put in only what I am willing to lose and mark it at zero.
"This exercise also helps me better understand my true risk tolerance and whether I need to make any adjustments in my portfolio."
Ms Horton, an Australia-born Singapore permanent resident whose mother is from here, is the chief business officer of digital wealth platform Syfe. She started her career as an equities analyst at Morgan Stanley, before spending 11 years at hedge fund Broad Peak Investment Advisers, where she was most recently a managing director, before joining Singapore-based Syfe in mid-2021.
She and her team are in charge of spearheading Syfe's expansion to new markets. The start-up, which aims to make institutional-level solutions accessible to retail investors, was founded by former UBS banker Dhruv Arora in 2019.
Syfe has 200 employees across four offices, and around 100,000 customers in Singapore. This has been a banner year for the company, which started a digital brokerage service here in January, and entered Hong Kong in May and Australia in August.
The firm is focusing on deepening its presence in its markets, says Ms Horton, who majored in economics and psychology and minored in business at Canada's McGill University.
"With Hong Kong and Australia off to a strong start, we will continue bringing the learnings we've had in building a successful business in Singapore, and at the same time ensure that we localise our offering for retail users in our markets," she says, adding that her decision to join the start-up was partly fuelled by the arrival of her first daughter.
"(I wanted) to be part of a business that had the opportunity to (help people make) smarter financial decisions to grow their long-term wealth. I found myself asking, 'What would I want my daughter to do for the world if she were me'?" says Ms Horton, who has two girls aged below two with her partner, a lawyer.
Q. What is in your personal portfolio?
A: Given my longer time horizon and previous experience as an equities analyst at Morgan Stanley and then a hedge fund manager, I am more confident about risks and therefore invest all of my core in equities through Syfe's Equity100 portfolio, which gives diversification across geographies and sectors and uses equity ETFs (exchange-traded funds) as its building blocks.
My satellite investments fit into three main buckets: Reits, active stocks and private investments. For Reits, I've used Syfe's REIT+ portfolio because I believe in the long-term potential of the Singapore property market.
Reits offer liquid access to play the market with the ability to do monthly dollar-cost averaging, and enter and exit the market without the stamp duties. They also help me further diversify my portfolio and reduce risk as they are less correlated with broader equity markets.
My second satellite portfolio is active stocks. I strongly believe in choosing sectors and companies that I know, and am guided by the mantra of investing in companies that you can't imagine life without. Due to my previous focus on consumer and luxury stocks, my key active stock holdings are in LVMH, Nike and Lululemon as I believe in their long-term potential – both as a consumer and an investor.
My last satellite portfolio is in private investments. I invest in a number of early-stage companies and venture funds, mostly focusing on the consumer and tech space across South-east Asia. It's the highest risk and most illiquid portion of my investments but it is a great way to learn about exciting new business models and innovations, while supporting the growing number of very talented founders we are seeing in Singapore and the region.
My core assets make up 60 per cent of my investment portfolio, while 15 per cent is in Reits and another 15 per cent in active stocks and crypto. The remaining 10 per cent is in private investments.
This has been a challenging year for all investors. My core Syfe portfolio has been down but it has also outperformed markets and certainly my more active, less diversified stock portfolio. It has grown over 30 per cent in the last three years. I believe in taking long-term positions so one year of correction is not a major concern for me.
Q. What are your immediate investment plans?
A: I continue to do dollar-cost averaging across the publicly traded investments I hold and key single stock holdings so I can benefit from the recent market correction over the long run.
Outside of that, I am also looking for more opportunities to hedge against further inflationary pressures by adding to my Singapore Reits exposure and concurrently, researching and being ready to buy some physical investment properties outside of Singapore if there is a correction in global property markets as a result of higher rates and the slowing economic outlook.
Q. How did you become interested in investing?
A: Fortunately for me, I have had the benefit of being exposed to investing and the potential wealth generation it can bring from a very early age by starting as a stock analyst at Morgan Stanley at 21. So you can say it was an occupational hazard. However, this also revealed to me the disparity in information and access between institutional and retail investors.
Q. Describe your investing strategy.
A: I put the core and majority of my money in things that I know very well, and stay the course.
Q. What else is in your financial plan?
A: Increasingly, wealth is being generated by those who own assets so I have created the highest risk, equity-based Syfe portfolios for my two daughters where I can deposit all of their birthday and Chinese New Year hongbao (red packets) from their grandparents and family, as well as my monthly contributions. This ensures their money is always working for them and they can see it grow over the next 21 years versus earning a negative real rate of return in the bank.
Best and Worst Bets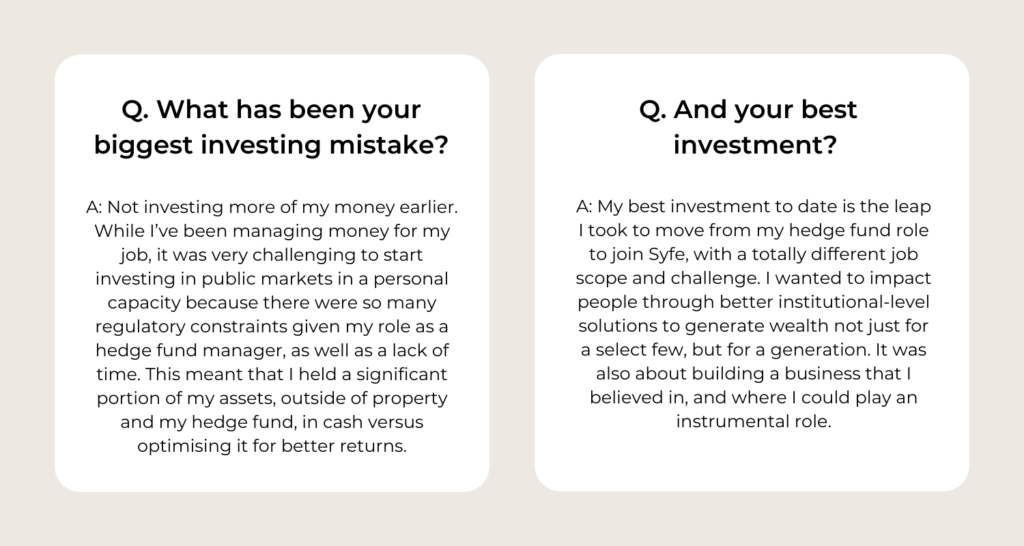 Q. How are you planning for retirement?
A: Retirement is still far away for me but I am not someone who can just sit still and do nothing. I have been blessed with the most amazing bosses and role models throughout my career, and I would love to use the knowledge and experience gained to mentor young investors and entrepreneurs who are just starting out in their journeys.
Hopefully, I can do that while living off the passive income and returns on my investment portfolio, and spend time in both Asia and Europe in my retirement years with my family and potential grandchildren.
Q. Money-wise, what were your growing-up years like?
A: My father was the regional general manager for a warehouse equipment company. Both he and my mother were extremely careful with their finances and investments while we were growing up, so they were able to retire when I was still in high school. I have an older brother who is also in finance.
My mother grew up not very well-to-do and she has always drilled into both my brother and me, the importance of being careful with our money and making sure we never live beyond our means.
Further education was also not a luxury my mother's family could support – in fact, my older brother was the first one on my mother's side of the family to graduate from college. This drove much of my early motivation to work hard, get a good job and invest wisely to ensure that my kids will never be left wanting and will get all the opportunities afforded to them.
Q. Home is now…
A: A five bedroom, 2,400 sq ft apartment in River Valley.
Q. I drive…
A: A blue BMW X5 xDrive45e.
Written by Prisca Ang from The Straits Times