Was Nvidia's Q1 results an inflection point for the company?
To be sure it was a blowout quarter, with the chipmaker reporting beats on the top and bottom lines, as well as guiding for Q2 revenue significantly ahead of prior expectations.
Nvidia Share Price Surges
Investors responded incredibly bullishly to the release of the Q1 report, with Nvidia closing Thursday's session up 24% to US$379.80 per share.
Nvidia shares have now rallied 165% between 1 January to 26 May, giving the company a market capitalisation of US$932 billion and making it the fourth largest weight on the Nasdaq 100 index, behind Microsoft, Apple, and Amazon.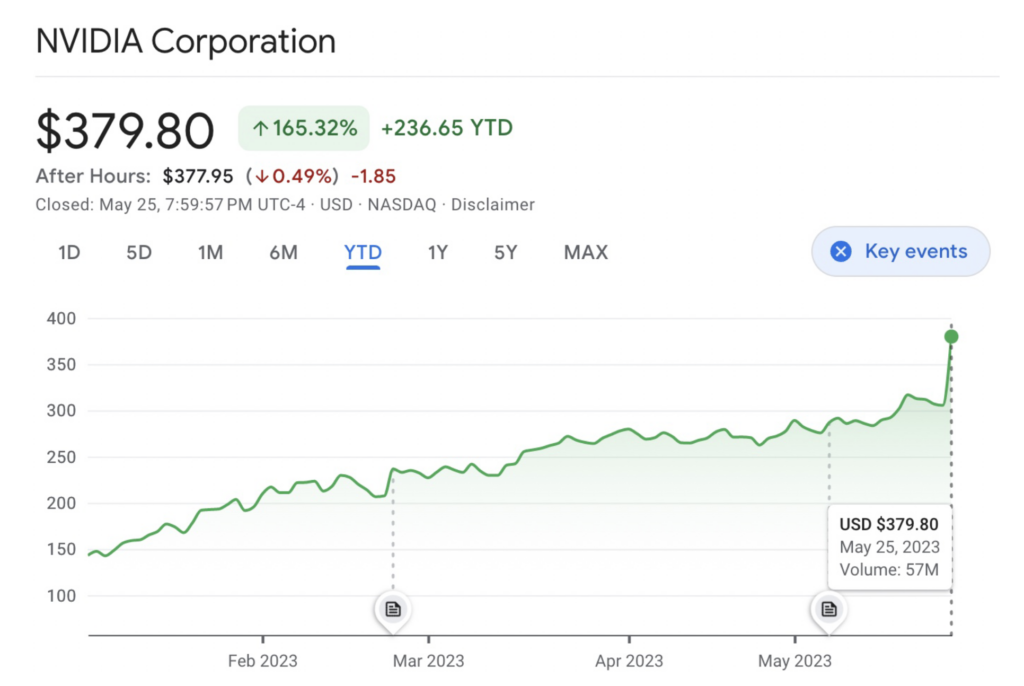 AI Transformation
The story here is ultimately around the transformative power of AI.
Indeed, while we have seen analysts and commentators talk up the potential impact of AI, we are now witnessing the results of that chatter through Nvidia's operational performance and aggressive guidance.
Q1 Results Review
Here is a summary of Nvidia's Q1 earnings report:
Revenue of US$7.19 billion vs US$6.52 billion expected
Record data center revenue of US$4.28 billion
A gross margin of 64.6%
EPS of US$1.09 per share vs US$0.92 per share expected
An upcoming quarterly cash dividend of $0.04 per share
Speaking to the broad trends behind those impressive results – Jensen Huang, Founder and CEO of Nvidia – boldly stated that:
'The computer industry is going through two simultaneous transitions — accelerated computing and generative AI.'
Looking forward, Huang argued that:
'A trillion dollars of installed global data center infrastructure will transition from general purpose to accelerated computing as companies race to apply generative AI into every product, service and business process.'
Q2 Guidance
Beyond Nvidia's impressive Q1 results, the standout of this latest earnings report was management bullishly guiding for Q2 revenue to come in at US$11.00 billion, roughly 50% ahead of what analysts were previously expecting. That new Q2 guidance implies quarter-on-quarter revenue growth of ~52%.
Nvidia will release its Q2 results on 23 August 2023.
Nvidia Share Price Outlook
As with investors, analysts responded bullishly to Nvidia's Q1 report, with a number of top analysts boosting their price target in response.
Morgan Stanley boosted their price target to US$450 from US$304
UBS raised their price target to US$475 from US$315
JPMorgan increased their price target to US$500 from US$250, arguing that 'Generative AI and large language/transformer models are driving accelerating demand'.
As of 26 May, Nvidia had a Buy rating on average and an average analyst price target estimate of US$379.80, suggesting that analysts believe the stock is appropriately valued.
You can invest in thousands of top US stocks – like Nvidia – with Syfe. Download the app now.