Singapore Savings Bonds (SSB) are looking attractive again. So attractive in fact, that the August 2022 tranche was massively oversubscribed. Total applications were about three times more than the amount available. That meant that some investors couldn't get their full requested allotment and had to reapply for subsequent issues.
Are the Singapore Savings Bonds a good place for your spare cash? What are some alternatives to SSB to consider? We've got you covered.
Singapore Savings Bonds: Worth buying?
Singapore Savings Bonds are one way to earn a better return on your cash savings, as compared to bank deposits. SSB have a maximum tenure of 10 years, and interest rates go up for each year that you remain invested.
As details from the current October 2022 tranche show, you'll receive 2.6% in average returns if you hold the bond for one year, but 2.75% in average annual returns overall if you stay invested for 10 years.

That said, you can sell your SSB at any time, without penalties for exiting early. You'll get a pro-rated interest on your withdrawal amount. However, do note that your proceeds will only be credited to you on the 2nd business day of the following month. So it's best to plan ahead if you need urgent access to your cash.
Another restriction is that you need to invest a minimum of $500 and can only buy SSB in multiples of $500. Likewise, you can only redeem your SSB in multiples of $500. For each redemption request, you'll be charged a $2 transaction fee by the bank.
An alternative to Singapore Savings Bonds
Singapore Savings Bonds are not the only way to make the most of your savings. Cash management solutions like Syfe Cash+ can be an attractive alternative to SSB.
Syfe Cash+ currently offers a projected return of 2.4% per year. As interest rates rise, the projected yield will be revised upwards to reflect the general interest rate environment. For instance, the projected return was recently changed from 1.9% per year to 2.4%.
Unlike Singapore Savings Bonds, there's no minimum investment needed for Syfe Cash+. As such, Cash+ is a more flexible option. Most importantly, withdrawals are quick and free. You can receive your proceeds on the same day and there are no fees for making a withdrawal.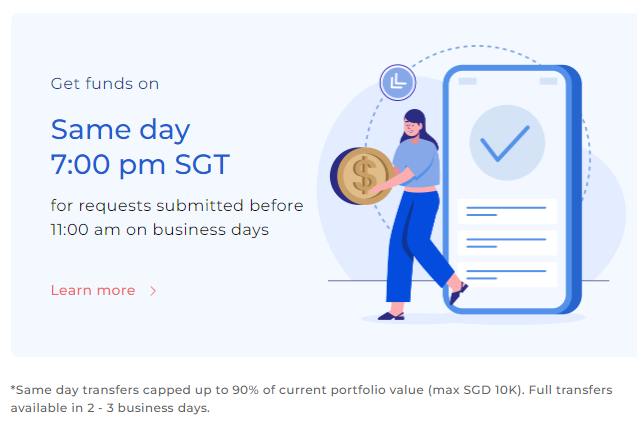 Here's a quick overview of Syfe Cash+ and a comparison with SSB.

Make the most of your idle cash
With inflation at a 10-year high in Singapore, Singapore Savings Bonds and alternatives like Syfe Cash+ can be a smarter choice for your spare cash.
For SSB, you'll first need to have a bank account with DBS/POSB, OCBC or UOB, as well as a CDP account. Thereafter, you can apply for SSB issues via ATM or internet banking. Take note that a $2 transaction fee will be levied on each application. Finally, check for your SSB allotment on the 3rd last business day of the month.
Want a faster and easier option? Consider Syfe Cash+. You don't need a CDP account and there are no transaction fees involved. In fact, Cash+ has zero fees. Within 2 – 3 business days, your money will be invested in your Cash+ portfolio and you can start earning interest returns daily. Unlike Singapore Savings Bonds, there's no risk of an oversubscription too. Your funds will be fully invested each time you add to your portfolio.
Interested? Anyone can open a Syfe Cash+ account. Simply sign up here to get started. If you use MyInfo, completing your sign up takes less than 5 minutes!