Here's what CNBC, The Business Times, TechCrunch, e27 and more media outlets have to say about Syfe's new Series A funding round, which raised US$18.6 million from Valar Ventures, Presight Capital, and Unbound.
Syfe CEO says it is building a 'holistic platform' with own 'proprietary products'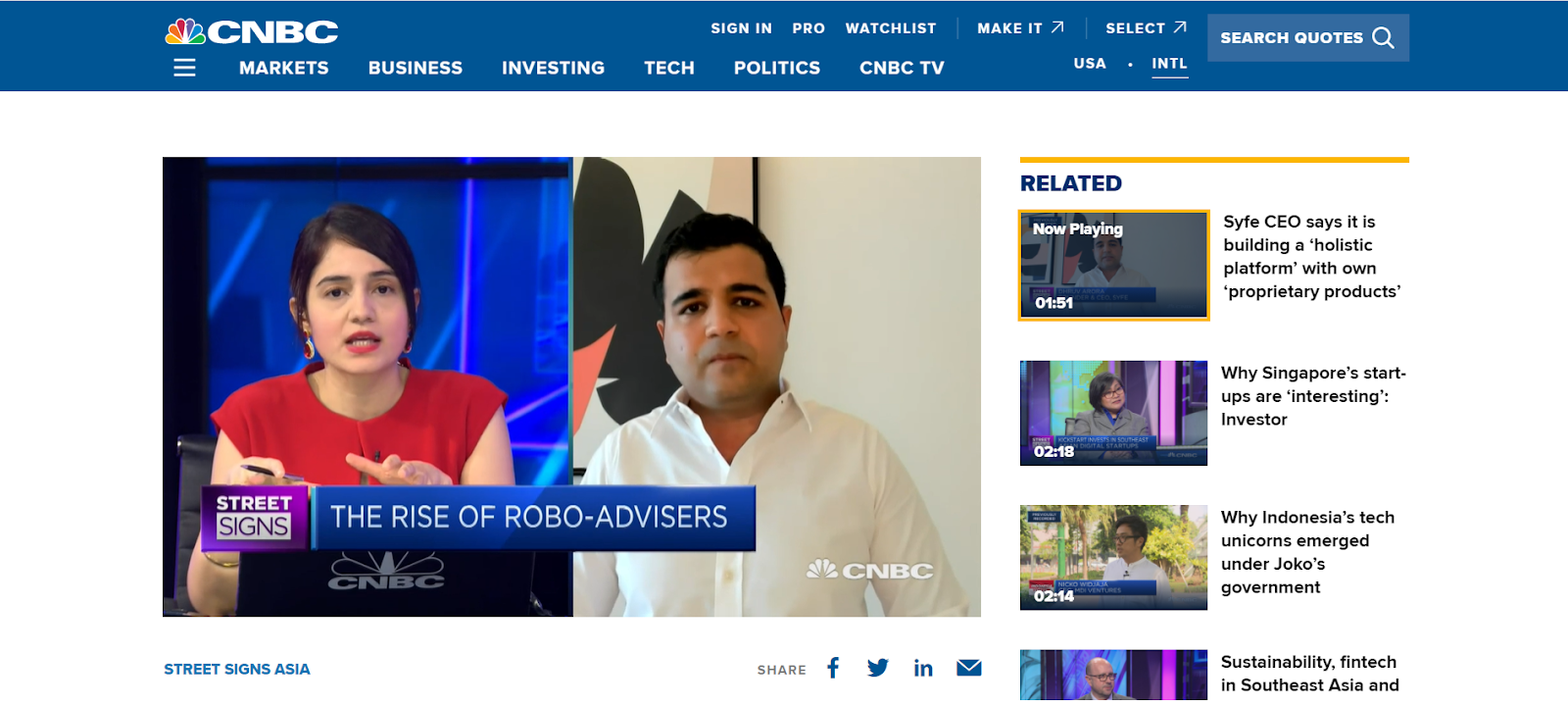 CNBC | 23 September 2020
In an interview with CNBC, Syfe's CEO, Dhruv Arora, shared more about his plans to expand geographically and build more customised and localised products. He also noted how Syfe's holistic platform and proprietary products will give the company an edge in acquiring more customers and maintaining its growth trajectory.
Singapore-based Syfe, a robo-advisor with a human touch, raises $18.6 million led by Valar Ventures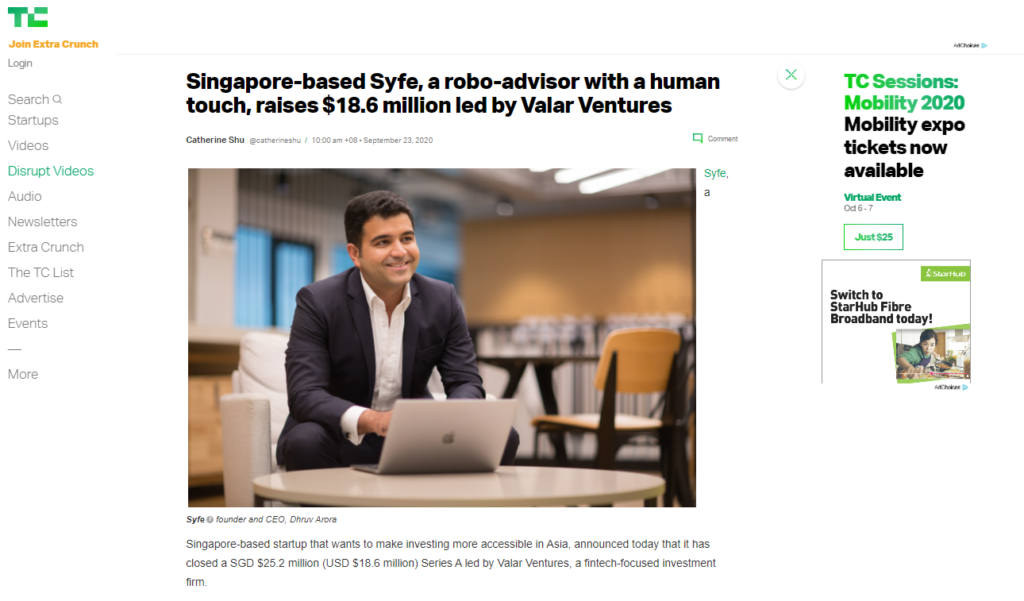 TechCrunch | 23 September 2020
Syfe wants to make investing more accessible in Asia, the company announced as it revealed that it had closed a S$25.2 million (US$18.6 million) Series A. Funds raised will be used to expand its business geographically, develop more products and grow the team.
According to Dhruv Arora, Syfe's CEO, many people have the mindset that banks are the best way to save money. But as banks cut interest rates across the world, more and more people are starting to consider other options to grow their wealth.
Sharing a profile of the typical Syfe customer, Dhruv noted, "We've realized that a fair number of them are quite well-to-do professionals in their field, in their mid to late 30s, who amassed a significant amount of wealth but never really had a chance to invest, or the right advice on how to invest."
"I think this has been one of the biggest revelations for us and it made us realize we should have a human touch in our platform," he added.
This is also why Syfe differentiates with a team of financial advisors, including former employees of Goldman Sachs, Citibank and Morgan Stanley, who are on hand for client consultations.
Robo-adviser Syfe gets US$18.6m led by Peter Thiel's Valar Ventures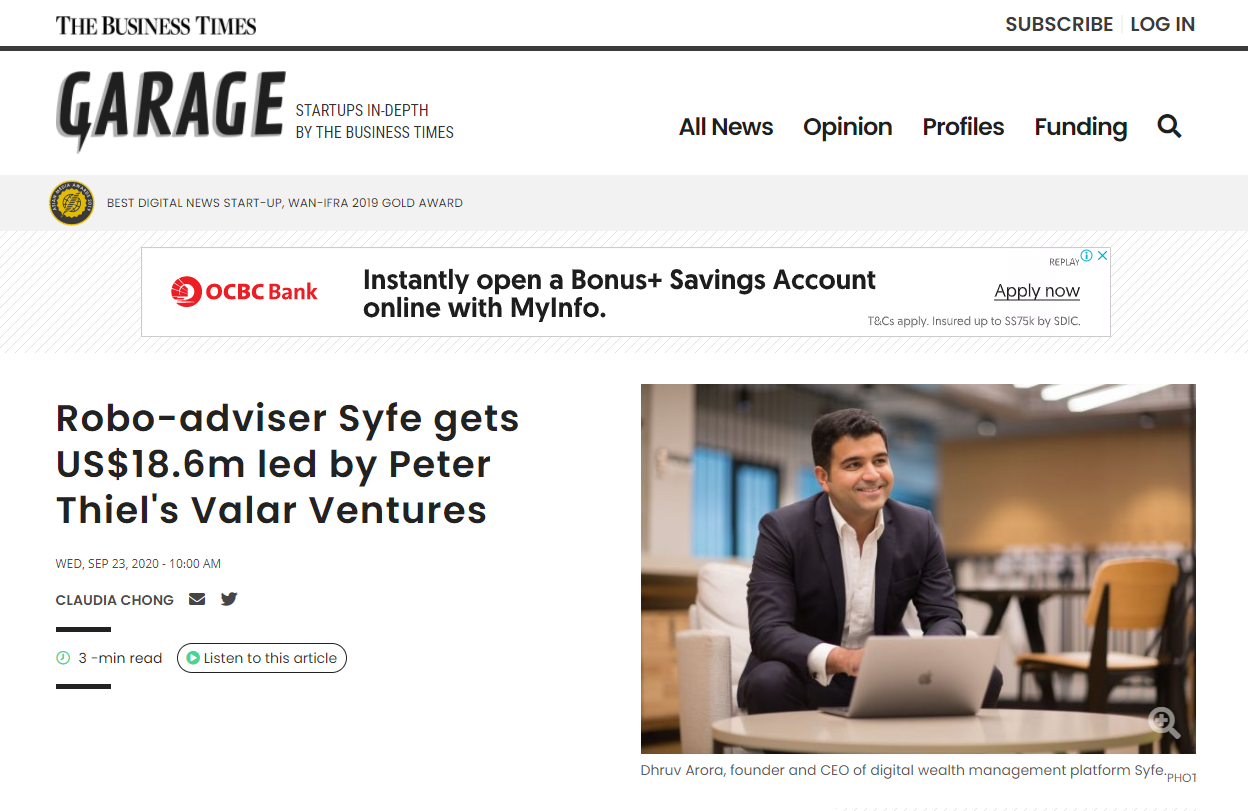 The Business Times | 23 September 2020
Syfe is in advanced talks with regulators in three Asia-Pacific markets and expects to expand within the next 18 months, according to Dhruv Arora, the company's CEO. Since the start of the year, the number of customers and assets under management have increased tenfold.
The fundraise will also enable Syfe to grow its team. The company currently has 35 full-time employees and plans to double this figure over the next year.
Syfe closes US$18.6M Series A to take its digital wealth management biz into new markets
E27 | 23 September 2020
Syfe's new Series A funding round was led by Valar Ventures, a US-based VC firm co-founded by billionaire investor Peter Thiel (co-founder of PayPal, Palantir and an early investor in Facebook).
Syfe will tap on the funds to expand to new markets, develop new products and services, grow the team, and enhance its technology platform.
Dhruv Arora, Syfe's CEO, noted that the need to invest for the future has become even more evident during these times of increased uncertainty.
"Since the beginning of the year, we have seen our customer numbers and assets increase by ten times and this fundraising allows us to sharply accelerate our growth to help even more individuals plan, save and build their wealth for the future," he said.
Singapore Digital Wealth Management Platform Syfe Pulls In US$18.6M Series A
Jumpstart Magazine | 23 September 2020
The fresh funding will enable Syfe to grow its geographical footprint in Asia and develop new products and services.
The publication notes that "Asia is severely under-served by financial solutions, building a case for fintechs to reverse the trend, to make financial management more accessible and help users do more with their money."
The article also highlights that the entire fundraising process for Syfe's Series A round took place during the pandemic, adding that Valar Ventures has invested a significantly higher amount in Syfe than it has for other early-stage startups.