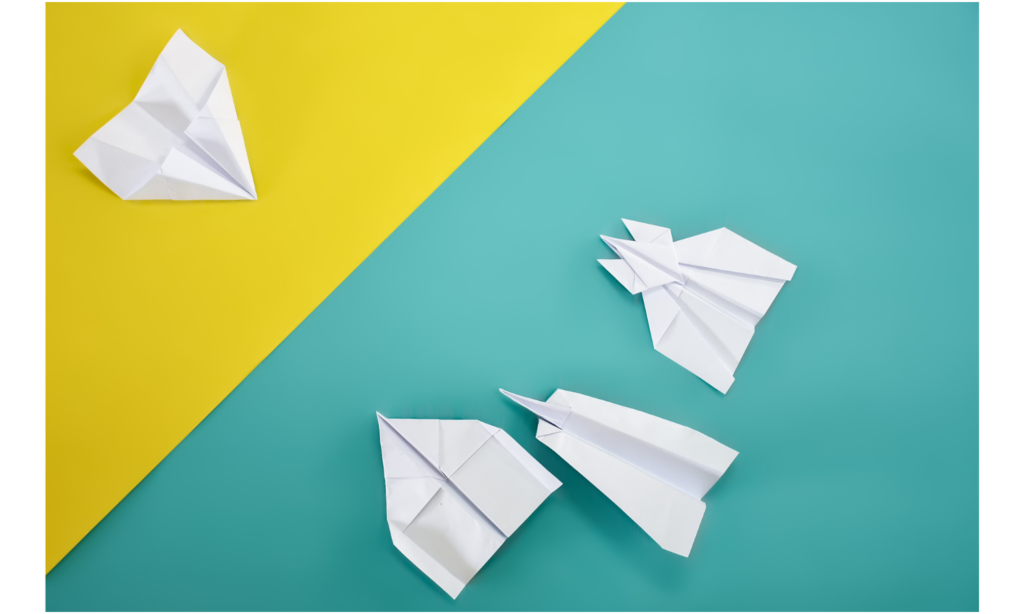 Investors looking for passive income are often drawn to real estate investment trusts (REITs), thanks to their attractive dividend yields and relatively low entry price points. But although REITs are generally seen as a resilient asset class, not all REITs are created equal.
Eagle Hospitality Trust and First REIT come to mind as some of Singapore's worst performing REITs. Yet, there was considerable optimism when they first listed on the SGX.
This raises the question, how can investors ever know what the "right" REITs are?
For this reason, savvy investors know that it's always more prudent to own a portfolio of REITs from different sectors, rather than just a few individual REITs. Currently, investors have three options if they want to build a diversified portfolio of 20 to 30 REITs:
Buying multiple REITs through their broker
Investing in a REIT exchange traded fund (ETF)
Investing in Syfe REIT+
The first option is likely to incur expensive brokerage fees given the multiple transactions necessary to achieve a fully diversified portfolio.
For the average investor, they may be better off choosing the second and third option. But what are the differences between REIT ETFs and Syfe REIT+?
Overview of REIT ETFs
A REIT ETF is a basket of REITs that tracks the performance of a specific REIT index. There are three REIT ETFs currently listed on the Singapore Exchange (SGX).
Phillip SGX APAC Dividend Leaders REIT ETF
NikkoAM-StraitsTrading Asia Ex Japan REIT ETF
Lion-Phillip S-REIT ETF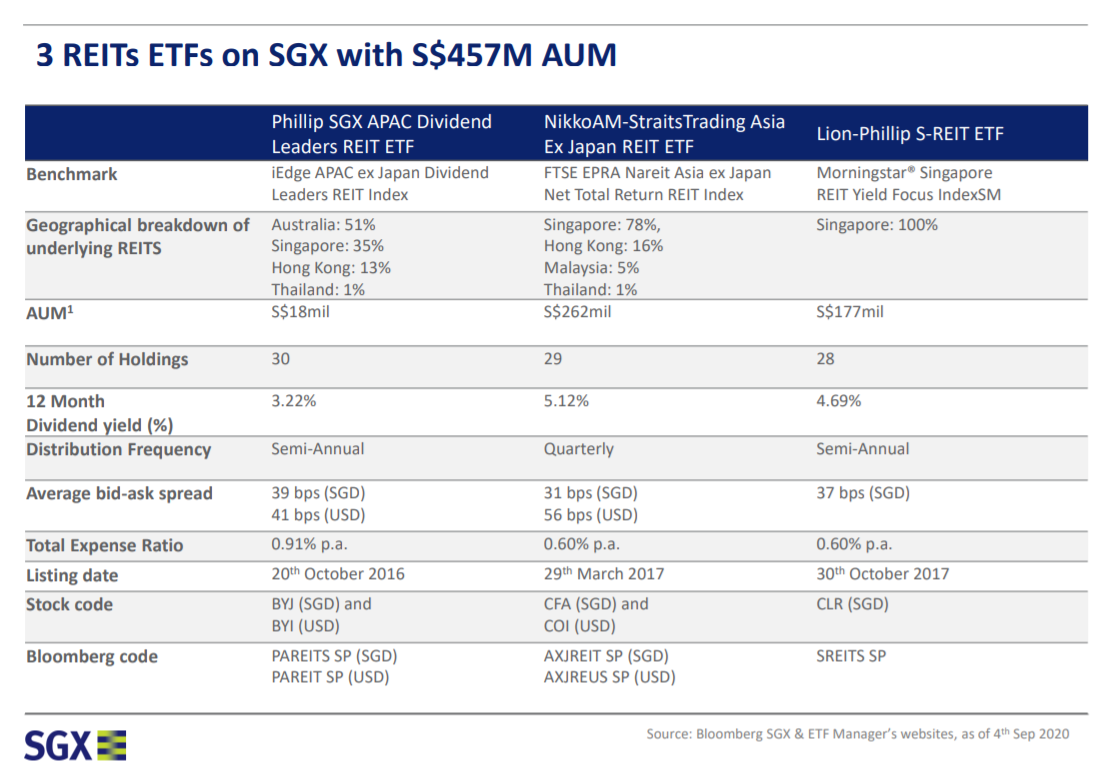 As the table above shows, the three REIT ETFs track different indices. The geographical breakdown for each REIT ETF is quite different as well and reflects their different investment mandates.
Overview of Syfe REIT+
Syfe REIT+ is a portfolio of 20 blue-chip REITs the likes of Mapletree Commercial Trust, Ascendas REIT, CapitaLand Mall Trust, and more.

REIT+ is not an ETF. When you invest in the REIT+ portfolio, your funds are used to purchase each of these 20 Singapore REITs. In essence, you get to own actual units of these REITs. This is different from a REIT ETF where your funds are used to purchase that particular ETF – itself a product that is traded on the SGX.
Additionally, Syfe REIT+ aims to closely replicate the performance of the SGX iEdge S-REIT Leaders index. As you cannot invest directly in an index, products like REIT+, which track an index, provide an indirect investment option.
The iEdge S-REIT Leaders index is a free-float, market-cap-weighted index that measures the performance of some of the largest and most liquid REITs in Singapore. In line with the index, the largest sector allocations for REIT+ are industrial, retail, and office REITs.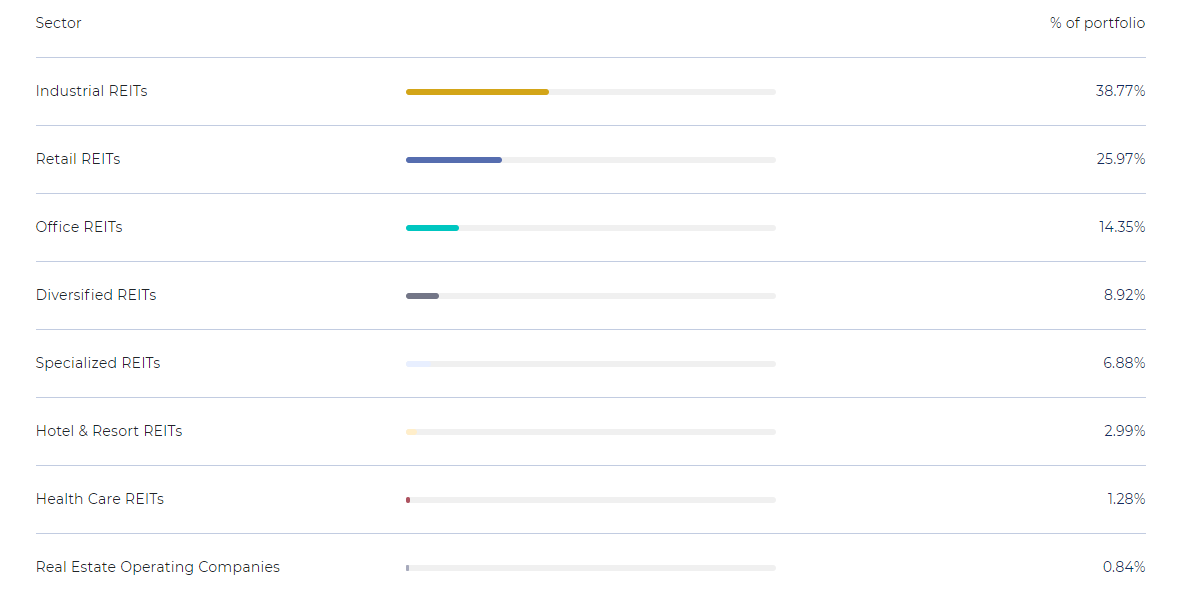 One thing to note is that within an index, more weight will be allocated to a sector that does well, and lesser weight to sectors that do not perform. The current allocation, as at 30 September 2020, reflects the overall outperformance of industrial REITs in the midst of the pandemic. But this may be adjusted next year if other sectors improve. The index is rebalanced twice a year in April and September, and REIT+ will follow suit accordingly.
Syfe REIT+ vs REIT ETFs
Typically, investors look at three metrics when assessing the efficiency of an index investment: tracking error, total expense ratio, and liquidity.
Here's how REIT+ compares with the three REIT ETFs we've looked at.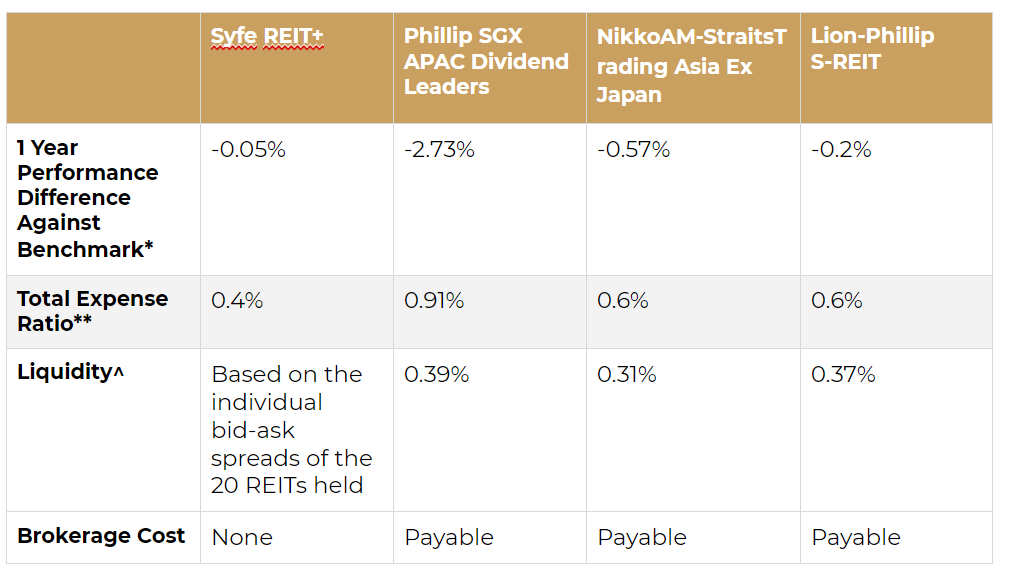 Tracking error
Tracking error is a measure of how consistent a portfolio's return is with that of its index or benchmark. A large tracking error may mean excessive trading costs or issues relating to fund management.
REIT+ has a mere 0.05% difference between its one year return and the one year return of the iEdge S-REIT Leaders index. This reflects a very minimal tracking error compared to the REIT ETFs.
Total expense ratio
Total expense ratio (TER) relates to cost. As an investor, you want to keep your costs as low as possible to earn higher returns.
The three REIT ETFs have considerably high TERs. For comparison, the SPDR Straits Times Index ETF (also SGX listed) has a TER of only 0.3%. Moreover, the TER does not include all the other fees that an investor still has to pay, such as brokerage and other transaction costs, trustee fee, and SGX trading and clearing fees.
REIT+ on the other hand, comes with all-inclusive management fees. This means no brokerage fees, and no sales or withdrawal fees.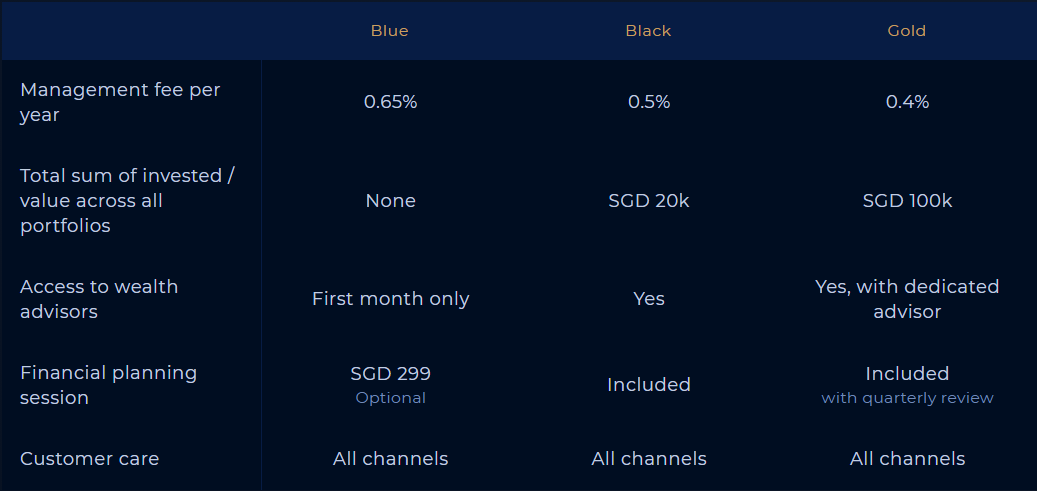 Liquidity
The smaller the bid-ask spread, the more liquid an ETF. And the more liquid an ETF, the higher its daily trading volume, which makes it easier and faster to buy or sell an ETF.
As seen from the spreads, all three REIT ETFs don't have very high liquidity. Again for comparison, the average bid-ask spread of the SPDR Straits Times Index ETF is around 0.11%.
Liquidity and bid-ask spreads are however less of a concern for Syfe REIT+ because the underlying REITs are bought directly. As an added advantage, the underlying REITs are also some of the most liquid REITs in Singapore.
How should investors choose?
For investors who want a broader geographical allocation, they may prefer the Phillip APAC Dividend Leaders REIT ETF or the NikkoAM REIT ETF for the additional exposure to REITs from Hong Kong, Thailand and other countries. And based on the analysis above, the NikkoAM REIT ETF seems like a more efficient option.
For investors who prefer a pure Singapore REIT fund that allows them to invest in a diversified basket of S-REITs at one go, they may consider Lion-Phillip S-REIT ETF and Syfe REIT+.
Both have their merits, but a key advantage of choosing REIT+ is that investors get not just a well-constructed portfolio but also more cost savings.

The REIT+ edge
Put simply, REIT+ is a great option for investors who wish to build up their REIT holdings through regular contributions. Because there is no minimum investment amount and no brokerage fee for each transaction, you can choose to invest any amount you prefer, at any time you want.
Here's an example of how much it will cost to invest $500 each month in Syfe REIT+ as compared to the Lion-Phillip S-REIT ETF, purchased either through a broker or a Regular Savings Plan (RSP).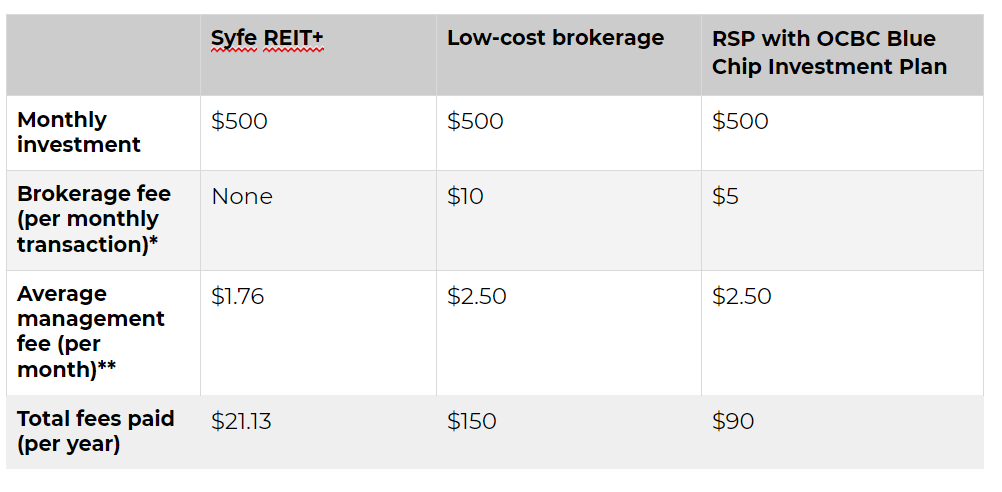 Don't forget that a selling fee is also applicable when you sell through your broker or RSP. With REIT+ however, you can withdraw your investments anytime at no charge.
Another standout feature of REIT+ is that your dividends are automatically reinvested for you – at no extra charge. Based on Syfe's calculations, dividend reinvestment can add an additional 0.5% in returns for you each year. This almost covers Syfe's tiered fees of 0.4% to 0.65%.
With a REIT ETF, automatic dividend reinvestment is not available. You will need to take your dividends and reinvest them on your own. Do note that this counts as another transaction, so brokerage fees are again payable.
The final word
Singapore REITs have long been an investor favourite. And with interest rates expected to remain low for the foreseeable future, S-REITs look especially attractive from both a yield and capital gains perspective.
If you're looking for an efficient yet low-cost S-REIT portfolio, Syfe REIT+ stacks up better than REIT ETFs:
Well-constructed portfolio with minimal tracking error, lower costs and better liquidity
No brokerage fees
No minimum investment amount
Automatic dividend reinvestment
Ready to get started? Explore the Syfe REIT+ portfolio and begin investing in Singapore REITs today in just 3 minutes. You can sign up using the code SYFEWAIVER and get your first $30,000 managed free for 6 months.