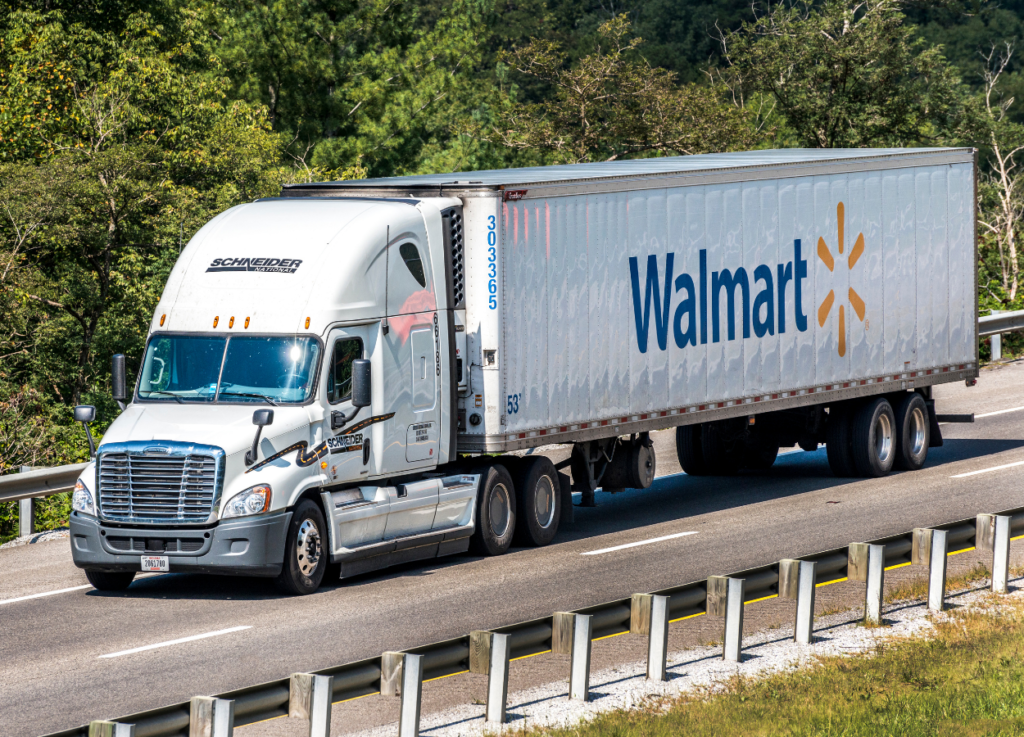 A number of US retailers reported quarterly earnings this week, shedding light on how American consumers are dealing with sky-high inflation and rising interest rates. Meanwhile, the US market continued to whip-saw amid inflation fears.
Here are the week's top headlines.
Walmart worries
At this time of writing, shares of Walmart are down 17% for the week after the US retailer slashed its earnings guidance and revealed that Q1 2022 profits had taken an "unexpected" hit. The company pointed to elevated fuel prices, higher labour costs, and increased inventory levels as factors that weighed on first-quarter profits.
Walmart is the world's largest retailer and is widely seen as a bellwether of the American consumer. As food costs rise in the US, Walmart is selling more low-margin food items like bread and eggs, and less higher-margin items like electronics. Amid price pressures, Walmart has seen its customers switch from brand names to cheaper generic brands, and buy half-gallons of milk instead of full gallons.
Target tumbles
Walmart isn't the only retailer to feel the pinch. Target shares fell 25% yesterday after reporting quarterly earnings that missed analyst estimates. Like Walmart, the company cited "unusually high costs" from a surge in inventories and wages. Amid rising fuel prices, Target now estimates an additional $1 billion in freight and transportation costs this year.
In terms of sales, Target said its customers were moving away from physical items like TVs and appliances, and spending on experiences such as holiday trips and restaurant gift cards. Sales of toys and luggage were also strong as Americans start hosting children's birthday parties again and resume travel plans.
Citigroup cheers Buffett's stake
Shares of Citigroup rose earlier this week after it was revealed that Warren Buffett's Berkshire Hathaway had bought $3 billion worth of shares in Q1 2022. The investment gives Berkshire a 2.8% stake in Citigroup, one of the biggest banks in the US.
Warren Buffett is known for favouring value stocks. He tries to find stocks that appear to trade at a lower price relative to their fundamentals. Citigroup fits the bill. According to FactSet, the bank is the only big US bank that trades below book value, likely due to its sluggish returns when compared to other big banks.
That said, a transformation could be in the works. Citigroup recently announced a multi-year turnaround strategy that includes financial targets and internal cost controls. It plans to focus on more profitable areas such as wealth management and investment banking, and exit less efficient operations like consumer banking.
Apart from Citigroup, Berkshire Hathaway owns shares of Bank of America, which forms Berkshire's second-largest holding. In the first quarter, Berkshire also sold the rest of its position in rival bank Wells Fargo.
No Twitter deal for Elon Musk?
On Tuesday, Elon Musk said his move to acquire Twitter won't proceed unless he gets clarity on how many Twitter accounts are fake or spam. Twitter shares came under pressure amid concern that Musk could walk away from the deal.
Twitter shares have given up all of their gains since Musk revealed last month that he'd acquired a 9% stake in the company. At this time of writing, Twitter's stock has fallen to US$36.85, below Musk's agreed upon purchase price of US$54.20.
Cisco plunges
Cisco shares dropped 13% in extended trading yesterday after the computer-networking equipment maker issued a worse-than-expected revenue forecast for the current quarter.
For the quarter ending in April, Cisco reported revenue of $12.8 billion compared to $13.3 billion expected by Wall Street. The company blamed the war in Ukraine and component shortages due to COVID-19 lockdowns in China for the revenue miss.
Although Cisco reiterated that its issues were purely on the supply side, and that customer demand remained robust, the company cut its full-year earnings forecast. Cisco now expects revenue growth of 2% to 3% in fiscal 2022, compared with an earlier forecast of 5.5% to 6.5%.
"We believe that our revenue performance in the upcoming quarters is less dependent on demand and more dependent on the supply availability in this increasingly complex environment," CEO Chuck Robbins said on a post-earnings call.