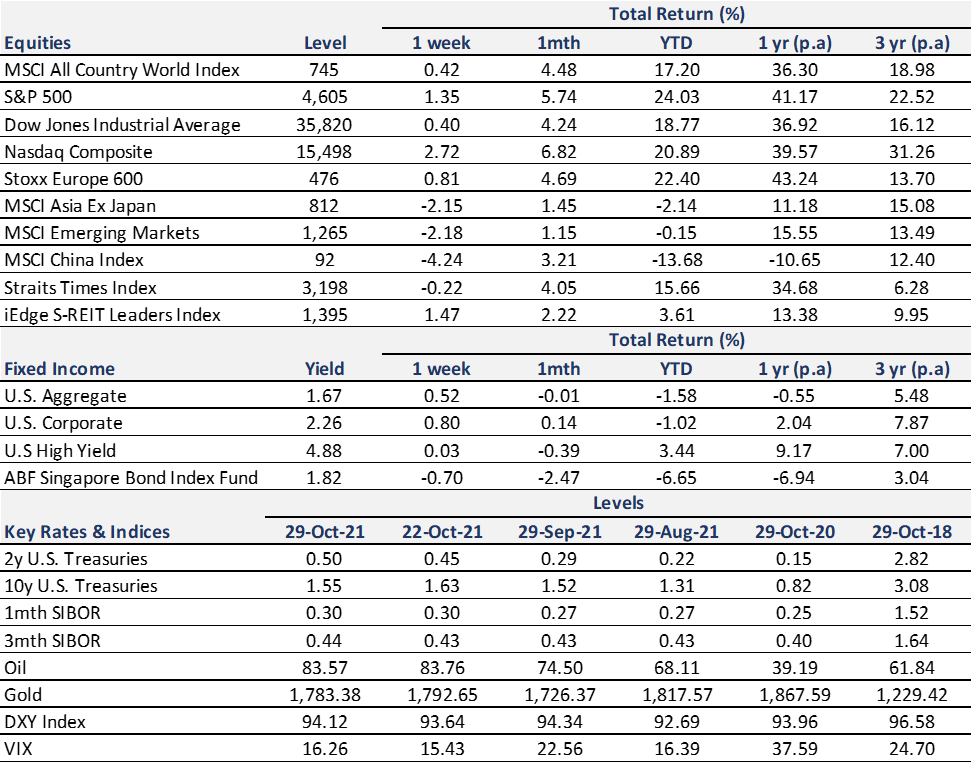 Thought Of The Week
U.S Solid Earnings Season, Wild Bond Market, Evergrande Avoids Default
U.S stocks rose to fresh closing records and gained more than 5% for the month of October. Despite disappointing results from two of the biggest companies in the stock market, Apple and Amazon, the earnings season has delivered an unprecedented rate of positive surprises. Nearly half of the S&P 500 companies have posted results this season which saw more than 80% of them beating expectations. Equity ETFs also recorded its largest weekly inflows since March as investors flocked back to stocks after backing away in September.
On the other hand, the global bond market had one of its wildest weeks in decades. Short-term yields from Canada and Australia surged after the central banks suddenly shifted gears to move more firmly against inflation. The swings also spilled over to the U.S where the Treasury yields curve between the 2y and 10y flattened, while the curve between 20y and 30y inverted, suggesting that the markets are betting on a sooner-than-expected rate hike.
Meanwhile, China Evergrande Group avoided default for a second time by making an overdue interest payment on dollar bonds shortly before the end of a 30-day grace period. By making these last-minute payments, Evergrande is buying time to organize its finances and negotiate with creditors instead of letting it spiral into the biggest corporate default in Asia. However, investors are still deeply sceptical that its $4.7 billion of 8.75% bonds due 2025, its largest outstanding international debt issue will be repaid in full, which currently trades at 22.75 cents on the dollar.
Long Live MAANG
Facebook announced on Thursday that it will be embarking on an identity overhaul to rebrand and reflect its expansion into the metaverse. Starting Dec 1, Facebook will change its name to Meta while its well-known stock ticker symbol, FB, will be switched to MVRS. Given that Facebook has been the subject of scrutiny lately, it clearly hopes to rechristen itself and set a new strategic direction. This would be a complete opposite move compared to 2 years back where it was attaching "from Facebook" to its various other brands.
Bank of America analysts called the metaverse a compelling concept that "has a reasonable chance of mass market adoption with Facebook's strong backing" but cautioned that the company's ambitions in this area would likely take many years to come to fruition. Nonetheless, some investors were quick on jump on the bandwagon, resulting in confusion due to the name change. Meta Materials (MMAT), a Nova Scotia–based material-science company, soared more than 30% in after-hours trading Thursday, as investors mistook it for Facebook following the company's rebrand.
Chart Of The Week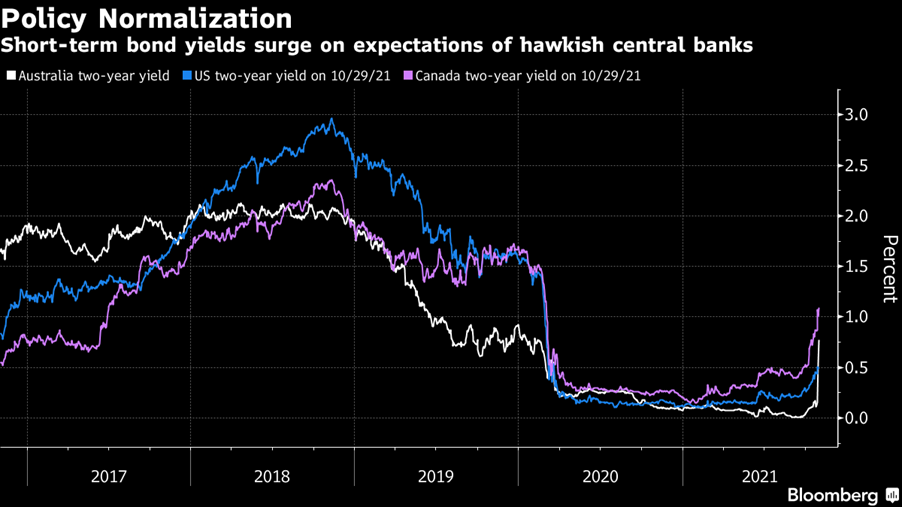 Important Information and Disclosure
Equity Price Level and Returns: All returns represent the total return for stated period. MSCI ACWI: Global equity index provided by Morgan Stanley Capital International (MSCI). S&P 500: Market capitalization index of U.S stocks provided by Standard & Poor's (S&P). Dow Jones: Price-weighted index of U.S stocks provided by S&P. NASDAQ: Market capitalization index of U.S stocks provided by NASDAQ. Stoxx 600: Market capitalization index of stocks listed in European region. MSCI Asia Ex Japan: Asia excluding Japan equity index provided by MSCI. MSCI EM: Emerging markets equity index provided by MSCI. SSE: Capitalization weighted index of all A-shares and B-shares listed on Shanghai Stock Exchange. STI: Market capitalization index of stocks listed on Singapore Exchange. SREITLSP: Market capitalization index of the most liquid real estate investment trusts in Singapore.
Fixed Income Yield and Returns: All returns represent total
return for stated period. Global Aggregate: Global investment grade debt from both developed and emerging markets issuers. U.S. Aggregate, U.S Corporate, High Yield provided by Bloomberg Barclays Indices, ICE Data Services & WSJ. SBIF: ABF Singapore bond index fund provided by Nikko AM.
Key Interest Rates: 2-Year U.S Treasuries, 10 Year Treasuries, Bloomberg. 1-month, 3-month SIBOR: Singapore Interbank Offered Rates provided by Association of Banks in Singapore (ABS). Oil (WTI): Global oil benchmark, Bloomberg. Gold: Gold Spot USD/Oz, Bloomberg. DXY Index: U.S. Dollar Index, Bloomberg. VIX: Expectation of volatility based on S&P index options provided by Chicago Board Options Exchange (CBOE).
The information provided herein is intended for general circulation and/or discussion purposes only. It does not account for the specific investment objectives, financial situation or needs of any individual. The information in this document is not intended to constitute research analysis or recommendation and should not be treated as such.
This does not constitute an offer or solicitation to buy/sell any financial instrument or to participate any investment strategy. No representation or warranty whatsoever (without limiting to accuracy, usefulness, adequacy, timeliness or completeness) in respect of any information (without limiting to any statement, figures, opinion, view or estimate). Syfe does not undertake an obligation to update the information or to correct any inaccuracy that may become apparent at a later time. All information presented is subject to change without notice. Syfe shall not be responsible or liable for any loss or damage whatsoever arising directly or indirectly as a result of any person acting on any information provided herein.
The information provided herein may contain projections or other forward-looking statement regarding future events or future performance of countries, assets, markets or companies. Actual events or results may differ materially. Past performance figures are not necessarily indicative of future of likely performance. Any reference to any specific company, financial product or asset class in whatever way is used for illustrative purposes only and does not constitute a recommendation. Investors should note that there are necessarily limitations and difficulties in using any graph, chart, formula or other device to determine whether or not, or if so, when to, make an investment. The contents hereof are considered proprietary information and may not be produced or disseminated in whole or in part without Syfe's written consent.