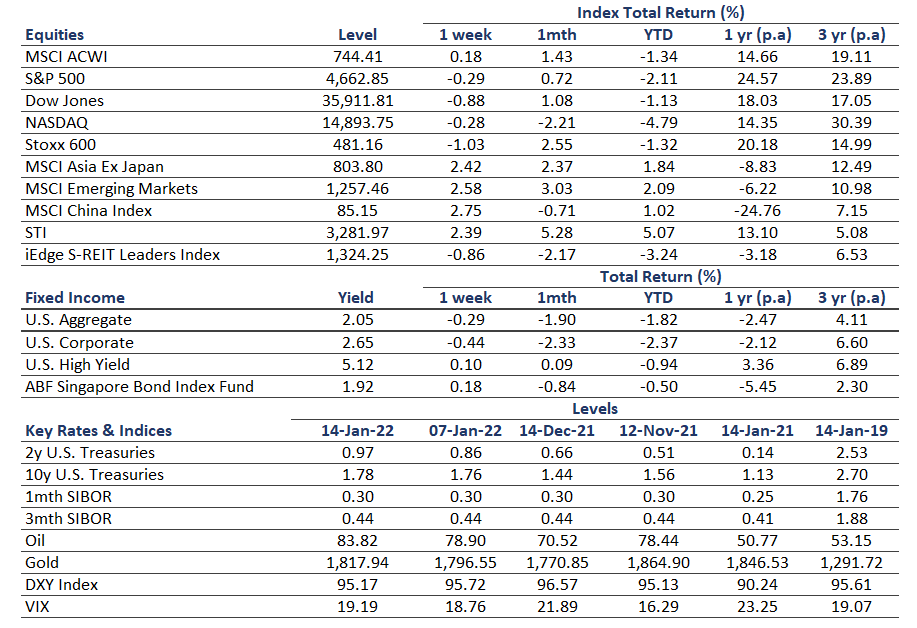 Thought of the week
Highest inflation reading since 1982
Consumer Price Index (CPI) increased to 7% for the year through December (including more volatile components such as food and fuel) and 5.5% not including these. Increases in the indexes for shelter and for used cars and trucks were the largest contributors.
Used cars and resale flats
There are some parallels between factors driving CPI higher in the US and resale flat prices higher in Singapore. Resale Price Index rose 12.5% for the whole of 2021. TL;DR: Demand is high, but supply is tight. Supply conditions are unlikely to ease in the short term – shortages in chips (among others) are delaying car shipments in the 6-12 month period but it is impossible to increase the housing supply in the short term due to the way the market is set up and because construction of new flats takes time.
Bank earnings, canary in the coal mine?
JP Morgan was one of the first major financial institutions to announce its 4th quarter results, we will hear from the other banks next week. Profits fell in the 4th quarter due to declining revenues and rising costs, in particular higher staff compensation. Banks are seen as a defensive sector that should do well even as interest rates rise. However, the scaling back of accommodative monetary policy, higher than expected inflation and labor costs, and the impact of Omicron are potential headwinds.
Chart of the week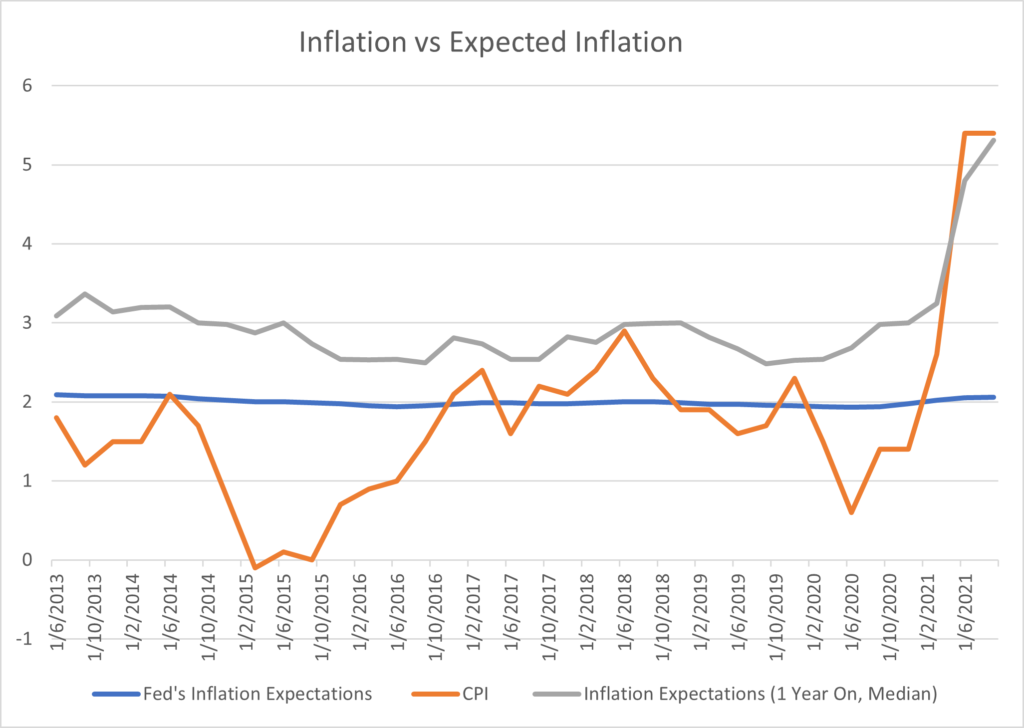 Inflation expectations are seen as a reflection for whether the Fed's ability to keep prices stable are called into question. But have inflation expectations been accurate? Not so much in the short term, but they are helpful in determining longer term inflation and the state of the economy.
What to expect next week
We will continue to see quarterly earnings come in over the week for US companies, some to watch: Airlines, P&G, and Netflix. In China, Q4 GDP readings will be released early next week – we will have a better idea about the state of recovery and normalisation.