Topic #1: Sticky Inflation in the US & UK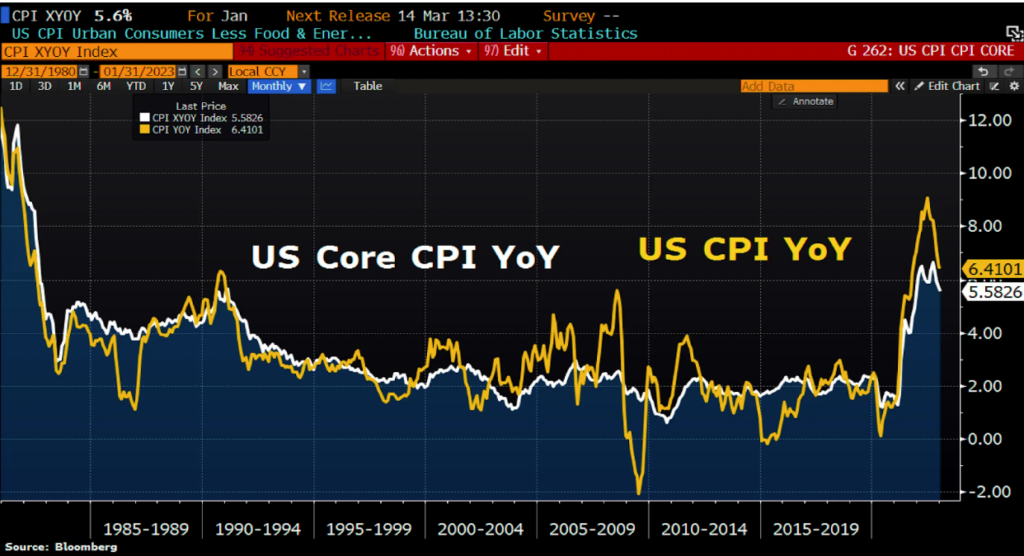 Latest US inflation data out on Tuesday has disappointed investors, as prices continued to rise in January by 6.4% annually. This marked the seventh consecutive month of price increases, with only a slight cooling from December's 6.5% pace. The "core" measure of inflation, which excludes more volatile items such as food and energy, was also higher than expected, but slightly cooler than the month before at 5.6%. While certain items such as used cars, medical care, and airfares saw price decreases, essential items like energy, food, and shelter kept inflation elevated.
Has the US shown inflation the door?
As discussed in last week's market wrap, the wildcard impact of China's reopening and expected spending and growth boom could escalate inflation. The drop-off in the inflation of goods has hit a wall, which means any serious further dip in inflation will likely have to be driven by services. This will also be a challenge since Americans's wages are rising and have shifted spending to services recently, pushing prices upward.
Why should I care?
The Federal Reserve has been raising interest rates for nearly a year to try to reestablish price stability in the economy, but with inflation cooling slowly, the Fed may have to hike rates higher and keep them higher for longer to bring inflation back towards its long-term 2% target. The persistently sticky and high inflation could further weigh on risky assets, such as stocks.
What about the UK?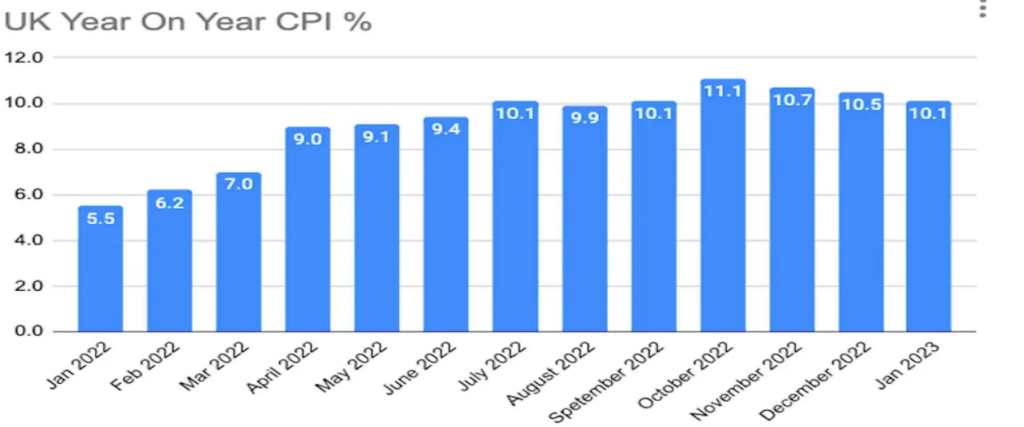 In January, UK inflation experienced a continued decline, with a 10.1% increase in overall prices compared to the same period the previous year, and a 5.3% increase on the "core" rate, which excludes more erratic food, energy, tobacco, and alcohol prices. The Bank has been increasing interest rates to control inflation and predicts that prices will increase by approximately 4% by year-end. This better-than-expected data supports the Bank of England's projection that inflation will sharply decrease this year, and makes their projection seem less unrealistic.
Topic #2: Airbnb Had Its First Profitable Year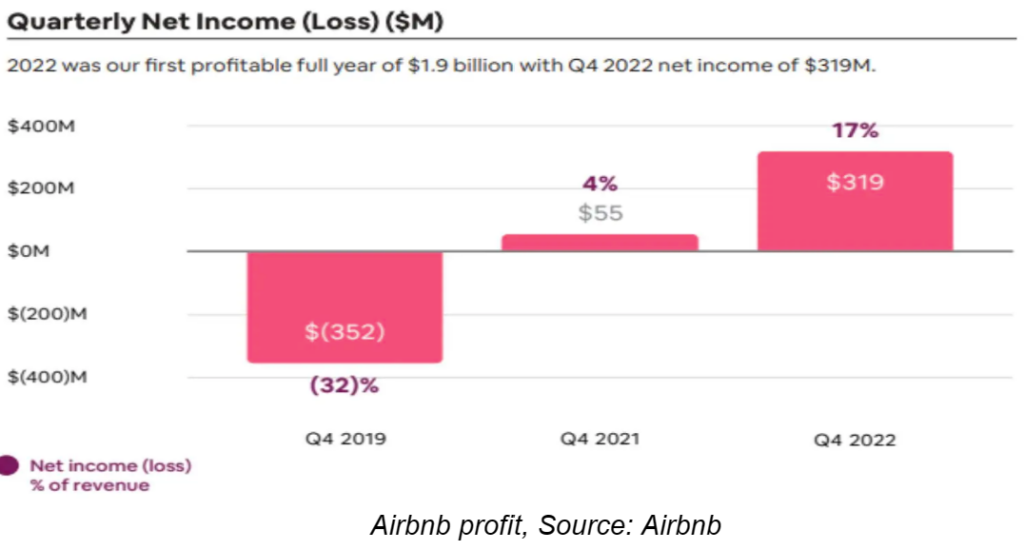 Airbnb reported impressive results, exceeding revenue and profit expectations in the last quarter and making 2022 its first full year of profitability. Despite high-flying airline prices and widespread economic turmoil, cross-border trips surged 49%, with China's loosening Covid restrictions making travel from the Asia-Pacific region the real grower. Pandemic trends even went into reverse, with people opting for shorter stays in bustling cities, making city breaks account for half of all bookings last quarter, the first time that's happened since the pandemic hit. 
The bigger picture:
The company plans to invest in products beyond its main accommodation services again, giving renewed attention to offerings like "experiences", including guided local excursions for travelers. With demand resilient so far this year, and travelers increasingly booking ahead, Airbnb gave an upbeat outlook that got investors bumping shares up 12%.
Airbnb's decision to expand beyond its main accommodation services and invest in offerings such as "experiences" could be a smart move, especially in light of recent trends in the travel industry. For instance, travel firm Tripadvisor reported that consumers have been redirecting their spending from goods to activities, which has boosted tour bookings and helped the company exceed revenue expectations in the last quarter. If Airbnb can tap into this trend, it could see success in its efforts to diversify its offerings and attract more customers.
Topic #3: Singapore budget release (3 Notable mentions)
On February 14th, 2023, Minister Lawrence Wong delivered the Budget 2023 speech in Parliament. The budget for 2023 is S$104.2 billion, aimed at repositioning Singapore's economy, strengthening the social compact, and building the country's collective resilience. The Deputy Prime Minister explained that the world's economy is expected to enter a new stage of greater contestation and fragmentation, and Singapore must prepare for this challenge. Here are 3 notable aspects of Budget 2023:
Curbing effects of inflation
One of the most important aspects of Budget 2023 is to help Singaporeans cope with inflation and cushion the impact of the rising Goods and Services Tax (GST) rates. To achieve this, the Assurance Package will receive an additional S$3 billion, bringing the total package to S$9.6 billion. The Assurance Package will provide a one-off Cost-of-Living Special Payment expected to benefit around 2.5 million adult Singaporeans. Furthermore, the Government will extend the Energy Efficiency Grant and current enhancements to the Enterprise Financing Scheme for another year until March 2024 to support businesses facing tighter financial conditions.
Coping with rising cost of raising kids
The government also plans to support parents with the costs of raising children and help manage their various commitments, as well as to support their housing aspirations. The Baby Bonus Cash Gift will be raised by S$3,000 for all eligible Singaporean children born from February 14, 2023. Additionally, children born from this date will receive higher government contributions to their Child Development Account to offset preschool and healthcare expenses. Government-paid paternity leave will also be doubled from two weeks to four weeks for children born on or after January 1, 2024, and unpaid infant care leave will be doubled to 12 days a year.
Making million dollar HDBs more affordable
HDB will give first-timer families with children and young married couples aged 40 and below greater priority during BTO applications. Additionally, eligible first-timer families buying four-room or smaller resale flats will receive a CPF Housing Grant increase of S$30,000, while those getting five-room or larger flats will get an increase of S$10,000.
Overall, Budget 2023 aims to support lower-income households, workers, and businesses, and improve the living standards and well-being of Singaporeans.
Top Earnings at a Glance: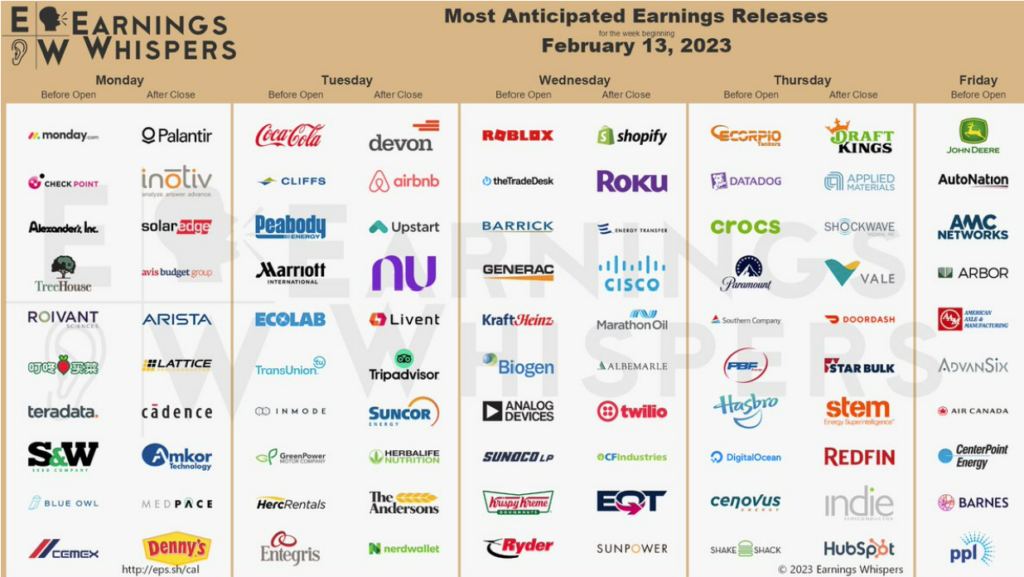 | | | | | |
| --- | --- | --- | --- | --- |
| Index | Level | 1 Week | 1 Month | From Jan 1 2023 |
| S&P 500 (US Stocks) | 4,079 | -0.43% | 3.82% | 6.67% |
| Nasdaq 100 (US Tech Stocks) | 12,358 | 0.01% | 8.31% | 13.77% |
| CSI-300 (Chinese Stocks) | 4,034 | -1.57% | -2.81% | 3.77% |
| Bitcoin (in USD) | 24,655 | 13.16% | 19.26% | 48.48% |
Source: Google Finance, as of 18th February, 2023