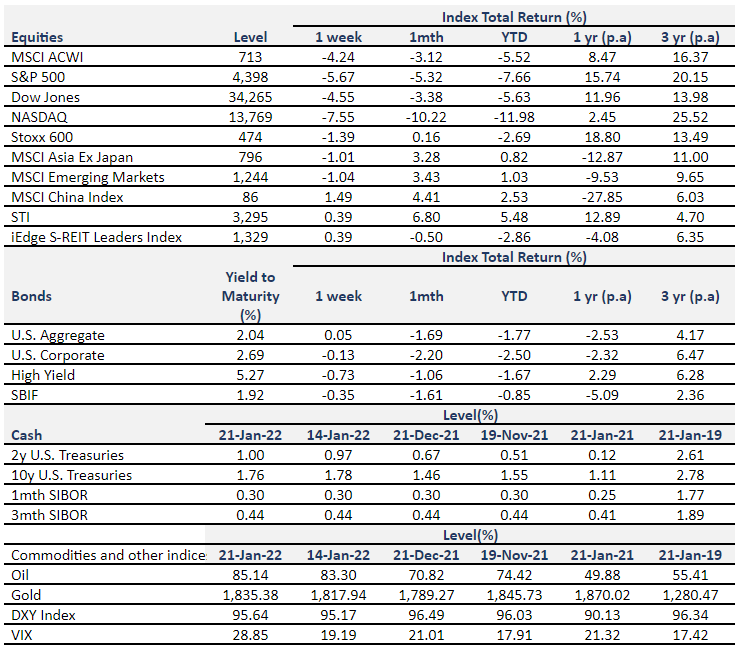 The week in review
Stocks
The index of the 100 most actively traded stocks on Nasdaq lost more than 10% since its peak in November 2019, officially entering correction territory.
While investors offloaded technology stocks, the best performing sectors so far in 2022 are energy, financial services and consumer staples.
Bonds
The 10-year US Treasury yield hit a two year high at 1.9%. This shows investors are less willing to accept negative real yields as the Fed's bond purchase program is set to end in two months' time.
Oil
Brent crude prices hit 7-year highs on growing demand and geopolitical tensions in the Middle East and Russia/Ukraine.
Bitcoin
During the week, Bitcoin fell to 36,000 USD, from a peak of more than 67,000 USD in November 2021.
Highlights
Great expectations
It seems that investor sentiment has shifted away from growth stocks. This comes after a blockbuster three-year period where the Nasdaq composite index gained more than 130%. The S&P500, a more diversified index, fell too, declining 6.5% from its peak in early Jan 2022, after a 28% gain in 2021. However, since 1971, in the 65 times the Nasdaq composite had entered correction territory, the index recovered significantly 12 months after – gaining 15% on average.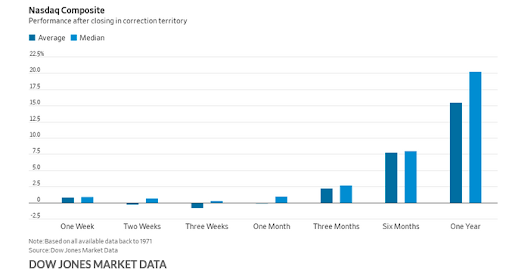 Web 3.0: Merge into Meta
Web 1.0 was the days of dial up in the 90s and Web 2.0 was the era in the 2000s where platforms and search engines changed the way we access information. Web 3.0 is upon us and the Metaverse forms a big part of it, continuing to gain momentum. On Tuesday, Microsoft announced plans to acquire Activision Blizzard for almost $69 billion. Across the world, Shanghai has released its five-year Metaverse development plan.
While Web 3.0 is gaining steam, it is still very much a work in progress. It is important to take a diversified approach to gain exposure here: to understand the nuances of companies that are already actively involved in developing the metaverse and those that support the metaverse and internet of the future through computing power, data networking, protocol building, security and physical technologies and devices.
The choice between growth at all costs and doing it right
China's 2021 GDP reading came in at 8.1%, exceeding the 6% target set by the CCP as well as consensus estimates. The sell-off in Chinese stocks last year was largely due to aggressive moves in economic transformation, including housing tightening, tech regulation and policy shocks in education and related sectors. But what would the new regulatory regime look like?
Increasing the proportion of energy supply from sustainable sources,
Supporting a larger middle class
Increasing the birth rate
These are some policy outcomes to start with, and China still has strong ambitions to be seen as more than just an economic and manufacturing powerhouse on the global stage. We can expect to see continued policy fine-tuning going forward as the government strives to achieve this new economic framework.
Risks could be heightened as China is on this balancing act. Policy manoeuvres may cause short term volatility in the market like we saw last year, but in the long term, China's growth fundamentals are still strong. China equities remain a crucial component in a well-diversified portfolio.
Are investors staying in or coming back to China?
In fact, MSCI found that holding Chinese stocks can reduce the overall volatility of a well-diversified portfolio of global equities. Are investors coming round to that point? 6 month net flows into one of the most popular Chinese Tech ETFs (KWEB, Kraneshares CSI Chinese Internet ETF) totaled 5.7bn USD.
What to expect next week
The Federal Open Market Committee meets next week (Jan 25-26), potentially setting the stage for the first rate hike in March 2022. Earnings season continues and we are going to hear from the large technology companies: Tesla, Microsoft, Apple, as well as Visa, Chevron, Boeing, Samsung and LVMH Moet.