Getting ahead of themselves
Usually, after FOMC decisions, we get to hear nuances and opinions from various members through interviews. In Chair Powell's press conference the previous week, he left a third 75bps hike on the table, but market participants saw it as a "pivot" (potentially slower rate hikes in the future) and stocks rallied.
This week, members tried to correct that potential misconception. Recall that the last rate hike was unanimous, meaning that members are hawkish across the board. Mary Daly, of the San Francisco Fed (who is not voting this year) and can afford to be more candid, said that "Markets are getting ahead of themselves on Fed cutting rates".
A tale of two markets
The bond market took those comments to heart: with both the 2 year and 10 year treasuries up higher by 20-25 bps but the equity market (using Tech stocks as a proxy) continued to rally.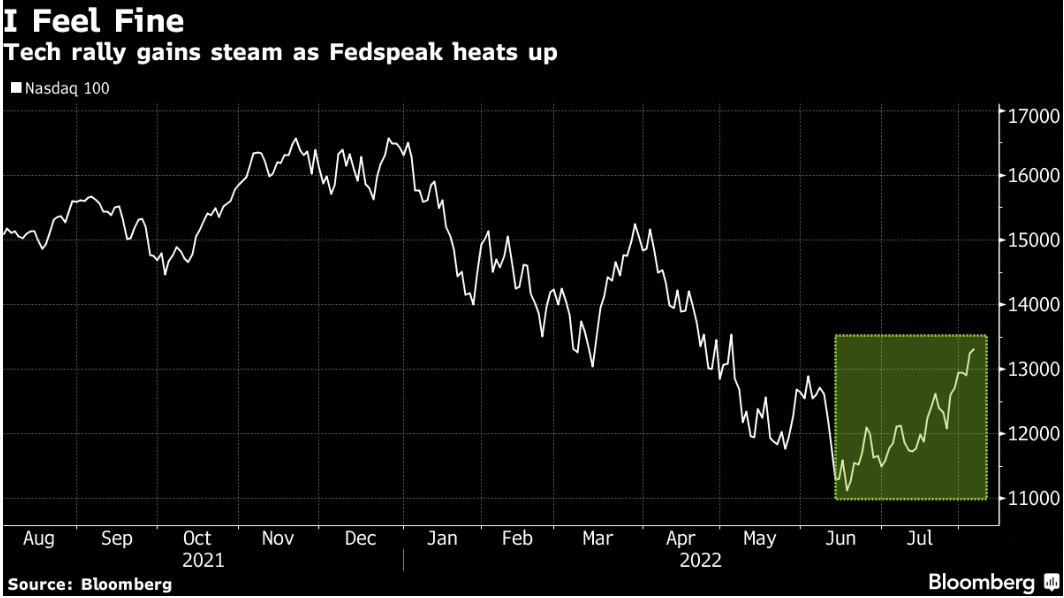 The optimism might have some legs – ultimately, equity returns are driven by earnings growth, which have overall turned out better than expected for key bellwether companies. However, it would be too soon to tell if this can continue as companies adjust to tighter financial conditions.
Still rosy
July saw another stellar jobs report, with non-farm payrolls coming in at 528,000 (vs consensus of 250,000). For context, usually late in the economic cycle ( as we are now), job growth of around 250,000 new payrolls is considered to be a good showing.
The unemployment rate fell 0.1% to 3.5%, the lowest since 1969. The US labour market has now recovered all the jobs (and some) lost during the pandemic. Job gains have been consistent across industries, sending a strong support signal to Chair Powell's assertion that the US economy is not in a recession. Not yet, at any rate.
However, in order to have the Fed pivot that market participants are hoping for, we will also need to see a meaningful slowdown in inflation readings.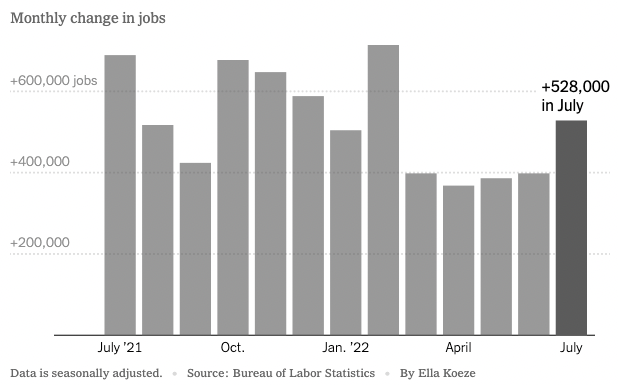 Recurring headaches
Chinese equities had quite a week, with the high-profile visit of US House Speaker Nancy Pelosi (third in line to the US Presidency) to Taiwan, despite warnings from China not to go. Stocks initially fell but recovered to end the week flat (using CSI-300, 300 largest stocks traded on the Shanghai Stock Exchange and Shenzhen Stock Exchange as a proxy).
Aggressive restrictions and partial lockdowns continue (with less global attention than before) in major cities, reducing domestic tourism and consumer spending. Real estate headaches continue as well.
According to data released by China Real Estate Information Corp, sales at China's top 100 developers fell 40% compared to a year ago. Additionally, unfinished property projects have led to mortgage boycotts by hundreds of thousands of middle class buyers.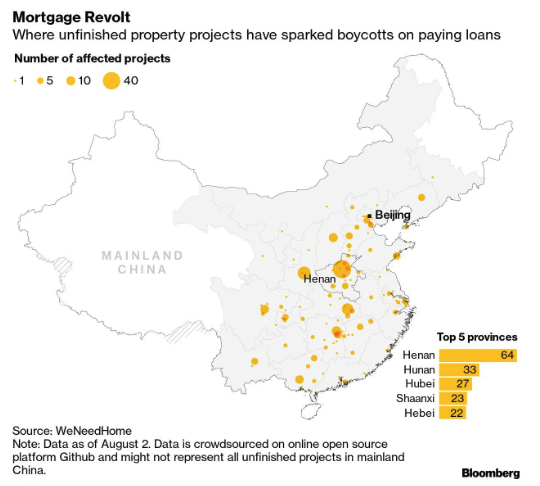 This will take some time to resolve and even if the country's leaders and regulators come up with effective top down policy solutions, these projects ostensibly involve many moving parts and time for completion.
Market stats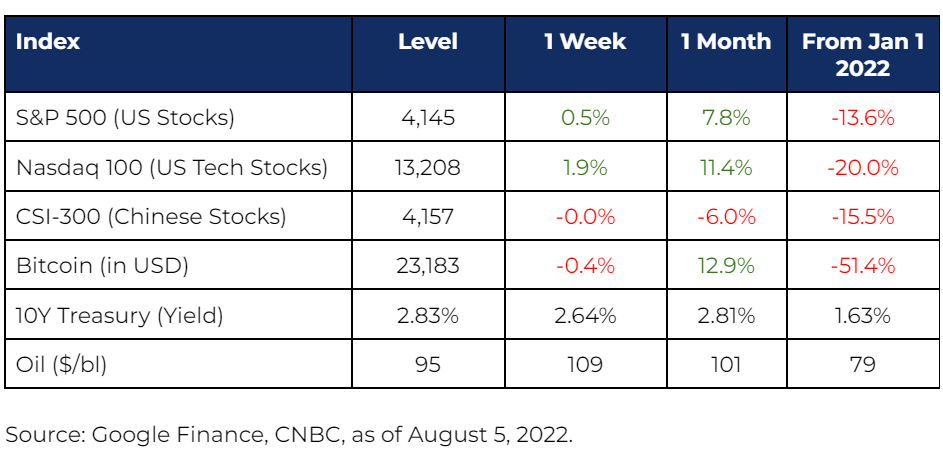 The information provided herein is intended for general circulation and/or discussion purposes only. It does not account for the specific investment objectives, financial situation or needs of any individual. The information in this document is not intended to constitute research analysis or recommendation and should not be treated as such.
This does not constitute an offer or solicitation to buy/sell any financial instrument or to participate any investment strategy. No representation or warranty whatsoever (without limiting to accuracy, usefulness, adequacy, timeliness or completeness) in respect of any information (without limiting to any statement, figures, opinion, view or estimate). Syfe does not undertake an obligation to update the information or to correct any inaccuracy that may become apparent at a later time. All information presented is subject to change without notice. Syfe shall not be responsible or liable for any loss or damage whatsoever arising directly or indirectly as a result of any person acting on any information provided herein.
The information provided herein may contain projections or other forward-looking statement regarding future events or future performance of countries, assets, markets or companies. Actual events or results may differ materially. Past performance figures are not necessarily indicative of future of likely performance. Any reference to any specific company, financial product or asset class in whatever way is used for illustrative purposes only and does not constitute a recommendation. Investors should note that there are necessarily limitations and difficulties in using any graph, chart, formula or other device to determine whether or not, or if so, when to, make an investment. The contents hereof are considered proprietary information and may not be produced or disseminated in whole or in part without Syfe's written consent.